Many wine enthusiasts might generally associate Spain with a wide variety of exotic red wines. Recent years have however seen an increase in their exquisite white wine brands.
Whether you're an avid white wine drinker or completely new to the vino experience, your journey won't be complete without trying out a few of the most popular Spanish whites. The good news is, you don't have to go to Spain to enjoy a glass or two of the wine-rich countries' quality vinos!
With the many Spanish brands currently filling the shelves of stores or restaurants, it can be overwhelming to choose the best one. We've streamlined your search by listing a few of our favorites that we're sure you'll enjoy! Keep reading to take a closer look at the most delicious choices to consider.
Spanish White Wine – A Global Sensation
Many of the wide variety of Spanish white wines are gaining a lot of popularity all across the globe. It's not that uncommon to find these crisp choices on shelves in your favorite wine store or even at your favorite restaurant.
Instead of just glancing over them and wondering what they taste like, or assuming that one white wine is pretty much like the next, it could be time to give a few of these popular vinos a try. Let's start with a few little-known facts about these wines.
What Makes Spanish White Wine Different?
As any wine aficionado will tell you, one white wine isn't like another. Aside from varying in color and aroma, each different varietal offers its own exquisite flavor profile.
Spanish whites have a unique flavor that can be attributed to a host of factors that work together to create the perfect wine. Some of the factors that contribute to these high-quality wines include the following:
Extremely dry climate creating an entirely different acidity
Unique soil conditions and composition leading to low yields
Wide range of grape varieties which are either used individually or blended together to create unique tastes
Expert winemaking techniques dating back centuries
What is The Most Popular White Wine in Spain?
Despite having an extensive range of wines, there's one particular Spanish white wine that is generally more popular than others. As the most loved Spanish white wine, Albarino comes from the Rias Baixas region.
Albarino is a dry white that features a saltiness with mild acidity. Its crisp, tingly finish provides a bitter note that hints at grapefruit, lemon zest and honeydew. The tangy bitterness stems from the thick skins of the grapes. Its flavor resembles the crispiness of a quality Sauvignon Blanc and pairs quite well with just about any seafood dish.
What Are Some Popular Spanish White Wines?
Spanish white wines are very popular both in Spain and around the world. Some of the more popular award-winning Spanish whites include the following:
Bodega Cuatro Rayas
Secastilla La Miranda Garnacha Blanca
Aroa Bodegas, Le Naturel
Raimat, Castell Organic Chardonnay
Lagar de Cervera, Pazo De Seoane
Why is White Wine so Cheap in Spain?
One of the reasons white wine is so popular in Spain is that it's incredibly affordable. This is mostly a result of Spain having a strong bulk wine industry.
Their extensive wine industry boasts an abundance of many less familiar grape varieties as well as a close enough reach to Italy and France. A lesser-known fact is that Spain has the biggest amount of land planted and harvested with a variety of wine grapes.
Spain's Best White Wine Options Worth Trying
Now that you have a little more knowledge of what makes Spanish white wine so impressive, it's time to delve into the popular options that are firm favorites around the globe. Our 12 favorites are listed below.
Option # 1: Albarino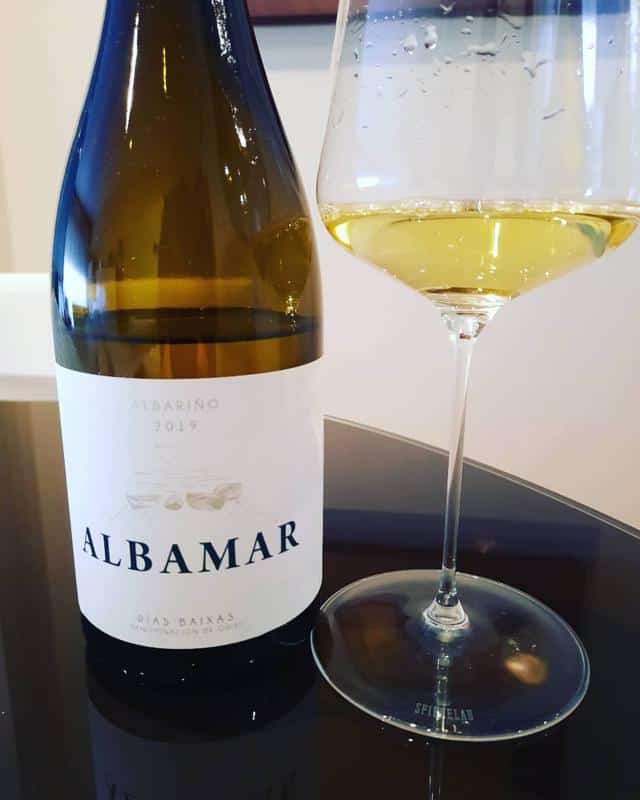 As we've already mentioned, Albarino is quite possibly the most-loved white wine to come from the Rias Baixas region in Galicia. Albarino generally has a higher acidity with crispy notes of mandarin, apricot and grapefruit. After a few sips, a characteristic salty taste flows through.
The salty minerality in this wine is indicative of the coastal regions where the grapes are grown. Albarino is tasty enough to enjoy on its own or easily pair it with seafood, cheese dishes and even salads. Voted by many wine enthusiasts as an easy-drinking wine, even if you're not really a wine drinker.
Top Albarino wines include:
Torres 2019 Pazo das Bruxas Albarino
Mar de Envero 2019 Troupe Albarino
Rectoral do Umia 2020 Calazul Albarino
Option #2: Sherry
When most people think of any wine from Spain, they usually think of Sherry. As a fortified wine native to the southern Spanish town of Jerez, Sherry is produced from three common white wine grapes – Palomino, Pedro Ximenez and Moscatel.
Spanish sherry styles typically include the following styles:
Sweet Sherry: Made by blending a few fully aged Sherries.
Dry Sherry: Features a low acidity with generally less residual sugar.
Naturally Sweet Wines: Produced by halting the fermentation process mid-way and leaving the wine with some residual sugar to give it a sweet profile.
Option #3: Treixadura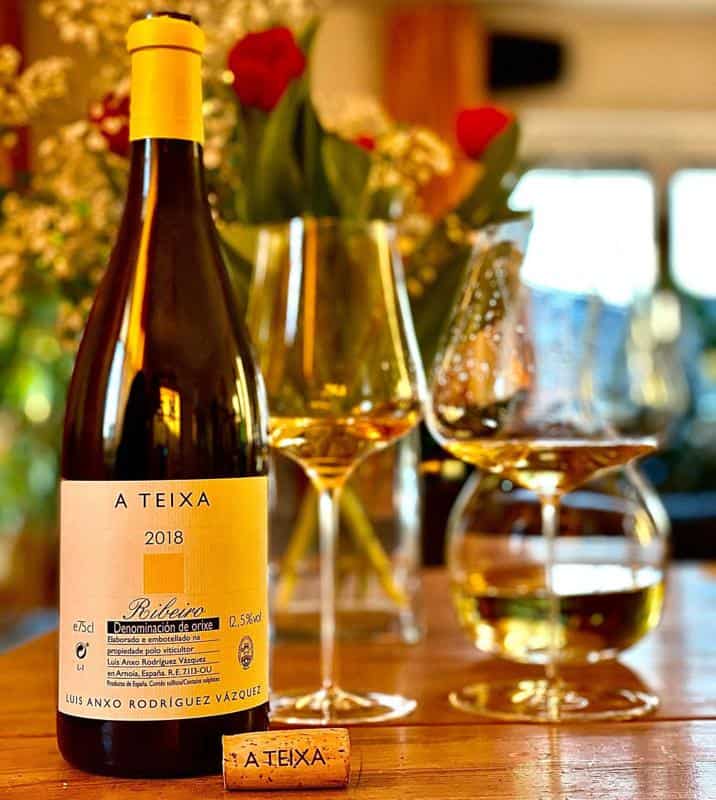 Don't let this wine's difficult name stop you from giving it a try! Commonly found in the Ribeiro region in Galicia, the Treixadura grape was initially used in Portuguese wines. These days this grape is used in wines across the world, the more popular being in Spain.
With crispy fresh notes of cucumber, lime and stone fruit, this wine is best enjoyed in its youth. Its fresh, crispy palate makes an ideal option with lunch or even a light dinner drink.
Option #4: Cava
If you're at all familiar with Spanish wine, you'll know that Cava is regarded as the traditional white wine of Spain. Made using a combination of three native grapes, this premium wine has a distinct and tasty profile.
Since it takes an average of three years of aging you can expect a richer texture with a sharp flavor that easily competes with any Champagne. It's so popular as a sparkling white that many wine drinkers will easily opt for this high-end choice as an alternative to their favorite bubbly!
A few of the Cava brand options to consider are listed below:
Recardero Cava Turo d'en Mota
Freixenet Cava Elyssia
Castillo de Perelada Gran Claustro
Option #5: Classic Penedes
White wine drinkers who enjoy the sharp taste of a good Spanish Cava will enjoy a glass of Classic Penedes. Since this juicy wine is made with similar grapes and production methods it's actually very similar to Cava.
Unlike some other Spanish whites, Classic Penedes is made exclusively from 100% organically-grown grapes. The Penedes region of Spain is well-known for being the first 100% organic sparkling classification in the world. It's the perfect choice for a dinner wine!
Option #6: Txakoli
Three regions in the north of Spain make this exquisite wine – Arabako Txakolina, Bizkaiko Txakolina and Getariako Txakolina. Generally produced from the Hondarrabi Zuri wine grapes, Txakoli boasts a high acidity and a low alcohol combination.
These whites offer aromas and flavors of citrus, apple and lime and are commonly served with Pintzos, cheese dishes and even cured meat. With its crispy tanginess, it's the ideal wine to enjoy on a hot summer afternoon!
Option #7: Garnacha Blanca
Originally from the eastern region of Spain, Garnacha Blanca is a mutation of its red cousin. As a rich, creamy wine you can expect a deep, blonde-colored drink with mild acidity. Garnacha Blanca has become quite popular over the last few years because of its rich and creamy styles.
Garnacha Blanca features a higher alcohol content than most other white wines. A delight of tropical flavors such as coconut and pineapple will dazzle your palate. Aromas of pears, peaches and lemons make this an ideal summery dinner drink. For many, Garnacha Blanca is the perfect alternative to the old favorite, Chardonnay.
Option #8: Godello
If you're a Chardonnay drinker, you'll definitely love the green apple flavor of a Spanish Godello. Produced in the region of Valdeorras in Galicia, you can expect a wine similar to a white Burgundy.
Your palate will enjoy the high acidity and creamy weight with its citrusy aroma and tastes like a combination of lemon and grapefruit. Since Godello is aged in oak barrels, it's full-bodied and very close in flavor to Portuguese wines.
Option #9: Airen
One of the most prominently planted grapes in Spain as a whole is Airen. Interestingly enough, Airen grapes are ordinarily used in the production of brandy and a lot of table wines. Some winemakers have, however, successfully managed to use them in the production of crisp, fresh top-notch varietals.
With its low acidity, you can expect aromas of citrus, pineapple and green apples from this crisp wine. As with most Spanish whites, the Airen varieties are best enjoyed with just about any seafood dish.
Option #10: Viura
For the most part, Rioja's is commonly known for its quality red wines. Recent years have seen an increase in the popularity of the whites from here and it's easy to see why.
Produced using the same grapes as Cava wines, you can expect a complex flavor profile that competes with a regular Chardonnay. Viura also spends a considerable time in the barrel and goes through longer aging processes with extensive flavor additions.
Option #11: Verdejo
Another popular white wine is Verdejo which is grown exclusively in Rueda located in central Spain. Some Verdejo wines are blended with Viura and Sauvignon Blanc. Since the wine is harvested at night when the grapes are cooler, the acidity remains locked in.
In your glass of Verdejo, you can expect an aroma of tropical fruits such as mango and pineapple. Citrus notes such as lemon, lime and grapefruit dominate this high-acidity wine. Since it's fermented to be quite dry, it's light-bodied and quite tart.
Option #12: White Rioja
If you enjoy a white wine with an almost overwhelming citrus flavor, White Rioja is worth trying! As another choice produced in the Rioja region, this white wine is made entirely from common varieties such as the Tempranillo Blanco and Garnacha Blanca.
Since the wine is aged for 10 years, you can expect options varying from light to full-bodied. Bold and complex aromas of caramelized honey, lime and roasted pineapples are in order with this wine. Your palate will enjoy the pleasantly dry pine nut flavors! Its subtle saltiness makes for a perfect pairing with any type of shellfish.
What's The Best Way to Enjoy a Spanish White Wine?
When it comes to serving Spanish white wines, they are really not much different from other global white varietals. Spanish whites are best enjoyed quite chilled.
Traditionally they're poured from a height, either from the bottle or preferably from a pitcher. The pitcher is referred to as porron and this pouring style manages to keep the bubbles intact. Ideally, you want a glass with a much narrower mouth than red wine to make sipping easier.
Always hold the glass at the stem to keep the wine cool. Wine connoisseurs who often serve wine with lunch or dinner suggest chilling the wine glasses before serving. This is a great way to keep the wine cooler for longer!
Also Read: 15 Best Champagne Brands to Consider
Final Thought
Spanish white wines are well-known for being fresh, crisp and downright exquisite! All the wines we've listed can ideally be drunk on a warm summer evening or as a cocktail next to the pool.
While they pair well with seafood, salad and cheese dishes, the truth is, they're so delicious, you can pair them with just about anything! With the wide range available, there's no need to simply enjoy just one option!