Virginia is home to world-renowned historical sites and is known as "the birthplace of a nation," as well as the "Mother of Presidents." This is a state where you can explore the US's rich and diverse history. You can explore the history of the first English settlement in the country, the African American community's history through time, and Virginia's Native Americans' history and culture.
Although when talking about wine in the US, most people immediately think of California. But Virginia is also one of the country's top wine-producing states with more than 4,000 acres of grapes and more than 250 wineries.
Virginia wineries grow many grapes, but varietals like Viognier, Cabernet Franc, and Petit Verdot shine here. Bordeaux-style red blends are some of the most highly acclaimed wines produced at Virginia wineries, each with their distinct bit of Virginia flair for a truly unique wine tasting experience.
Best Wineries in Virginia
Stone Tower Winery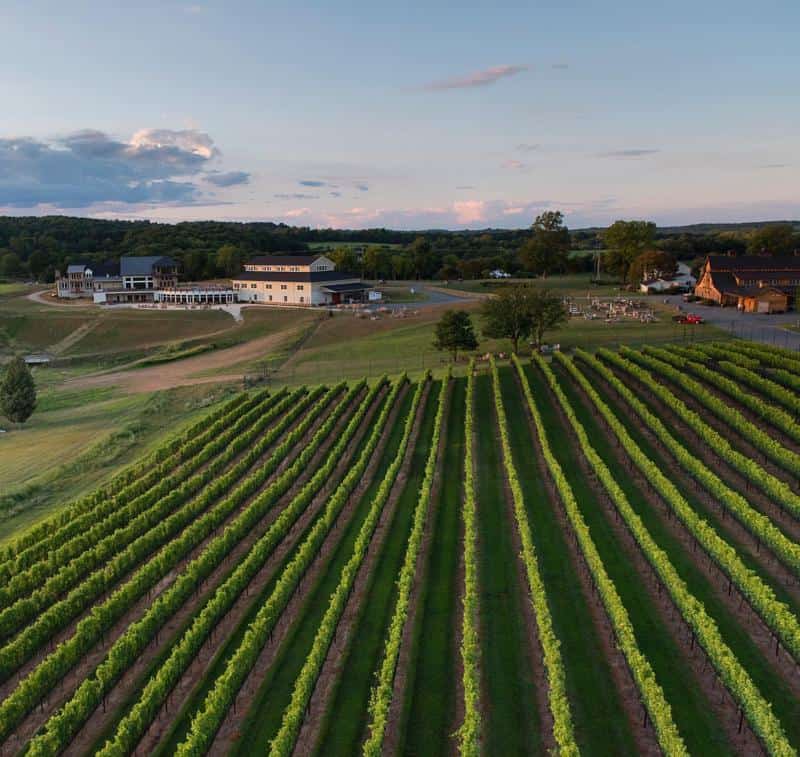 Stone Tower Winery is a family-owned winery. For three generations, it has committed to Leesburg's wine and hospitality industry. The family loves to follow the rich agrarian traditions of Western Loudoun and share with its guests the beautiful lifestyle of wine.
The fertile land of Leesburg can produce a beautiful blend of new and old-world styles wines that tell a story, stories that deserve to be shared. Like their wine, the family's friendliness and stories alongside the stunning views from the property allow you to enjoy big and small life moments and create your own lovely stories.
Wine Tasting
Tastings here are only reserved for the wine club members. They are hosted at the outdoor spaces of the Tower View Tasting Room. The room has stunning views of the winery's vista, and frankly, the premium seating location is the perfect way to spend a relaxing afternoon. If you are visiting or traveling with your dog, you will be happy to know that friendly, leashed dogs are welcome outside.
Wine and Food
Harvest Barn is open to everyone but only accepts walk-ins. Thus, better arrive as early as possible. Furthermore, your 2-hour visit will begin when the first member of your party comes. Nevertheless, this is a fantastic place to enjoy delicious wine and food while being in an old-style industrial barn with stunning views of the vineyards.
The Winery at Bull Run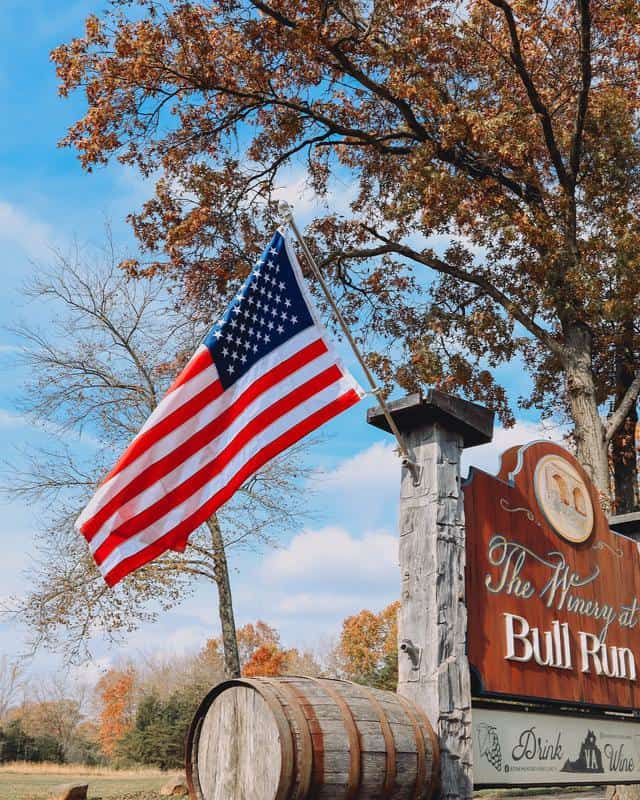 Established in 2012, The Winery at Bull Run sits next to the Manassas National Battlefield Park and a horse farm. The scenic working farm vineyard was built as a Northern Virginia-style barn that pays homage to its history. Today, it is the largest working farm in Fairfax County.
The vineyards offer a diverse collection of wines, including reds, whites, fruit wines, and ciders. As one of the biggest wineries in Virginia, it provides fantastic opportunities to immerse yourself in the wine culture and lifestyle. Furthermore, the family has a history of over 200 years. So, you can have a unique experience that allows you to immerse yourself in Civil War history while you taste wine and walk around the winery.
Wine Tasting
You can have wine tastings across different parts of the estate. Popularly, guests join tasting at the main tasting room, the main patio and the Hillwood ruins.
The vintage charming main tasting room is perfect for enjoying the many delicious Virginia wines by the glass, bottle, or savor and evaluating their fine qualities.
Next to the main bar, there is a home-style fireplace lounge with large, comfy leather couches to relax with your group and keep yourselves warm in the colder months. Civil War relic displays are situated throughout the tasting room, showcasing a collection of interesting historical artifacts found on the winery property and locally.
Tours
You can choose between three tours, the Witness to History, Past to Present, and Grape to Glass. During all the tours, you can enjoy 4 tastes of wine.
Witness to History: Explore a collection of over 200,000 artifacts with exclusive access to the new Civil War museum. Discover more about history as the relics, and a tour guide, tell you stories of real Civil War soldiers.
Past to Present: Travel through time as you walk the hallowed grounds of the Winery at Bull Run and discuss the Civil War battles, Hillwood Estate, the vineyards, and the present-day life of the working farm winery.
Grape to Glass: Experience the wine production process as if you were a grape! Walkthrough from the vineyard to the crush pad, the state-of-the-art Production Barn, and the Barrel Room where the wine is aged to perfection.
Bluemont Vineyard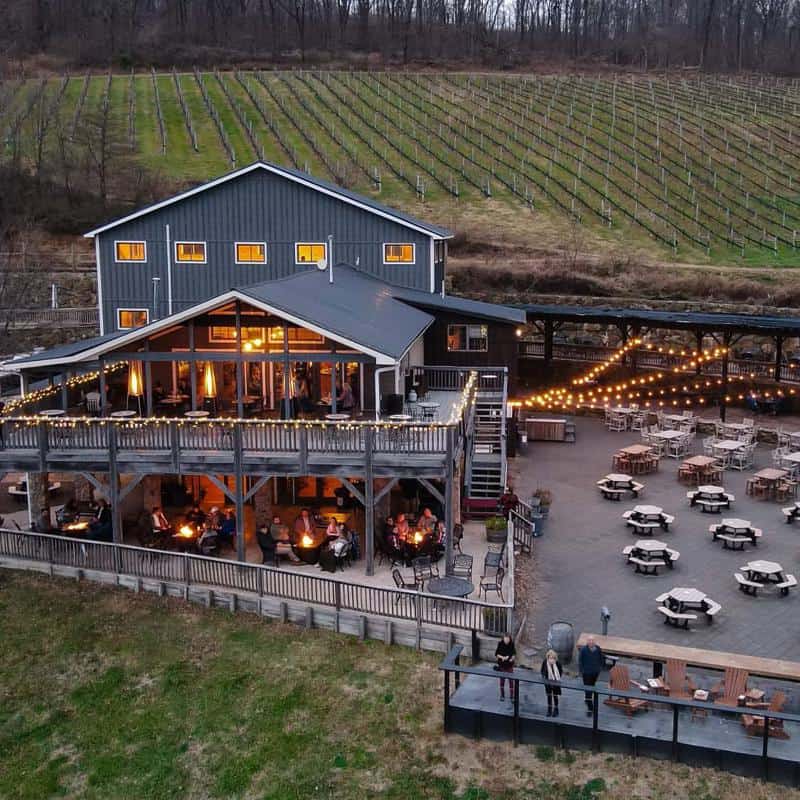 Bluemont Vineyard is another family-owned and operated winery with its roots in farming. For years, the Zurschmeide family gazed up at the mountain from the fields of Great Country Farms and dreamed of one-day growing grapes and producing wine.
In 2007, Bluemont Vineyard's first grapevines came into full production and today grow over ten varietals of grapes, including Viognier, Norton, and Cabernet Franc. As farmers, the family wishes to provide a relaxed atmosphere and approachable tasting experience and fall in love with Virginia's beautiful terroir.
Wine Tasting
At the Terrace and Veranda Seating area you can enjoy the best views while you sip through a guided tasting of four seasonally rotated Bluemont Vineyard wines. Knowledgeable tasting staff will share the history of the farm winery and featured wines.
Wine and Food
You can enjoy a light fare lunch or Sunday brunch at the Inside Seating & Outside Seatings reservations or immerse yourself in a farm-to-table culinary experience with our Chef's Table four-course dinners.
Patio Seating: Embrace the outdoor elements at the patio and sip through the seasons. The patio menu offers light bites, a wide selection of wine by the bottle and glass, plus seasonal specialty drinks such as mulled wine, sangria, and wine slushies.
Inside Seating: Relish at small plates and shareable bites alongside their wine selections. You can enjoy a flight tasting, seasonal special, or wine by the glass or bottle. Join the 951 Tasting Room for Brunch-inspired dishes by Chef Ellie on Sundays.
Lodging
Immerse yourself into the heart of Northern Virginia Wine Country with an overnight stay at The Cottages at Bluemont. Take off a weekend to unwind and release the negativity by taking in the sunrise and stunning views of the Virginia countryside.
Take a hike through the vines at Bluemont Vineyard, or have a fun-filled afternoon with your family at Great Country Farms. This is the perfect opportunity to experience the Blue Ridge Mountain lifestyle on your next romantic Northern Virginia getaway.
Barrel Oak Winery and Farm Taphouse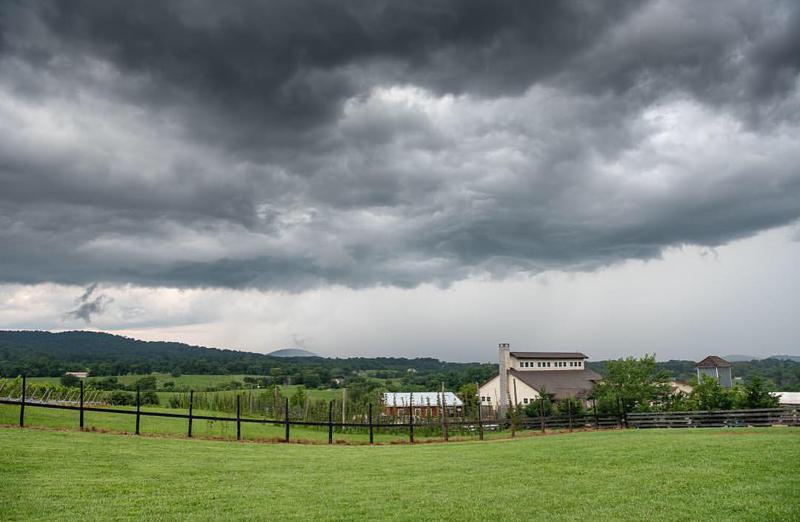 Since the first vine was planted on the Delaplane farmstead in 2006, they have remained committed to providing exceptional samples of fine Virginia winemaking. The 30-acre vineyard is home to a selection of traditional vinifera and American and French hybrids.
Barrel Oak's Winery grape varietals include Chardonnay, Cabernet Sauvignon, Cabernet Franc, Petit Manseng, Viognier, Petit Verdot, Seyval Blanc, Vidal Blanc, Traminette, and Chambourcin. The winery has over 100 gold medals showing its commitment to producing and providing only the best.
Wine Tasting
For a unique immersive winery experience, Barrel Oak Winery provides staff-curated tastings that include eight wines poured at your seated table. The table seating accommodates between 2 and 18 guests. Alongside your wine selections, you are also provided a food pairing with fruit, local craft cheese, sliced meat, savory jam, and mustard and crackers.
For an alternative, more memorable and intimate wine tasting experience book one of their all-season private geodesic domes. Book for an hour, all evening, or all day and enjoy exclusive lounge seating and mood lightning while sipping at their best wines and admiring the stunning views of the vineyards.
King Family Vineyards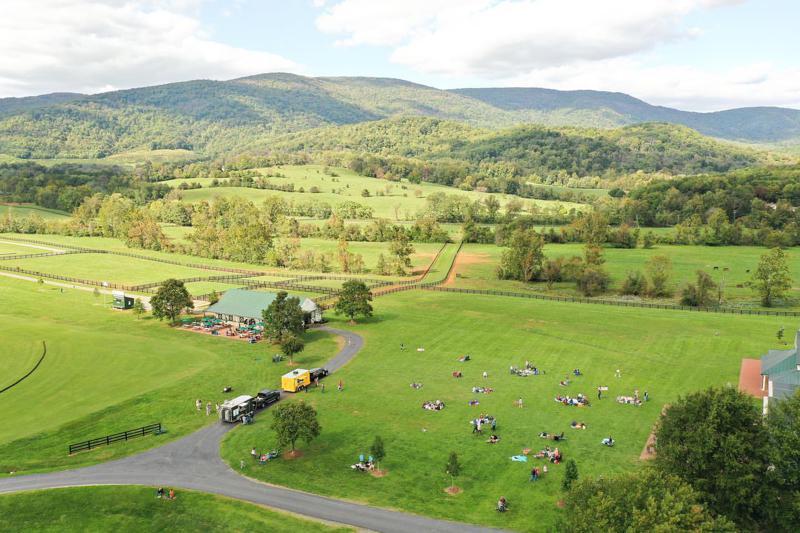 King Family Vineyards is a family-run winery located just 15 minutes outside Charlottesville in Crozet. It was nominated for Best Winery Tour in 2019 by USA Today and won the second spot for Winery Tour in 2018, making it one of the best wineries to visit in Virginia.
With carefully selected grapes, winemaker Matthieu Finot creates wines inspired by the old world but uniquely expressive of Virginia wine. With a combination of their premium wines and the stunning views of the gorgeous foothills of the Blue Ridge Mountains, this is a must-visit winery.
Wine Tasting
At the King Family Vineyard, you can have different wine tasting experiences:
The Classic Tasting is a self-guided wine tasting flight of four wines that can be taken and enjoyed at your seating area. Their tasting room is open year-round, and reservations are not required.
The Reserved Tasting is a prepaid reservation. It offers winery guests a chance to taste the wines in the Library Room. It is best to arrive a few minutes early to allow up to one hour for the tasting experience.
Tour
The vineyard and winery tour will take you behind the scenes and give you a glimpse into the vineyard's management and winemaking programs. The tour begins with a glass of wine while you are led through the vines, the tank, and the barrel rooms. Your experience concludes with a guided tasting of the award-winning wines, with a King Family Vineyards Riedel wine glass as a keepsake.
Wine, Activities and Food
King Family Vineyards boast an on-site polo field where they hold matches on Sundays between Memorial Day through October. So, during that period, you can enjoy polo while sipping on some of the finest wines in the region. Meanwhile, you can enjoy a picnic with prepackaged gourmet snack items available in the gift shop or your own food. Furthermore, every weekend the winery has live music events while food trucks sell snacks and beverages.
Williamsburg Winery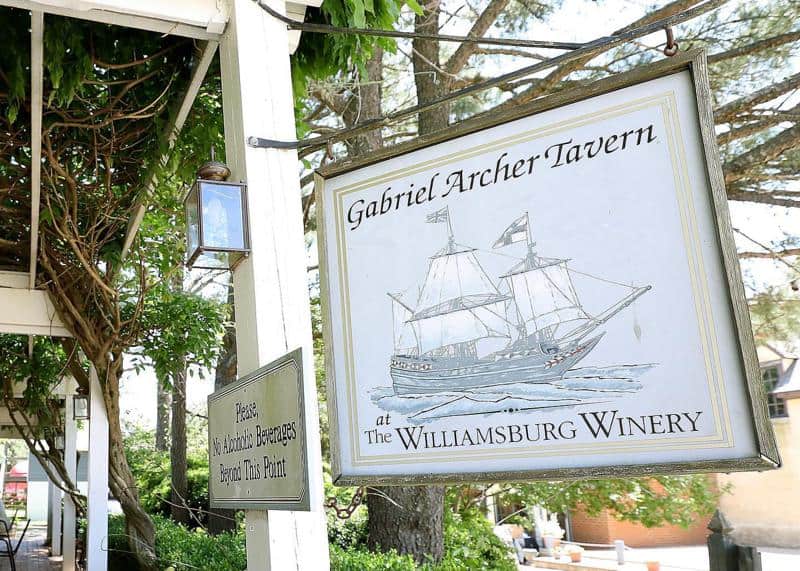 Across the gently rolling hills of Williamsburg proper, Williamsburg Winery lies at a plot filled with history. With its first wine released in 1988, the winery keeps following a tradition of fine winemaking. Inspired by Europe's finest estates, the Duffeler family owns and operates the winery with the goal to make wines with great character.
With the family's passion for winemaking and love for sharing and providing for others, the winery celebrates the best of food and wine. This is the perfect destination to celebrate wine, astonishing views, as well as family and friends.
Wine Tasting
At the Williamsburg Winery, you can choose from two exclusive wine tasting experiences:
The indoor Susan Constant Hall tasting room has five tasting flight options with four different wines. The flights are the All White Wines, All Red Wines, a White and Red Wine Sampler, Sweet Wines, and Reserve Wines. Each person will receive a souvenir wine glass with the Williamsburg Winery logo as a memento of their tasting.
The 1619 Wine Pavilion offers five tasting flight options with four different wines. The flights are the All White Wines, All Red Wines, a White and Red Wine Sampler, Sweet Wines, and Reserve Wines.
Tours
At the Williamsburg Winery, you can choose from two different tour experiences:
At the Extensive Tour and Reserve Wine Tastings, you will sample and compare some of the reserve wines produced at the winery with selected vintages from the library collection. A country sampler of assorted cheese and crackers will complement your personalized tasting, and you will take home an oversized etched reserve wine glass to remember your tasting.
The Group Cellar Tour and Reserve Wine Tasting is a tour of the barrel cellar and production areas followed by a seated tasting of seven wines, including both white and red wines. Each person will take home an oversized etched crystal wine glass at the end of the tasting.
Wine and Food
The Gabriel Archer Tavern is nestled among the vineyards with a beautiful countryside view. Savor a glass of wine and a delicious cheese and meat platter featuring an assortment of local ingredients served with a French baguette, lingonberry preserves, and cornichon, or one of the handcrafted sandwiches served with a mixed green salad.
Lodging
True to their intention to combine excellent wines with the most lavish hospitality, this is a winery where you can stay at a romantic lodge. At Wedmore Place from four different rooms, the Tradition Room, the Classic Room, the Superior Room, and the Wedmore Place Suites. All of them offer a luxurious stay you will never forget.
Breaux Vineyards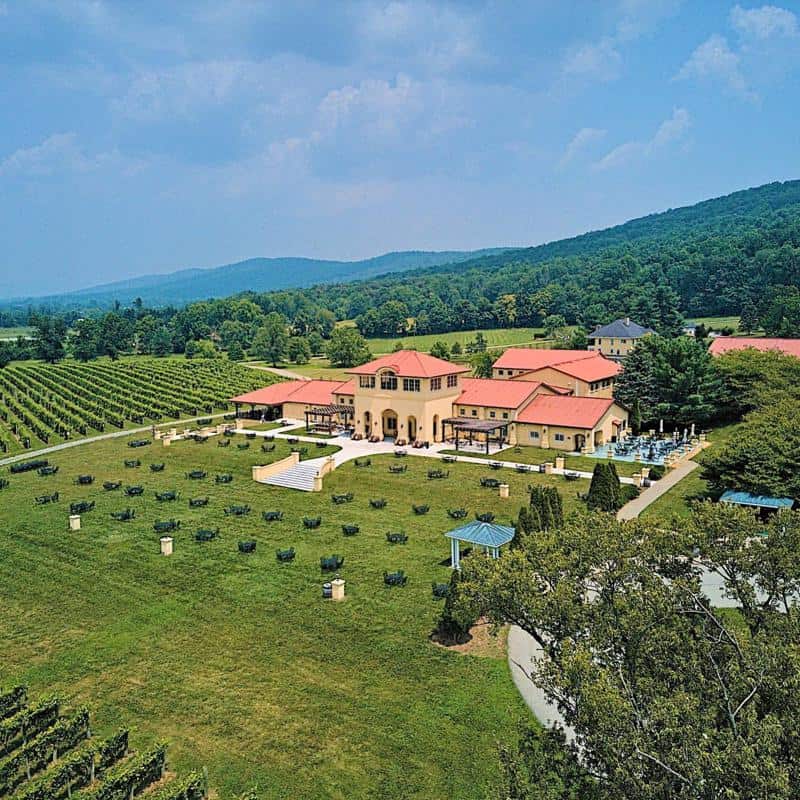 Breaux Vineyards has over 104 acres of vines growing 17 grape varieties. Some of its notable wines are Merlot, Cabernet Franc, Petit Verdot, Cabernet Sauvignon, and Malbec. A favorite amongst wine lovers is Nebbiolo, a tannic red made from Nebbiolo grapes, a vine favored in Northern Italy that results in a smooth, drinkable wine with dried cherry and plum flavors.
With sweeping views of the Blue Ridge Mountains, this is a magical place to take your glass outside during sunny days or sample the winery's current vintages in the tasting room in front of the magnificent stone fireplace. For an elevated experience, check out their calendar for live music events, or if you wish to celebrate your special day at a winery, Breaux will definitely exceed your expectations.
Wine Tasting
The friendly and knowledgeable tasting room staff will make your visit an unforgettable experience. They offer an educational and entertaining tasting showing you their award-winning wines and letting you discover the art of winemaking. You can join for a tasting either at their outdoor or indoor seating areas, Breaux's library, or at the patio.
Potomac Point Winery and Vineyard
Potomac Point Winery & Vineyard is all about exceptional wine, European ambiance, and Virginia's countryside beauty. Their vision of the perfect winery was more than a simple tasting room. It was creating a place to host, entertain, and dine amongst friends and family.
Potomac Point remains one of the few Virginia wineries with an expansive structure and a fully serviced dining option. The winery has twenty-three acres that grow varietals such as Viognier, Petit Manseng, Petit Verdot, and Merlot. In addition to their unique on-site experiences, Potomac Point also specializes in weddings & private events for up to two hundred guests.
Wine Tasting
Enjoy a guided wine tasting at the bar inside the charming tasting room. You can select from two different tastings, the Grand Cru and Premier Cru. Each tasting will include a one-ounce pour of eight different Potomac Point Wines. The Wine attendants will guide you through an educational tasting with behind-the-scenes stories and details of the winemaking processes.
Wine and Food
Le Grand Cru Bistro is Potomac Point's in-house menu with seasonally inspired items. The Bistro menu includes savory small plates, cheese, charcuterie platters, flatbreads, delicious desserts, etc. Table-side service will be provided, while wine is available by bottle, glass, or flight. On Sunday, they serve delectable brunch with Virginia's finest seasonal ingredients.
If you have more time and can visit Maryland, here are some best wineries in Maryland.
Veritas Vineyards and Winery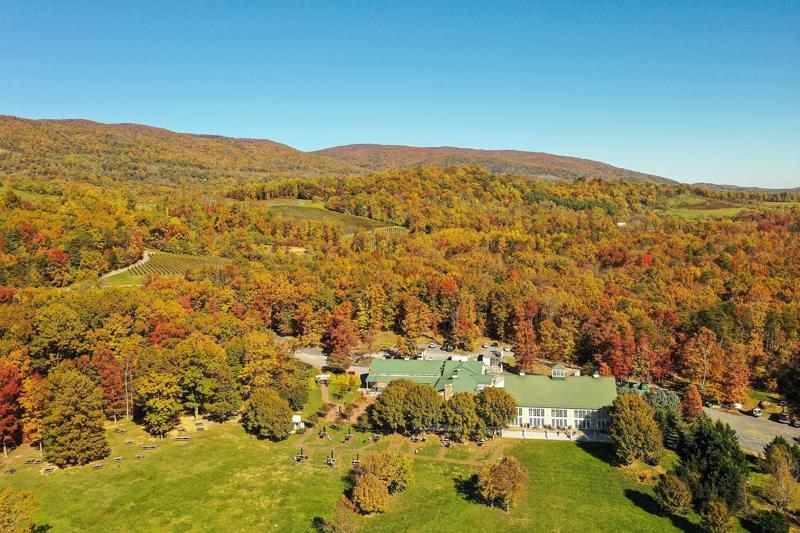 Veritas Vineyards is another family-owned winery located in the foothills of the Blue Ridge Mountains. It is one of the more picturesque wineries with a fun atmosphere making it a top destination all year round.
In the last 20 years, the Hodson family has been producing high-quality wines of a complex portfolio. Their wines range from sparkling to beautifully balanced red wines. Veritas wine quality starts in the vineyard and the terroir of the Blue Ridge Mountains. They strive to give each varietal natural, balanced expression by focusing on attention to detail and cultural practice.
Wine Tasting
Veritas has a massive tasting room with cozy couches and a fireplace, perfect for warming up during winter. In the summer, if it gets busy, the outdoor area has a picnic table-style porch seating area and a grass area accommodating everyone easily. Enjoy the vineyard views and mountainous terrain with a glass of your favorite Veritas wine and delicious food pairing.
Wine and Food
The Garden House offers a dining experience amongst beautiful vines or a table at one of the three indoor dining rooms. Taste delectable meals where European Heritage meets Southern Charm.
Lodging
The Farmhouse at Veritas offers six luxurious bedrooms in the heart of Virginia Wine Country and a farm-fresh breakfast. The Farmhouse is truly a hidden treasure. Featuring world-class four-course dining and luxurious and elegant accommodations, there is no better place to rest and recharge.
Barboursville Vineyards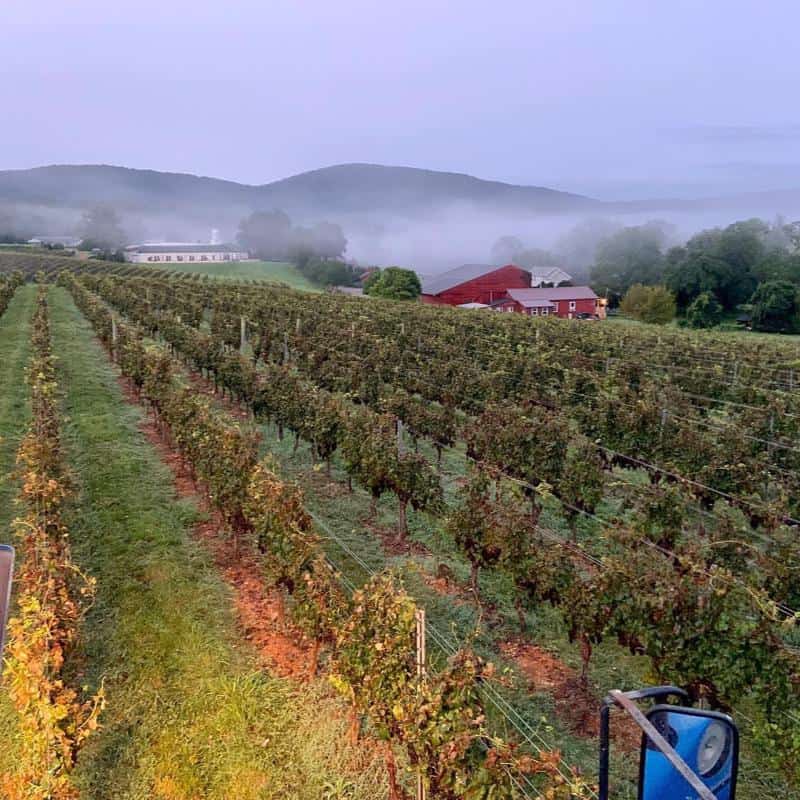 If you are looking for a more expensive wine tasting selection, then Barboursville Vineyards is your destination. This is a stunning estate with rich history and a fantastic tasting experience.
Established in 1976 by Italian-born winemaker Gianni Zonin, Barboursville Vineyards is one of the first wineries in the area. One unique thing about a visit to the vineyard is that it occupies the estate of Virginia's former Governor during the War of 1812, James Barbour.
Tasting Wine
Enjoy a stroll or picnic tasting with informed and enthusiastic hosts presenting the best wines in the Discovery Tasting Room and Library 1821.
The Tasting Room is where the broadest range of the current vintages is introduced, while the Library 1821 presents a changing selection of flights of current and older vintages with bite-sized culinary pairings designed by our chefs.
You can also enjoy wines in the splendid grounds surrounding the historic Landmark Ruins of Thomas Jefferson's mansion for Governor James Barbour.
Wine and Food
The elegant balance in the wine inspired palate harmonies of Virginian in resources and Northern Italian in perspective. With a collaboration of colleagues gifted in cuisine, viticulture, horticulture, and service, you are invited to taste delectable elegant dishes accompanied with Barboursville's best wines.
Lodging
Stay at one of the 1804 Inn or at one of the winery's cottages and experience Virginia's carefree and elegant wine lifestyle. The luxurious rooms offer fantastic services and incredible views that will leave you breathless.
Final Thoughts
Surely, Virginia has countless wineries as one of the largest states on the East Coast. Still, these are the best wineries where you can experience outdoor recreation, history, and farm-to-table dining. You can explore wineries of all shapes and sizes, and the wine community offers something for every palate.
Whether you're new to wine or have enjoyed it for years, you'll find that the wineries are welcoming places to relax and spend time with friends and family. Many wineries have stunning mountain views and are great spots to admire the landscape. If you are a true wine enthusiast, you won't regret visiting Virginia's wineries.