Chardonnay, Riesling, and Sauvignon Blanc are probably your favorite whites if you are a wine lover. While these are some well-known international white grapes, over 20 widely planted white grape varieties worldwide exist.
We've analyzed the 12 most popular white grapes that you are likely to see on wine labels, with a focus on where they are grown, their taste, the style of wine they make, and the best food pairings.
Let's get started.
Also Read: What Does White Wine Taste Like?
Sauvignon Blanc Grape
Sauvignon Blanc is a white grape variety, popularly known for its "grassy" wines-herbal refreshing flavors, and racy acidity.
Where Is It Grown
Sauvignon Blanc originated from western France in the Loire Valley and the Bourdeaux region of France, just like America's favorite Merlot and Cabernet Sauvignon. It is believed to be named from the French word "sauvage, "which means wild, as the vine was known to grow as a wild grapevine in the Bourdeaux region.
Here it was not fermented and bottled on its own. Instead, it made Sancerre, Barsac, and Sauterne (the famous dessert wines) and blends with Muscadelle and Semillon.
Nevertheless, Sauvignon Blanc found its new home in New Zealand, popularly grown in cool climates. The bright, fresh, and zingy wines of New Zealand hit the international market in the 1980s, and the world took notice. As a result, Sauvignon Blanc is doing incredibly well in New World regions, including Australia, South Africa, Chile, and California.
What Does It Taste Like
Sauvignon Blanc prides itself in its straightforwardness; the flavors are not hidden. The aromas include
Fresh cut grass
Gooseberries
Tropical fruits such as Passion fruits
Floral notes such as elderflower
Nettles
Asparagus to green apples
Blackcurrant leaf
A cool terroir with bright sunshine and a dry harvest period is ideal for the elegant, fresh, and crispy taste that best characterizes Sauvignon Blanc.
In warmer climates, more tropical fruit notes characterize this white grape. However, it may lose the aroma from over-ripeness resulting in slight tree fruit and grapefruit aromas.
Sauvignon Blanc is hardly ever aged in oak; rather, winemakers choose to bring out the fruity and bright characteristics.
What Style of Wine Does Sauvignon Blanc Make
It is best known for its dry, vibrant, and intense single-varietal wines with gooseberry, exotic fruits, and green nettle flavors.
Also, it can be blended with other wines. For example, it can be mixed with Muscadelle and Semillon to create white Bordeaux.
Food Pairings
Asian style stone-bass
Leek terrine with Goat's cheese
Bluff oysters with dill and lime vinaigrette
Chardonnay Grape
Chardonnay is the most famous and widely planted green-skinned white grape in the world. It is known to make some of the world's finest wines with diverse flavors.
Where Is It Grown
The traditional home of Chardonnay is the Burgundy wine region of France but is now grown in most New World wine regions from California, New Zealand, to Australia.
It has a "black canvas" feature- flavors are not distinctive. Chardonnay expresses terroir-it is a mirror of its location and climate.
What Does It Taste Like
Chardonnay's flavors vary widely; it has the broadest aromatic profile than any grape variety. The taste depends on terroir, methods of aging, and ripeness at harvest.
Typically, Chardonnay makes dry, medium-bodied white wines with notes of pear, apple, guava, lemon peel, melon, buttery and creamy.
In warmer climates, it carries the aromas of tropical fruits such as mango and pineapple. In comparison, cooler climates bring out the refreshing acidity and notes of orchard fruit like apricots and peaches.
What Style of Wine Does Chardonnay Make
When it comes to flavor and complexity, Chardonnay is the king.
Oak aging adds structure and tannin with toffee, toast, spice, and vanilla aromas to the white wines. At the same time, malolactic fermentation reduces bitterness and softens tannins in the grape skins giving the white wine a buttery flavor.
Chardonnay's winemakers strive to bring out the refreshing acidity of this grape without tampering it with too much fermentation.
Food Pairings
Chardonnay goes well with white dishes, including fish, a wide range of pasta, and white meat dishes such as chicken.
Riesling grape
Alongside Chardonnay and Sauvignon Blanc, the Riesling grape is among the world's best white wine grape varieties.
Where Is It Grown
Riesling grape originates from Germany's Rhine region, especially Rheingau and Mosel, wine-growing sub-regions. Germany accounts for about 20% of all the global Riesling wine production.
Other leading regions include New Zealand, Washington State, California, Alsace in France, Australia, and Finger Lakes area in the New York State.
What Does It Taste Like
Generally, Riesling has high acidity, almost to levels of orange juice or lemonade, resulting in a crisp taste when combined with sugar with a juicy finish.
Older Riesling wines smell like burnt rubber, kerosene, or gasoline, while younger ones have more fruit notes such as apples, honeycomb, peach, grapefruit, or gooseberry.
However, the Riesling white grape aromas vary with the climate, vineyard soil, and production method.
This white grape tends to have high acidity with fruity and apple notes in cooler climates like Alsace and Rhine. While in warmer climates, the Riesling grape has lower acidity and citrus notes (lime).
What Style Of Wine Does Riesling Grape Make
Riesling wines are more likely taken when they are very young. This is because the fruity notes and floral aromas are at their peak. However, when aged, they tend to have a more intense flavor with kerosene or petrol notes.
They are four categories of wines made from Riesling grapes.
Dry Riesling- Riesling grapes grown in America, French, and Austria tend to make drier wines since the aging period is 5 to 15 years
Sweet Riesling-typically, Rieslings have some degree of sweetness. German Riesling wines are sweeter since they age between 10 and 30 years. In addition, Riesling is susceptible to noble rot, which dries the grapes intensifying the sweetness, making it excellent for sweet wine production.
Semi-sweet Riesling- these are balanced Rieslings between 10 to 20 years.
Sparkling Riesling (sket)
Food Pairings
Riesling wines have the perfect balance of acidity and sugar, making them ideal for most foods.
They go well with:
White meat
Spicy meals
Fish
Poultry dishes with light sauces
Asian cuisine
Pinot Gris Grape
Pinot Gris is a white grape variety that is part of the Pinot family, a mutation of the Pinot Noir. It is also popularly referred to as Pinot Grigio. The berries tend to be rose-colored –gray-tinged pink to blue.
Where Is It Grown
It has its traditional home from the vineyards of Burgundy in France. Today, this grape has become a wide variety in wine regions globally, including France's Alsace, Italy, and new world regions such as Germany, New Zealand, and Oregon.
Due to its low acidity, early budding, and ripening, Pinot Gris is best grown in cool climates resulting in wines with a high degree of freshness.
This variety is very prominent in Oregon.
What Does It Taste Like
Pinot Gris flavors vary widely depending on the region and style. Generally, the typical Pinot Gris aromas include apples, sweet spices, lemon, white nectarine, pear, tropical fruit, and saline-like minerality
French Pinot Gris- a greasy feel with faint honey, cinnamon, ginger notes, and a tingly aftertaste
Italian Pinot Grigio-very dry, high acidity, a crisp character with notes of bitter almond and citrus
American Pinot Grigio- less acidity with more fruit flavors
Please Note: Pinot Gris does not have that unique flavor but has a brilliant acidity level.
What Style Of Wine Does Pinot Gris Make
Pinot Gris is known for dry, medium-bodied, and full-bodied complex white wines. In comparison to other whites, it is drier than Chardonnay and less aromatic than Sauvignon Blanc.
Pinot Gris wines are less acidic if the grapes are riper.
However, despite producing dry wines, some Alsace Pinot Gris is sweet. For example, Alsatian Pinot Gris grapes prone to noble rot produce sweet wines, and vendange tardive (grapes harvested late ) produce sweet dessert wines.
Food Pairings
Pinot Gris is an adaptable wine and matches well with most proteins and earthy vegetables
Oven-roasted chicken
Grilled or seared chicken
Cream sauces
Macaroni and cheese
Pork
Sémillon Grape
Semillon grape can't miss among the most popular white wines in the world. But, just like Riesling, Semillon is an uncelebrated hero with a deep gold to copper color.
It is primarily a blending grape but also makes both dry and sweet varietal wines. Semillon wine has aromas close to Sauvignon Blanc and Pinot Gris, and it's full-bodied like Chardonnay.
Where Is It Grown
Semillon has its native origin from the Bordeaux region, which still produces the highest amount of this grape
It is also becoming more popular in other countries, including Australia, California, South Africa, Washington, and China.
What Does It Taste like
When vinified dry, Semillon reveals notes of beeswax, lemon, white florals, stone fruit, and apple. On the other hand, when vinified sweeter, it exhibits lanolin and honey notes.
Semillon's most noteworthy aspect is the silken texture because of its high concentration of glycerol and sugar.
What Style of Wine Does Semillon Make
Semillon can be vinified in various styles, including dry white wines, sweet wines, oaked and unoaked wines, dessert wines, and white wine blends.
Fresher Semillon wines are fermented in stainless steel, while the intensely structured ones may be barrel-aged.
It is normally blended with Sauvignon Blanc and Muscadelle in white Bordeaux blend. Besides, it is the major ingredient in Bordeaux's dessert wines such as Sauternes, Loupiac, Cerons, Barsac, Premieres Cotes de Bordeaux and Cardillac.
Food Pairings
Sushi and raw oysters
Sharp and tangy cheeses
Most seafood dishes
Highly seasoned dishes
High-toned herbs such as fennel and sage
Chenin Blanc Grape
Yet another popular white wine grape, Chenin Blanc, comes in versatile styles and goes well with almost every food.
Where Is It Grown
Chenin Blanc was first grown in the Loire Valley of France. However, it is now grown in New World wine regions, mainly South Africa, where it is widely planted, occupying over 50% of vineyards worldwide. It is commonly referred to as Steen in this region.
It is also grown in Argentina, France, New Zealand, and the United States.
What Does It Taste Like
Chenin Blanc ranges from honeyed and floral, zesty and light to dry and sparkling.
Its typical form in Loire Valley carries more floral and honeyed aromas and apple and quince-like flavors. While in South Africa, where it is cool-fermented, it tends to take a more pear and peachy flavor, especially in dry whites.
What Style of Wine Does Chenin Blanc Make
This white grape has a rich flavor profile due to its winemaking style. It makes oak-aged styles with similar characteristics to Chardonnay and dry and sparkling wines styles.
Sweet– Chenin Blanc makes sweeter styles with mandarin orange, toasted almond, ginger, and dried persimmon flavors.
Dry– when these grapes are fermented dry, they produce lean, minerally style Chenin Blanc with notes of quince, chamomile, tart pear, and ginger.
Off dry-when natural sugars of the grapes are left in the wine, they take aromas of jasmine, passion fruit, ripe pear, and honeycomb.
Sparkling– Chenin Blanc is known for its sparkling styles ranging from dry to sweet with plum, floral, tallow apple, and ginger notes. Less ripe grapes and highly acidic make excellent sparkling wines.
Blends– Chenin Blanc is blended with Marsanne, Semillon, and Viognier to make a richer styled wine with similar notes to oaked Chardonnay, however, with a sweet taste.
Food Pairings
Due to its rich acidity and sweet flavor, it matches incredibly well with sweet and sour foods, including
Southeast Asian cuisine
Pork chops
Smoked Salmon
Chicken
Herb-crusted goat cheeses
Gruyere, cheddar, and cream cheese
Viognier Grape
Viognier is a white wine grape that is slightly lighter, softer on acidity, and more aromatic with wines with an oily sensation on the middle of the tongue.
It is best known for making aromatic, textural wines with deep stonefruit characteristics.
Where Is It Grown
Northern Rhone is the traditional home of Viognier grape in the vineyards of Chateau-Grillet and Condrieu. In the 60s, only 14 hectares of Viognier vines remained in this region in the whole world.
However, in the 70s, this near-extinct grape variety got a new lease of life in Australia's Eden Valley and California's Mount Harlan wine regions.
It is now grown in most New World regions, including Spain, Argentina, South Africa, Italy, New Zealand, Switzerland, California, and Australia.
What Does It Taste Like
White flowers
Jasmine
honeysuckle
Apricots
Aromatics
Violets
Creamier aromas of vanilla with spices of clove and nutmeg
What Styles of Wine Does Viognier Make
When it comes to Viognier, they are generally two styles of wines that winemakers choose:
Neutral (no oak aging)- made in stainless steel and shows more tropical fruit and floral characteristics while maintaining the grape's acidity with a subtly bitter taste.
New oak aging– this style portrays richer, creamier flavor with notes of nutmeg, vanilla, and clove with lower acidity
Typically, Viognier presents a challenge to winemakers because it requires warmth to ripen and develop fully. Thick-skinned Viognier grapes have low acidity and require a great deal of sunshine to ripen and lots of sugar to attain a high alcohol level fermentation. Unfortunately, too much heat can result in overblown, alcoholic wine that lacks fresh apricot zing. This makes it a delicate variety that is difficult to balance.
Food Pairings
Due to its floral notes and medium acidity, go for foods that heighten the fruit flavors and creaminess in Viognier wines and are not too bold or acidic.
Teriyaki tofu
Savory orange chicken
Pork chop with apricot sauce
Gewurztraminer Grape
Like Pinot Gris, the Gewurztraminer grape is pink, translating to a deep golden color in a wine glass. It is one of Alsace's four noble varieties that do really well in cool climates.
Gewurztraminer is popular for its poignant aromas of lychee, intense floral notes, and sweet baking spices.
Where Is It Grown
Gewurztraminer originates from the foothills of the Alps. Alsace, on the border of France and Germany, is the homeland of this white grape. But, it is now grown in Hungary, Croatia, Italy, Slovenia, Croatia, and Romania.
What Does It Taste Like
Gewurztraminer is best described to have perfumed notes of lychee. It is highly aromatic with flavors of honey, marmalade, orange, lavender, pineapple, and roses.
What Style of Wine Does Gewurztraminer Make
Most Gewurztraminer wines are sweet, semi-dry, or off-dry.
Due to the grape's intense aromatics and low acidity, the dry wines can taste sweeter than they actually are because they are made with about two grams of residual sugar.
Majorly, the wines are medium to full body with medium alcohol.
Gewurztraminer is often produced as a varietal wine rather than blended due to its character. The Alsatian dessert wines made from this white wine grape are either from late harvest grapes or those affected by noble rot (botrytis cinerea)
Food Pairings
Gewurztraminer is high in alcohol and stands bold dishes. Besides, it is an ideal brunch wine that can be paired with quiche or fruit salad.
Best food matches include:
Pad Thai
Indian dishes
Asian sauces
Ceviche
For dessert styles, Gewurztraminer pairs well with dried nuts, honey, cinnamon, and dried fruit.
Muscat Blanc a Petits Grains Grape (Moscato Bianco)
Muscat Blanc a Petits Grains is one of the oldest grape varieties globally and a well-known member of the Muscat family.
As the name suggests, it has small grapes and seeds with yellow skin, but variations in color range from pink to pale brown hue to reddish.
Where Is It Grown
Muscat Blanc a Petits Grains grows throughout France in areas such Roussillon and Alsace. In Italy, known as Moscato Bianco, it is most famous for producing sparkling Asti and semi-sparkling Moscato d'Asti in the Piemonte region.
In Australia, it is known as Brown Muscat due to its brownish hue in this region.
Besides, it is grown in Greece and California.
What Does It Taste Like
Muscat Blanc a Petits Grains is known for its "grapeyness" flavors.
The dry varietals exhibit spice, citrus, and floral aroma, while sparkling wines have melon and honeysuckle aroma with sweet grape scents.
What Style of Wine Does Muscat Blanc a Petits Grains Make
Muscat Blanc a Petits Grains is a flexible white wine grape making a wide range of wine styles, depending on where it is grown, ranging from dry varietals, off-dry, sweet and sparkling to dessert wines.
Food Pairings
Seafood
Spicier Asian Cuisine
Desserts such as lemon cheesecake
Albarino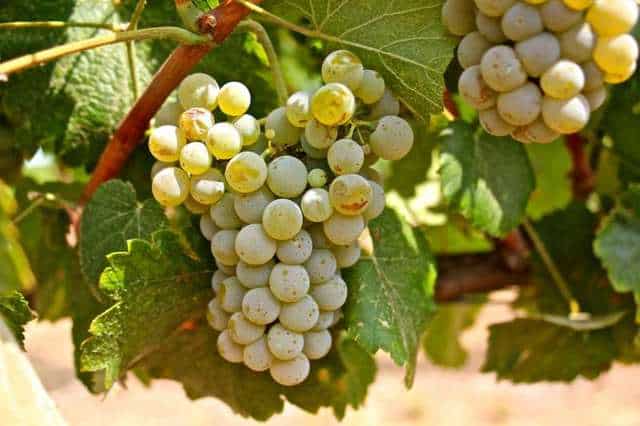 Albarino, also known as Alvarinho, is a thick green-skinned grape that grows on the Iberian Peninsula. Its hint of salinity, rich stone fruit flavors, and zippy acidity has made it a favorite to many.
Where Is It Grown
Albarino originates from Eastern Portugal but is now majorly grown in the region of Galicia in Spain. The area where it grows is referred to as Rias Baixas, an area surrounded by the Atlantic ocean, which is part of the Maritime climates that contribute to high acidity in this grape.
Due to increased interest in the high-quality Albarino and Spanish grape varieties, this white grape is now grown in California cooler areas, Oregon, Washington, New Zealand, and Australia.
What Does It Taste Like
Albarino wines exhibit aromas of stone fruits such as nectarines and peaches and citrus fruits such as lemon and grapefruits.
What Style of Wine Does Albarino Make
Albarino wines are characterized by dry, light-bodied, and tingling freshness. They have a fruity aroma with hints of salinity, making them an excellent match for seafood.
It comes in single-varietal Alvarinho and makes a blend for Vinho Verde-Portugal's favorite peachy white wine.
Besides, it is high in acidity, which means it can produce light white wines or fuller-bodied style, with lees or oak aging to add creaminess and texture.
Food Pairings
Due to its slight salinity characteristic, it is an incredible food wine and even better for seafood.
White meats and fish
Leafy green herbs
Soft and semi-hard cheese
Spanish tapas
Gruner Veltliner Grape
Gruner Veltliner is a white grape that accounts for about a third of all vineyards in Austria. It is branded the national grape of Austria.
Where Is It Grown
Gruner Veltliner is the most planted grape variety in Austria, with the best wine from Wachau, Kremstal, and Kamptal wine regions, located in the sloped terraces of the Danube River. Nevertheless, it is grown in every Austrian wine region.
Besides, it is also widely planted in the Czech Republic and Slovenia and few regions in Australia, New Zealand, the United States, and Northern Italy.
What Does It Taste Like
Generally, Gruner Veltliner has hints of citrus aromas-grapefruit and lemon peel with notes of fresh vegetal, white pepper, and stone fruit.
High-quality Gruner leaves a delicate tingly aftertaste.
What Style Of Wine Does Gruner Veltliner Make
Gruner Veltliner produces two styles of wines-lighter and zesty wines and rich and nutty with a tingly finish wines
The first style of wine is pale green and typically bottled with a slight spritz to enhance its fresh fruity notes. The second style is characterized by wines from warmer regions-Kremstal, Kamptal and Wachau regions. These wines are well structured and are aged to reach maturity.
While most Gruner wines are fermented and aged in stainless steel or large old oak casks, the modern wines are made in smaller new oak barrels, which softens them, giving them the deep-golden hue.
Food Pairings
They generally are full-bodied with a higher acidity texture, making them a significant alternative to Chardonnay.
It goes well with richly flavored foods, including sautéed kidneys, Asian spices, and vegetables such as zucchini quiche, artichoke, and grilled asparagus.
Airén Grape
Airén grape is a drought-resistant white grape variety that ranks as the third most widely grown wine grape in the world after Cabernet Sauvignon and Merlot.
Where Is It Grown
Airén grape isn't grown elsewhere but in Central Spain in La Mancha and Valdepenas wine regions. It has a high tolerance to hot, dry conditions, diseases, and poor soils
What Does It Taste Like
Airen primary flavors include:
Pineapple
Grapefruit
Rose
Banana
Apple
What Style Of Wine Does Airen Make
Airén has traditionally been used for brandy to make high alcohol, oxidative white wines. However, it is now used to make refreshing dry medium –light-bodied white wines with improved vinification and handling.
Besides, it is used as a blending ingredient in making more balanced dry white wines. It is blended with other grapes such as Sauvignon Blanc, Verdejo, or Viura due to its lower acidity and bolder style.
Food Pairings
Garlic prawns
Sardines
Oyster sauces
Also Read:
Check this video to learn more tips: