Definition and History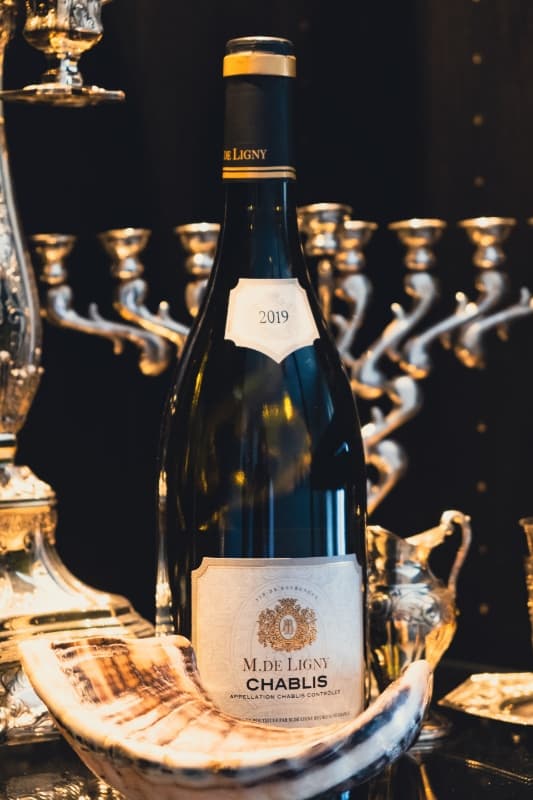 Before going into the difference between Chardonnay and Chablis, let's describe what Chablis is.
Chablis is one of the most well-known wines in France. More precisely, it is the name of an appellation (legally protected geographical area) reserved for grapevine cultivation.
Chardonnay is the most produced white grape variety in the world. Its character changes according to the region, soil, and climate.
Chardonnay is the only white grape variety grown in Chablis. To make a long story short, Chablis is not a wine or grape name. It is a wine district in Burgundy, in the northern part of France where only Chardonnay grapes are allowed to grow.
What makes the region so recognized is the climate and soil type. The region has a temperate-oceanic climate with continental influences. It has special clay soil from the Jurassic period. It is also 19 miles (30 km) away from the Champagne region even closer than the Burgundian regions.
The first vines were cultivated in the Roman era which dates back to the 2nd century. With this unique terroir, as a consequence, it is prohibited to put a Chablis label on your Chardonnay unless it is produced in Chablis.
Table 1. Main differences between Chardonnay and Chablis
| | | |
| --- | --- | --- |
| | Chablis | Chardonnay |
| Grape variety | Chardonnay | Chardonnay |
| Distinguishing character | Not oak-aged | Mostly oak-aged |
| Flavors | Citrus, apple, pear, minerality | Mango, pineapple, buttery, toasty |
| Grown area | Only on certified French appellation | All over the world |
Chardonnay vs Chablis: Detailed Comparison
Chablis has to be produced from 100% Chardonnay grapes. No other grape is allowed for the sake of the appellation. It covers one-sixth of Burgundy's overall production. Besides, to call it Chablis, the grapes and wines must be produced in one of four certified regions of Burgundy which are Petit Chablis, Chablis, Premier Cru, and Grand Cru.
However, you may find Chardonnay worldwide either as a single variety or a blend of a few grapes (Chenin Blanc, Sémillon). When it comes to growing Chardonnay, there is no restriction as there is no appellation law.
What is good about having a Chablis bottle rather than a random Chardonnay is that you have a guarantee from the French government about your grapes' origin and winemaking style. This standard is called Appellation d'Origine Contrôlée (AOC) which was created in 1938.
It gives confidence to the consumers before buying. Still, you should read the label carefully if it is a product of France. Because it is possible to find wines with Chablis labels at supermarkets in the USA that are not made in France.
Oak Aging Effect
Most Chablis wines are made to be consumed immediately whereas a few can age in years. On the other hand, Chardonnay from California or Oregon, or Australia can be aged for more years. Because the winemakers love to age this wine in oak barrels as they give a distinctive character to the wines.
Thus, oak usage is another distinguishing characteristic between Chardonnay and Chablis. Oak usage is not preferred in Chablis except for some Grand Cru producers. The aim is to express Chablis' unique soil and climate in wines with high purity, reflecting the region's unique character without any intervention.
Sparkling Chardonnay
It would not be fair not to mention sparkling Chardonnay. As is known, Champagne is a "natural bubbled" sparkling white wine made in the Champagne region of France. Chardonnay is the most dominant grape that is used for making these reputed wines. In Burgundy, it is called blanc de blancs (whitest of the whites) and it is made 100% from Chardonnay grapes.
What Flavors to Expect?
Chardonnay is mostly known for its vanilla, toasty, buttery, and creamy flavors. That may be true for an oak-aged Chardonnay with its complex and textured style. But, when you taste a Chablis, you will most probably catch fresher aromas such as green apple, lime, and citrus. Yet, brioche and hazelnut aromas on the nose may also be detected at some Chablis.
In Burgundy, because of cold winters and the big risk of frost in the springtime, grapes may not fully ripen. Its cool climate gives a high acidity to the wines. Thanks to the particular soil of Chablis which is called Kimmeridgian soil, the wines have richness in minerality.
Depending on the region and winemaking style, Chardonnay has a wide range of flavors like lemon, lime, apple, pineapple, and pear where it also has floral flavors. In warmer climates, it presents rather a tropical fruity character. Oak casks are commonly used around the world for producing Chardonnay.
Consequently, toasty and buttery notes are expressed in these Chardonnay wines. As it can easily adapt to different climates it is the most produced white grape variety in the world. Mostly grown countries are France, the USA, Australia, Canada, Chili, Argentina, South Africa, and China.
Which one is sweeter? Chablis or Chardonnay?
If you want to drink dry white wine, Chablis will not surprise you as surely it has less than 3 grams of residual sugar per liter.
Even though traditional Chardonnay wines are also made mostly dry, you may still find late harvested sweet Chardonnay in a restaurant. It is also worth noting that some Chardonnay may taste sweet.
It is thanks to the complex compounds coming from the oak, despite having no residual sugar in the wine. Eventually, it would be safer to read the labels first.
Aging Potential
You don't have to be a wine professional to predict a wine's aging potential. The more complex it is the longer the wine's lifespan is.
It is necessary to know that complexity occurs using well-matured grapes with moderate oak contact combined with good winemaking practices. Across the globe, producers love to use oak barrels to age their Chardonnay. We cannot go without mentioning a secondary fermentation phenomenon that is called malolactic fermentation.
In a nutshell, this process converts malic acid into lactic acid which gives a more creamy texture to the wines. That is why oak-aged Chardonnay tastes more creamy and less acidic. The compounds coming from the oak make the wine more structured, allowing it to have a higher potential to age.
So, most of the Chablis (AOC) wines become better with 2-3 years of aging while some Grand Cru bottles may age up to 15 years and sometimes even for longer. Again, a nicely made Chardonnay would develop smoothly in a bottle with good integration of the complex compounds.
It is still best not to exceed 10 years. Please note that, after 3 years, you may not have fruity and floral notes any longer. Instead, spicy, toasty, and earthy notes will predominate in your wine.
Ideal Temperature
In general, too low temperatures cover the flavors of wine while warmth reveals the wine's aromas better on the nose and palate. As Chablis has higher acidity than Chardonnay, it would be preferred to serve it a little bit colder. Serving at around 48–57 °F (9–14 °C) would be suitable. Moreover, a full-bodied Chardonnay may taste better at higher degrees up to 60 °F (16 °C).
What Are the Costs?
Chablis wines can cost from $15 to $100. While, apart from exceptional circumstances, you may find a traditional Chardonnay at lower prices. It is also likely that a Grand Cru Chablis can cost even less than a Premier Cru.
As it is a matter of taste, you may enjoy a less expensive Chardonnay than a Grand Cru Chablis. To discover it, starting from the least expensive bottle would be a wise decision.
What Food Is Good to Pair?
As commonly known, whites pair well with white meat rather than red meat or heavily sauced dishes. The same case applies to Chablis and Chardonnay. However, there are nuances to pay attention to. It is recommended to pair them with cheese platters, seafood, and fresh salads.
If you are up for white wine and at the same time having a creamy dish or fatty salmon, keep in mind that instead of Chablis, an oak-aged Chardonnay would match much better on your palate.
Read More:
Final Thoughts
Which one is better? Chablis or Chardonnay ? It is up to you to decide your ideal one as the tastes are very subjective. Both are the same grape but the style and the soil make a big difference. Pick one bottle of each and see yourself.