Also commonly referred to as shiraz or sirah, syrah wine is a fascinating drink. While being a popular wine worldwide, novices to this vino have many questions about it. Wine connoisseurs always have a bottle or two of syrah wine in their collection. Its full-bodied, robust profile makes the shiraz a delectable drink with flavors changing depending on the region where its fruit is grown and harvested.
If you're exploring adding syrah to your wine cellar, read on to find out more about its origin, where it's grown, and what food it pairs best with. Most importantly, we'll be talking about the taste of this red wine which appeals to so many palates.
What is Syrah Wine?
If the name syrah makes you think of an exotic wine, you'll be surprised to hear that it's actually a shiraz, a familiar vino enjoyed by many. Syrah is a red wine, grown and harvested internationally. The red grape variety is considered one of the best quality varietals and can be found growing in vineyards throughout France, South Africa, Washington State, Chile, Australia, and Argentina.
Syrah or shiraz wines are high in tannins, with an alcohol content of between 13% and 15% ABV. The grape has a particularly thick skin. In order to reduce the high tannin levels of this varietal, winemakers will soak the grapes. Syrah wine has medium acidity similar to other red wines such as Merlot or Cabernet Sauvignon.
What's in a Name?
While syrah and shiraz are both the same wine, the different names are used depending on the country where it's being grown. Australians will call this red grape variety shiraz, while syrah is the French name used by wine producers throughout European wine-growing regions. Wine growers in South Africa, America, and New Zealand will also refer to this grape varietal as syrah.
Syrah's origins started in France and has since expanded into far-reaching wine regions throughout the world. Winemakers will also use either syrah or shiraz to describe the wine style with syrah having a lighter fruit profile compared to the richer, fruitier shiraz.
Syrah or shiraz may also be called by any of the following names:
Schiras
Syrac
Sereine
Hignin noir
Hermitage
Balsamina
Candive
No matter what syrah is called, it's always going to be a robust, fruit-forward, and full-body red wine.
What Does Shiraz Taste Like?
With so many complex flavors, the mystery behind the shiraz or syrah lies in its taste. What can novices and wine aficionados expect when they open a bottle of shiraz? Firstly, the taste profile of this wine depends largely on its growing region. It's also categorized both as New World and Old World wine.
France has the largest wine region, specifically the Rhone Valley, growing the syrah grape varietal. In fact, some of the most expensive syrah wines come from this region. Australia is another country that grows this red grape variety in large vineyards such as in the Limestone Coast, Barossa Valley, and McLaren Vale regions. The taste of syrah wines from these two countries are distinctly different when compared next to each other.
All syrah or shiraz wines share a fruity base, with strong flavors such as blackberry and blueberry being predominantly noticeable on the palate. Other common flavors include tobacco, licorice, and black pepper.
The climate, soil, and region all determine the taste of this popular red wine. Shiraz is typical of an area that has a warmer climate compared to the syrah which is produced in cooler wine regions.
New World shiraz has more intensity in its flavor, with bursts of dark chocolate and floral violet coming through. Its flavors include smokey meat similar to jerky and bacon, and black pepper spices. It's a more robust, richer wine compared to its cousin, the syrah.
What Does Syrah Taste Like?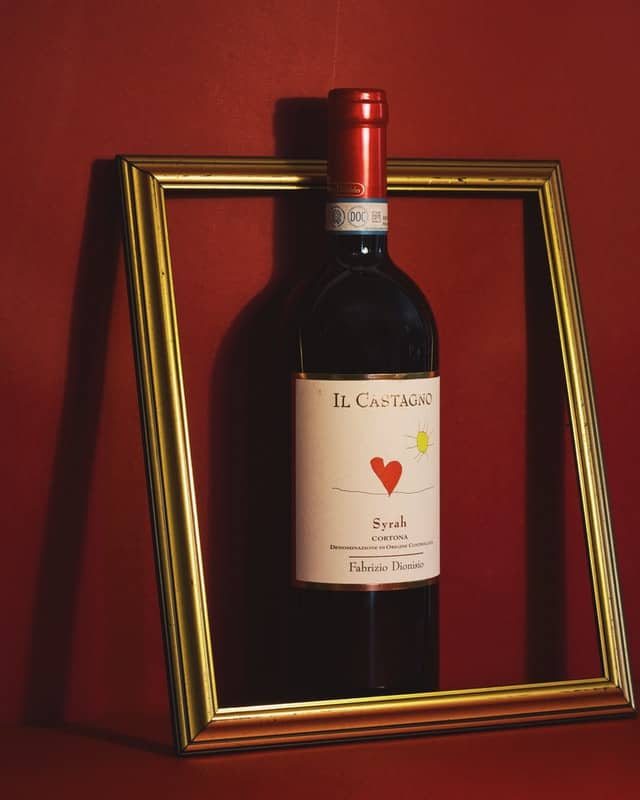 Old World syrah is more subtle in taste, with earthy flavors such as charcoal or olives. When aged in oak barrels, the syrah wine will have hints of spices and vanilla in its taste profile. Syrah is a lighter, leaner, and more elegant red wine compared to shiraz. Its distinct taste features include smokey bacon, a combination of black and red fruits, herbs, and pepper.
The alcohol content of syrah is lower than shiraz, being between 13 to 13.5% compared to 14 to 15.5% of its more robust cousin.
Is Syrah Wine Sweet or Dry?
While the fruitiness of the syrah or shiraz wine may make you think you're drinking a sweet vino, they're produced as dry wines. Some shiraz may have low residual sugar (RS) content but it's still considered a dry wine. When a winemaker decides to leave some residual sugar it's because they want to create a slightly richer shiraz with some sweetness.
Is Syrah a Good Sipping Wine?
Wine sommeliers will tell you that you can't go wrong with syrah as a sipping wine! It's an easy wine to drink and can be enjoyed with most meals. You can sip on syrah while enjoying a roast lamb or braised beef. Or, equally, enjoy a glass of shiraz at the next barbeque while whipping up some burgers.
Syrah is a good sipping wine when eating various cheeses especially those with strong flavors. Other foods to pair syrah with are:
Duck
Mushrooms
Meaty stews
Veal
Venison
Pasta dishes
This wine is best drunk out of a wide-bowled glass and served slightly chilled. Refrigerate for 20 to 30 minutes before serving. The ideal pouring temperature should be around 60 to 65°F. It's recommended to serve it out of a large decanter. Decanting syrah wine allows it to aerate and for any sediment residue to settle.
If you don't manage to finish a bottle of syrah in one sitting, you can cork it and store in the fridge. You'll be able to enjoy sipping on it for another two to four days before it starts to oxidize.
What is Syrah Wine Similar to?
Because of its range of taste and flavors, syrah and shiraz wine drinkers often struggle to branch out to other vinos. However, there are similar grape varietals that produce a good wine that'll satisfy fans of the syrah or shiraz.
Syrah is often compared to Cabernet Sauvignon. It's also robust and bold in flavor. Distinct flavors include blackcurrant and cassia. Cabernet Sauvignon is a popular red wine and is produced globally from France to California, Australia, and Chile.
Another well-liked wine similar to syrah is the Pinotage produced in South Africa. It shares the smokey flavors of the shiraz while also being rich in tobacco and dark fruits such as plum. Some Pinotage wines lean towards licorice and bitter chocolate flavors.
Grenache grapes grown in the south of France and Australia can also resemble syrah. They produce a bold red wine with strong, dark fruity notes. If it's the fruit-forward profile of the syrah you're looking to imitate, then you can't go wrong with a glass of Grenache wine.
Petit Sirah, often confused with syrah, is a comparable wine with its hints of blackberries and savory flavors closely resembling black olives. Malbec is another wine similar to syrah or shiraz, with firm tannins, delicious black cherry flavor, and bold full body. Zinfandel is also a wine that can be equally enjoyed by syrah fans looking for a similar mouthfeel, tannins, and lush body.
5 Best Syrah Wines
With so many winemakers producing syrah worldwide, you may be wondering which are the best wines to include in your collection. Syrah and shiraz wines are produced in a range of styles, offering a variety of flavors so rewarding with this grape varietal.
Use this list to help you decide which ones to buy for your wine collection:
2018 Bien Nacido Estate Syrah: Produced in the Santa Maria Valley, this syrah has a rich combination of spices. Fruity notes resemble blackberries and cherries with hints of olives and dried flowers also coming through.
2016 Chateau Paul Mas "Clos de Mures": A French syrah, this wine is gently flavored with cherries, peppercorns, and herbs.
2017 Covenant Syrah Tel Faris Vineyard: An Israeli wine, this syrah is a blend with 10% Cabernet Sauvignon grapes and is rich in flavor. A combination of dark chocolate, vanilla, and cherries and savory undertones will have you enjoying this wine every time.
2016 Cuvaison "Diablo" Syrah Los Carneros: From Napa Valley, this syrah is bold with blackberries and plum pudding flavors. Hints of vanilla, spices, dark chocolate, and licorice also compliment this wine.
2017 Hickinbotham "Brooks Road" Shiraz McLaren Vale: This Australian grown shiraz is bright with Mediterranean herbs, berries, and cherry flavors. Sweet spices also contribute to the taste profile of this delectable wine.
Also Read:
Final Thoughts
Syrah or shiraz is a wine that's bursting with robust and bold flavors. While a fruit-forward wine, it's also enjoyed for its variety when it comes to taste. A syrah produced in France will be different to a shiraz grown in Australia. But, no matter which region the syrah grape is grown in, you'll still enjoy its distinctive fruitiness, boldness, and lush full body so popular with this wine.