As Sonoma's largest AVA, Alexander Valley is a great place to visit if you're a wine lover. It's home to a varied selection of wineries and is particularly renowned for its premium-quality Cabernets.
Not sure which wineries are worth a visit in this AVA? Don't worry, we've compiled a list of some of the best Alexander Valley wineries you need to check out during your travels.
What Wine Is Alexander Valley Known For?
Alexander Valley's viticulture goes back to 1843, so the area certainly isn't new to the wine scene. Although a wide range of grape varieties are grown in this AVA, it is most famous for its Cabernet Sauvignon, Cabernet Franc, Merlot, and Chardonnay.
Alexander Valley Cabernet in particular is spectacular, with the region's alluvial soils giving the wine a deep, chocolate note.
There is no shortage of wineries in Alexander Valley – the area boasts 42 wineries and 15,000 acres of vineyards. So, no matter which type of wine you're in the mood for, whether that's Alexander Valley Pinot Noir, Merlot, Cabernet, or Zinfandel, you're sure to find a winery that provides exactly what you're looking for.
Top 10 Alexander Valley Wineries
Now that you know a bit more about the type of wine you'll come across in this AVA, below are some of the best Alexander Valley wineries to stop by for a relaxing day out.
Alexander Valley Vineyards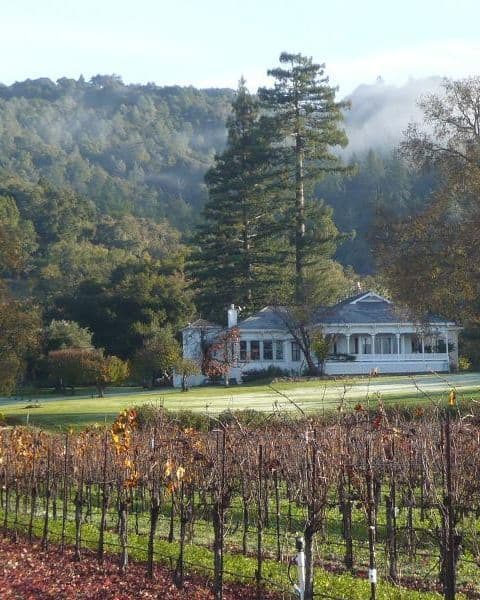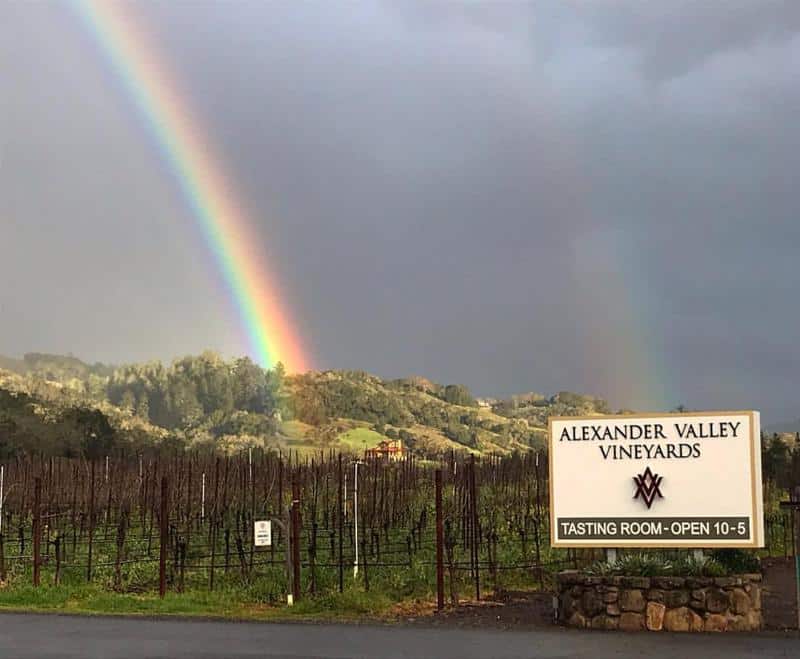 Address: 8644 CA-128, Healdsburg, CA 95448, United States
Contact Number: +1 707-433-7209 (ext. 116)
Alexander Valley Vineyards is one of the most popular wineries in the area and is currently owned by the third and fourth generations of Harry and Maggie Wetzel, who established the estate more than 50 years ago.
Alexander Valley Vineyards is well-known for their award-winning wines, historic estate, and welcoming atmosphere, so you're bound to have a delightful stay at this winery. You can enjoy a sample of 4 wines at their charming tasting room bar. The Estate Tasting and Reserve Tasting are complimentary for up to 6 people, too!
Although all of the wines at this winery are wonderful, the Alexander Valley Vineyards' Merlot is particularly great, featuring spicy aromas of cassis, black cherry, vanilla, oak, and chocolate. On the palate, it oozes flavors of red cherry, blackberry, cassis, plum, and chocolate, resulting in a balanced wine with a long, fruity finish.
After your wine tasting session, you can explore the vineyards while sipping on more spectacular wines on the winery's vineyard hikes. These are offered daily (reservations required!) and cost $60 per person.
Alongside a relaxing tour around the vineyards and complimentary wine tastings, you'll also be treated to a wine country boxed lunch, which can be enjoyed while soaking up the estate's breathing views.
Alternatively, you can take a complimentary tour of the winery's 25,000 sq ft underground cave, where you'll learn about their barrel aging process!
Soda Rock Winery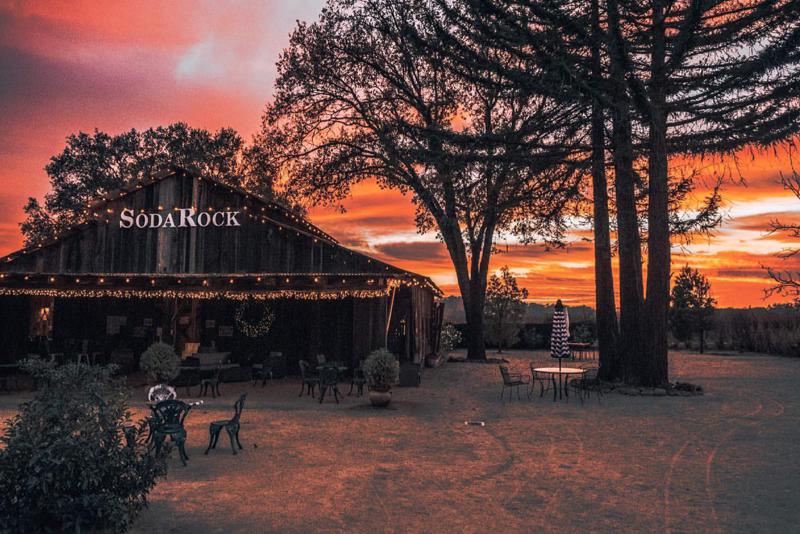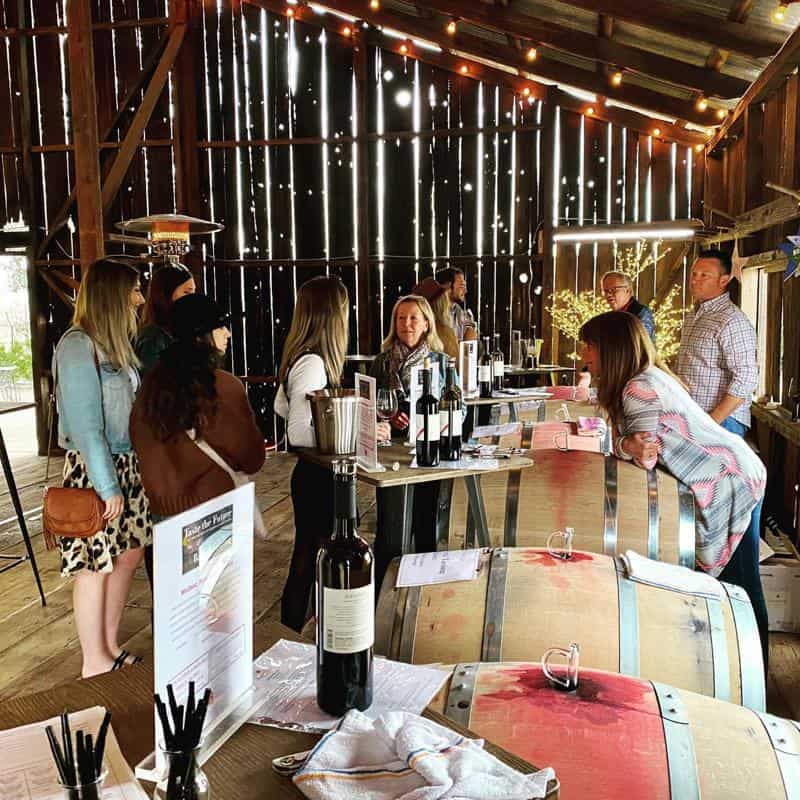 Address: 8015 CA-128, Healdsburg, CA 95448, United States
Contact Number: +1 707-433-3303
Next up is Soda Rock Winery, which boasts both a cozy barn tasting room and a modern downtown tasting room. At The Barn, you'll relax at a private table overlooking luscious vineyards while sipping on 4 award-winning Soda Rock wines.
At their downtown tasting room, you'll experience fantastic hospitality, a friendly atmosphere, and plenty of delicious wine to go around, with the bonus of being in central Alexander Valley, so you can explore the charming area and peruse the local shops right after your wine tasting session.
Their daily flight tasting at both venues costs $25 per person (complimentary for club members and with any 2-bottle purchase) and contains 1 crisp white and 4 reds.
Soda Rock Winery hosts an assortment of exciting events throughout the year, including summer music series, which are always a fan favorite.
Christopher Creek Winery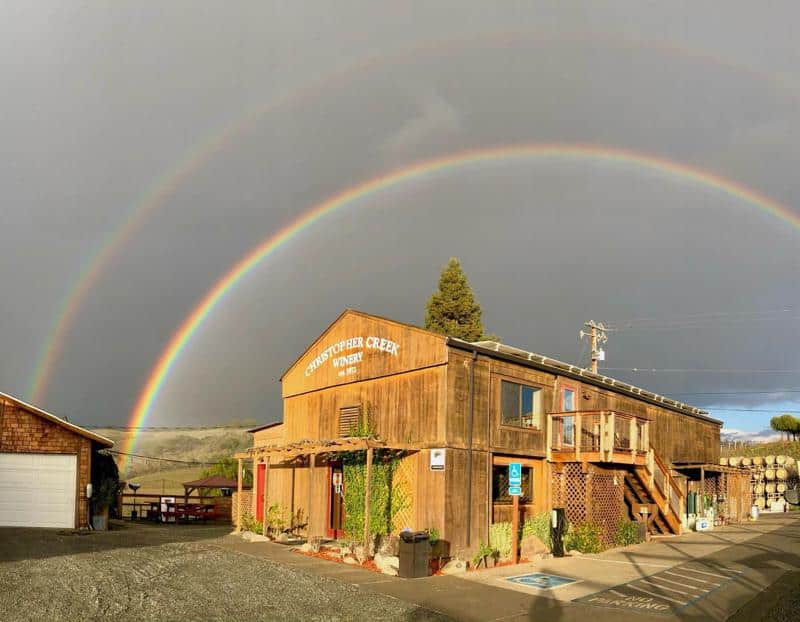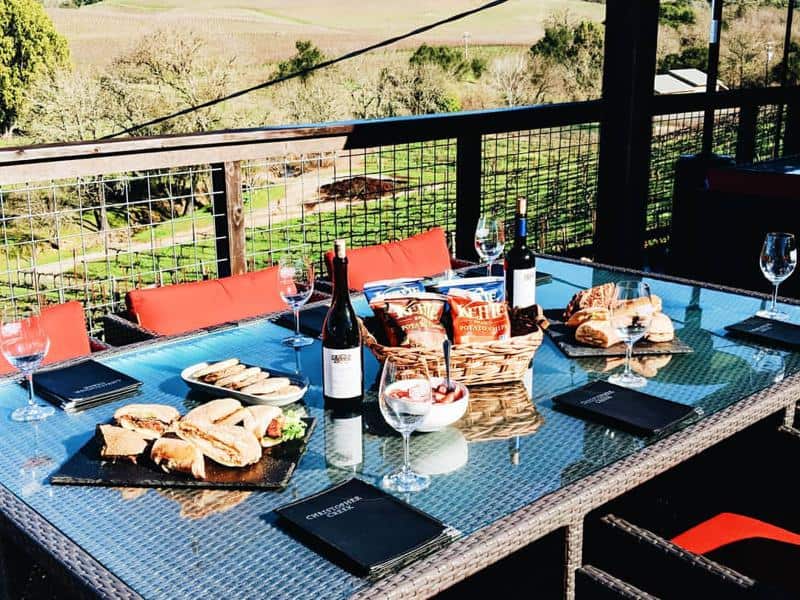 Address: 641 Limerick Ln, Healdsburg, CA 95448, United State
Contact Number: +1 707-433-2001
Another great winery that offers a sublime Alexander Valley wine tasting experience is Christopher Creek Winery. They're renowned for their high-quality Pinots and beautiful estate.
Their homely and rustic tasting room is the perfect place to sip wine and catch up with friends and family. There's also a poolside patio overlooking the vineyards and surrounding scenery, so you can unwind in a tranquil setting.
The winery offers a few tasting experiences, including a Legacy Tasting where you'll taste their limited-production Pinot Noirs straight from the barrel, as well as a few of their other award-winning wines.
Christopher Creek Winery's estate house is stunning, so it's not just the wine that has the "wow" factor. It has spacious quarters that sleep between 6 to 8 people and even comes with a pool for the ultimate peaceful retreat.
If you need comfortable accommodation while you're in Alexander Valley, Christopher Creek Winery is certainly worth considering. Better yet, you'll be able to fit in as much wine tasting as you like without needing to leave the premises!
This winery is also available to hire for private events, which given the stellar atmosphere and scenery of the estate, is sure to be a magical experience for you and your guests.
Silver Oak Cellars – Alexander Valley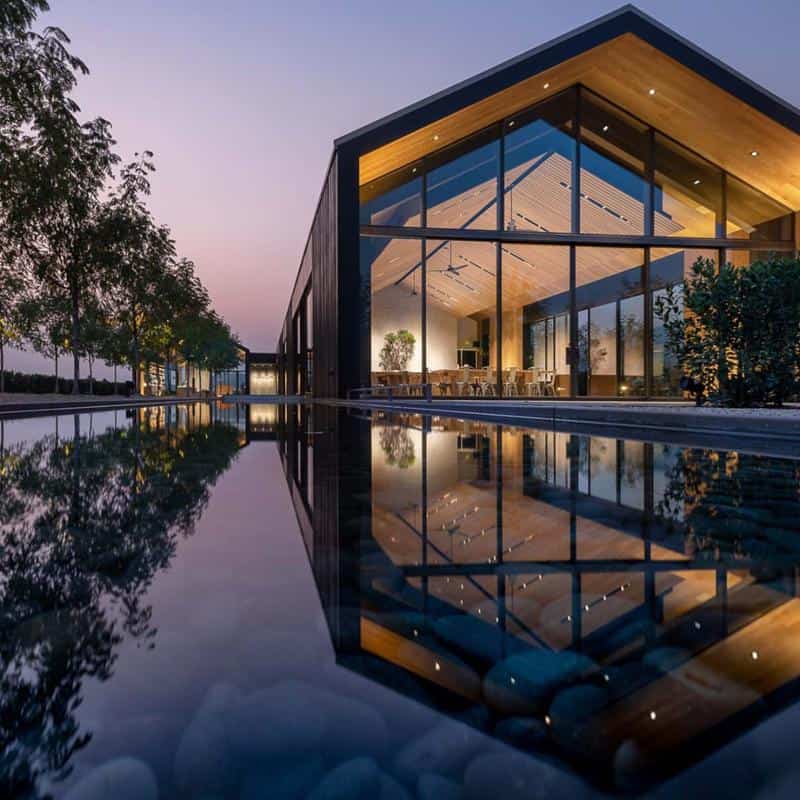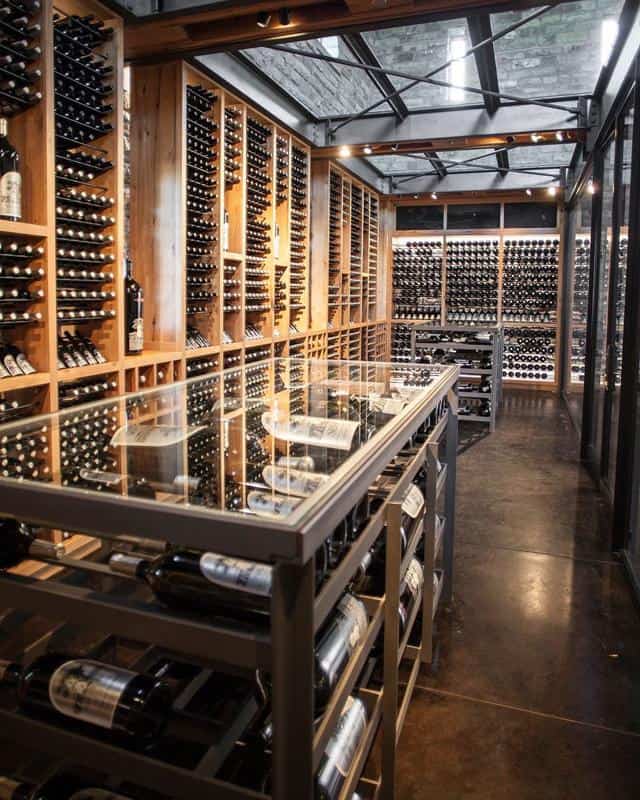 Address: 7300 Hwy 128, Healdsburg, CA 95448, United States
Contact Number: +1 707-942-7082
Silver Oak Cellars owns a couple of tasting rooms, including one in the sublime Alexander Valley. For 40 years, they have been crafting unique, mouthwatering Cabernet Sauvignons, which are aged exclusively in American Oak.
Their gorgeous winery boasts panoramic views of the Alexander Valley bench, alongside their spacious 113-acre estate and 75 acres of Cabernet Sauvignon vineyard. Their stylish barn-inspired tasting room sits opposite the Silver Oak water tower.
Upon arrival, you'll be welcomed into the tasting room and learn about the winery's practices and sustainable vineyard management, as well as get the chance to experience some top-notch wines.
Silver Oak Cellars offers several tasting options (reservations needed!), including their popular Group Tasting & Tour. It's ideal if you're visiting the winery with friends and family, allowing you all to explore the vineyards and production facilities. The experience concludes in the tasting room and the Library for some remarkable wine tasting.
The winery hosts an array of live events on a regular basis, including wine release days and privates. You can also rent out the estate for private events for an unforgettable day for you and your party!
Jordan Vineyard & Winery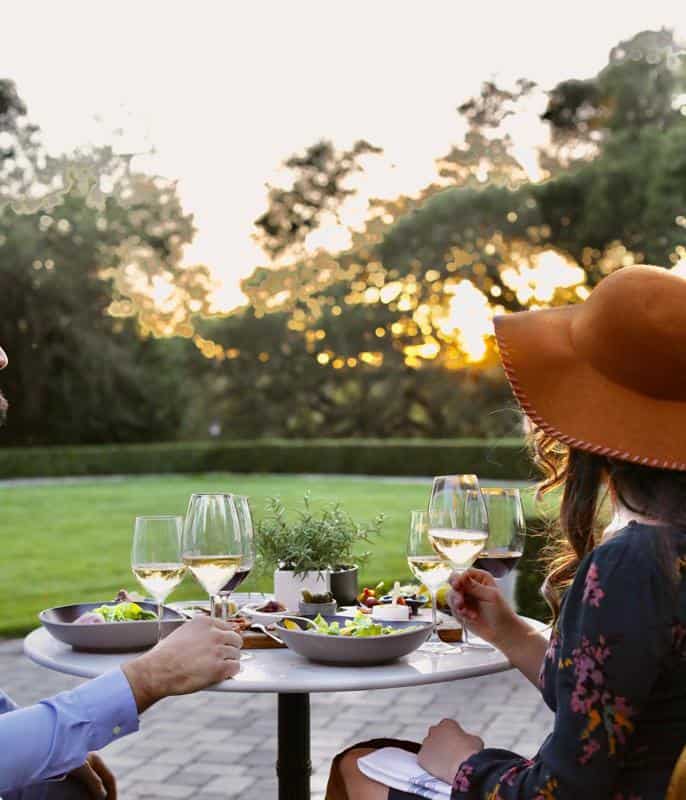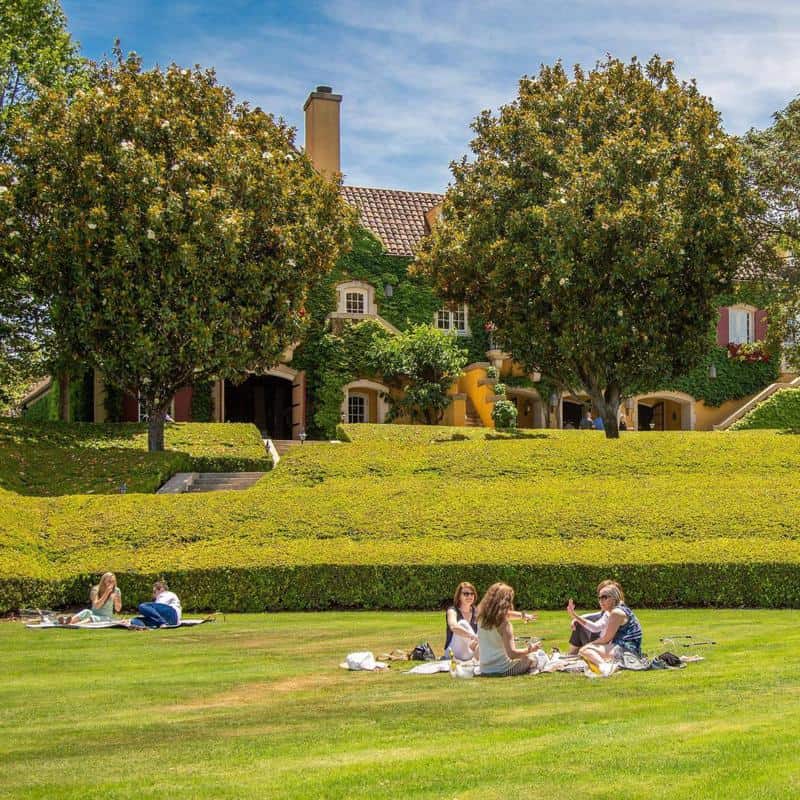 Address: 1474 Alexander Valley Rd, Healdsburg, CA 95448, United States
Contact Number: +1 707-431-5250
Producers of high-quality, luxurious Chardonnay and Cabernet Sauvignon, Jordan Vineyard & Winery is a must-visit when you're in Alexander Valley. Their top-notch hospitality will ensure your visit is both relaxing and memorable.
Their rustic, quaint estate offers plenty of cozy seating to enhance your wine tasting experience, as well as a "home-like" quality. They offer a wide selection of Alexander Valley wine tasting options, including vineyard tastings, winery tours, and even holiday tastings and tours – great for getting you in the festive spirit!
If that wasn't enough, Jordan Vineyard & Winery features some of the most jaw-dropping views out of all the wineries in Alexander Valley. They even have a winery garden and apiary, which provides the property with a wonderful natural setting.
There is always something exciting happening at the winery, from delicious dinners made from locally-sourced ingredients (usually from the estate) to peaceful nature hikes to soak up the delightful scenery. If you're looking for a striking venue for a private event, you definitely won't be disappointed with Jordan Vineyards & Winery's spectacular estate and welcoming members of staff!
Medlock Ames – Healdsburg Tasting Room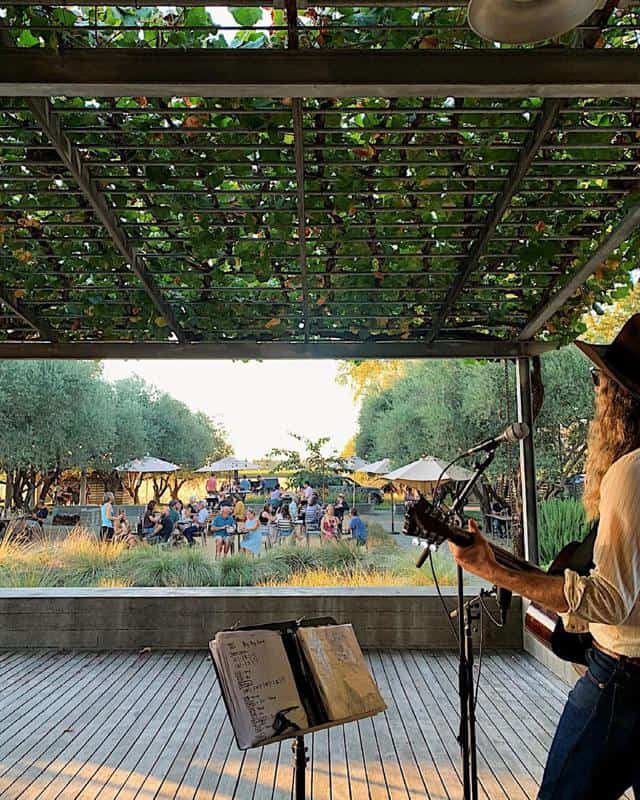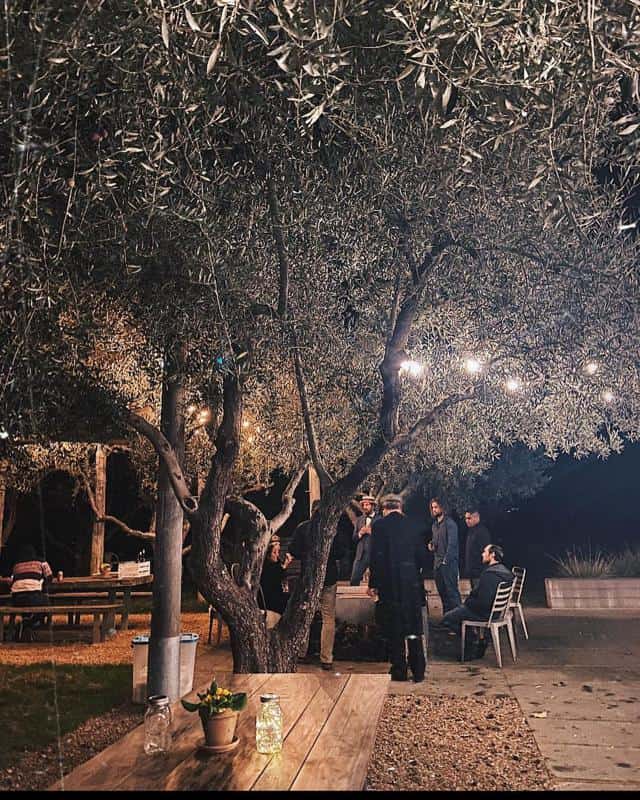 Address: Alexander Valley Rd, Healdsburg, CA 95448, United States
Contact Number: +1 707-431-8845
Medlock Ames' tasting room located in the breathtaking Alexander Valley offers splendid views, a natural backdrop, and an assortment of premium-quality wines for you to enjoy. They offer seated tastings at their historic tasting room, which includes a range of reds and whites from their organically-farmed Bell Mountain Ranch.
The building has a charming outdoor patio that overlooks the estate gardens, so you can enjoy your glass of wine while marveling at the lovely view. Their Bell Mountain Ranch, which is open for tastings and tours, is only a short distance away from their Alexander Valley tasting room, so it's also worth checking out when you're in the area!
Roth Estate Winery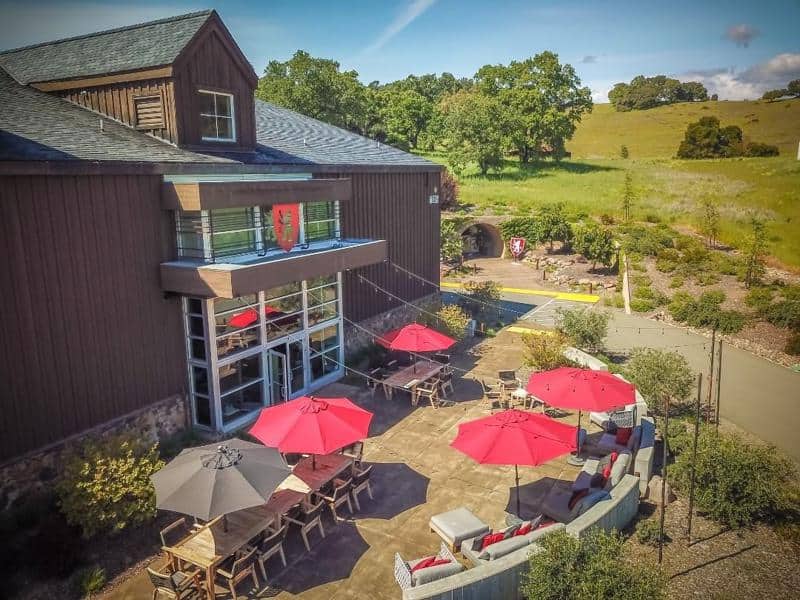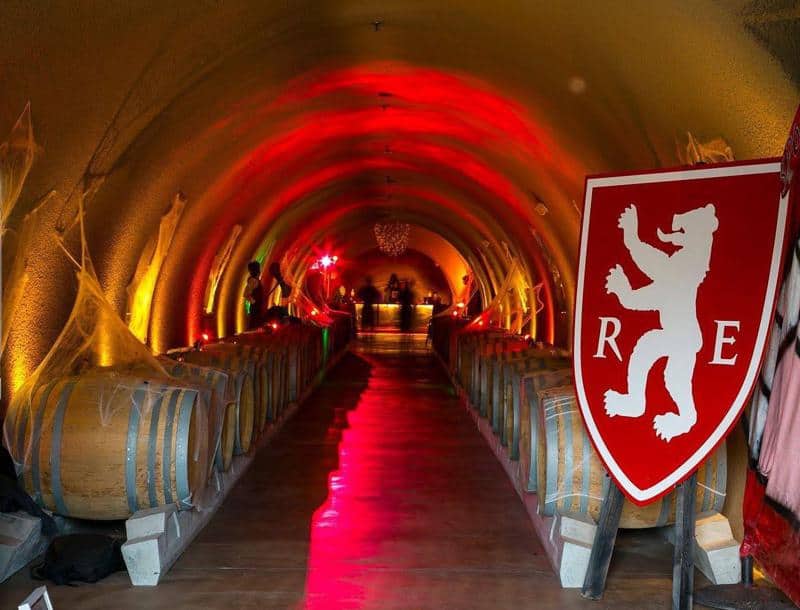 Address: 10309 Chalk Hill Rd, Healdsburg, CA 95448, United States
Contact Number: +1 707-836-7030
Featuring a cozy tasting room, charming outdoor patio, and outstanding views, Roth Estate Winery is another excellent winery to visit in Alexander Valley. They are renowned for their bold Cabernet Sauvignons, which are full of flavor.
Roth Estate Winery offers various tasting options and experiences, such as tastings on the terrace, Korean BBQ lunches, and cave tastings. If you're a club member, you can also enjoy their bocce court (complimentary with a 1-bottle purchase), as well as specially-prepared lunch for just $20.
Roth Estate Winery is also able to accommodate private events, so if you need a lovely venue for a birthday party, anniversary, or bridal shower, this winery has you covered.
Lancaster Estate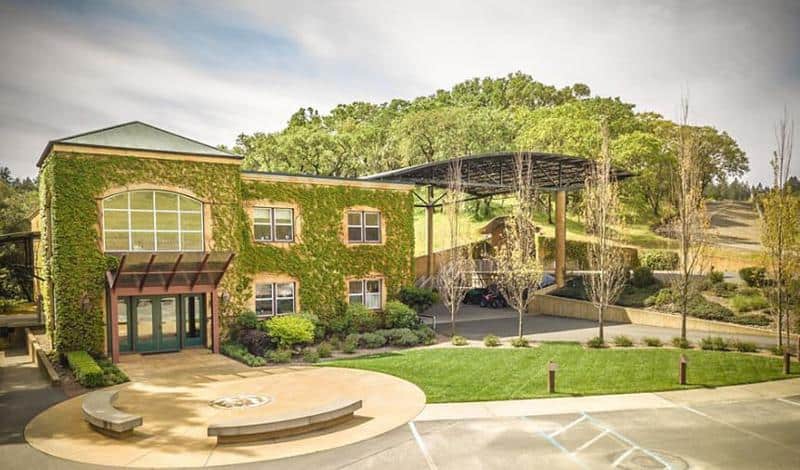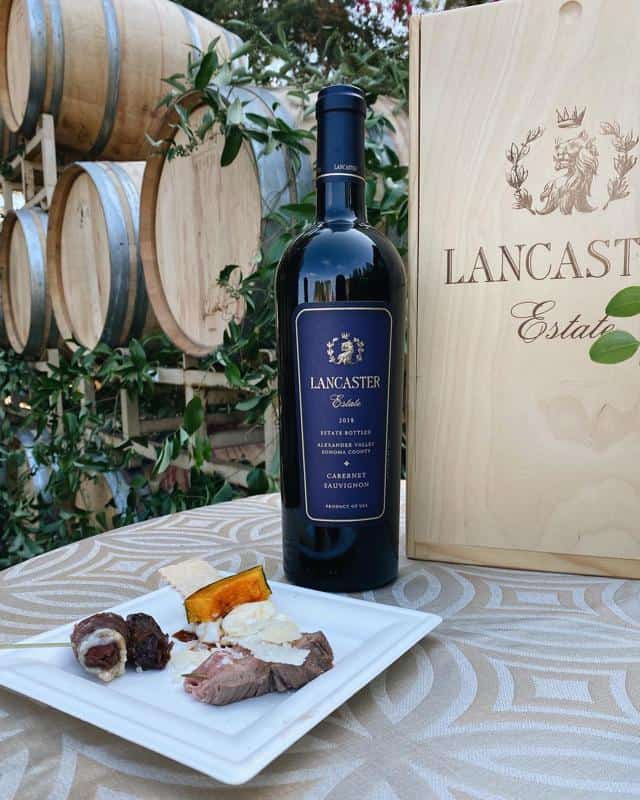 Address: 15001 Chalk Hill Road, Healdsburg, CA 95448, United States
Contact Number: +1 707-473-3910
Positioned on picturesque hillside vineyards in southern Alexander Valley is the mystical Lancaster Estate. There is an abundance of tasting options to experience at this winery, from cave tours and tastings to simple estate tastings, the latter of which takes place in their dreamy garden grove.
The winery focuses on Cabernet Sauvignon, Malbec, Petit Verdot, Cabernet Franc, and Malbec, and each varietal is created with passion and dedication to ensure its quality.
Estate tastings cost $50 per person and include 4 estate wines in their garden, with a magical backdrop of their Bordeaux vineyards. However, their unique cave tour and tasting experience is definitely a must-book!
You'll taste 4 estate wines in an elevated indoor setting, while also learning about the winery's barrel aging process.
Hanna Winery – Alexander Valley Tasting Room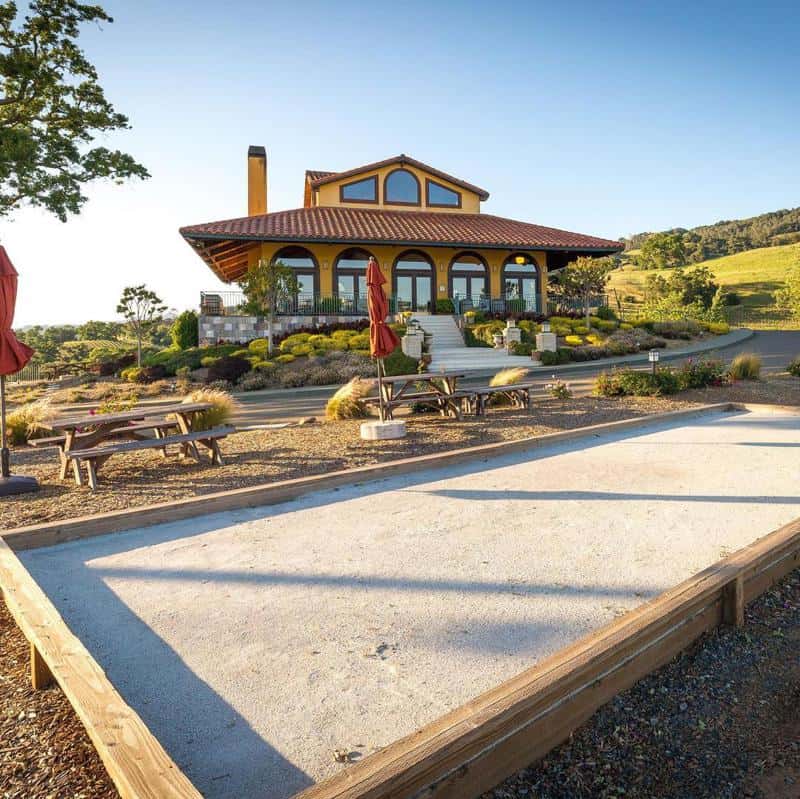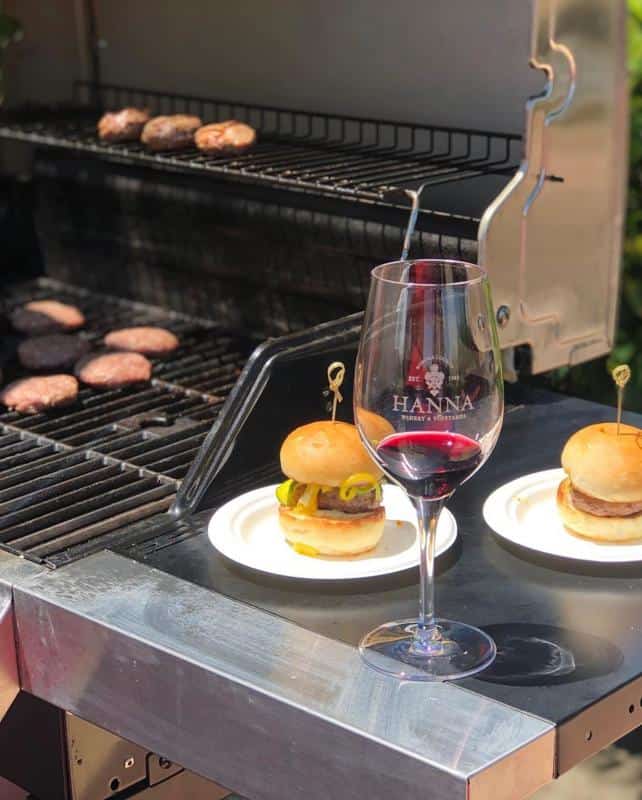 Address: 9280 Hwy 128, Healdsburg, CA 95448, United States
Contact Number: +1 707-431-4310 (ext.116)
Hanna Winery's Alexander Valley tasting room offers luxurious wine and cheese pairings, as well as striking vineyard views. If you're both a cheese and wine lover, this winery is the perfect place for you.
They offer numerous other tasting options, too, including VIP seated tastings and Cabernet and charcuterie tastings. If you're not too full up on cheese and wine, Hanna Winery also offers a picnic experience.
You'll relax under a huge oak tree with a specially-prepared picnic lunch, as well as a flight of 5 Hanna wines. Some of the delicious dishes you can munch on are succulent roast turkey sandwiches, spicy curried chicken salads, and decadent smoked salmon sandwiches.
Hanna Winery is available to rent for private events and can cater to up to 80 guests, so they're the ideal venue for both small and large gatherings.
Stuhlmuller Vineyards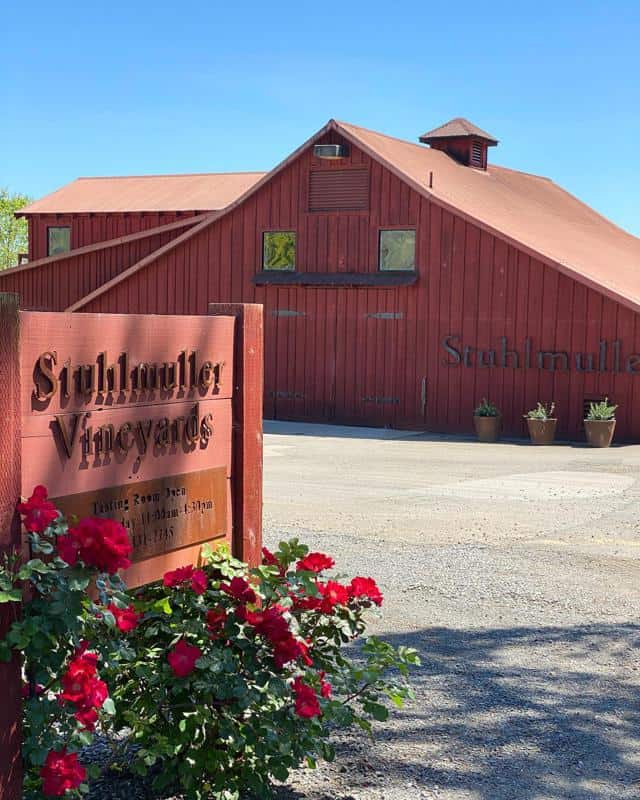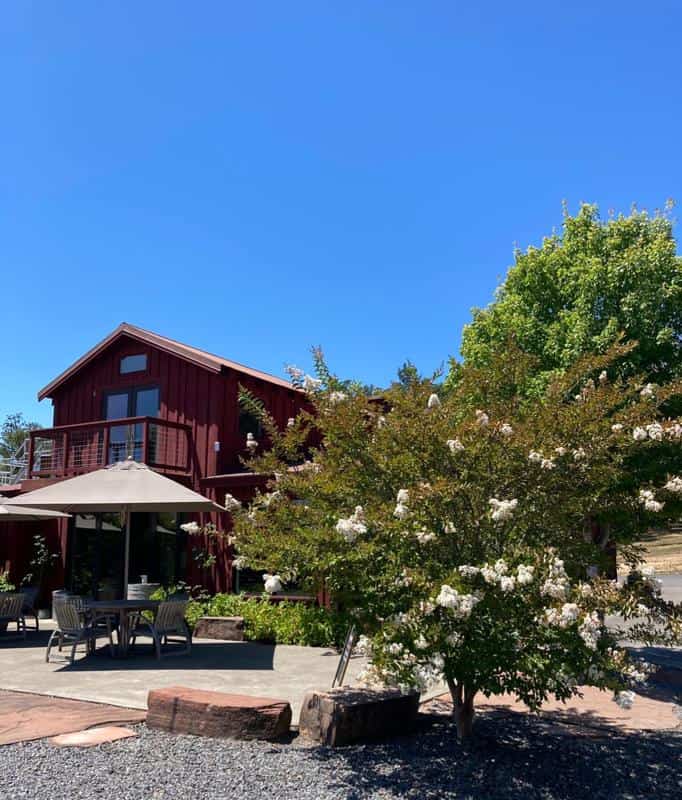 Address: 4951 W Soda Rock Ln, Healdsburg, CA 95448, United States
Contact Number: +1 707-431-7745
Last but not least is Stuhlmuller Vineyards, a small family-owned winery that was established in 1982. The vineyard's terrier produces high-quality Chardonnay fruit with distinct Alexander Valley tropical qualities, food-friendly citrus acidity, and a unique mineral hint.
The winery's flagship wine is Cabernet Sauvignon, which due to their methods, has delicious hints of sage and bay leaf, alongside rich cherry, black fruit, and cocoa.
While Stuhlmuller Vineyards is most popular for their Cabernet Sauvignon, they also craft a couple of Zinfandels, Sauvignon Blanc, 2 Pinot Noirs, and a luxurious fortified Cabernet.
Estate tastings cost only $20 per guest (complimentary for club members) and include a flight of different red and white varietals.
There's a small but well-presented outdoor patio where you can soak up some sunshine and gaze at the surrounding vineyards. You're also welcome to bring your own food.
Although walk-ins are allowed, it's recommended that you book an appointment as they can get quite busy!
Final Thoughts
Home to some of the best Cabernets in the United States and packed with rural charm, Alexander Valley is the ideal place to sit back, unwind, and indulge in a delicious wine.
The wineries in this list all offer a brilliant atmosphere and wine tasting experience, so be sure to check out as many as you can when you're in the area!
Also Read: