Columbia Valley is one of the largest wine regions in the United States and is known for its beautiful scenery and excellent outdoor activities like golfing, fishing, hiking, and even skiing.
Its main attraction, however, is its varied selection of world-class wineries, many of which produce some of the most delicious white and red wines you'll ever have the pleasure of tasting. As a wine lover, Columbia Valley is one of the greatest places to visit.
What Wine Is Columbia Valley Known For?
The Columbia Valley includes many other smaller AVAs (American Viticulture Areas), including Horse Heaven Hills, Red Mountain, and Walla Walla Valley, so you'll find a huge variety of wines in the area.
White wines like Riesling, Sauvignon Blanc, white Bordeaux-style blends, Viognier, Sémillon, and Marsanne are particularly popular in the region due to Washington's dry climate.
However, red wines such as Cabernet Sauvignon, Syrah, Merlot, Cabernet Franc, among a few others are also commonly produced.
The Columbia Valley AVA is found in central and south Washington and a tiny section of Oregon. There are a staggering 50,316 acres of vineyards, which make up 99% of Washington wine country.
In comparison, Napa Valley, another region known for its rich viticulture, only contains around 45,000 acres. So, if you're a wine lover, Columbia Valley is a must-visit for experiencing some of the most renowned wineries in the world.
See Also:
Top 10 Columbia Valley Wineries
Now that you know what wine Columbia Valley is famous for, here are the best wineries you need to visit.
Best Columbia Valley Wineries Map:

Walla Walla Vintners: Great Tasting Experiences
Situated in the Walla Walla Valley within Columbia Valley, Walla Walla Vintners, a historic estate set in the foothills of the Blue Mountains. The estate vineyards feature a high elevation and southwest position, giving it access to plenty of sunshine.
As a result, the grapes grown here ripen slowly, allowing to steadily accumulate sugar for a natural acidic flavor.
The winery's gorgeous tasting room is open Thursday to Monday from 10am to 5pm for tastings. From April to October, tastings are conducted outside, boasting panoramic views of wheat fields, the Blue Mountains, and the vineyard.
Tastings during the cooler months (November to April) are moved to the winery's intimate tasting room for a more cozy experience. Walla Walla Vintners is also available for private tastings on Fridays and Saturdays.
Priced at $50 per person ($40 for Club Members), you'll be treated to a selection of top-notch wines guided by a knowledgeable host, as well as a cheese and charcuterie board, and a tour around their cellar and vineyard.
Editor's Note: On your visit to this winery, consider tasting the 2018 Merlot. It has aromas and flavors of boysenberry, blackberry, and raspberry.
Amavi Cellars: Sustainable Vineyards
Next up is Amavi Cellars, another stunning winery in Walla Walla Valley in the Columbia Valley AVA. The estate's vineyards are highly sustainable and the winery is committed to using only organic products and natural methods to manage their soils.
The Walla Walla tasting room is open every day from 10am to 5pm for wine tastings, purchases, and pick-ups, but only by appointment. It boasts scenic views of the Blue Mountains and the winery's Pepper Bridge Vineyard.
On Fridays and Saturdays, the winery is open later for Happy Hour for specials on pours and local brews. Food trucks also occasionally stop by!
Editor's Note: Why not give the winery's 2019 Syrah a taste? It has deep aromas of dark rose petal, violet, plum, and warm blackberry cobbler. On the palate, it has strong hints of black fruit, cured meat, rosemary, baking spice, and fig.
Barnard Griffin Winery: Modern Tasting Room
Founded in 1983, Barnard Griffin Winery is now one of the most established wineries in Columbia Valley. It features a welcoming tasting room, a full-service restaurant, and even a fused glass art studio.
The tasting room is open from 12pm to 6pm Monday to Friday or from 10am on weekends. The modern interior boasts original fused glass pieces and art installations by the winery's co-owner, Deborah Barnard, creating a mesmerizing and intriguing atmosphere.
The tasting menu changes regularly, so there's always something new to try. Tastings are free for Wine Club Members and with $15 purchases. There are plenty of tasting options to choose from, including patio seating, outdoor seating, and outdoor seating in the gazebo or on the lawn.
If you've got a talent for glass fusing or want to hone your skills, the art studio at the winery offers special classes for all experience levels. The instructor is even the co-owner and resident artist of Barnard Griffin Winery, so you can learn from the very best!
Barnard Griffin Winery has a stunning banquet room, two tasting rooms, two outdoor patios, and an outdoor gazebo, so they can accommodate private events of all sizes. The estate is the ideal venue for weddings, birthday parties, and bridal showers.
Editor's Note: The winery's 2017 Cabernet Franc is a great choice if you're not sure what you fancy. It has tasting notes of blackberry, raspberry, and notes of minerality with violets. Perfect to drink all year round but especially in warm weather!
Frichette Winery: Amazing Private Tastings and Tours
Located in the Red Mountain region within the Columbia Valley AVA is the fantastic Frichette Winery. The stylish tasting room is open daily from noon until 5pm for seated wine experiences, private tasting and tours, club member flights, BYOC (Bring Your Own Chair), and small nibbles.
Private tastings and tours last 2 hours and cost $45 per person, and is a fantastic experience with friends and family. You'll enjoy a carefully curated flight of four wines chosen by your wine educator, alongside a tour of the winery's vineyard and barrel room.
Frichette Winery offers delicious charcuterie plates, utilizing fresh herbs produced in their estate garden for impeccable flavor.
For a relaxing day out, bring your own chair and sit outside at the winery's stunning lawn, complete with striking views. They'll bring the glasses, wines, and chilled water so you can sit back and soak up the scenery in splendor.
Editor's Note: If you enjoy red wine and white wine, you need to taste the winery's 2020 Artz Semillon. It has aromas of pear and powdered sugar, alongside flavors of green apple and a hint of sweetness.
Goose Ridge Estate Vineyard and Winery: Perfect for Private Events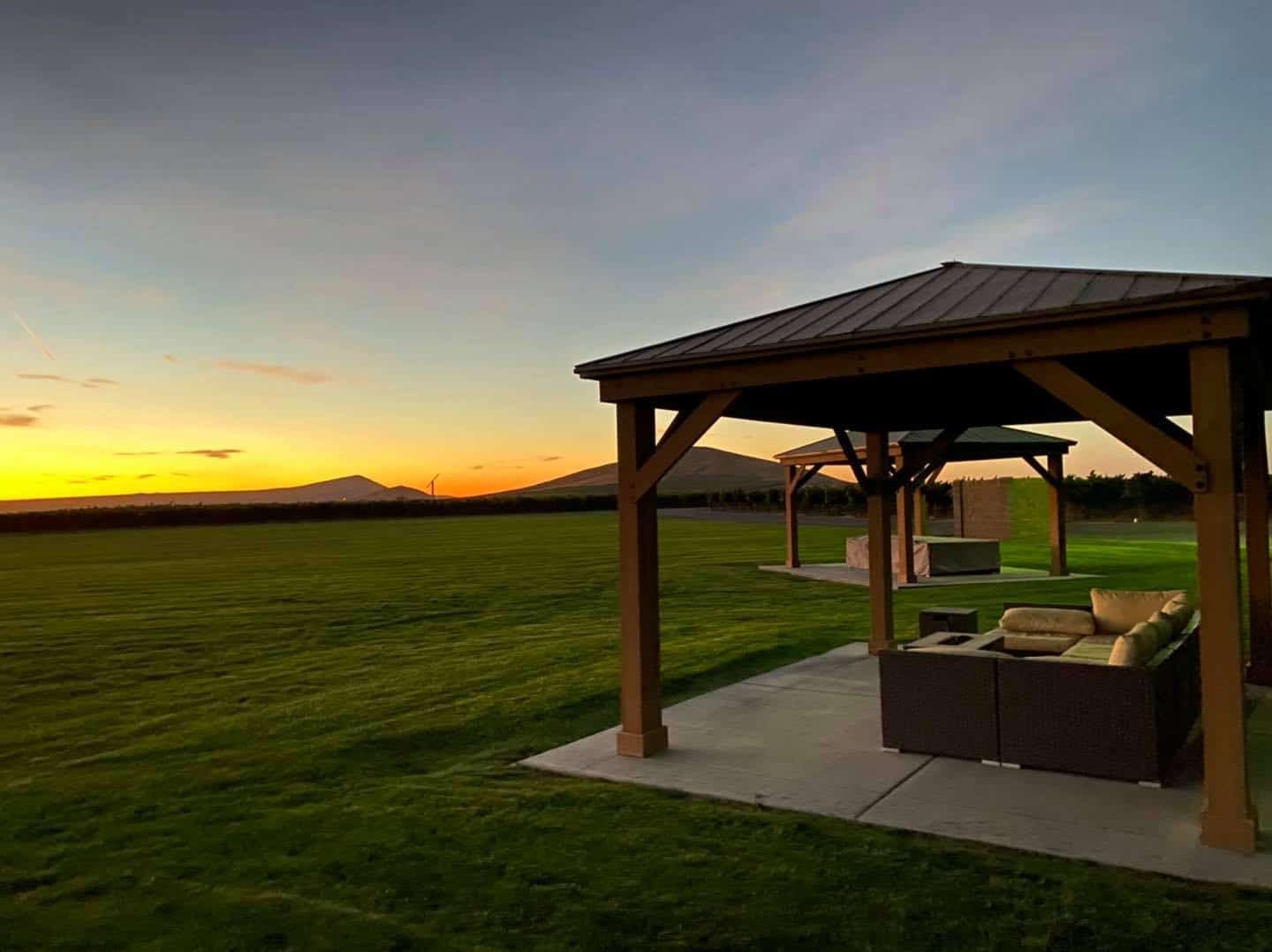 Another top-notch winery in Columbia Valley is Goose Ridge Estate Vineyard and Winery. The family-run winery owns a few tasting rooms, but their one in Richland is particularly excellent.
They produce a variety of wines and ciders, all of which are made with care and passion for phenomenal taste. The tasting room is located in the center of their 2,500-acre vineyard, close to the Red Mountain AVA.
It has a peaceful ambiance and striking views. The winery hosts live music occasionally too, featuring talent from local bands and musicians. If you're looking for a stellar venue for a private gathering, Goose Ridge Estate Vineyard and Winery is the ideal place thanks to its spacious and stunning grounds.
Editor's Note: For a rich and smooth beverage, try the 2016 Reserve Malbec. It's packed with flavors of black cherry, cassis, and blackberry.
Tagaris Winery: Delicious Mediterranean Cuisine
Known for their award-winning wines and Mediterranean cuisine, Tagaris Winery is well worth a visit when you're in Richland in the Columbia Valley AVA.
The beautiful tasting room and tavern offer a wide range of mouthwatering wines dishes. It's a wonderful place for wining and dining in style. The food menu includes authentic Mediterranean cuisine like Spanish-style patatas bravas, Italian baked eggs, and a greek burger.
The winery also offers refreshing sangria and wine slushies every Thursday, Friday, and Saturday, which taste remarkable. There are indoor and outdoor seating areas, as well as exciting live music on the patio every Thursday in the summer months!
From weddings to corporate events, Tagaris has you covered for private events. They have a full-service kitchen and bar, as well as private and semi-private indoor and outdoor locations for an intimate experience.
Editor's Note: The 2019 Riesling is one of the standout wines at this winery, featuring aromas of caramel green apple, vanilla, and candied fennel. On the palate, it has full flavors of pear, apricot, dried pineapple, lychee nut, and vanilla.
Terra Blanca Winery and Estate Vineyard: Sumptuous Food
Terra Blanca Winery is nestled in Benton City, a small but charming town within the Columbia Valley AVA. It boasts highly-acclaimed wines and cuisine, the latter of which has Pacific Northwest and Italian influences.
The stunning Tuscan-style estate has a mystical backdrop of the Red Mountain region, providing you with a memorable and relaxing wine tasting experience. The tasting room is grand and spacious, but you can also enjoy a flight or glass of wine on the luxurious terrace.
One of the winery's professional and knowledgeable wine educators will be happy to assist you and walk you through their selection. The vineyard grill offers a range of chateau-inspired cuisine like homemade pizzas and salads, which pair beautifully with their wines.
The breathtaking grounds and estate are also available to rent out for special occasions, with its magical atmosphere ensuring your private event will be talked about for years.
Editor's Note: The 2017 Signature Series Cabernet Franc has a strong flavor of fruit with a long, smooth finish. It's definitely one of the highlight wines at this winery!
Col Solare Winery: Terrific Tours
With scenic views and high-quality wine, Col Solare Winery is a brilliant place to visit in Columbia Valley. They offer a range of tasting experiences (appointment only), including a feature flight tasting, barrel room and private tour tasting, and estate vineyard and tour.
The latter involves a walking tour and motorized tour of the Red Mountain Estate Vineyards, followed by a tasting flight of three of their delicious wines. It costs $85 per person, but it's well worth the price tag!
Editor's Note: If you're a fan of wines with a black fruit flavor, you need to sample the winery's delectable 2017 Cabernet Sauvignon. It has aromas of black currants, dried fruit, and cherry, with a hint of anise, spice, and cocoa.
Longship Cellars: Wine Pairings Events
Longship Cellars Winery is an inviting and stylish estate with a well-presented tasting room located at the River Walk, along the grand Columbia River in downtown Richland.
They offer tastings every Friday to Sunday inside or on their roomy patio. While they're most known for their phenomenal wine, Longship Cellars also offers an assortment of tasty small bites, including flatbreads, baked brie, meat and cheese boards, and hummus and pita.
The winery hosts exciting events on a regular basis, including live music and wine pairings, so be sure to see what they have planned on your visit.
Editor's Note: With notes of wild berries, plum, sweet tobacco, and fresh flowers, the winery's divine 2019 "Ginger Man" Syrah is one to try on your visit. It has deep flavors of blackberry, red plum sauce, blueberry, and orange creamsicle, with a touch of milk chocolate, sweet tobacco, toasted almonds, black pepper, and clove. It's the perfect drink for the fall season!
Kitzke Cellars: Scenic Patio Views
Last but not least is Kitzke Cellars, producers of some of the most scrumptious wines in Cobia Valley. They have a small vineyard, but this allows them to spend more time nurturing and nourishing each of their vines.
The wines are limited in quantity, but the flavor profile is hard to beat, and you can really tell the work and care they put in their vines and winemaking. The tasting room is open Friday to Sunday for walk-ins, but they also offer private tastings by appointment.
They have outdoor seating on their patio, complete with picturesque views, allowing you to sip wine with friends and family and enjoy the scenery.
Editor's Note: The winery's Cabernet Sauvignon is a great beverage to sample if you're not sure which wine to sample here!
Final Thoughts
Whether you're looking for peaceful scenery, outdoor adventures, or delicious wine, Columbia Valley is the perfect destination for an ultra-relaxing retreat.
The wineries above are some of the best in the region, so be sure to check them out on your trip.
But if you'd rather enjoy luxurious wine at home, wine clubs like Naked Wines are almost as good as visiting wineries in person.