Food is pristine. You would go to great heights to see your favorite platter on the table. But sometimes, finding that perfect place for you can be tricky. A place that serves what you want, not only to fill your stomachs but to satisfy your cravings. A place of almost peace and quality food.
In a quest to satisfy the feeding feuds of their clientele, Stonington has not been behind the curtains in showcasing its best sceneries, as guests enjoy some finger-licking delicacies prepared by renowned restaurant chefs.
Connecticut has a lot to offer to visitors and its residents, more so in the Stonington area. There are tons of things to do in this place, from the mystic aquarium where you can wow seeing whales, sea lions, and penguins to the magnificent wineries and vineyards like the Stonington and Saltwater Farm Vineyards.
Due to these attractions, visitors have continued to stream in droves. This has seen the rise of the Stonington CT hospitality sector, even featuring in the Yankee Magazine's "Top 10 prettiest coastal town in New England".
Restaurants that you can comfortably have your meals with your family, spouse, or friends. Here, you will find the best-curated restaurants to visit while you are in Stonington CT.
Best Restaurants in Stonington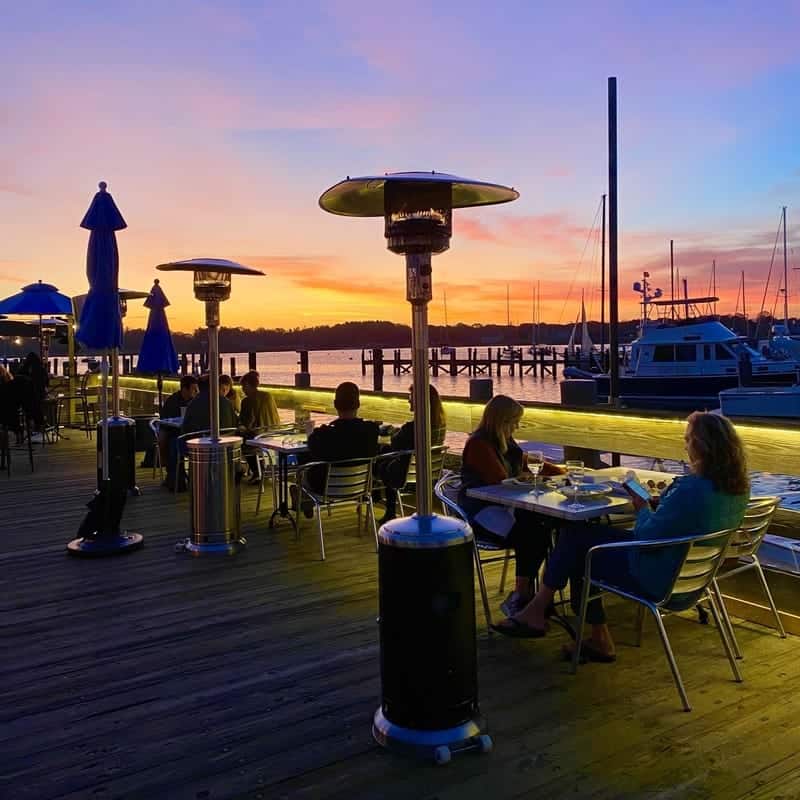 This restaurant overlooks the Dodson Boatyard and lets you enjoy your food while listening to some live music. They have tasty dishes- try the famous lobster roll or the dogwatch pasta.
You can ask for gluten-free options, vegetarian options, or any local dishes prepared by an in-house chef in the restaurant.
The service is impeccable, with quick and proper detailing and delivery of cuisines at your table.
Why Dine In This Restaurant?
Irreproachable service-the hosts are well-groomed, polite, and very approachable.
The waiter charged with your table ensures that you get a detailed explanation of the different foods on offer and recommendations of customer favorites for you to make a choice.
They are family friendly-you can bring your children so that all of you can have a fine dining experience and bond.
Customer-tip: Book a reservation to get the best table located near the dock to get a view of the boatyard and the waters.
What welcomes you to this dining experience is the elegant interior, which has a nautical theme, perfect for a restaurant in a coastal town.
You can get breakfast, lunch, dinner, or order drinks as you enjoy the sunny afternoon. Their customer service will leave you booking a table every weekend to get your ultimate seafood experience in this restaurant.
Why Dine In This Restaurant?
Get quick service and polite waiters and waitresses at this restaurant.
Reasonably priced menu, with options for special diets like vegetarian and gluten-free foods.
The restaurant is not overcrowded which gives you a serene time to enjoy your meals with minimal disturbance.
Customer Tip: They have some spectacular oysters from farmland.
If you are looking for a restaurant that is accommodating, big and friendly then Franks Gourmet is your destination.
You are greeted warmly upon entry by polite staff who show you the table. They then point out in detail the menu options, and your preferred dishes are served hot and quick.
The overall calm ambiance and enjoyable experience.
Why Dine In This Restaurant?
Polite staff who handle your requests and queries professionally explaining the situations quite clearly.
This restaurant serves both Italian and American cuisines.
A family-friendly restaurant that you can dine with your spouse and children.
Quick service-food arrives approximately fifteen minutes from ordering
The restaurant has vegetarian options for you if you prefer their salads.
Customer Tip: For a wonderful and variety of vegetarian menus, call ahead and reserve a table. You can also order a special vegetarian meal apart from the typical salads available, and Frank will be more than happy to do the treatment for you!
Located in a cool environment, this restaurant packs a great ambiance where you get to see the waters and the great thematic approach of the scenery.
The bar has great options for a bar lover, and the restaurant has seafood options. The lobster meals are a customer favorite at this joint. It is a bit noisy, so if you are looking for a quiet experience, look at the other restaurants reviewed here.
Best place for drinks and light seafood experience at affordable pay.
Why Dine In This Restaurant?
Good ambiance-great scenery of the waters.
Great spot to enjoy the evening after a long day; they have a bar where you can enjoy drinks after dining at the restaurant.
Quick service considering the place is always packed.
If you are looking to be social, the bar is a great place to start as it is always busy with new people visiting Stonington.
Customer Tip: To get a good parking spot, come early. Or better still opt to park elsewhere so that not to have a problem when you want to get away and your path is blocked. Being car-less at this joint is the optimal decision, as you will have a stress-free time-you can always order a cab back to your hotel or home.
The structure and build of this restaurant are appealing, with a mahogany bar that meshes well with the quirky fun art that is hanged on the walls of the restaurant.
They have quality food that leaves you wanting more for its taste and delicious feel. The place offers a range of foods suitable for breakfast, lunch or dinner and of course, drinks after.
Why Dine In This Restaurant?
Quality service is quick and pristine.
Even with the busy setup present, the polite staff is very detailed and friendly. They don't mind explaining the menu to you so that you order what your taste buds longing.
Customer Tip: When dining here, don't forget to order the dessert sequence, which is delicious and worth every dime. Try the Chocolate Truffle Tart or the Pecan Pie.
For any food lover, a total overhaul is necessary. If you want to get a little messy and want to explore what this Connecticut's town coastline can offer, you are in for a treat.
This pizza point offers specialty pizzas and Greek dishes that leave you saliva-filled all the way. Stonington Pizza Palace offers delicious cheesy and hot pizzas for you.
It is a very suitable joint for eating out with friends, where you get several options of pizzas-even vegetarian options.
Why Dine In This Restaurant?
This restaurant bakes its pizzas on-site with a friendly approach that is suitable for family eating.
Affordable pricing on their dishes.
There is nothing like a hot pizza on an evening… what's more, you can have a variety of pizzas with Greek pairings for a more exotic taste.
Customer Tip: If you are hanging with friends, better visit this pizza place. It houses dishes that are group-friendly, and tables can accommodate a group easily.
Go Fish is a spot you go when you want to relax and have a good time eating indoors.
This place features a somewhat formal setting, but the food is remarkable, with different options for vegan and gluten-free food. Their seafood options are to die for!
Continently located near the Old Mystic Village, you get to see the views as you dine on the outdoor seats on the deck.
Why Dine In This Restaurant?
Polite staff ready to service your needs, complaints, and requests.
Great menu options have a variety of seafood on the palate.
An outstanding choice for you and your mates to relax on the deck as you enjoy the drinks served here.
Customer Tip: If you happen to find yourself here, try the sushi. You will have to be time-aware, as sushi doesn't start serving until 4.30 pm. Also, reservations on the deck seats offer the best experience of outdoor eating.
For your All-American traditional meals and some Italian fixes visit the Bravo Bravo restaurant and grab your order. They have a decent service overlooking the water. The outdoor dining is exceptional if you love enjoying the calm ambiance.
Why Dine In This Restaurant?
Quick services with polite staff- the smiles are exceptional and warming. You feel welcome while dining at this restaurant.
Great location with great ambiance
They have an incredibly tasteful wine list, and their cocktails are delicious.
Customer Tip: This restaurant is perfect for groups, i.e., you and your five friends can enjoy considerable bonding time as you fill your bellies with some of the best shrimp in Stonington.
Located on the waters of the Stonington coast, you can bring your boat and dock it right next to your table! It is relaxing to be so close to the water while enjoying the best cuisines in fish and lobster platers available at this restaurant.
Why Dine In This Restaurant?
Closeness to the water-you can dock your boat nest to your reserved table.
Serene environment with minimal noise but the gashing waters as they beat on your boat.
They serve excellent oysters that are a must-try when at this restaurant.
Customer Tip: Order the Buratta salad; it is a summer offering-is not always on the menu. You can confirm with the waiter.
This family-friendly restaurant serves quality food at affordable prices. You can order your food while your kids enjoy the lawn games available here, which in essence, makes everyone happy. The deck is peaceful and offers a nice harbor view.
Why Dine In This Restaurant?
Timely food service
Good location overlooking the harbor on the deck
Games for your little ones to enjoy as you inhale the best of sea peace at the deck
Customer Tip: The restaurant has long queues on weekends, so best to come early to avoid that wait time. It also has a 90-minute maximum dining policy, which can be a turn-off if you want to enjoy the evening well and relax.
Related Read: Best Wineries & Vineyards in Connecticut
Final Words
Stonington boasts a spectrum of tourist attractions, from the mystic seaport to the vast vineyards that stock wines to taste. You can find a fine eats experience in Stonington CT, with many restaurants to fill your cravings.
Being a coastal town, Stonington restaurants do not fall short when preparing seafood dishes that display the abundant variety from lobsters to oysters.
The restaurants have stunning service, with polite staff that wants to satisfy your needs. The dishes offered are all rounded with vegetarian and gluten-free options for a healthy eating out.
If you prefer pizza, you will find an assortment of restaurants that prepare hot and flavorful pieces that let you and your friends enjoy your pizza.
If you are with family, you can find child-friendly dining options, so you and your family can enjoy your eating adventure.
Most restaurants operate from midday around 10.00 am – 11.00 am, serving to 9.00 pm when most close for the day.
Related Read: 9 Best Gluten Free Wine Brands
Stonington Restaurants FAQ
Which are the Best Restaurants to Visit for Families With Children in Stonington CT?
Stonington Ct boasts a hoard of hotels and restaurants that will satisfy your food cravings. They serve delicious dishes, both local American cuisines and diaspora taste prepared by professional chefs.
However, not all restaurants are family-friendly, so here are the top five restaurants with a serene environment where you and your children can enjoy a meal.
Frank Gourmet Grille
Red 36
Dog Watch Café
Breakwater
Go Fish Restaurant
Are There Cheap Eats in Stonington CT?
Affordability is one of the checkboxes when it comes to traveling and mindful budgeting. You don't have to run to debt to have a good time, let alone dine finely.
Stonington has a wide range of restaurants that cater to your money state. Depending on your budget, you can go to a hotel and order a tasteful lunch or dinner that fits your wallet.
Restaurants in Stonington have menu varying menu options, with some dining experiences costing from $150 for a full course meal. Not many places you can fetch a deal like this, considering the lovely scenery that the coastline has.
Check out Franks Gourmet Grille and Stonington Pizza Palace for affordable deals for you and your family.
What Restaurants in Stonington Provide Takeout?
Sometimes you want to eat at your hotel or take the food home to enjoy while catching up on a game or your favorite TV show. Not to worry, as most of the Stonington restaurants allow takeouts for you to grab on the go. Here are where you can grab a takeout bag:
Frank's Gourmet Grille
Oyster Club
Bravo Bravo restaurant
Go Fish restaurant
Breakwater restaurant
Dog Watch Café
Pizzetta
Rocks 21
Captain Daniel Packer Inn Restaurant and Pub
Steak Loft