Rhode Island is known for its colonial vibe and an exquisite sighting that takes you back to the old days of no internet; talk of the birth of civilization as we know it. It is the epitome of naturality, with the population dependent on tourism, fishing, and farming. Newport is one of New England's most preferred dining destinations by locals and tourists alike.
The eats here are professionally done, and depending on your taste, whatever you crave, you will find it here. Restaurants boast of their perfected culinary artistry, which dates back years before. Newport specifically is a haven of cultural reminisce, and the hospitality industry shows you no less.
The architecture of Newport still shows the presence of the pilgrims, and the colonial facade has been well taken care of to date. Walking on these streets down to the bay feels like a 1970's film reincarnation, this time starring you!
Have a feel of the best shopping experience in the boutiques, immerse yourself in art galleries, and finish it off with the food experience of a lifetime at the dozen restaurants and street eats present in the area.
Not to mention the nightlife of Newport, which is worth exploring, as it has life indeed. Dozens of clubs and restaurants serve you right, making sure that your stay out is worth the expense.
Imagine spending the day learning the historical review of the island and dining out in the open in the evening, gazing at the horizon of the setting sun and the stars incoming. Now that is Newport magic.
Best Restaurants in Newport
Newport has a host of restaurants that serve delicacies infamous around the states. You will get the experience of dining in the top-rated eating houses you have ever visited.
They serve different cuisines, from the native mouthwatering dishes to the exotic diaspora meals you see on cooking shows-pick your poison-or cheese in this case.
1. Restaurant Bouchard
Rating: 4.5 stars
Hours: 5.30 pm-9.30 pm
Location: 505 Thames Street, Newport
Bouchard is known for their French cuisines, which are to die for-they have an in-house chef who is a pro at this. The food is delicious and super tasty, and the menu varieties are endless. The service here is stellar, with food presentation as that of a five-star hotel. The fishing culture is truly encompassed by having a lot of seafood menu options. Try out the Double Stuffed Lobster; it's amazingly wow.
Why Dine in This Restaurant?
The restaurant has a wine list that features locally handmade bottles from the island wineries. They use local berries grown on the island for an extra feel of originality.
The staff is very polite and welcoming. They don't mind explaining the detailed menu for that seamless dining moment for you.
Vegan and gluten-free food options are available.
You can have a table service reservation or walk in to catch the available table.
Bouchard has a full bar for all your drinking needs-you don't have to order a table to get a drink.
Diner's note: Bouchard restaurant has an age restriction and does not allow children under seven. Also, they remain closed on Tuesdays but are open throughout the weekend. You may need to confirm with your reservation the dress code, although smart casual wear will do. Exclusively, they offer dinner only.
2. The Dining Room at Castle Hill Inn
Rating: 4 stars
Hours: 5.45 pm-9.00 pm
Location: 590 Ocean Avenue, Newport
If you are looking for a natural setting to have your meal in serenity and nature, then Castle Hill Inn is your pick. Located in the Agassiz Mansion, the restaurant has historical detail. The food here is prepared to annotate the colonial times, and the localization is extra here-they make sure to get the garnishments and spices from the local farmers.
They are known for soups, seafood, and whole American cuisines everyone craves. Reserve a table in one of the four dining rooms in the Inn, and enjoy panoramic views outside. What's more, Castle Inn is ranked by Forbes Magazine as a top 4-star restaurant offering meals for lunch and dinner.
Why Dine in This Restaurant?
Historical Setting that takes you back to the colonial times
Ranked by Forbes as a top 4-star restaurant
Good ambiance
Inexpensive in comparison with other restaurants in Newport
Diner's note: Ask for the prix fixe menu-it's heavenly. Reserve a table near the window or outside to fully enjoy the natural feel of the restaurant surroundings.
3. 22 Bowen's Wine Bar and Grille
Rating: 4.5 stars
Hours: 12.00 pm-3.30pm, 5.00 pm- 9.00 pm
Location: 22 Bowen's Wharf, Newport
Enjoy finger-licking goodness of the sea with the delicious seafood menus at Bowen's. They serve vegetarian-friendly food, and you can order vegan and gluten-free options too. The restaurant features a nautical theme, and you get to enjoy the spectacular waterfront views as you sip on the classic bottles curated from renowned wineries around the globe.
They also offer local cuisines that leave you filled with gratitude to the chef. You can have meals for lunch, dinner, brunch, and late-night drinks. It is an excellent spot to chill with friends, or you could order a wine bottle and unwind.
Why Dine in This Restaurant?
Polite staff and pretty quick service
Wheelchair access at the driveway and entrance
Free wifi as you feast on your favorite delicacy
Table service is available
They accept credit cards, both at the bar and restaurant
Outdoor seating, high chairs, and private dining are available upon request
Diner's note: They remain closed on Mondays. You will want a reservation to get the perfect location of your choosing, either outside near the waters or inside at corner tables near the windows to enjoy the water font in totality.
4. White Horse Tavern
Rating: 4 stars
Hours: 5.00 pm-9.00 pm
Location: 26 Marlborough Street
The White Horse Tavern is the oldest in the US and the 10th oldest restaurant worldwide. It packs loads of historical escapades, with the decor displaying its colonial touch. It has a rustic appearance, with wooden beam ceilings and open fireplaces.
To emphasize the pastime, the meal presentation is over candlelight. This is a perfect spot to have a romantic evening with a spouse or a date. The chef treats you to the cuisine you will keep ordering, especially the grilled breakfast pizza and cranberry pecan french toast brunch.
Why Dine in This Restaurant?
It offers the perfect dining experience, especially for a romantic meal-serenity of the candlelight meal is next to nothing you have experienced.
The colonial and history experience from the decor to food presentation
Inexpensive for a Newport restaurant
Delicious cuisines and polite service
Diner's note: If you happen to visit this restaurant, try New England's Clam Chowder.
5. Buskers Pub
Rating: 4 stars
Hours: 11.00 am-1.00 am
Location: 178 Thames Street, Newport
If you want a regular-like experience where you can order a burger or fries instead while sipping a beer, rush into the Buskers Pub entrance. They prepare great Irish dishes and also your favorite American household meals. They house a bar where you can order any beer or the local liquor you enjoy. You can order food and eat at the bar or the dozen tables available at this spot.
They offer takeout for eating on-the-go needs with stable wifi to entertain yourself while at the premise. Table service is available on request, and this accompanies the food goodness with a live music band. Busker's prepares lunch, dinner, and brunch with vegan and gluten-free options available. If you want to have a drink or some late-night snacks, they got you.
Why Dine in This Restaurant?
Very clean-they even clean the bar stools before you sit
Polite staff willing to assist as needed
If you are a fan of traditional foods, then Busker's Irish dishes will tickle your taste buds.
The bar is fully stocked
Wheelchair access
Live music-enjoy your food and drinks while rocking to a favorite jam
Diner's note: Come here with no hurry to leave as the place sometimes can have longer wait times when ordering, especially during peak hours. The menu has a minimal variation in the dishes they serve.
6. Jo's American Bistro
Rating: 4.5 stars
Hours: 4.30 pm-8.30 pm on Monday-Thursday, 4.30 pm-9.00 pm on Fridays, 12.00 pm-9.00 pm on Saturday-Sunday
Location: 24 Memorial Blvd W., Newport
As in the name, Jo's offers classic American food, all without asking you to be in a suit and ties. It is a casual restaurant that concentrates on what they can do for you, so long as you make yourself available.
They prepare natural meats, i.e., they avoid preserved meat or meat from animals raised using loads of antibiotics and supplements. They have gluten-free menu options, so feel free to ask your waiter for your preference. And, of course, seafood is huge here.
Why Dine in This Restaurant?
They offer takeout
Ample parking within the premises, and also adequate street parking space for additional convenience
Full bar serving wines and beers
They offer the gift card option. Call the restaurant to arrange it and get more details.
If you want table service, the restaurant has a pristine service on request
Outside dining-for more scenery and breathtaking evening dinners and lunches full of fresh air.
Private dining is available on request and prior reservation
Diner's note: Get the prix fixe menu on Thursdays through Sundays. For the drink enthusiasts, enjoy half prices on the bar menu on Friday and Sunday evenings.
7. Red Parrot Restaurant
Rating: 4 stars
Hours: 11.00 am-10.00 pm on Sunday to Thursday, 11.00 am- 11.00 pm on Friday and Saturdays
Location: 348 Thames Street, Newport
Red Parrot is the go-to restaurant for all American cuisines filled with the sea fauna present on the Island. Meals here are vegetarian-friendly, and the chef makes options for vegan and gluten-free food. Enjoy the waterfront through the many windows in the restaurant while sipping some good wine paired with shrimps or chocolate-delicious.
Why Dine in This Restaurant?
Takeout available
Full bar
Wheelchair access available
You can get high chairs and private dining
This restaurant offers table service
Diner's note: This restaurant is packed most days and may not work for you if you want quiet family time. They currently don't have reservations; you walk in and get a table. If a table is not available, you are on a pager to wait for the next available table
8. Clarke Cooke House
Rating: 4 stars
Hours: 5.00 pm-9.00 pm on Monday -Thursday, Friday from 5.00 pm-10.00 pm, and 11.30 am -10.00 pm on Saturday and Sunday
Location: 24 Bannister Wharf, Newport
Clarke Cooke House is the definition of all-inclusive fun, from music to food and drinks. They have three full bars to attend to your parched throat, serving cocktails and beers. The basement club acts as a dance floor for you to go down on the jams on the playlist. They serve some delicious seafood, especially lobster and oyster combinations.
Why Dine in This Restaurant?
You get fast service with the polite and diligent staff. The place is busy, but the waiters are very hands-on to ensure everyone gets their orders on time.
Panoramic views of the water overlooking the harbor
Diner's note: They have two options, for you to dine outside casually or enter the inner space and adhere to the dress code. Both receive the same attention, so you take your preference.
9. Perro Salado
Rating: 4.5 stars
Hours: 5.00 pm-10.00 pm
Location: 19 Charles Street, Newport
Not many restaurants in Newport serve Mexican food, and Perro Salado tops the list in this category. They serve some authentic tasting foods-try the guacamole. It is delicious. The bar serves delicious cocktails and beers to go with your food order. They have vegetarian-friendly food, with options for vegan and gluten-free meals.
Why Dine in This Restaurant?
Offers takeout
Has outdoor seating to dine while enjoying the phenomenon outside views
Live music
Full bar and cocktails
Table service
Accepts credit cards
Diner's note: The restaurant remains closed on Sundays.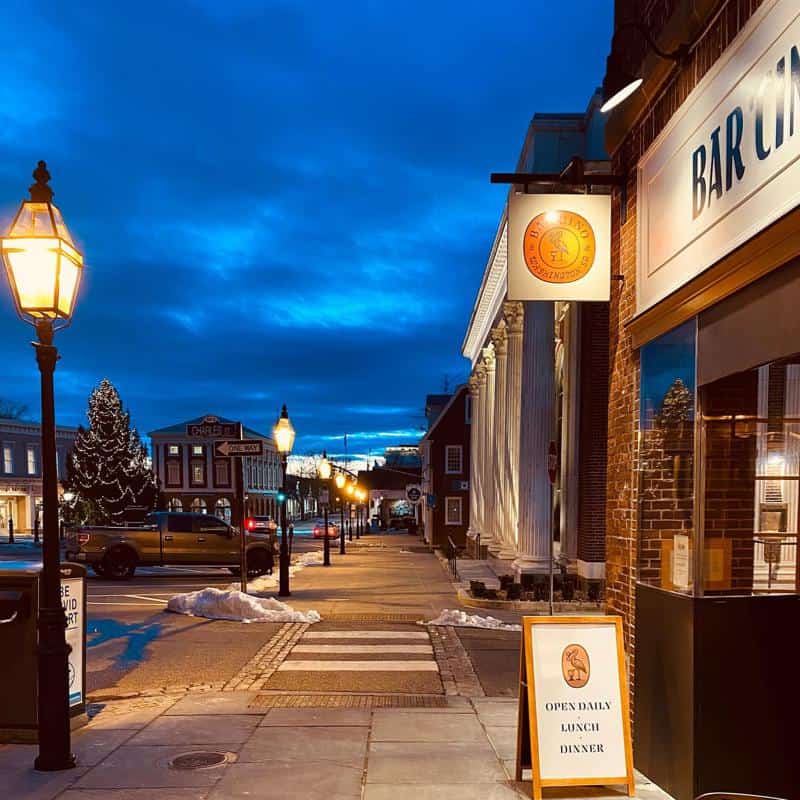 Rating: 4.5 stars
Hours: 11.00 am-1.00 am, opens at 10.00 am on Sundays
Location: 32 Broadway, Newport
You dine in a laid-back environment, with a full bar that serves your favorite beers on the go. The food is great, with gluten-free options available on request. The restaurant is vegetarian-friendly, and you will enjoy your lunch, dinner, late-night, and drinks as you listen to some live music on stage.
Why Dine in This Restaurant?
Table service
Full bar
Takeout available
Live music
Serves alcohol
Family-friendly restaurant
Diner's note: This is a perfect spot to hang out with friends and have a good time with a few drinks and some burgers on the side.
11. Brick Alley Pub & Restaurant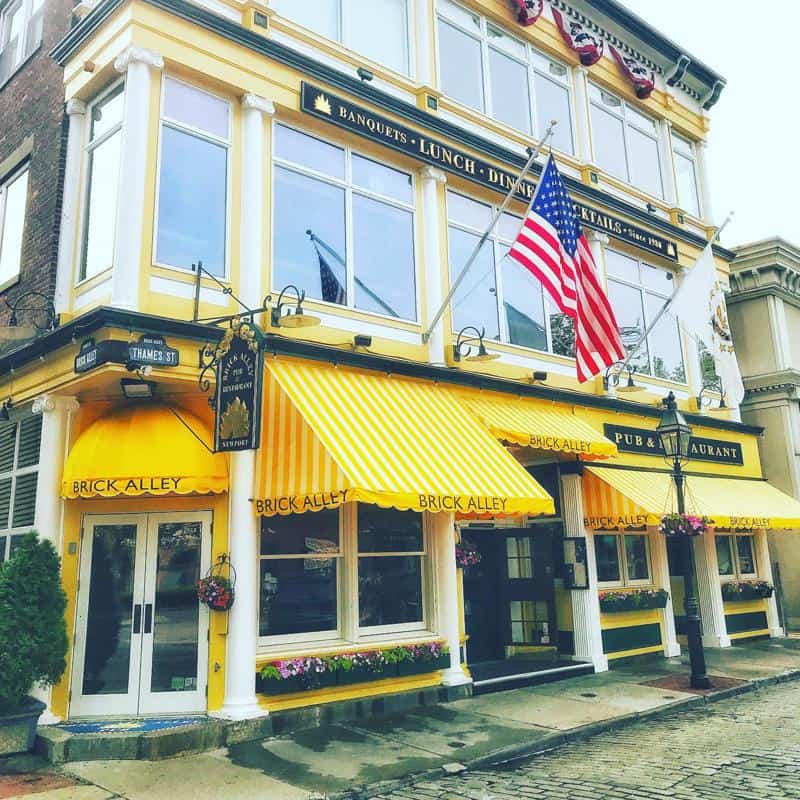 Rating: 4.5 stars
Hours: Monday to Tuesday: 11.30 am-8.30 pm, Wednesday: 11.30 am-9.00 pm, Thursday-Sunday: 12.00 pm-11.59 pm
Location: 140 Thames St, Newport, RI 02840
Brick Alley Pub & Restaurant has been serving Newport with its undebated dishes for forty years now. You get over 25 craft beer taps in this joint, so an evening with your mates is vouched for here. The restaurant is family-friendly and can serve large parties when you make a reservation.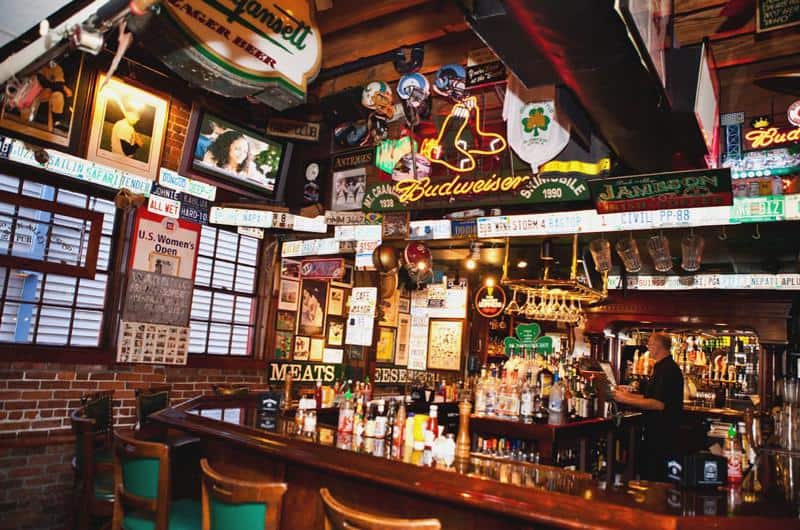 The Thai peanut shrimp wrap (spicy and chilled) is a must-have when here. Voted the Best Rehearsal Dinner Venue in Rhode Island by Newport Life Magazine, you are confident that your event will not go wrong. Better still, buy a gift card for your mates and have it sent to them via mail or post.
Why Dine in This Restaurant?
Gift cards
Accepts credit cards
Table service
Buffet available
Wheelchair access
Takeout
Reservation and private dining
TV and highchairs
Full bar
Diner's Note: The bar menu is minimal than the downstairs restaurant but still adequate when you want to grab a quick meal. The restaurant is quite busy, so a reservation can save you a long wait time before you get a table.
12. The Mooring Seafood Kitchen & Bar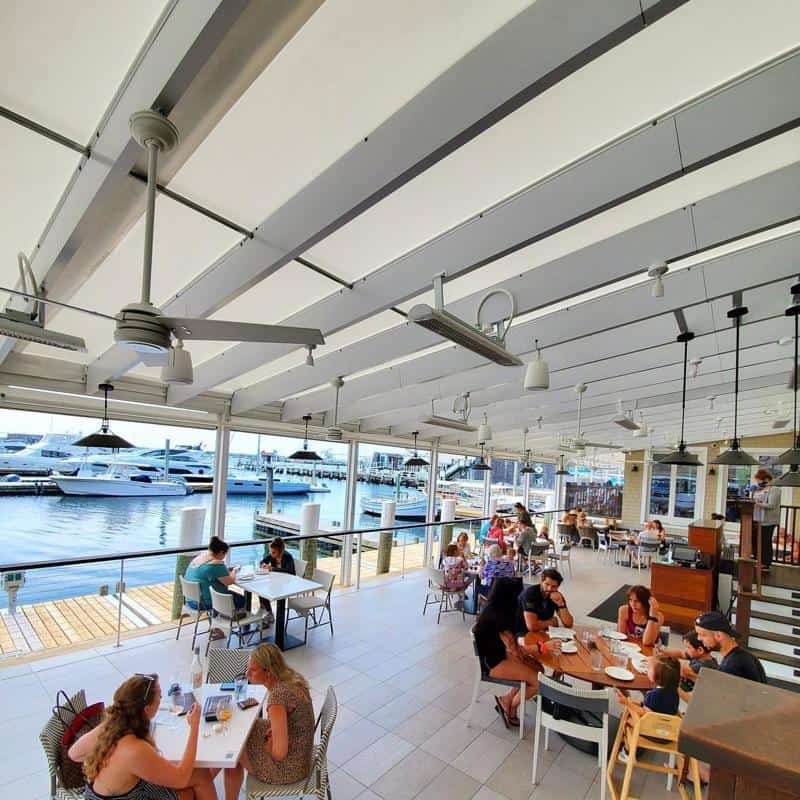 Rating: 4.5 stars
Hours: Sunday to Thursday: 11.30 am-9.00 pm, Friday and Saturday: 11.30 am-10.00 pm
Location: 1 Sayers Wharf, Newport, RI 02840
The Mooring Seafood Kitchen & Bar serves over 35 years of seafood tradition in New England. It is 100% owned by its employees so expect exceptional service and polite staff. You are in for treats with their huge palates and exclusive display of both professionalism and the island's hospitality. The panoramic view of the waterfront at the bay area is to behold.
The restaurants serve both takeout and dine-in, so order online or make reservations to avoid waiting long as the restaurant is usually busy, especially on peak times. Enjoy the wine list and craft beers from the restaurant's bar. The restaurant is mentioned by Business Insider in the 'Top 100 Most Scenic Restaurants in the US'.
Take advantage of the Fare Rewards program earning you points for every meal you order at the restaurant. You can redeem your points (200 points for $15) and discount your bills for the next visit.
Why Dine in This Restaurant?
Takeout
Wheelchair access
Full bar
Table service
TV and highchairs
Waterfront view
Outdoor seating
Reservations and private dining
Parking
Accepts credit cards
Diner's Note: Patio seating allows you to enjoy the panoramic Newport Harbor and the setting sun. To avoid long waiting times, make a reservation.
Conclusion
Newport is a hospitality haven having a ton of colonial-themed restaurants with a modern touch to give out that vibe of the revival of a time past. Dining in this marvel place brings memories you can only associate with your history classes back in junior high-well unless you are a historian.
The rich history of Newport, the architectural design of the town buildings, and the flora of the island-these are aspects of how enjoyable the place is.
The hospitality sector banks restaurants preparing meals that leave you asking for more. They feature traditional and exotic dishes that make you travel throughout the world to different cultures through a spoon and a fork.
Visit these restaurants and get a first-hand experience of the magical tastes, stellar customer service, and wonderfully curated wines that make you a sommelier right there.