Connecticut is perhaps most well known for being the home to Yale University, but it's also famed for its gorgeous fall scenery and its huge range of attractions and activities, the latter of which includes dozens of wineries.
There are over 40 wineries and vineyards across the region, so there's no shortage of delicious wine tasting to do. If you're planning on going to this state for a day, weekend, or longer, here are the best wineries in Connecticut you need to visit.
What Wine Is Connecticut Known For?
Vitis vinifera and hybrid grape varieties are commonly grown in Connecticut, with the most well-known wines in the region being Vidal, Cabernet Franc, Riesling, Chardonnay, and Saint-Croix.
Sweet wines, usually crafted from Vidal grapes, are popularly enjoyed by locals and are a must-try when you're visiting Connecticut.
Northern Connecticut is typically cold and snowy during the winter, with warm, humid summers. Coastal and far southern Connecticut normally see cold winters with some rain and the occasional snowfall, along with hot and humid summers.
Due to the extremely warm summers the region experiences, it can be challenging to grow certain grape varieties of grapes as they are prone to disease and pests. As a result, hardy varieties like the ones mentioned above are popularly cultivated as they are better suited to the hot summer climate.
Top 12 Wineries & Vineyards in Connecticut
Now that you know what types of delicious wines to expect in the region, here are the top wineries in Connecticut you should track down to taste them!
Best Wineries in Connecticut Map:

Paradise Hills Vineyard & Winery: Annual Volunteer Grape Harvests
First up is Paradise Hills Vineyard & Winery, an Italian-American family-owned and operated estate who is committed to making some of the finest wines in Connecticut. They have ample seating both inside and outside, both of which provide delightful views of the estate's vineyards and nearby scenery.
The tasting room is Tuscan-inspired and features a custom-made copper bar and warm wood-burning fireplace. There is also a gorgeous outside bar that is open during the summer months for you to purchase wine by the flight, glass, or bottle.
During the autumn months, Paradise Hills Vineyard puts on volunteer harvests, which involves harvesting grapes from the winery's vineyard. You'll be taught how to correctly clip grapes with pruners, so it's a great experience if you're interested in learning more about the vineyard's winemaking process. After all your hard work, you'll be treated to a delectable Italian lunch!
Editor's Note: The winery's Chardonnay has won awards for its impeccable quality, so be sure to check it out on your visit. It's delicate and moreish, with a subtle hint of oak.
Hawk Ridge Winery: Natural Farm Setting
Next up is Hawk Ridge Winery, a family-operated winery and working farm nestled in the lovely town of Watertown in Connecticut. There are 58 acres of land that surround the winery, four of which are designated for grapevines, with the remaining allotted to hay, crops, beehives, and farm animals.
The winery's expansive grounds and farm setting provides a calming ambiance, even more so with their gorgeous post and beam main tasting room. It features a stunning walnut oak bar and is filled with comfortable seating and couches, so you can cozy up with a glass of wine and relax.
Hawk Ridge Winery offers tastings as well as wine by the glass and bottle. They also offer a range of food, including gourmet cheeses and jams, sandwiches, salads, calamari, pizzas, and various types of fries.
The winery hosts live music frequently so you can enjoy some easy-listening tunes with your wine, creating the ultimate peaceful atmosphere. Other events, including seasonal ones, occur throughout the year too!
If you need a beautiful venue for a special occasion like an intimate wedding, corporate dinner, or birthday party, Hawk Ridge Winery's Hawk's Nest private room is a fantastic option. It can accommodate up to 55 guests and comes with a private bathroom and outdoor balcony.
Editor's Note: This winery offers wine slushies, including one that changes each month! They're delicious and incredibly moreish.
Jonathan Edwards Winery: Fantastic Venue for Private Events
Another stunning winery in Connecticut is the exquisite Jonathan Edwards Winery, boasting an attractive exterior. The outside is surrounded by neatly trimmed lawns, vibrant flowers, bushes, and trees.
The modern tasting room is available for tastings, wine by the glass, and wine by the bottle. However, tastings are only offered from Monday to Thursday. They cost $15 and include a sample of 5 classic wines for you to enjoy.
Jonathan Edwards Winery also has a lovely stone patio and barrel room, both of which can be rented out for weddings, corporate dinners, and other private events.
They also offer tented events, which accommodate up to 200 guests and come with full private access to the patio, barrel room, tasting room, and back deck. The views of the vineyards, especially at dusk, are spectacular!
Editor's Note: The winery's 2020 Estate Pinot Gris is exquisite, particularly if you're in the mood or something bright and refreshing. It features aromas of fresh apple, lemon, and pear, giving it a bright acidity that's as refreshing as it is delicious.
Jones Family Farms: Wine and Food Pairing Classes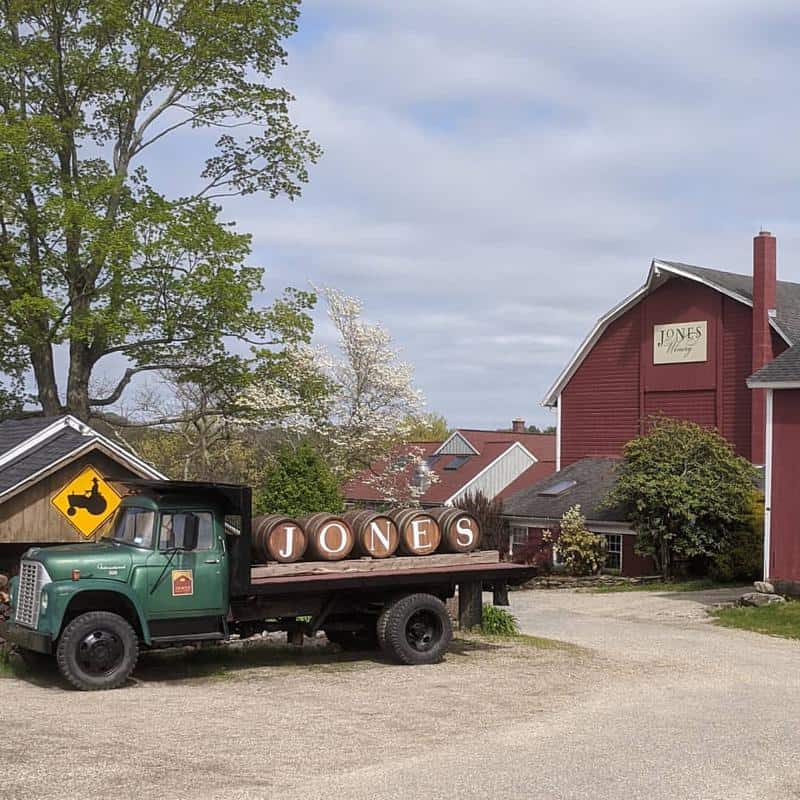 Jones Family Farms offers remarkable wines and harvest-your-own-picking experiences from their charming working farm, which grows strawberries, blueberries, pumpkins, gourds, squash, and even Christmas trees.
The estate features a stunning 19th-century dairy barn and homestead farmhouse, as well as stone walls and carefully tended fields. Its relaxing atmosphere provides an enjoyable and calming wine tasting experience, allowing you to fully unwind during your stay.
The winery is open on Thursday, Friday, and during the weekend for tastings, flights, and glasses in their beautiful outdoor courtyard. Reservations are strongly recommended as they normally get quite busy!
In addition to wine tastings and harvest-your-own-picking experiences, Jones Family Farms offers farm-style cooking classes, wine and food pairing classes, and farm educational programs.
Editor's Note: The 2020 Riesling is particularly fantastic at this winery, featuring aromas of honeycomb and citrus blossom, alongside flavors of pineapple, tangerine, and exotic fruit.
Taylor Brooke Winery: Refreshing Wine Slushies
Taylor Brooke Winery produces an assortment of high-quality wines and beers, making it the perfect place to visit for wine lovers and beer enthusiasts alike. They offer traditional wine tastings, slushies, flights, and wine by the glass at the winery, which can all be consumed outside in their pavilion.
Seating for the brewery is located in their taproom or on their lawn or patio. You can bring your own food, but they also host food trucks throughout the year that will be happy to whip up a scrumptious dish for you.
Live events like music and wine/beer release nights take place at Taylor Brooke Winery on a regular basis, so there's always something to look forward to during your stay.
Editor's Note: With notes of pineapple, guava, and bright citrus, the winery's Sparkling Frontenac Gris is a must-try. It's fruity and dry with a satisfyingly crisp finish.
Brignole Vineyards: Delicious Selections of Sangria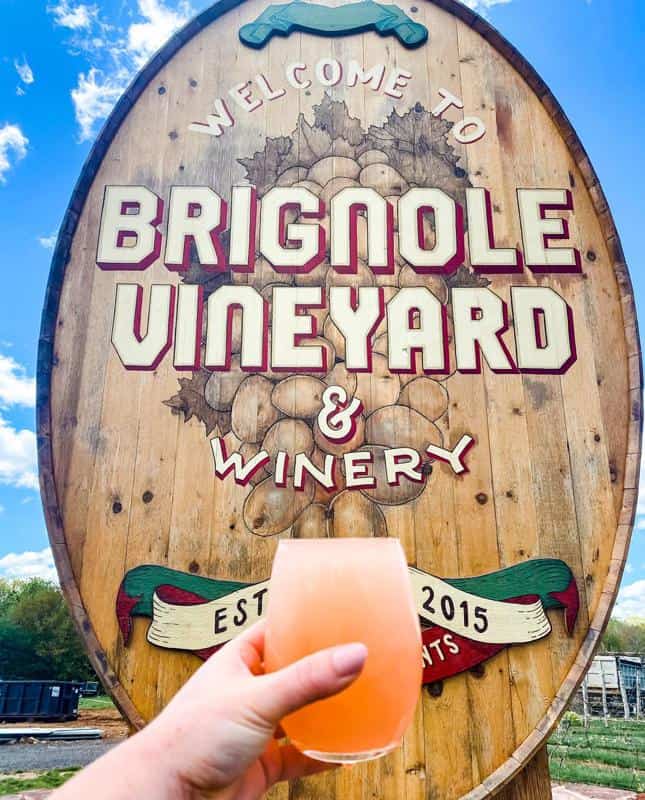 Located in the centre of East Granby in Connecticut is the majestic Brignole Vineyards, featuring remarkable hand-crafted wines, beautiful spacious grounds, and a gorgeous tasting room.
The winery is newly constructed and is surrounded by outdoor decks, allowing you to sit outside with your wine and marvel at the surrounding views of the estate and vineyards.
Flights are available in their tasting room during weekdays, costing $16 for 4 wines from their Eagle Series menu and a complimentary wine glass. The winery also offers wine slushies in the summer months, as well as a selection of sangrias that change weekly, so there's always something new to try.
The second floor of the estate is available to hire for private events and includes a separate entrance, private bar, deck with pergola, catering kitchen, men's and women's restroom, and even a 110-inch screen for presentations/displays. It's perfect for small weddings, parties, bridal showers, and corporate dinners.
Editor's Note: All of this winery's wines are remarkable, but the Cancello is particularly marvelous. It's a Super Tuscan blend of Sangiovese Merlot and Cabernet with aromas of rose petals and strawberry. It offers flavors of sweet plums, cherry, and tobacco-like oak spice for a luxuriously long finish.
Holmberg Orchards and Winery: Fantastic Fruit Wines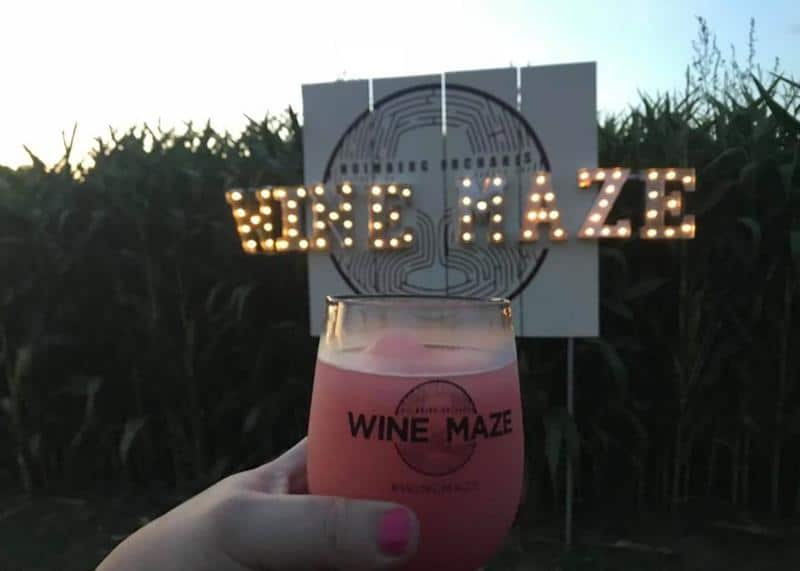 Holmberg Orchards and Winery is a great place to visit with friends and family, offering pick-your-own crops and fruit-forward wines. They produce ciders and fruit wines made using their homegrown fruits, as well as a few varieties of Pinot Blanc.
The estate currently grows Pinot Blanc and Gewurztraminer grapes, 25 varieties of apples, peaches, pears, berries, and other small fruits.
The winery has a rustic and farm-like setting, allowing you to have a slice of nature as you sip delicious wines and beverages. Alongside pick-your-own crops, they offer a corn maze, tractor rides, freshly made donuts, slushies, and a varied selection of ciders and wines.
Holmberg Orchards and Winery has a delightful wine and cider barn that's open from Friday to Sunday, which is the oldest building on the property! It's made from American Chestnut wood and was first built in the 1850s as a tool shed.
You can purchase wine and cider by the flight and glass, as well as enjoy the breathtaking views in their spacious seating area.
Editor's Note: This winery produces a huge assortment of apples, so it seems only fitting to try their Apple Cranberry Wine during your stay. It's an apple wine mixed with Massachusetts cranberries, giving it a deliciously tart finish.
Aquila's Nest Vineyards: Gorgeous Grounds
Boasting a modern tasting room, scenic views, and an impressive portfolio of wines, Aquila's Nest Vineyards is one of the most popular wineries in Connecticut. It's not difficult to see why the winery is a fan favorite as they provide some of the best wines in the state, with the bonus of having some truly beautiful grounds and buildings.
Their 10-acre vineyard is home to 8 grape varieties, including Chambourcin, Marquette, Riesling, Cabernet Franc, and Baco Noir, but they're looking to add even more grape types soon!
Aquila's Nest Vineyards have plenty of indoor and outdoor seating options for you to relax in. They even have a pergola and fire pit, which is sure to keep your warm and toasty in the cooler months. These spaces can be hired out for private events of up to 150 guests, too.
You can purchase wine by the bottle or flight, as well as enjoy a selection of small food items like chocolate, nuts, cheese, and crackers. You're welcome to bring your own picnic, blankets, and lawn chairs to relax outside, or even order food from the local pizzerias.
Events occur at the winery fairly frequently, ranging from yoga classes to comedy nights, so there's bound to be something for you to enjoy!
Editor's Note: All of this winery's wines are phenomenal, but we particularly love Princess of Troy, a rich and bold Merlot with strong aromas of blackberries, plums, and black cherries.
Hopkins Vineyard: Historic Wine Bar
Located in the picturesque hills of Lichfield County in Connecticut with sweeping views of Lake Waramaug is the gorgeous Hopkins Vineyard. The historic wine bar is inside the hayloft of their striking 19th-century barn, emitting a casual and peaceful atmosphere.
You can purchase the winery's award-winning wines by the glass, flight, or bottle, which all complement their mouth-watering selection of cheeses and country pates served with warm fresh bread.
Hopkins Vineyard's welcoming and experienced staff will be happy to guide you through each wine, offering an explanation of the ingredients, winemaking process, and recommendations for food pairings.
Once you've finished sampling the winery's wine, you can browse through their gift shop, which stocks a variety of unique items and gourmet food like cheese, pate, wine glasses, wine books, and ornate wine racks.
Live music takes place at the winery frequently, providing a lively ambiance and some entertainment as you relax and sip on wine.
Editor's Note: Why not try the winery's 2019 Ice Wine? It's deliciously sweet with a honeyed nose and notes of apricot and ripe peach. It goes well with stilton cheese and fresh figs.
Stonington Vineyards: Tranquil Atmosphere
Boasting breathtaking grounds, a tranquil atmosphere, and scrumptious wine, Stonington Vineyards is one of the best wineries in Connecticut. They offer tastings daily at their beautiful tasting room, which oozes sophistication and luxury.
If your group contains more than 7 people, you'll need to book in advance and inquire about pricing. Private group tastings include seating in their back tasting room, a tasting of 6 wines, and a complimentary wine glass.
The winery hosts a wide variety of live events throughout the year, including live music and seasonal festivities. Be sure to see what they have in store for you on your visit!
Stonington Vineyards is available to rent out for private events, so if you need a stunning venue for your gathering, this winery is ideal.
Editor's Note: If you enjoy dark fruit and have a soft spot for red wines, why not try the winery's 2019 Cabernet Franc? It has the aromas of dark berries and dark cherry with a touch of earthiness, alongside a clean, long-lasting finish.
Gouveia Vineyards: Stunning Views
Situated high above sunshine-filled 140 acres is Gouveia Vineyards, featuring a charming winery that has panoramic views of green woodland, open fields, and expansive vineyards. They produce an array of high-quality wines, many of which have won awards.
Gouveia Vineyards offer tastings at their inviting tasting room, which is open daily. Tastings cost $15 per person and include a sample of 5 wines and a complimentary etched wine glass.
To go with your wine, there are sumptuous fruit, meat, and cheese boards that you can nibble on. Alternatively, you can bring your own food to be enjoyed in their outdoor seating area.
Editor's Note: The winery's Chardonnay Oak is a must-try during your stay. It's velvety smooth, nutty, and has a dry toasty finish. It goes beautifully with seafood, cheese, and pasta dishes.
Chamard Vineyards: Onsite Bistro
Last not least is Chamard Vineyards, which is burrowed in the shoreline town of Clinton and produces a huge range of magnificent wines and tasty food. They have expertise in Cabernet Franc, Chardonnay, Cabernet Sauvignon, Merlot, and Pinot Noir, and currently, produce 10,000 cases each year.
The winery has an onsite bistro that serves a wealth of decadent lunchtime and dinnertime dishes like mac and cheese, Parisian gnocchi, grilled Atlantic swordfish, crispy roasted half duck.
Chamard Vineyards offers a couple of spaces for private events like wedding receptions and ceremonies, parties, and more. The Barn can accommodate up to 60 guests indoors or up to 75 for guests seated inside and outside.
It provides a rustic and rural atmosphere, complete with an adjacent outdoor patio and sweeping views of the estate vineyards.
The Lawn can accommodate up to 85 guests and is set against a dreamy backdrop of hand-built stone walls and 20 acres of vineyards.
Editor's Note: Not sure what to try at this winery? Opt for the Estate Riesling 2017, a fragrant and dry wine with notes of apple and grapefruit.
Also Read: The 10 Best North Fork Wineries to Visit
Final Thoughts
Connecticut offers a fantastic wine trail, boasting more than 40 wineries and vineyards across the state. The wineries above are some of the best in the region, featuring striking views, mouthwatering wine, and a peaceful atmosphere that will relax your mind and body.
If you'd rather conduct your own private wine tasting, consider joining a subscription-based wine club like Naked Wines and Winc Wines, so you can sample a range of luxurious wines without leaving your home. They also make great gifts for wine lovers!