You do not have to get rid of your wine bottles by recycling them. Painting and decorating wine bottles can be one of the most fun things to do, that is if you are into DIY and have an artistic side.
But do not worry, we got you covered in case you don't have any ideas or concepts for painting your wine bottles.
In this article, we will take a look at various wine bottle painting ideas, the art of wine bottle painting, and the tools you need to get started. The amazing part about these ideas is that they are simple, easy to do, and won't take much of your time.
You can try and mix the ideas to come up with various blends of color and design. The process of wine bottle painting may be the very thing you need to bring out your artistic side and interior design skills.
Spice up your house with these beautiful pieces to make your space vibrant and exquisite.
You can also use these ideas to make a Christmas present, birthday gift, or just create a romantic dinner setting.
The Art of Wine Bottle Painting
Why should you even consider wine bottle painting?
Like most artistic endeavors, wine bottle painting is an enthusiast hobby that you can use for fun, create amazing pieces, and even sell them for a little profit. People are always looking for ways to add some flavor to their houses, the presents they gift others, and show off their abilities.
Why would you have a simple flower vase when you can have a personalized and well-decorated wine bottle vase.
Moreover, learning how to paint a wine bottle can also help you learn how to decorate other items such as plastic containers and concrete walls.
Wine bottle painting is cheap and relatively cost-effective regardless of the method and tools you use.
Most wine painting ideas revolve around interior décor and wedding decorations. You can however use these ideas for whatever purpose you want.
It is all about having fun and creating something you are proud of. With that said, let us jump into how to prepare wine bottles for painting so that you can have a basic understanding of how to start this journey.
How to Prepare Wine Bottles for Painting?
Painting wine bottles can be tricky since you do not use the same methods as you would use to paint a plastered wall or plastic. The most crucial part in the preparation of the bottle for painting.
Once you are done with the preparation part, everything else will boil down to your design vision and taste.
Several supplies are needed for the preparation and they include:
Clean and empty wine bottles.
Spray paint.
Prime paint.
Paintbrush.
Different colors of chalk paint or acrylic craft paint.
A surface for spray painting – you can use cardboard or old magazines to gather the scattering paint.
To get started, you would need to find at least one wine bottle (it doesn't have to be a wine bottle, you can use any other glass bottle) to experiment on. Follow the following steps to prepare the bottle for painting:
Remove any labels from the bottle. A good grease-cutting soap such as Dawn Ultra Platinum can help with that. You have to make sure the glass is crystal clear and free of any blemish. After cleaning, you will proceed to use white vinegar to get rid of any soap residue and let the wine bottle dry for some time.
The next step is to prime paint the bottle. Priming enables better adhesion of paint to the wine bottle surface, increases the durability of the paint, and gives extra surface protection for the glass.
The best primer to use for glass is an enamel-based primer. You can either use a brush for this or a sprayer. Apply the primer various times to provide several coatings on the glass and leave the bottle to dry for 24-72 hours.
This period will give the primer enough time to dry effectively and also give you time to fix any missed spots and blemishes.
The primer will make the surface rough, thus providing a good texture to paint on. It is important to note that some acrylic paints do not need a primer to work. Be sure to check the primer's description to know if you need a primer.
Proceed to spray paint the bottle with the same light even coats as the primer, make sure to let the paint dry after each coat.
When you are satisfied that the paint is evenly set and dry, you can proceed to decorate the bottle using any items you like. These items may include ribbons, twine, labels, and fabric.
Check out this Youtube video to inspire you:
What you Should Paint on Your Wine Bottle – Amazing Wine Bottle Painting Ideas
Now that you know the simple and straightforward procedure of preparing and painting wine bottles, how about we go to the amazing ideas we got lined up for you.
As much as each of the ideas has its specialized application, feel free to mix and match any of them to blend the perfect-looking design.
1. For the Christmas Spirit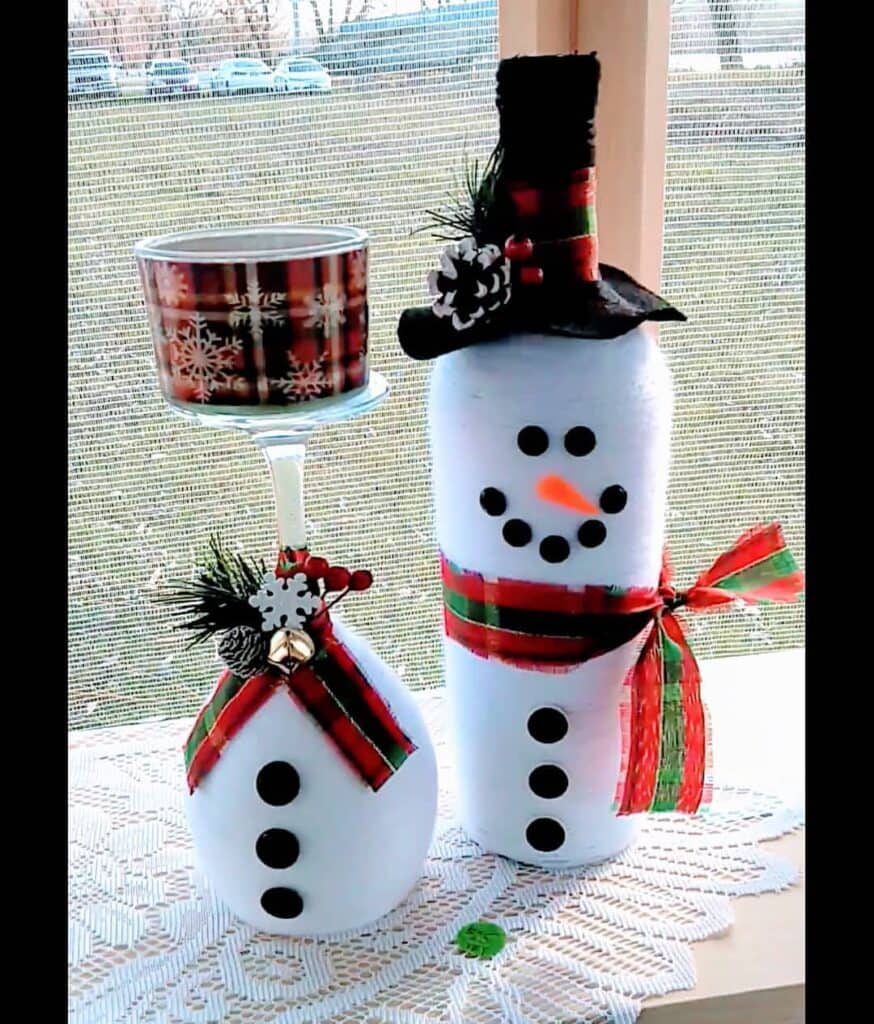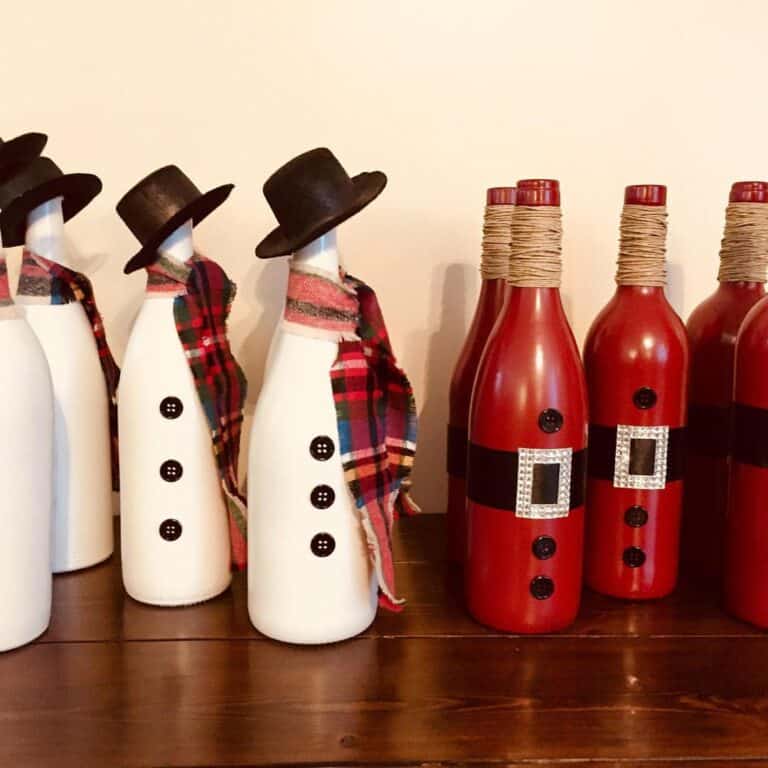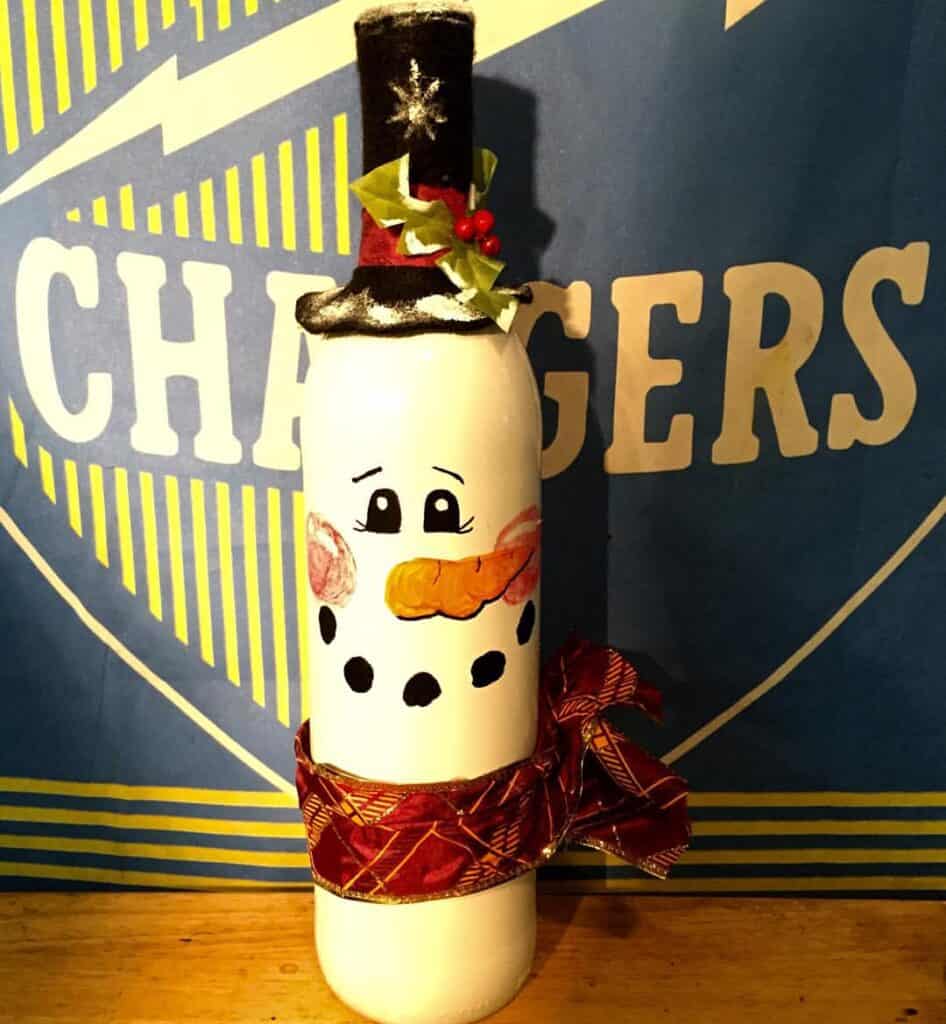 Who does not love a great Christmas gift? You do not have to break the bank to show you're loved ones how much you love them on Christmas.
This simple but yet elegant design aesthetic showcases the Christmas spirit through its snowman design language and color choice.
To make this, all the supplies you would need include acrylic paint, paintbrush, spray paint, ribbons, and small Christmas accent pieces like artificial flowers. Start by preparing the bottle, coating it with the white base paint.
After it has dried, proceed to add the black circles and dots with a paintbrush and black paint. Finish the setup with Christmas ribbons and accent pieces around the neck and waist.
2. Decorate a Wine Bottle with Words and Paintings Mixed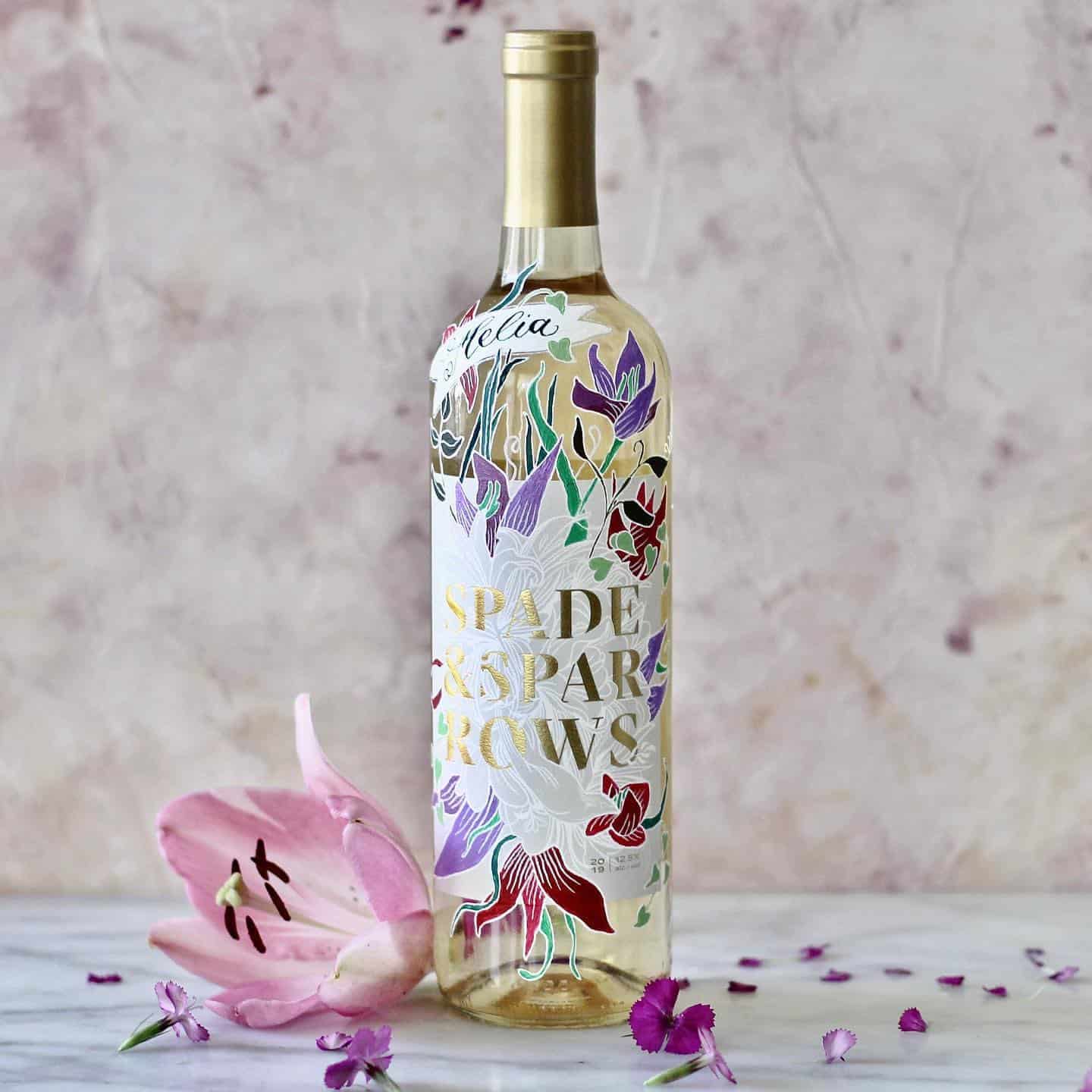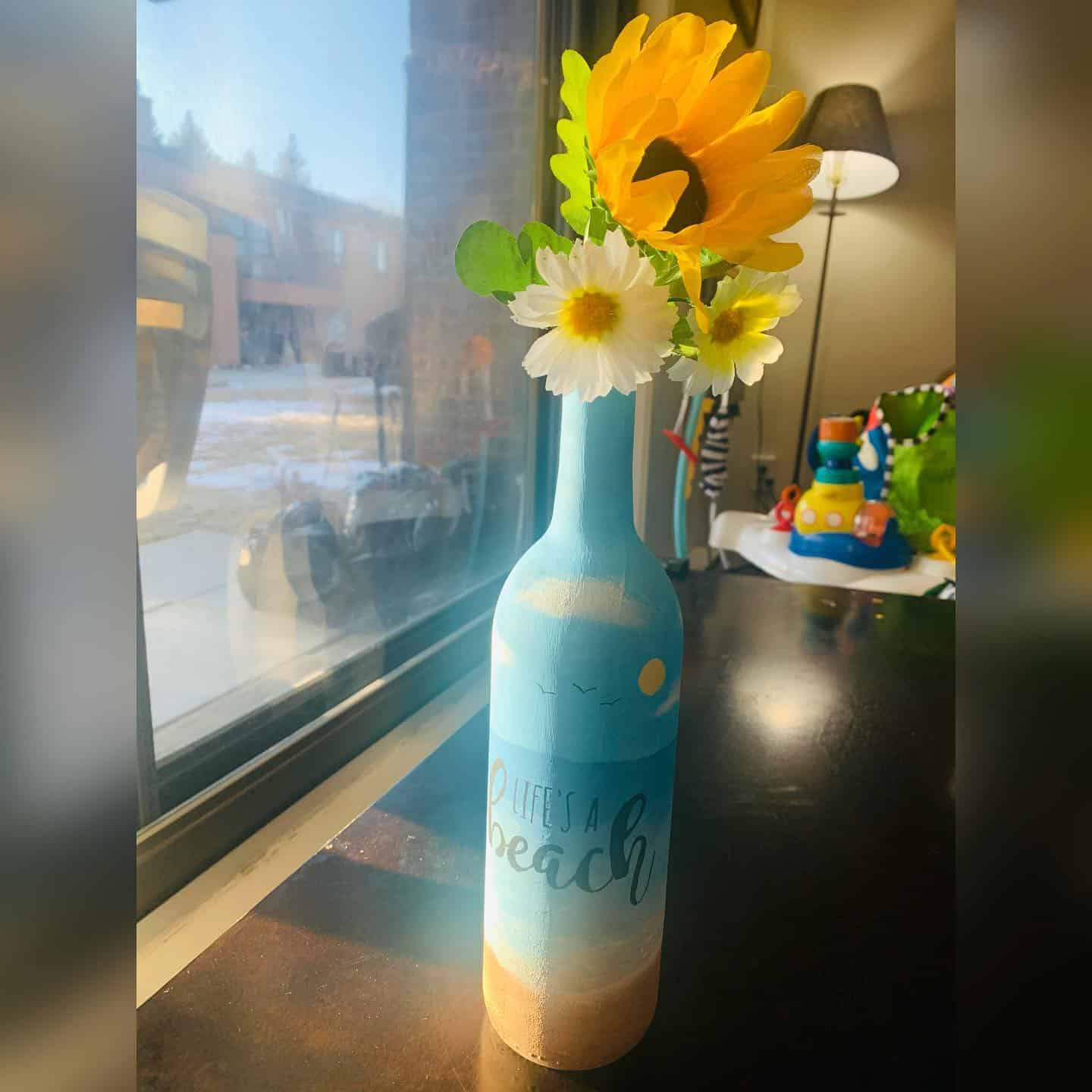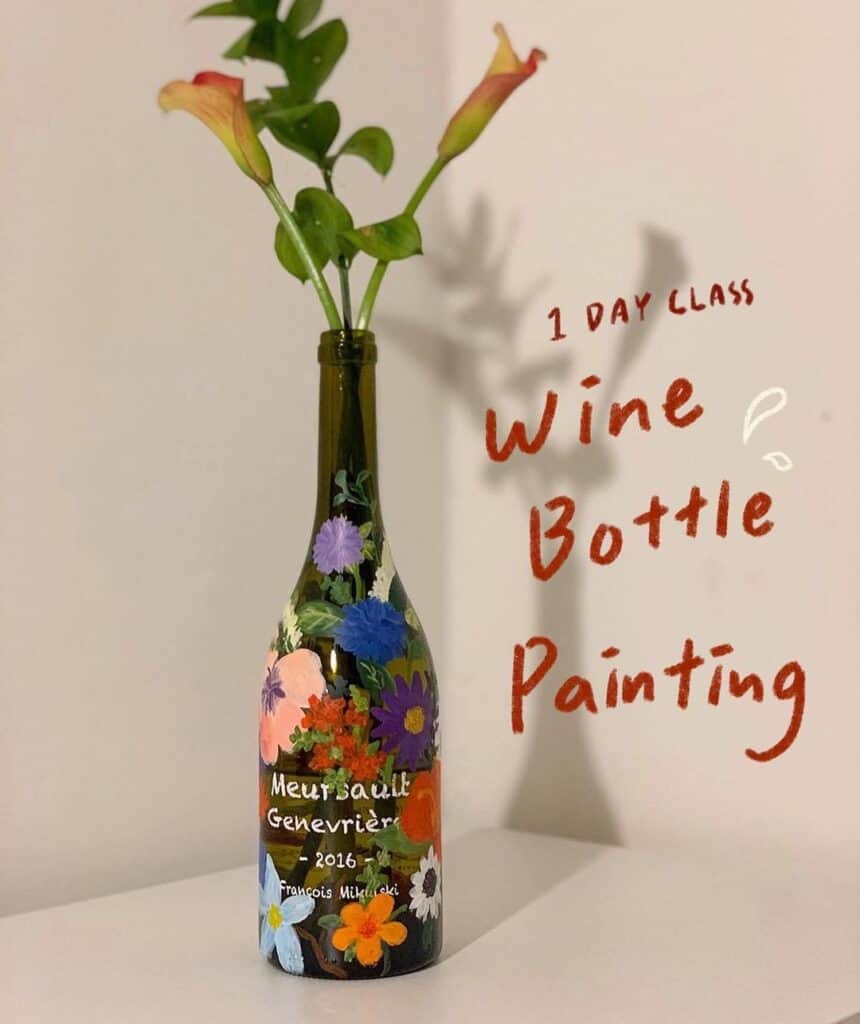 Choose this design for a more personalized wine bottle décor. This piece is meant to be an accent piece for your study table, bedroom, or coffee table.
It showcases your personality, highlights, and compliments the colors on its background or foreground.
All you would need to do is to look for paint colors that match the colors of the placement location. Use colors that match and complement each other. Find a motivational quote, preferably a short one because you do not have enough space, to add to the flower painting.
Painting a flower can look like an artist's job but it is truly easy. Just draw anything that resembles a flower and you will be surprised how it pops if the colors are chosen right.
3. To Showcase Minimalism and Simplicity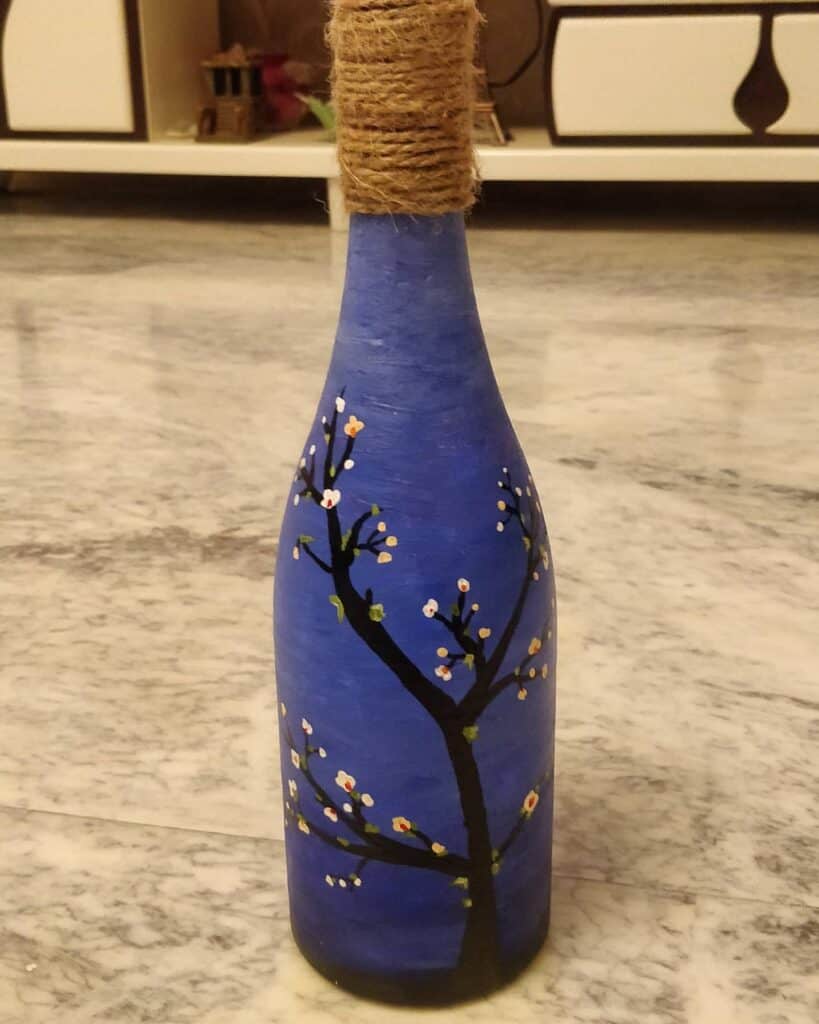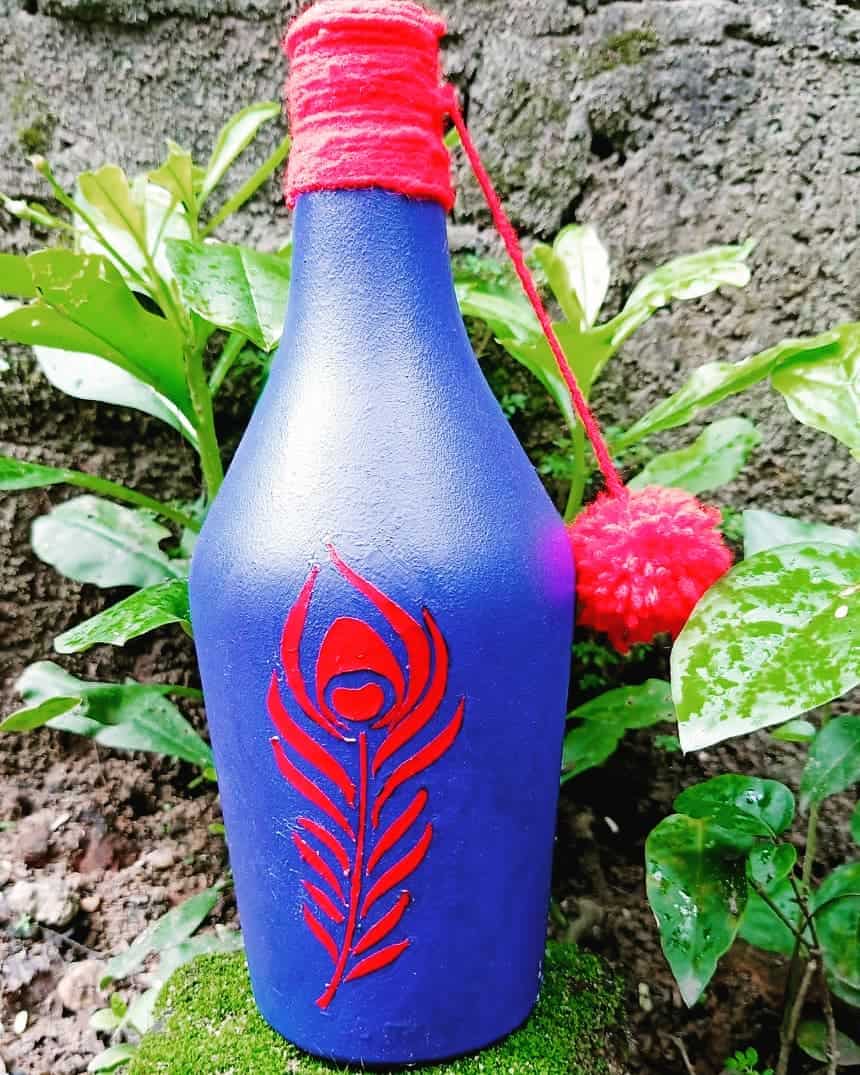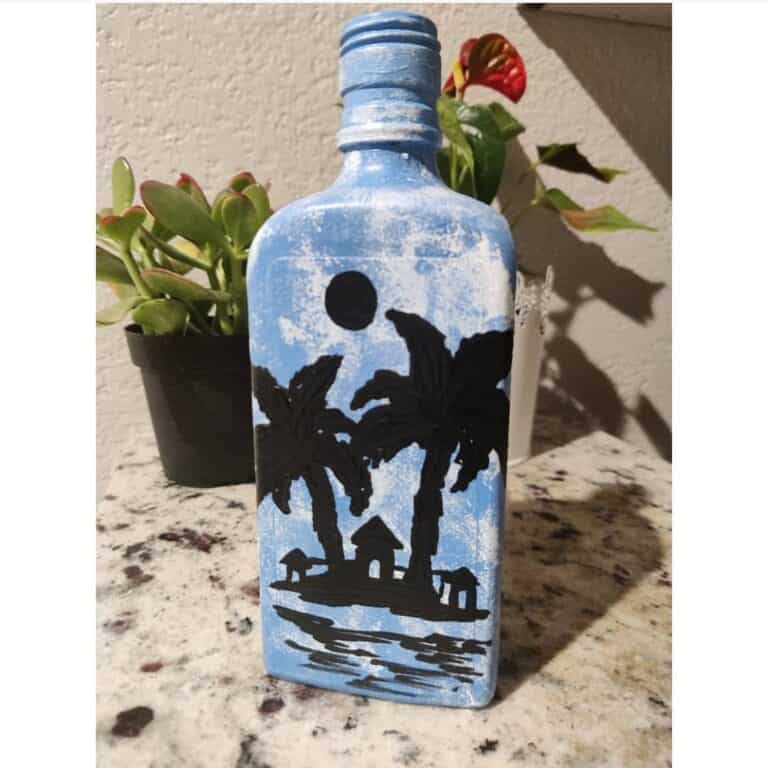 There are a lot of minimalists who do not want an art piece that screams and is easily noticeable. This is the design for the simple person. It doesn't entail a lot of colors or easily identifiable paintings.
It is plain and simple so that it can blend in the background, just for you to see.
You will need a rope for tying the bottleneck and blue paint for the base color. The blue can only be painted with a brush to give it a rough texture that hints at the appearance of a dark sky.
The tree is plain with a black trunk and flowers that have a mixture of white, yellow, pink, and green.
The design may look boring and uninspiring to most. To add a little excitement to it, use extra colors to add the moon, stars, and galaxy-like paintings. This will highlight the night sky so flawlessly that anyone would want to look at it.
4. A Simple and Less Time-Consuming Piece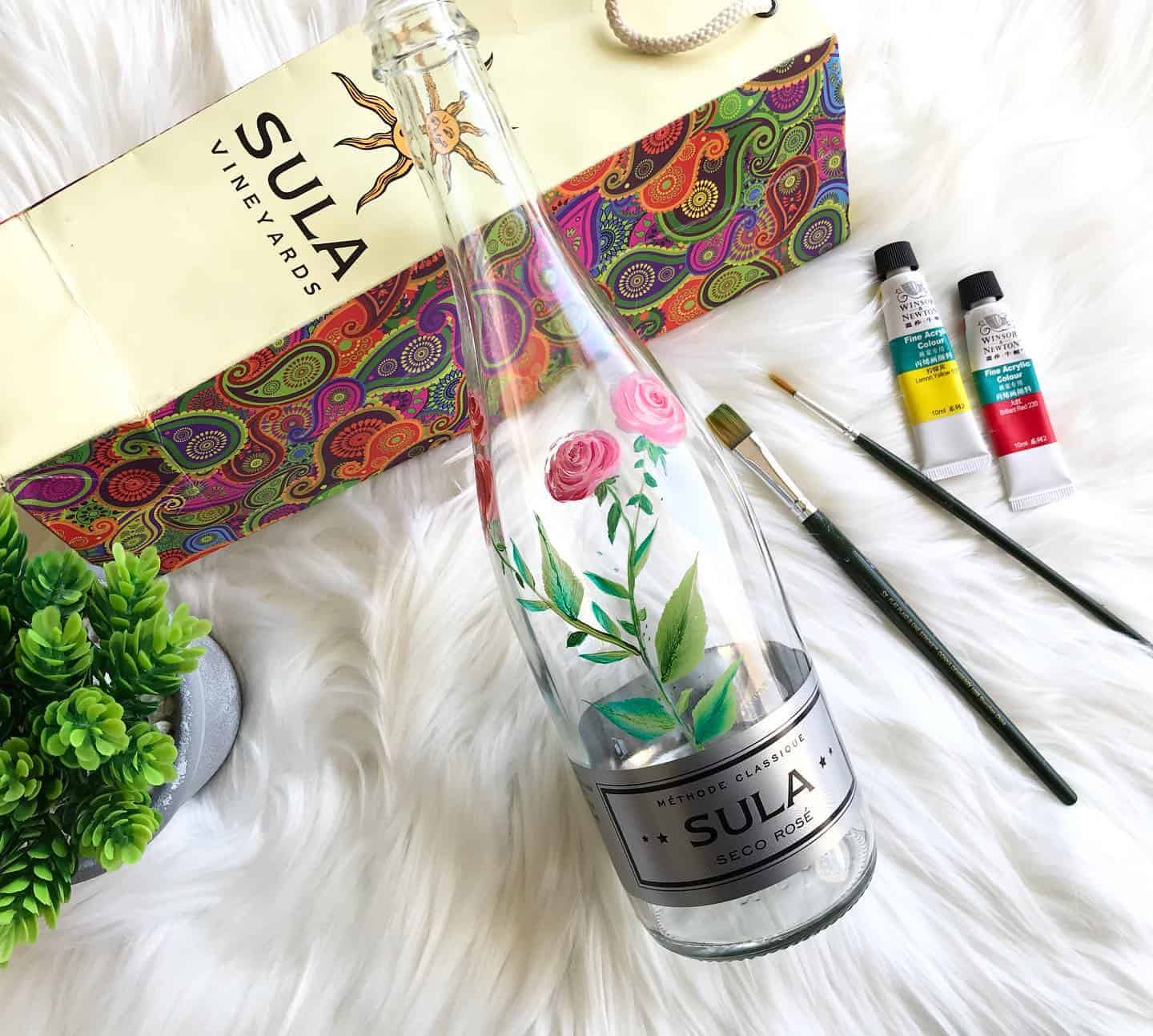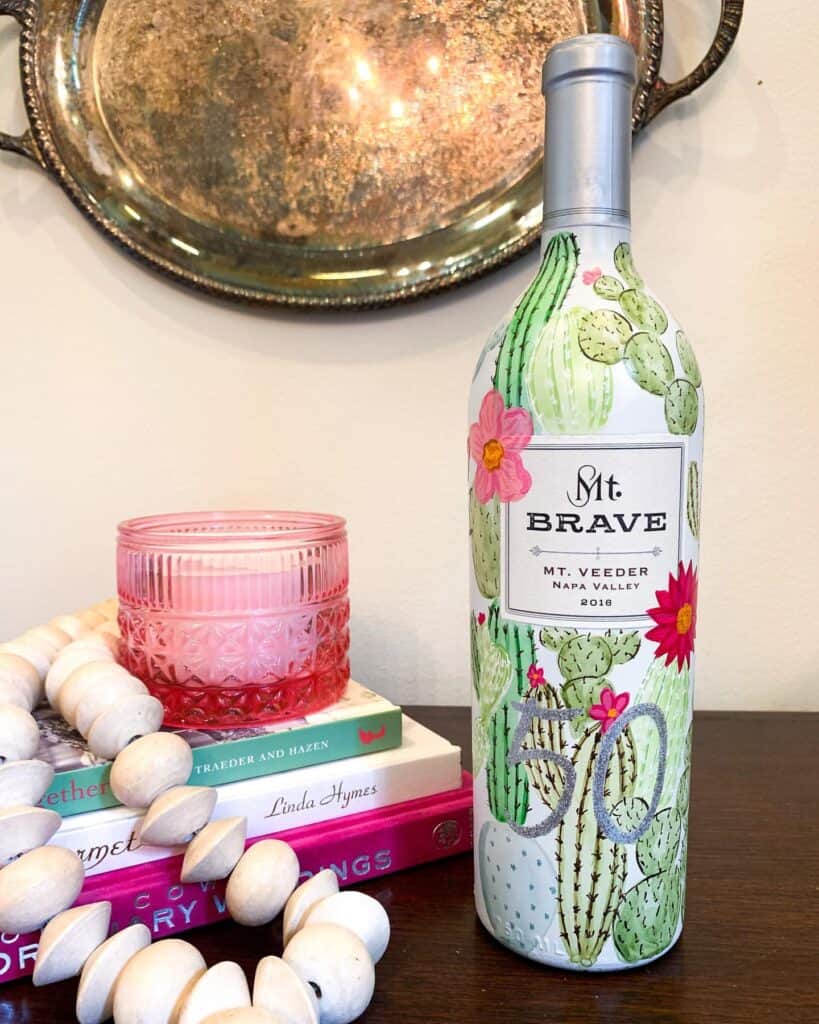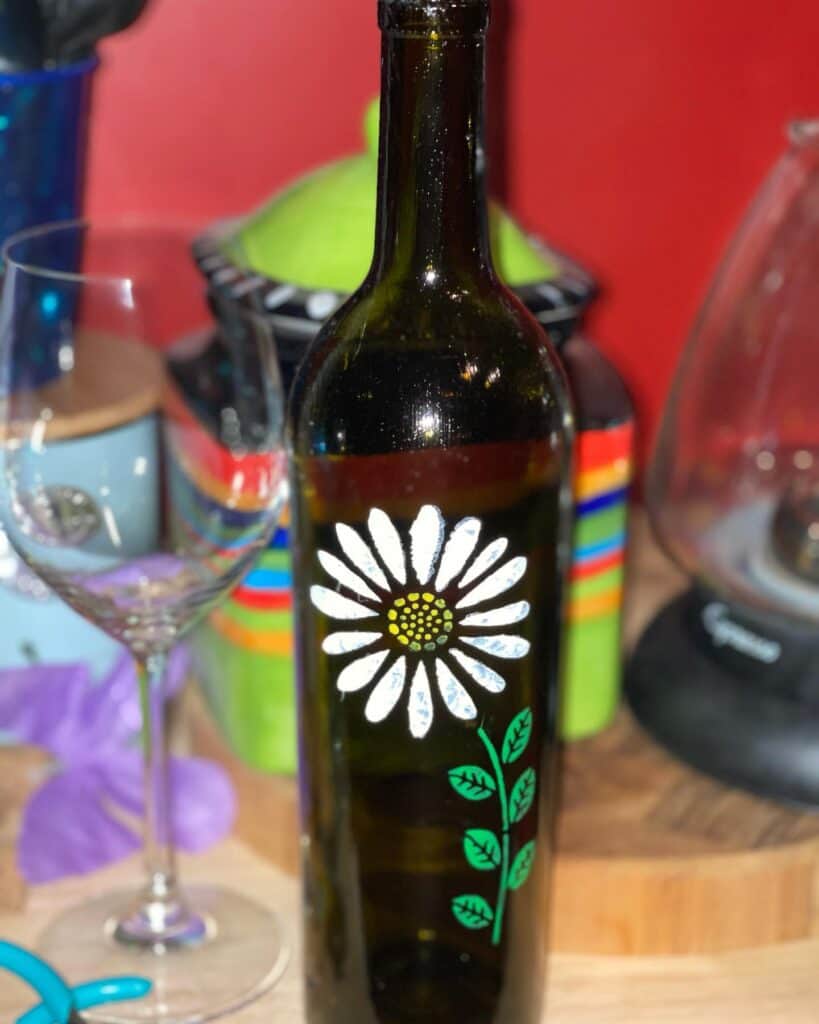 Strapped for time and money? Do not worry, this simple design is the least demanding of all. First, you don't have to remove all the stickers and labels on the bottle.
Secondly, you will only need two colors for this one. And finally, you won't have to apply primer paint or any acrylic paint for that matter.
Clean a clear wine glass bottle to create a smooth surface. Take out your paintbrushes – two of them, one for painting the green stems of the flower and another for the pink flowers.
5. East or West Home is Best with Lights, Texts, and Paintings
Idea number five is an ambitious one that will take some time to finish. It has LED lights in it to illuminate and shine the painting. It is made up of four different colors and the paints used are light to allow the LED lights to highlight the decorations.
The first thing you will need is a cream or white base paint that is light and able to allow enough light rays to pass through. The same applies to the other paints.
The decorated wine bottle advocates for the 'east or west, home is best' slogan. It has a compass painting, a text that reads 'HOME', and wave-like drawings to signify the peace at home.
6. A Colorful and Easily Noticeable Aesthetic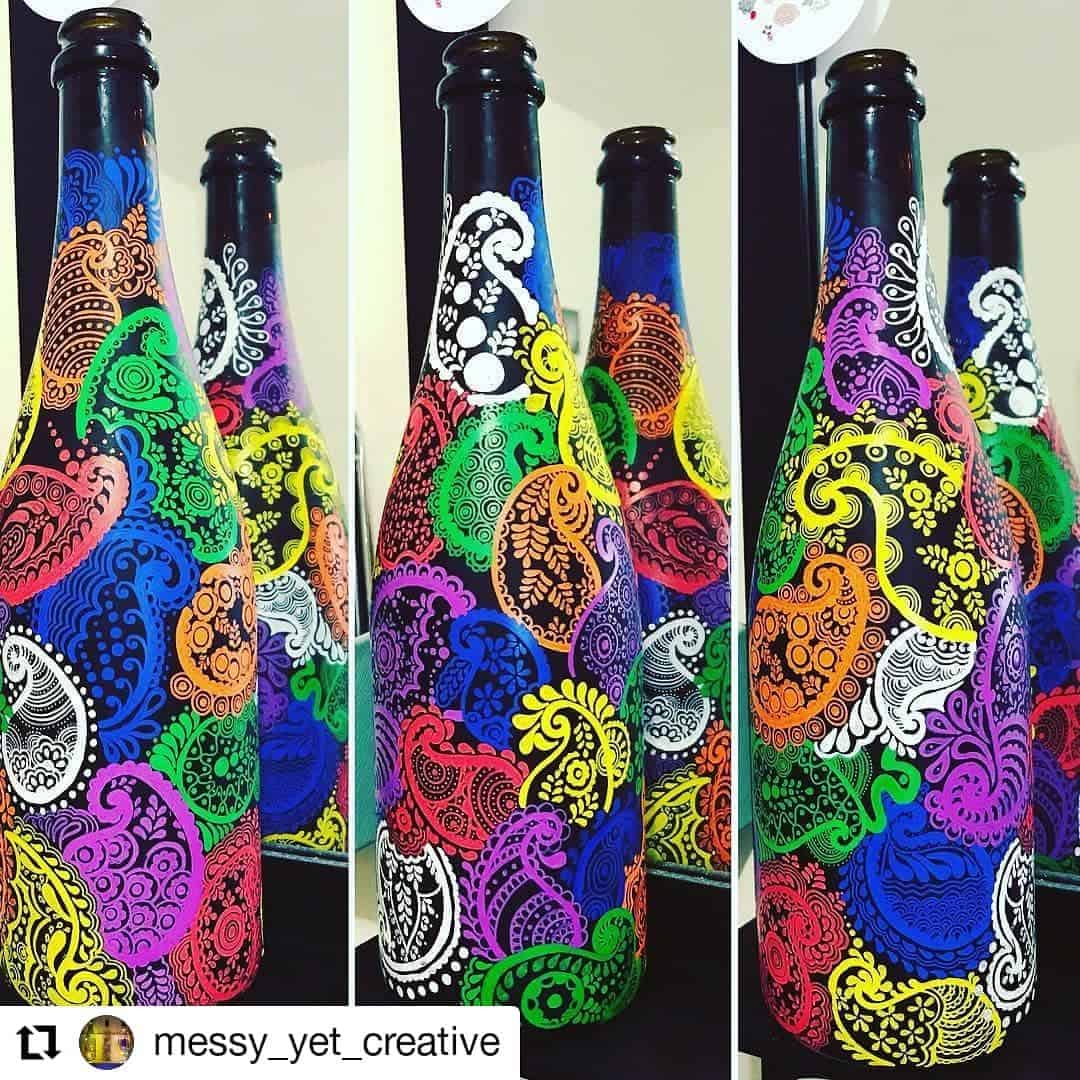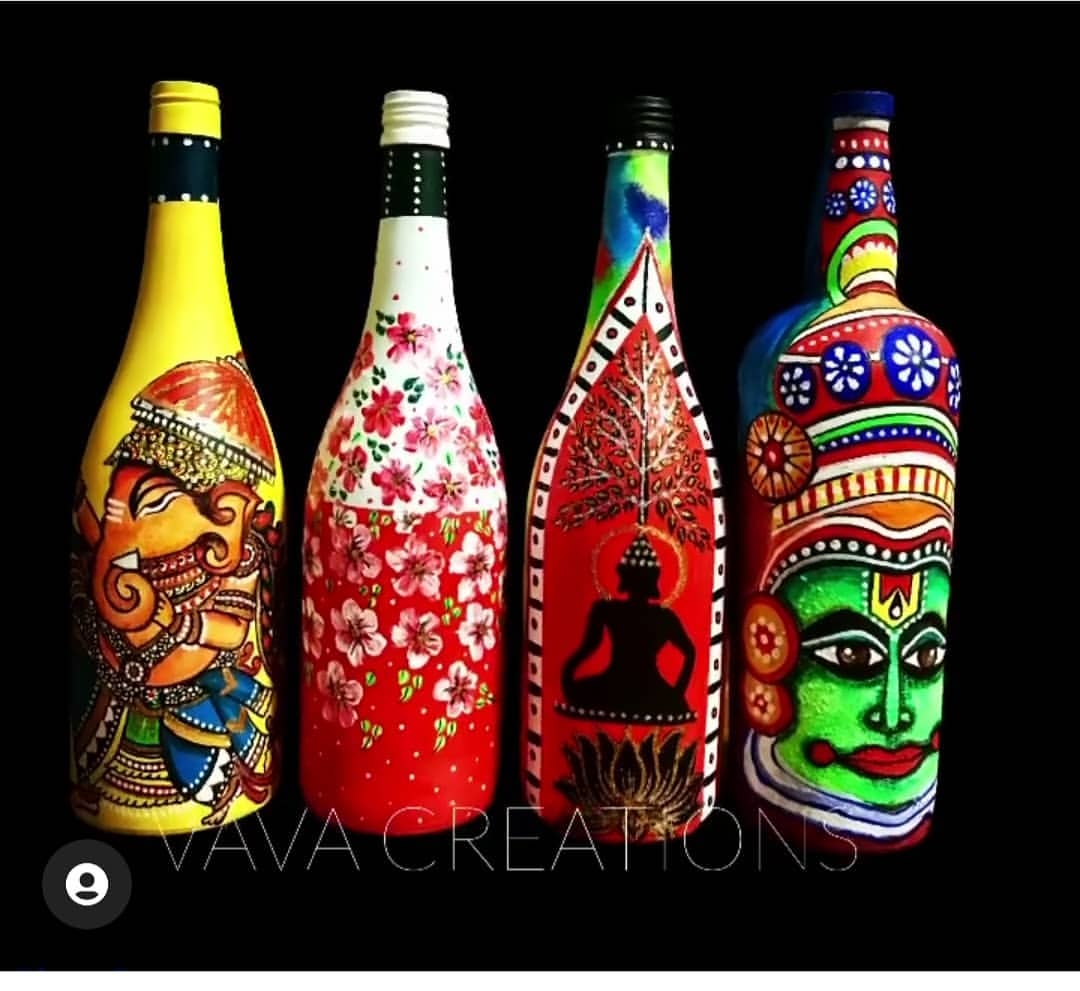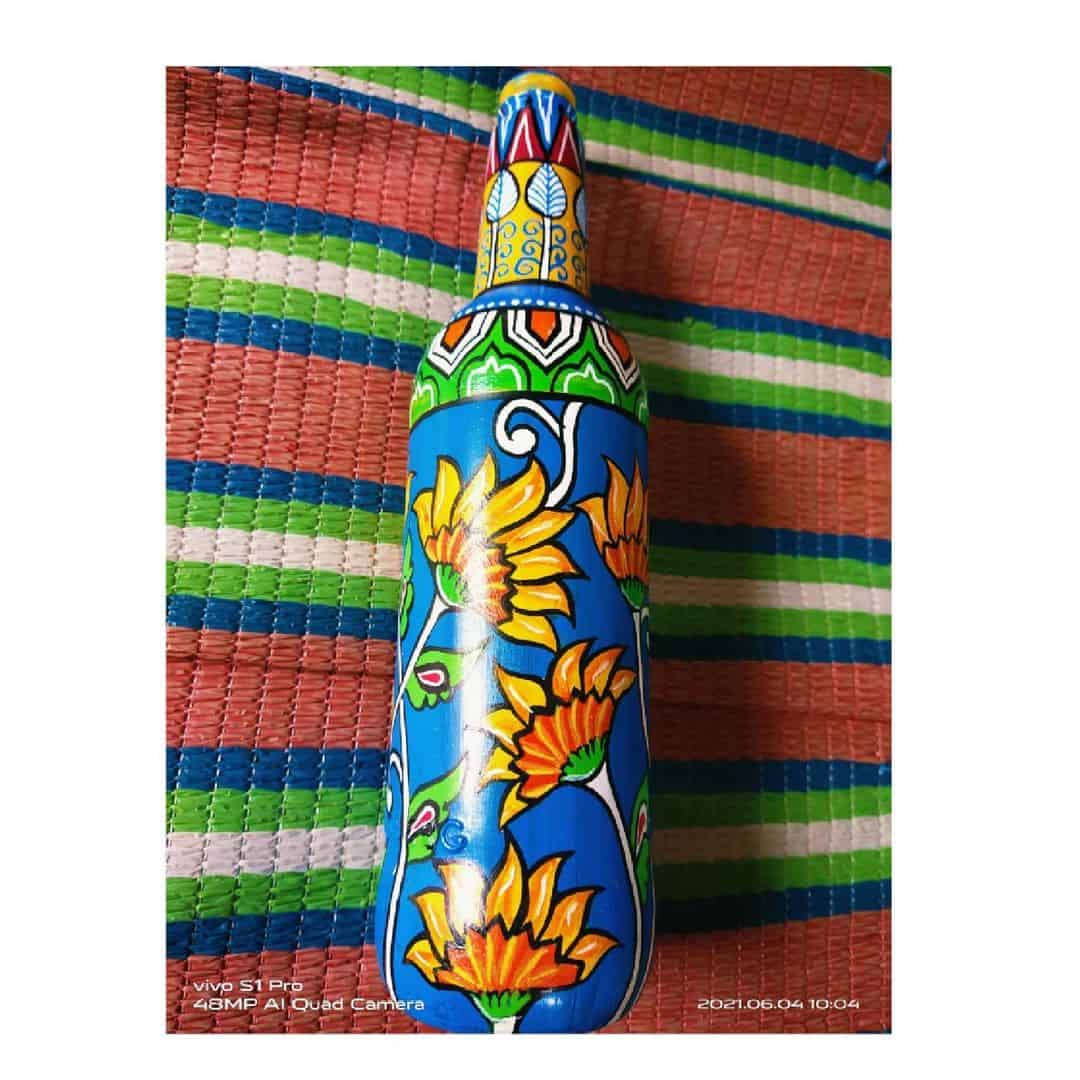 If you are into poppy colors and shiny designs then this one is for you. A lot of women will love this one because of its blend of colors and flowery design.
Needles to say, it will take you a lot of time to complete this one depending on your experience.
It will help if you make a rough sketch or model of the piece before starting to paint the real thing. You will need to pay attention to the real estate you have and how you are going to distribute the drawings evenly.
7. To Set That Romantic Mood and Feel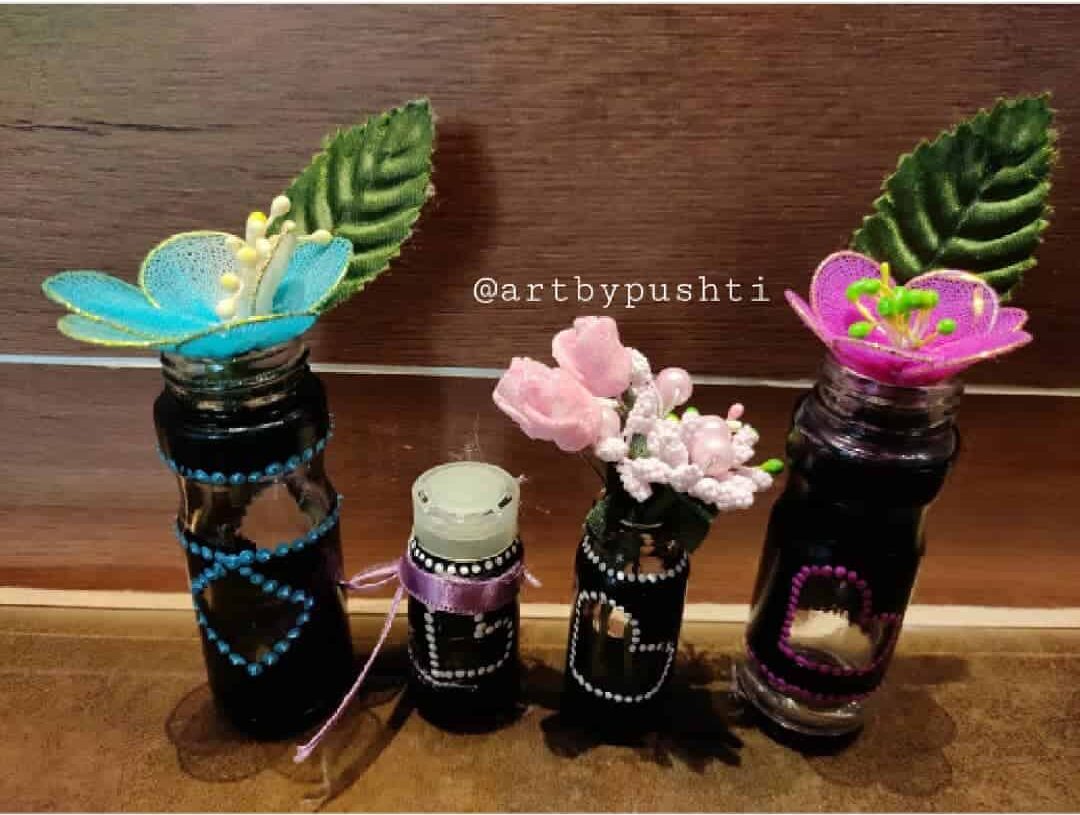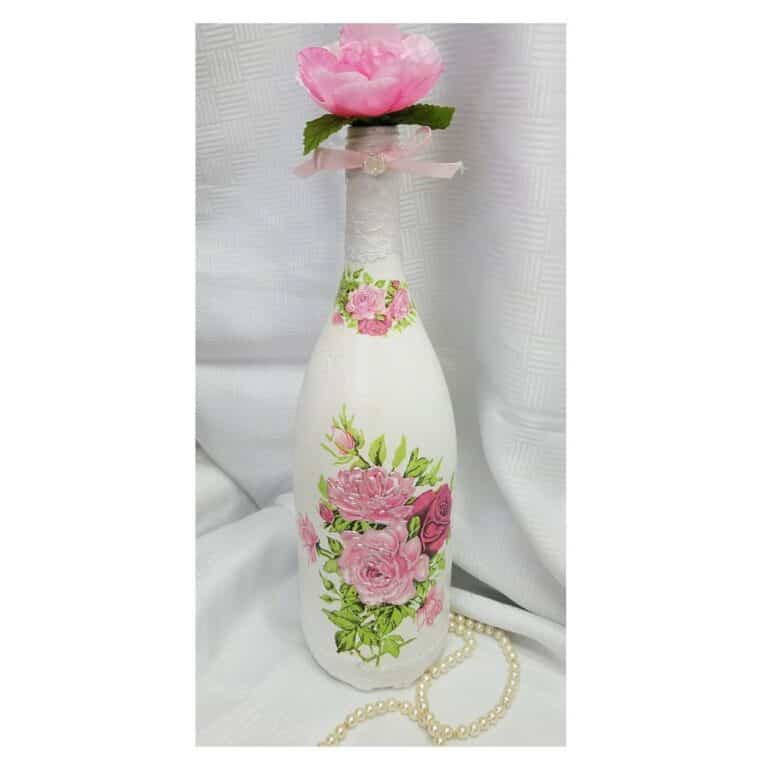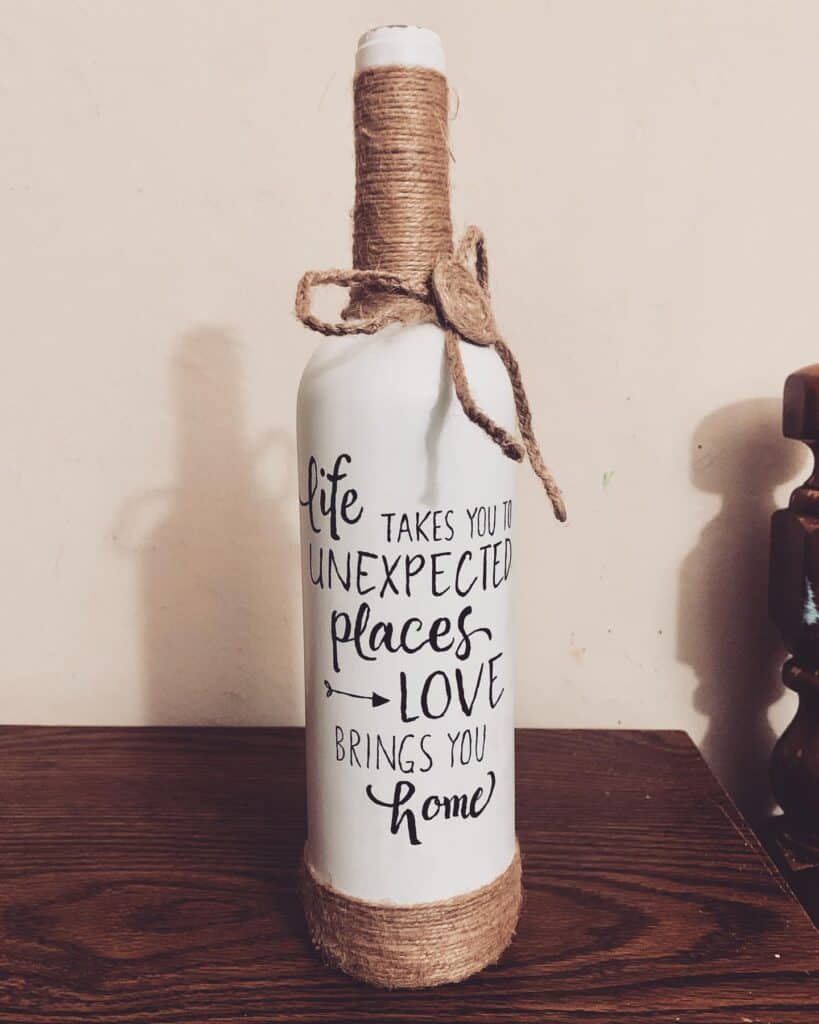 Thoughtful and romantic gestures can help boost your love life. Instead of having plain candles and flower cases on your nightstand, choose to decorate empty wine bottles to make these amazing vases and candle holders.
Use love symbols on all of them to clearly show their purpose. Also, use bright and lovely colors such as pink for the flower drawings and ribbons.
8. Message in a Bottle with Only Texts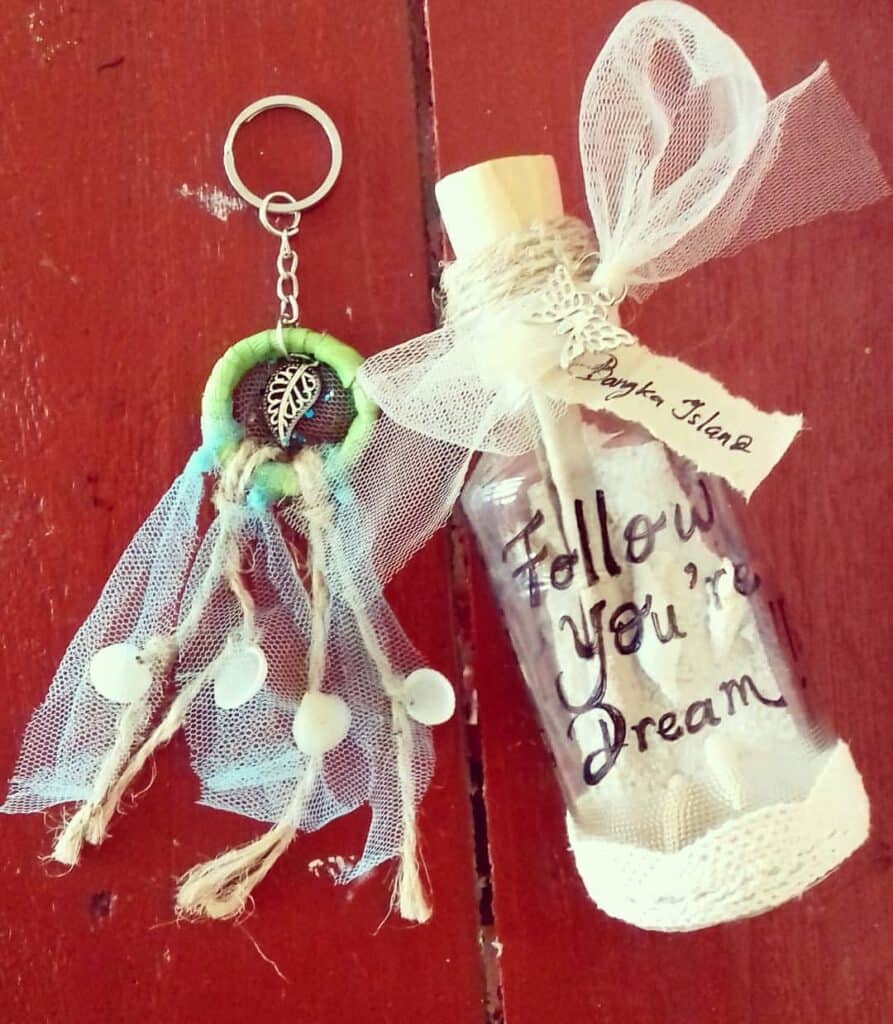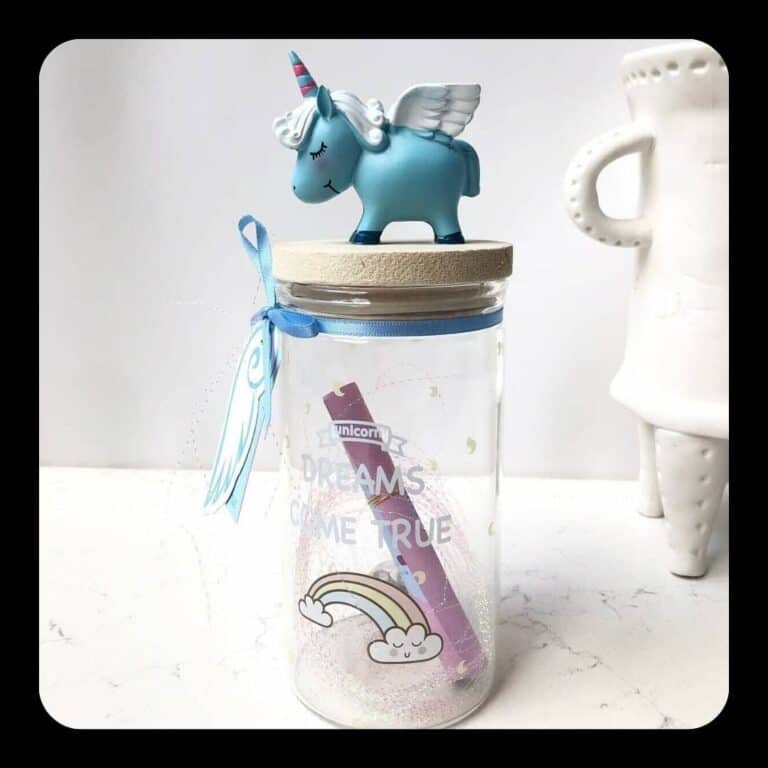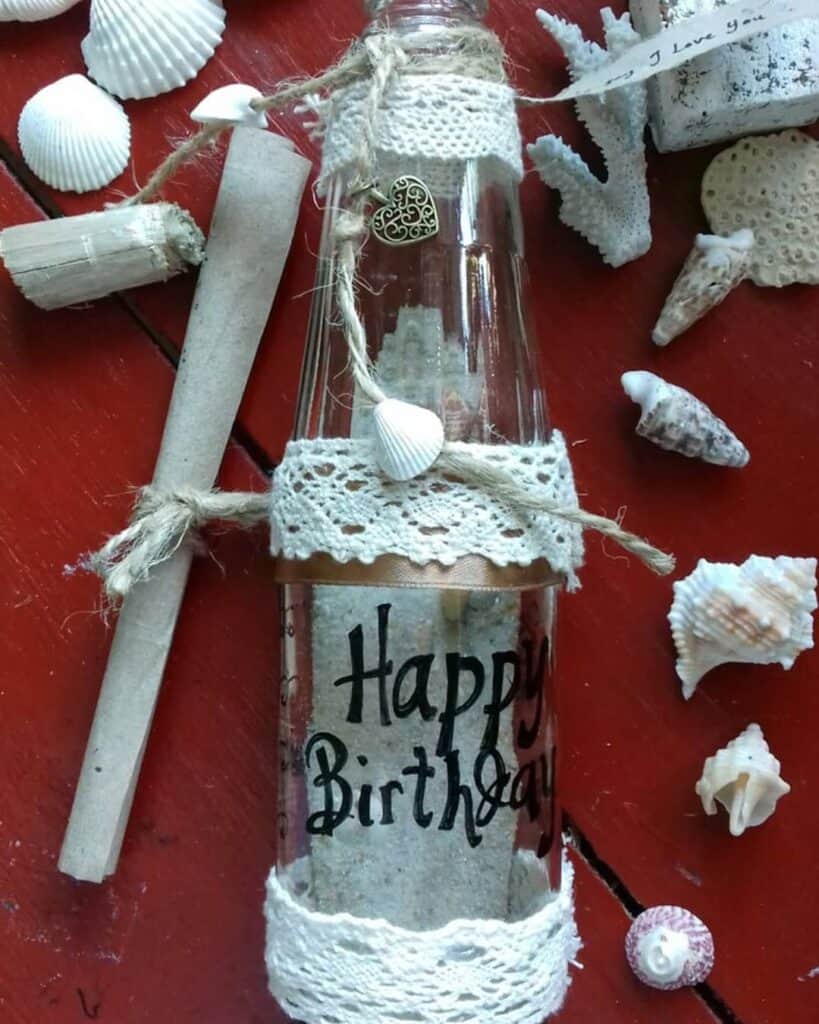 Do you want to send a message into the future? This is how you do it. Very few know that messages in bottles were used to send distress signals in oceans.
Moreover, they were used as memorial tributes for deceased loved ones and to carry messages of those who believe to have been doomed.
The only paint you will need for this one is black and one paintbrush. This will be used to write a text on the bottle.
There is no primer paint on the bottle, the glass is crystal clear allowing you to see what is inside the bottle. Finish the design with memorable pieces from trips or events you took part in with the person you are gifting it to.
9. A Romantic Gift for Your Lover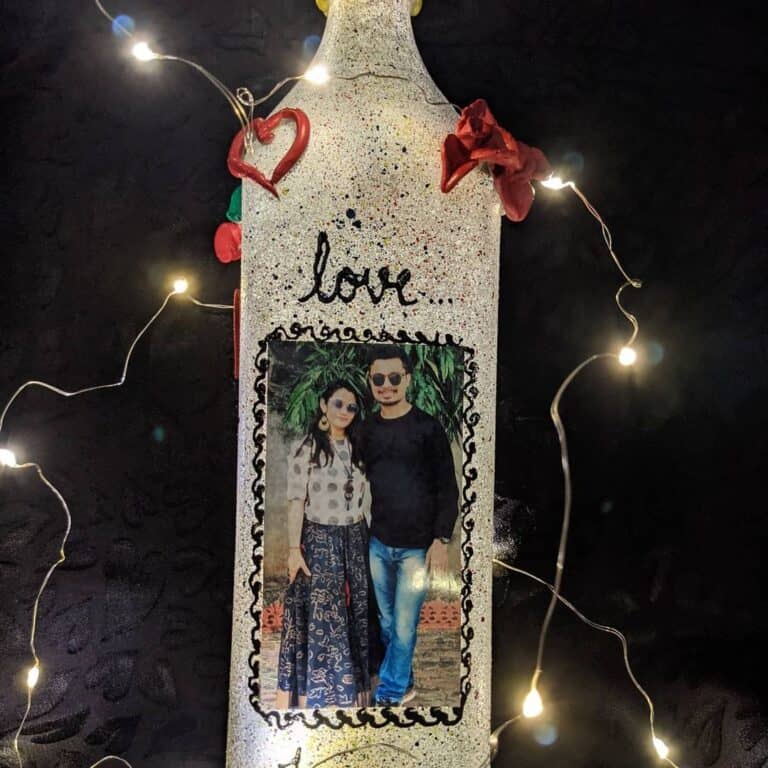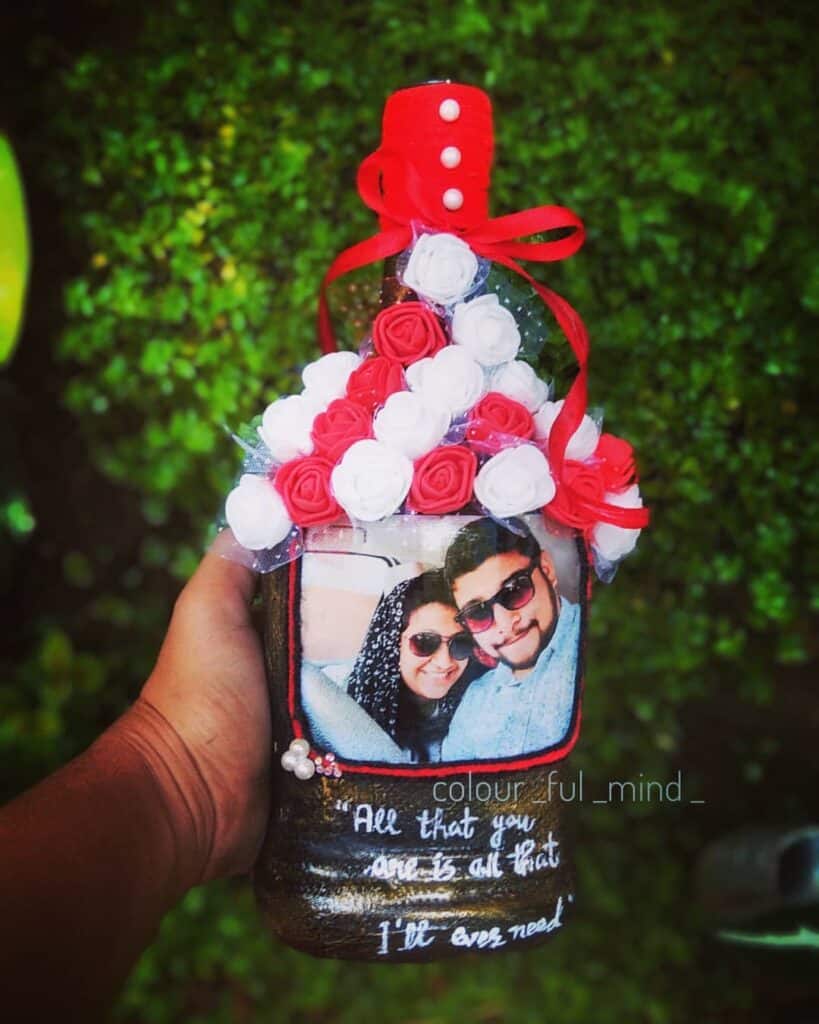 It is so sweet when the person you love surprises you with a handmade, and well-crafted love tribute. The wine bottle painted above can be used to highlight the best moments of your relationship using pictures and texts.
It consists of a white base paint that is complimented with tiny dots of different colors. The craftsman added pictures of him and his wife from one of his best memories.
He finished the piece with a very thoughtful message on one side to tell his loved one how he truly feels about marrying her.
10. Silhouette Profiles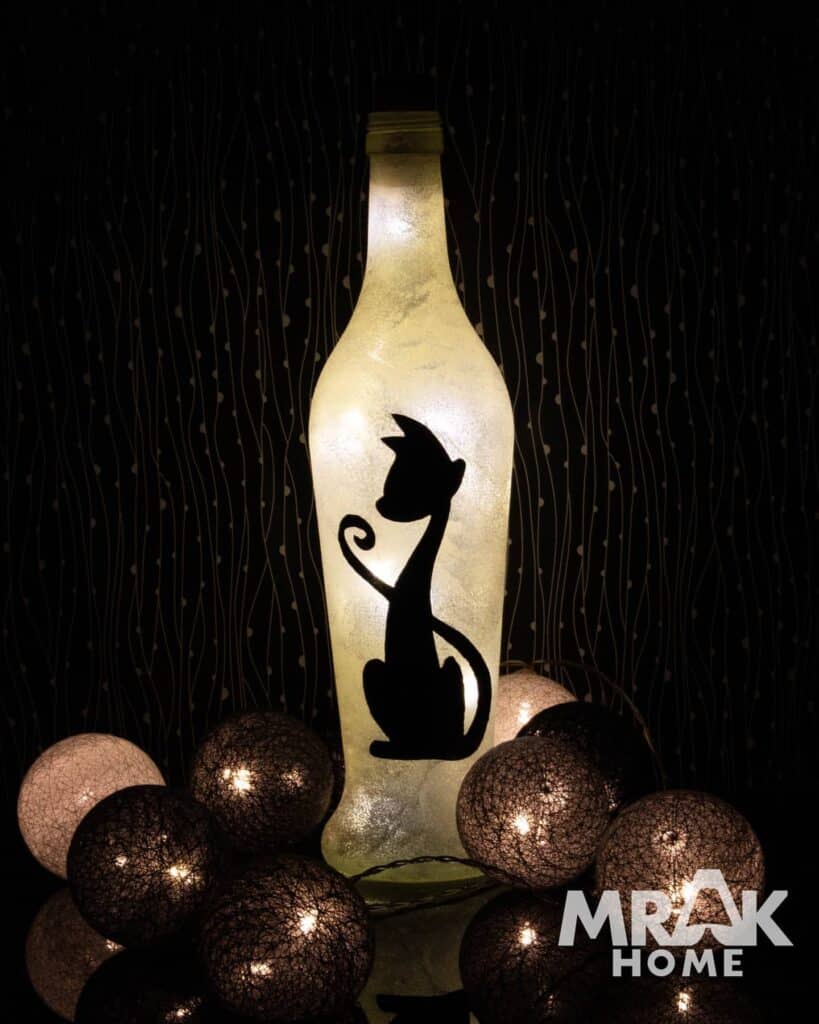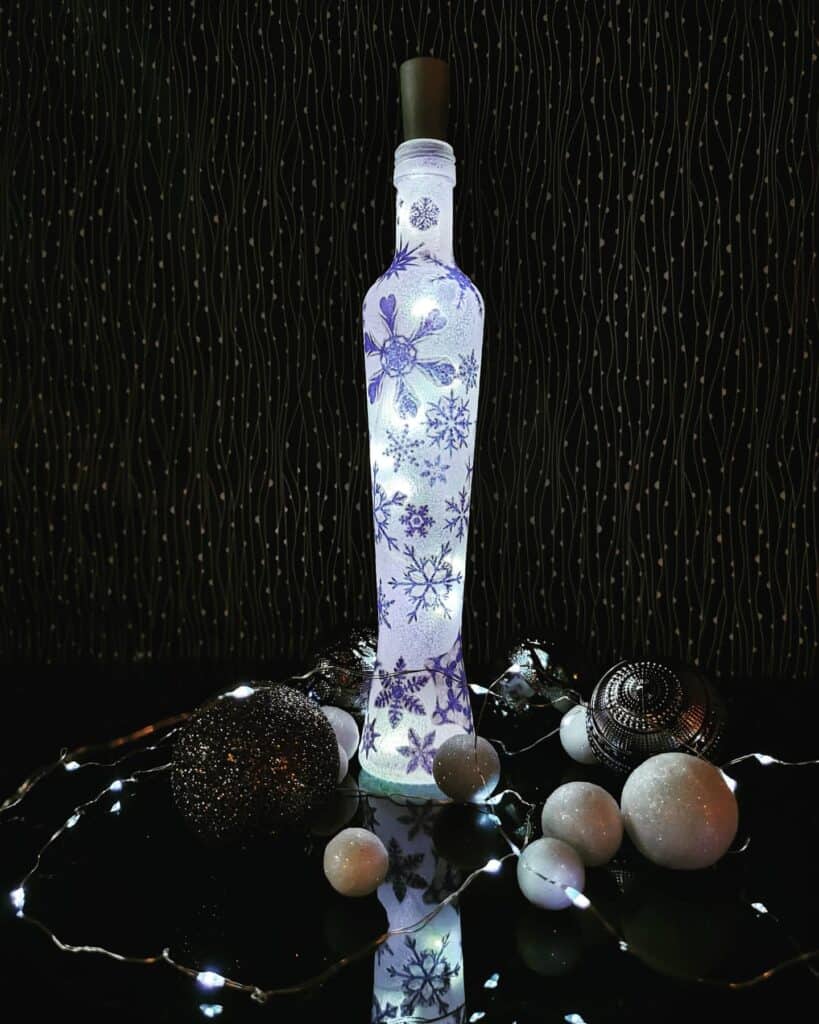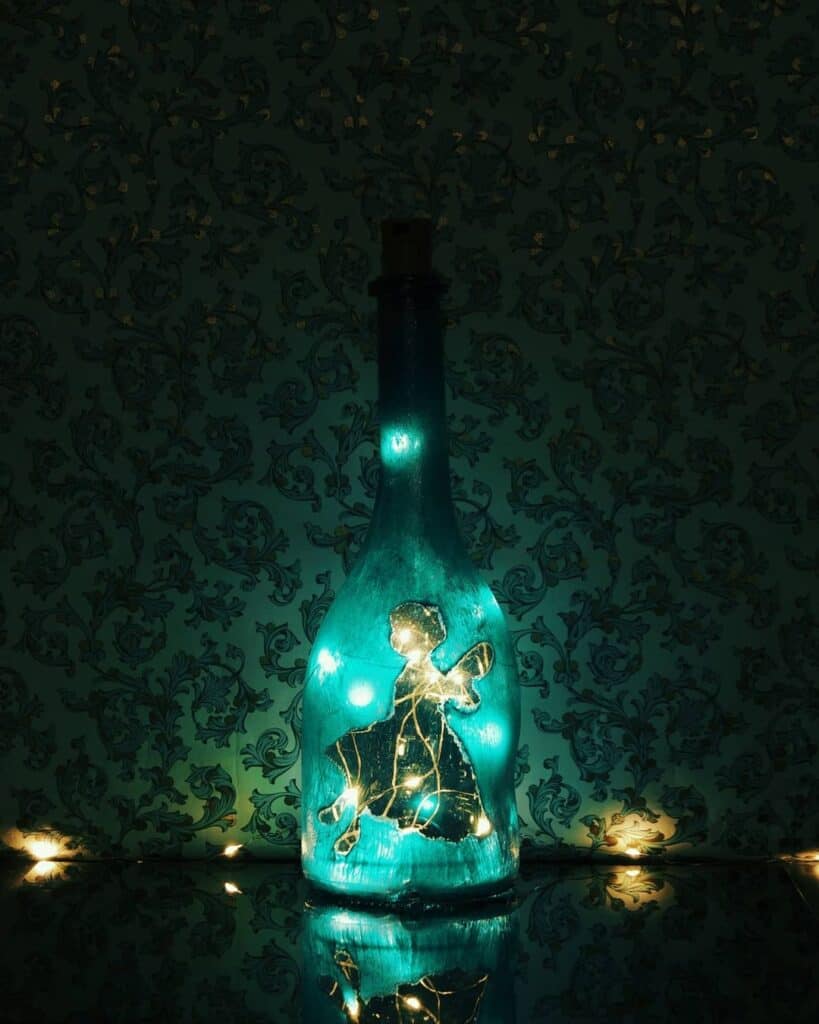 Finally, my favorite wine bottle painting. The silhouette.
The silhouette aesthetic is very good at showing the outline of dark shapes with the use of restricted lights against a brighter background. The designer opted for a theme that takes advantage of a dark room.
The base paint is light enough to allow for the LED lights inside the wine bottle to eliminate the black (dark) animal drawing.
The drawing is in the foreground and is dark enough to block the lights in the background. The result of this is a dark image that can be easily seen when the lights are turned on, giving it the silhouette look.
Final Words
Creating wine bottle paintings is not rocket science. Anyone can do it. Experiment with different colors to see how they mix and match. Be bold and opt for a unique design that showcases your personality and mind frame.
These wine bottle painting ideas will spark some creativity in you but remember the preparation stage is the most important. You do not want to face paint issues in the future when you are admiring your art.