Losing a good bottle of wine to spoilage hurts! Wines are susceptible to environmental conditions like temperature and light, so you need to make sure these conditions are constant to keep your wine fresh.
With so many wine fridges in the market, it can be hard to know which one to choose that will meet all your conditions. We have picked out the eight best mini wine fridges that will keep your wines in good condition. We have included their key features and pros & cons to make your decision easier.
Best Mini Wine Fridges: Quick Summary
Overall Best Mini Wine Fridge
The Kalamera 15 Inch Wine Cooler stands out in all aspects and exceeds all our expectations. It is a perfect fit for enthusiasts and casual wine owners that has superior cooling technology, impressive design and enough space that can contain up to 30 bottles.
Best Mini Wine Fridge for Space
The Phiestina 46 Bottle Wine Cooler is the best product on this list for space and even though it is costlier than others, it more than makes up for it in other features.
You can keep as many as 46 bottles conveniently in this product and its temperature control offers you flexibility in setting temperatures based on your wine's requirements.
It also has a good design, uses the compressor technology and is overall a great buy.
Best Low-cost Mini Wine Fridge
If you don't have a lot of money to spend on a mini-fridge, the Antarctic Star 1.6 Cu. Ft. Wine Cooler is an excellent choice that offers great functionality at a low price. It packs top features like the easily removable shelf, LCD screen, dual plane glass door and many others.
What to Consider Before Buying a Mini Wine Fridge?
Here are a couple of factors you should consider before purchasing a mini wine fridge:
Wine Collection
One of the first things you need to consider is the wine collection you want to keep in your fridge. Some key considerations are the number of bottles you intend to keep, extra room for possible gifts, and types of wine.
This will guide you in knowing the cooling zones, cooling technology, space temperature controls, and other special features you may need.
Cooling Technology
If you're are concerned about the vibration level and energy efficiency, you need to consider the types of cooling technology your wine fridge will have. There are typically four options – compressor, thermoelectric, hybrid, and absorption.
Cost
Prices of wine fridges typically depend on the size and capacity. Smaller ones that can only house less than 24 bottles cost around $60-$200. Medium capacity fridges with a capacity of up to 50 bottles cost $250-$650, and larger ones could cost anywhere from $1000 regarding the features and brand.
Also Read: 10 Best Large Wine Refrigerators
Best Mini Wine Fridges
Check out some of the best mini wine fridges you can buy.
1.Nutrichef PKCWC120 Refrigerator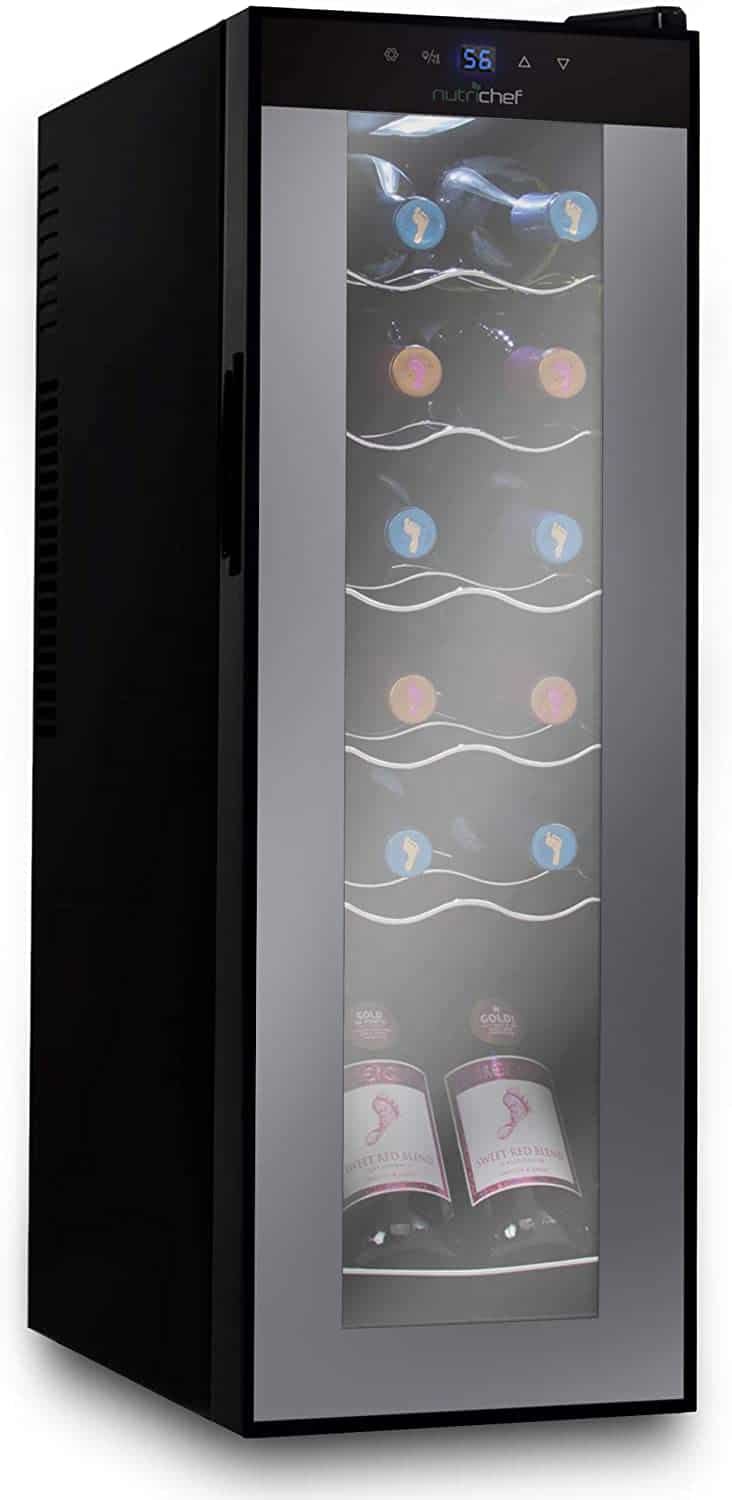 Key Features
Size/Capacity: 12 bottles
Cooling Technology: Compressor
Cost: $
This fridge from Nutrichef has a 12-bottle capacity excellent for keeping both red and white wine. One of the most exciting standout features is the cooling system with a supreme compressor where you can adjust the unit's temperature for a long or short time. It makes this fridge an excellent unit for stand-alone installation.
Another great feature of this fridge is the unique circulation fan in the unit and the ventilation grill. You need not worry about reaching your late-night snacks or having a drink at night with its LED lights.
The combination of its airtight design and tempered glass door makes sure your wine stays in the best possible condition. You can fit this unit into any living room, kitchen or room because of its modern look and sleek design.
With accessible temperature range settings between 41oF and 64oF, you have assured the best-quality wines when you want them.
Other notable features include the ultra-quiet operation and the child safety auto-lock. You also get a guaranteed 1-year assurance of quality to give you the best possible performance, and their customer unit is available on hand to resolve any issues you might have.
2. Ivation 12 Bottle Compressor Wine Cooler Refrigerator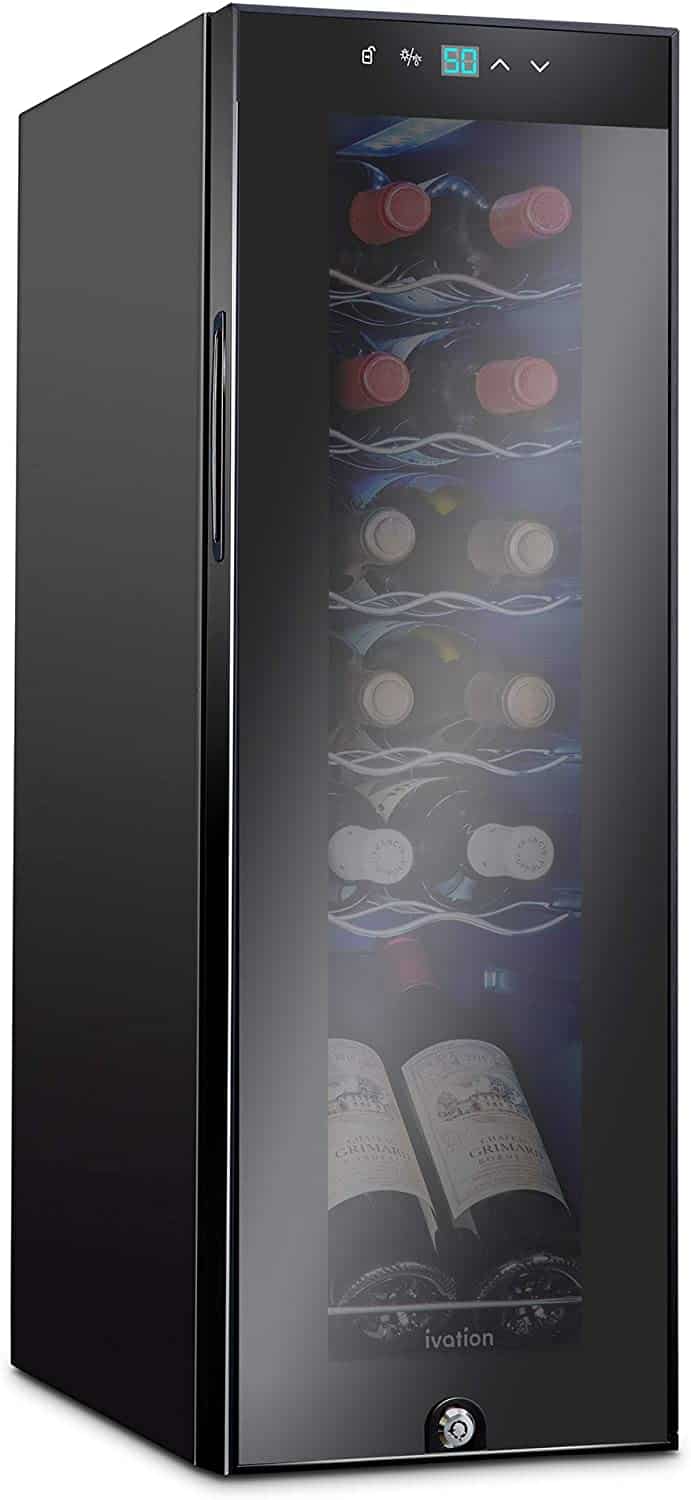 Key Features
Size/Capacity: 12 bottles
Cooling Technology: Compressor
Cost: $
This Ivation mini-wine cooler stands out from all the others in the market with its numerous features, impressive design, and great technology.
It has air circulation and advanced compressor technology that makes the entire system very quiet during operation and ensures the process transfers air thoroughly without any hitches.
You will love the user-friendly touch control panel that makes it easy to adjust the temperature and make changes to the operations with one tap. If you do not want anyone to access your fridge, there is an easy lock button for you to keep it secure.
All information you need to know about its settings and operations is brightly displayed on the LCD, so at any point, you know what's happening.
A two-layer glass door gives the unit much-needed insulation inside and protects the interior from all the UV light. This keeps your wine bottles protected and preserves the flavor of all your wines.
Those who worry about keeping their fridges airtight need not fear because of the reinforced rubber gasket that ensures just this.
You will have no problem keeping a temperature range of 41-64oF in your refrigerator, which is ideal for keeping sparkling white wine. Long-term storage is also possible because of the built-in fan, which helps circulate air throughout the unit to keep your wines fresh.
You will be able to see all your wine labels thanks to the LED lights that illuminate without affecting the flavor.
3. Antarctic Star 1.6 Cu. Ft. Wine Cooler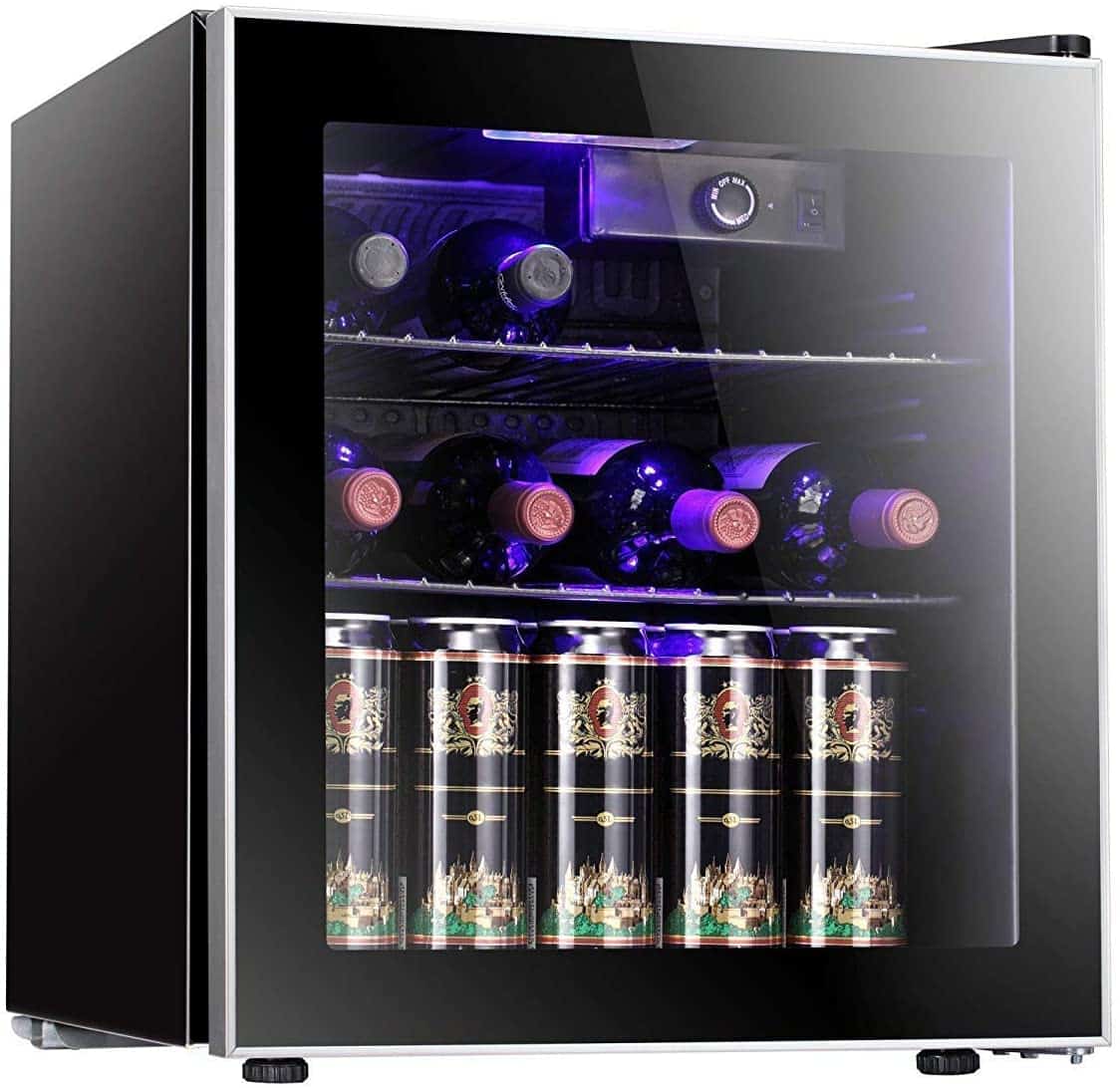 Key Features
Size/Capacity: 1.6 cubic feet
Cooling Technology: Compressor
Cost: $
This is a mini-wine fridge that constantly popped up in our research for compiling this list. Wine connoisseurs understand the importance of environmental conditions on the taste of wine, and this is where the Antarctic Star 1.6 Cu. Ft. Wine Cooler shines.
Its unique, modern, and sleek design is easily recognizable with advanced compressors for proper temperature regulation. It offers everything you should look for in a tremendous mini-wine fridge, including design, features, practicality, and aesthetic appearance.
It has energy-saving cooling technology to keep your wines cool and consume less power to give you excellent taste anytime you open wines. You won't even know when it is working because of its quiet operation and system.
You will be hard-pressed to find any sediments during or after use. It doesn't matter if you want to keep this machine in the office, bedroom, living room, or wherever; it'll fit right in without bothering you or your visitors.
Its average temperature is between 41oF and 61oF, a wide range to accommodate all of your cooling needs for different wines. You can easily adjust the temperature settings you wish and select the recommended temperatures to keep your wine in good condition.
The control panel is located outside the unit for easy reach, and so the wine does not affect it when you're making any changes. You have two spaces in this fridge easily divided into a larger and smaller cabinet.
You have a large cabinet with a hand-touch pane, and you can easily change the temperatures of all your cabinets by rotating the buttons. A size of 1.6 cubic feet means you can stash several drinks inside with ample space.
Keeping your fridge airtight is another feature that this unit does not compromise on; that is why it has doors built with double glass. This feature keeps your wine fridge safe from UV rays and an outside temperature that could affect your wine.
Shelves made of stainless steel are also instrumental in keeping the wine fridge in good condition for more prolonged use. You can easily adjust the racks according to the sizes of wine bottles and keep all your drinks preserved.
4.Nutrichef 12 Bottle Freestanding Compact Mini Wine Fridge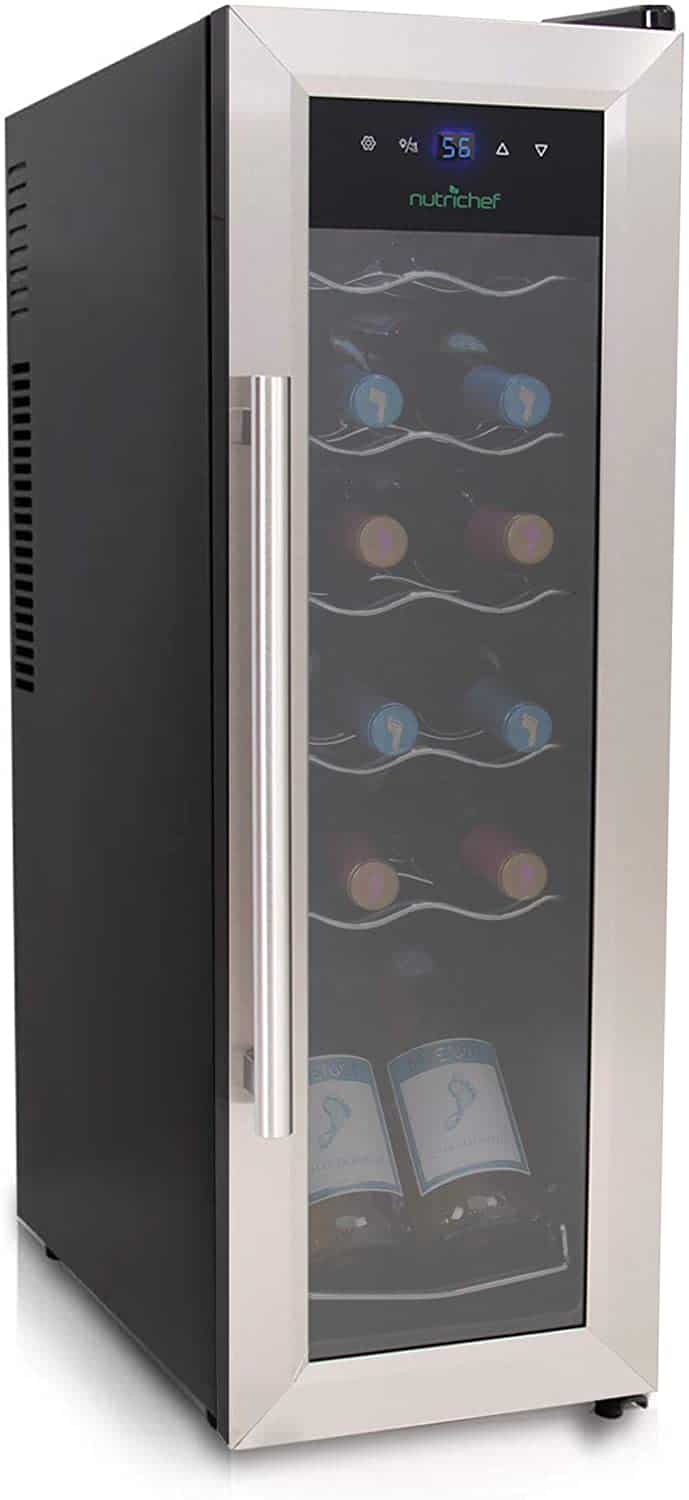 Key Features
Size/Capacity: 12 Bottles
Cooling Technology: Compressor
Cost: $
As the name says, this mini-wine fridge is equipped to hold up to 12 red or white wine bottles and keep them cool in the same place. The model is equipped with temperature control and an advanced cooling system to keep your wines in good condition.
A ventilation grill and circulation fan are added features to maintain the environmental conditions of the space.
One of the first things that will draw you to this mini-wine fridge is its attractive design, unlike any other market. It also has a tempered glass door to keep the temperature stable for long periods, so there are no sudden drops even after a power cut.
You can install this unit on a countertop or leave it freestanding, whichever fits your room or preference.
The wine cabinet has an adjustable digital touch-button display for Fahrenheit or Celcius, making it great for long-term and short-term storage.
Expect to hear no noises during operation as the modern cooling system will keep it quiet throughout use. They offer customer service to anyone in need and give a 1-year warranty for all users.
5. Kalamera 15 Inch Wine Cooler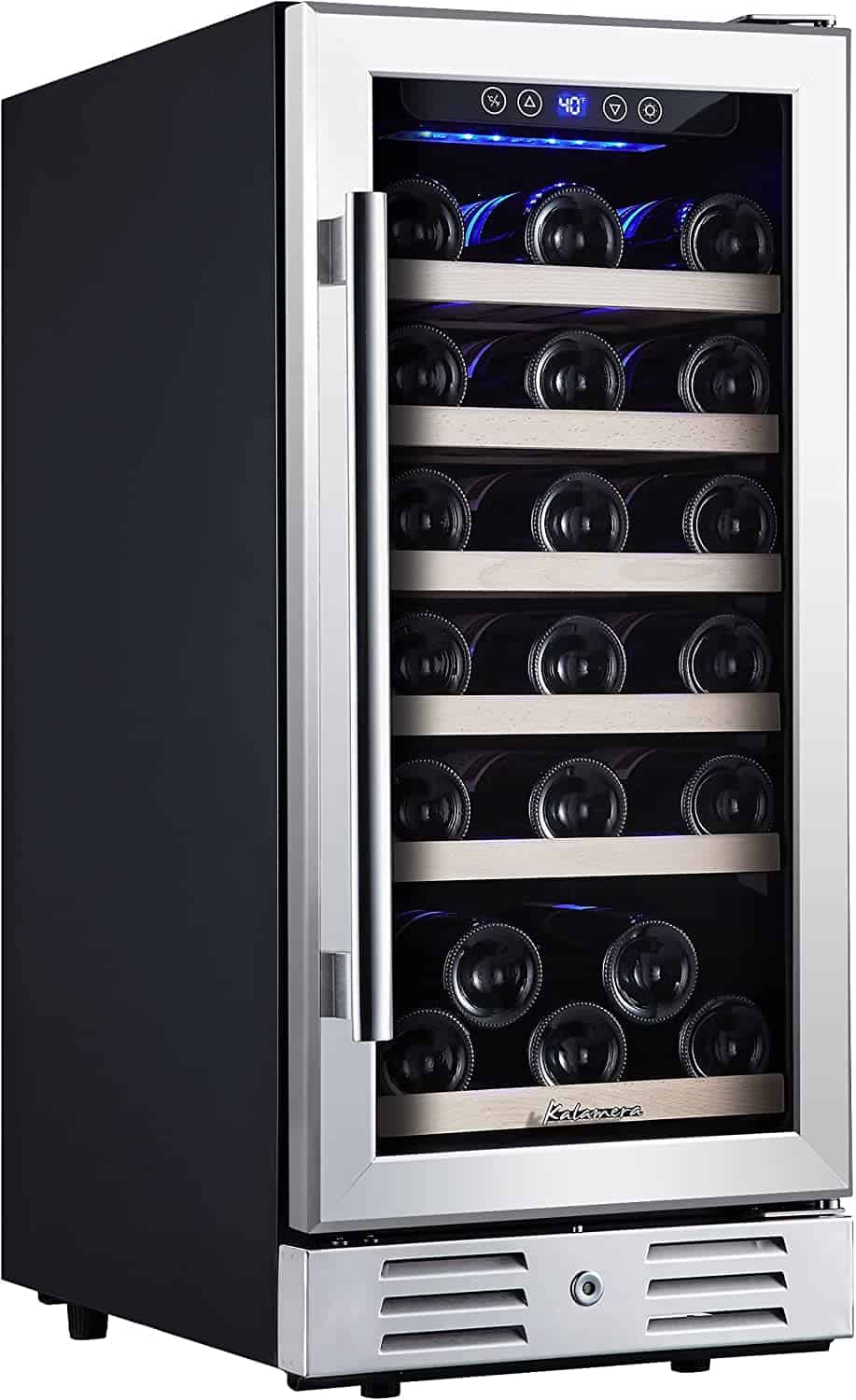 Key Features
Size/Capacity: 30 Bottles
Cooling Technology: Compressor
Cost: $$$
This wine cooler stands out from other options on the list because of its increased capacity to hold up to 30 bottles. Even if you have a champagne or pinot bottle, storing it in this wine fridge will not be a challenge.
In fact, of all the small-wine fridges we checked, the Kalamera 15-inch wine cooler is the one that offers the most in terms of size. It is an excellent fit for wine enthusiasts and lovers that have more than one collection.
Other great features of this wine fridge are the temperature memory function will automatically kick in to maintain the previous temperature in the advent of a power loss.
This way, you can be sure that your wine cannot go wrong no matter the circumstances without your knowledge. Additionally, this single-zone mini wine fridge has one-touch controls, so you can easily adjust it.
You have a broad and easily selectable temperature range of 40-60o F, so you decide the ideal temperature for your wine.
Also, a chiller is present on the double-layered glass door, including a stainless-steel frame. Apart from keeping the glass from fogging, it will also keep the appliance in optimal condition.
Even though this wine cooler is a bit more expensive than others, the sleek stainless-steel design materials, interior blue LED lighting, and the equipped carbon filter more than makes up for it.
6. Phiestina 46 Bottle Wine Cooler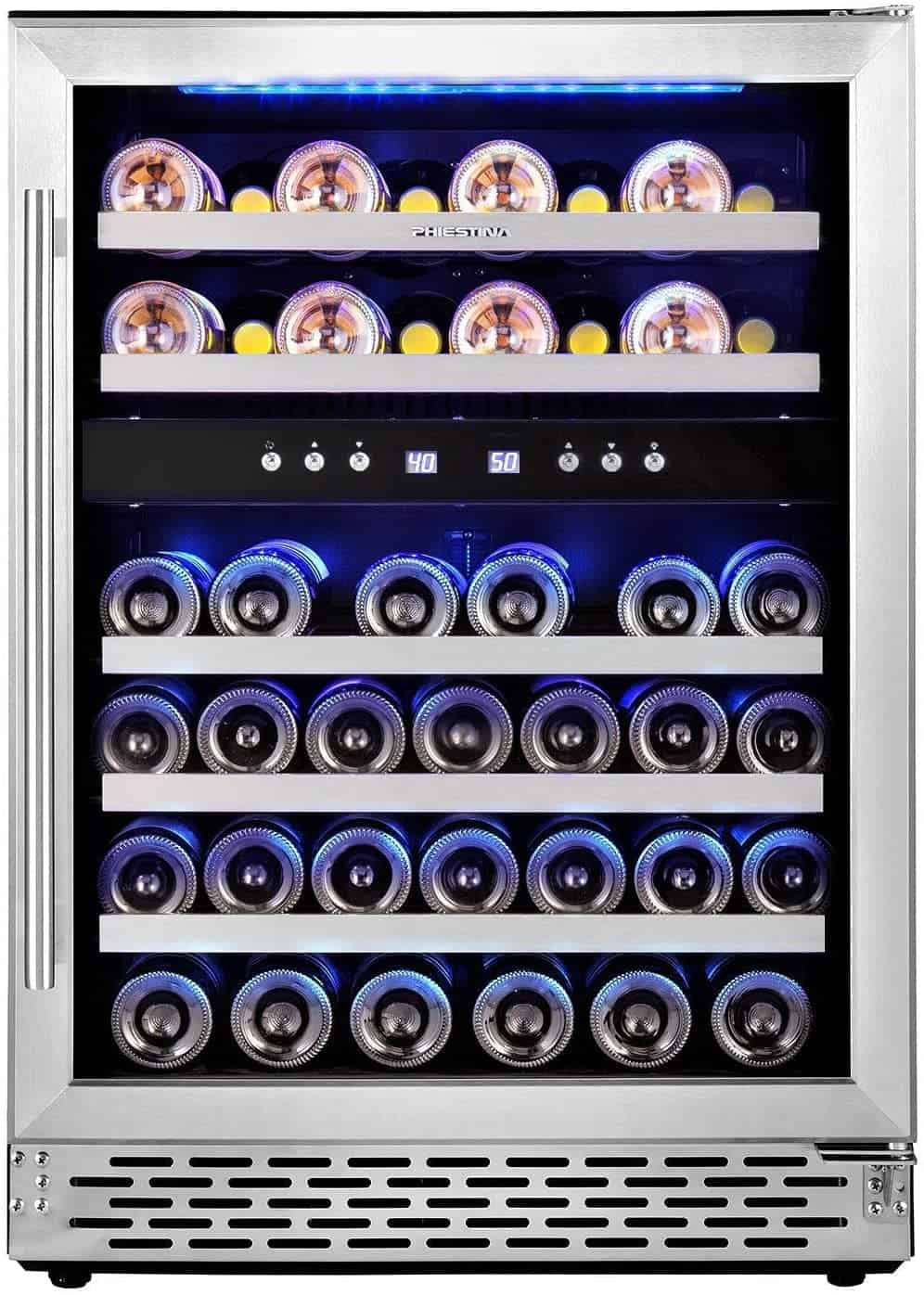 Key Features
Size/Capacity: 46 Bottles
Cooling Technology: Compressor
Cost: $$
Having the Phiestina 46 bottle wine cooler nearby is the best way to enjoy your wine in its original taste anytime with your friends and family. Just looking at this unit, it is clear that it is a portable mini wine fridge with 23.4 x 22.4 x 33 inches, making it very flexible for assembling.
This way, you can decide to keep it as a stand-alone unit in your room/kitchen or take it along with you for a trip conveniently. Depending on what you want, you can also place this unit on bookshelves, tables, or cupboards anywhere in the house.
Moving away from the exterior, the interior components of this mini-wine cooler are also top-notch. It has high-quality air controlling and compressor systems that ensure a smooth operation.
Also, there is a front ventilation system that removes the heat from the front of your unit. A combination of these features makes sure the air in your cooler circulates freely inside, and the fridge interior is always at the appropriate temperature.
Temperature setting control is another fantastic feature where this product stands out. You can manually decide and set the appropriate temperature for your drinks. You can even further set various temperature zones for your different types of drinks based on your needs.
Five detachable shelves and two stoppers on each unit side give you the freedom to adjust the capacity and arrange your wine bottles as you want.
From the name, this wine cooler can hold up to 46 bottles of different types of wine. The tray design lets you optimize this space so you can keep red, rose, white, champagne, and other drinks in your cooler.
7. Colzer Upgrade 15 Inch Wine Cooler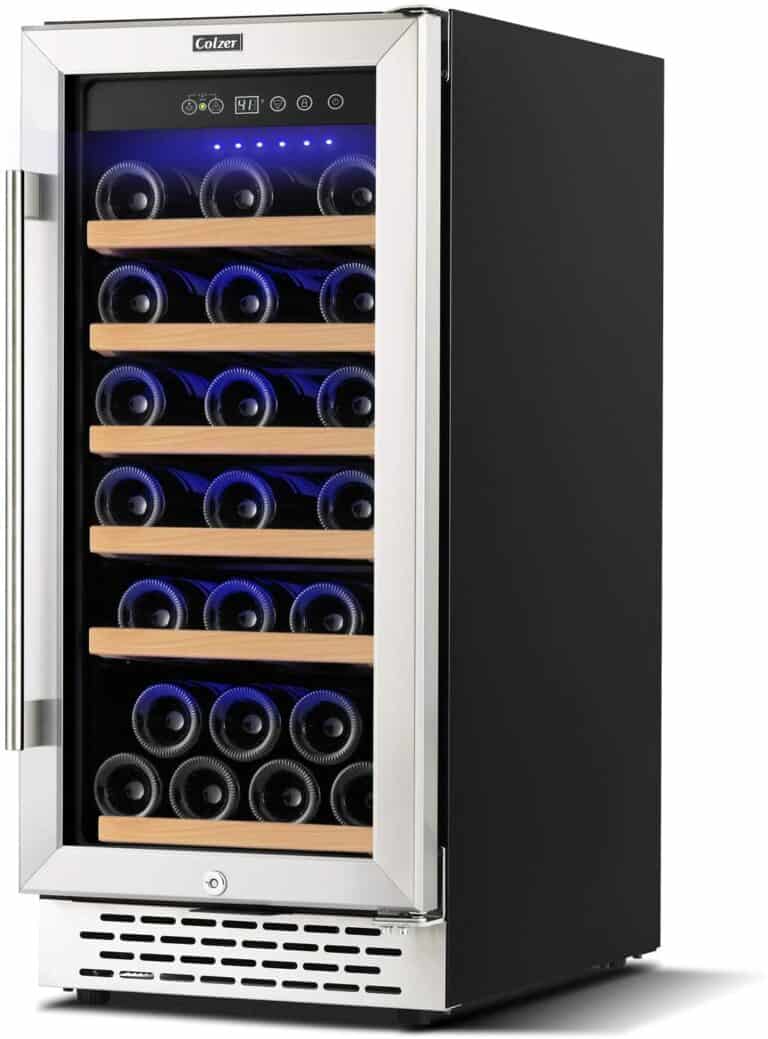 Key Features
Size/Capacity: 30 Bottles/3.5 Cubic Feet
Cooling Technology: Compressor
Cost: $$
The Colzer Upgrade 15 Inch Wine Cooler is designed to match the humidity and temperature of original wine cellars, so your wine always has that natural taste and feel. This is one wine cooler that shows up in almost all the lists of best mini wine coolers, and it's not hard to see why.
Its oak wine rack is the first feature that will attract you to this cooler because of its sophisticated look and feel, which wine lovers will appreciate.
Like the other products in the Colzer brand, this also delivers modern technology and follows all international standards. This means you can rest assured of getting a service life of a minimum of 8 years.
Colzer Upgrade 15 Inch works without an energy-consuming setting at low vibration conditions. The internal conditions of this fridge are kept steady, so there are no unstable jumps in temperature that could affect your wine.
The size will also not be a problem with this fridge as every shelf is over 3.5 inches, which means you will conveniently store bigger bottle sizes.
Thanks to the advanced compressor system and vibration absorption technology, your wines will not be a victim of accelerated wine aging or excess acidity so that you can enjoy it for a longer time.
An air control technology makes sure each wine bottle has the right temperature and maintains circulation throughout the cooler. It also helps that it is effortless to use – make the appropriate settings on an LCD screen, and you're good to go.
8. BODEGA 15" Wine Cooler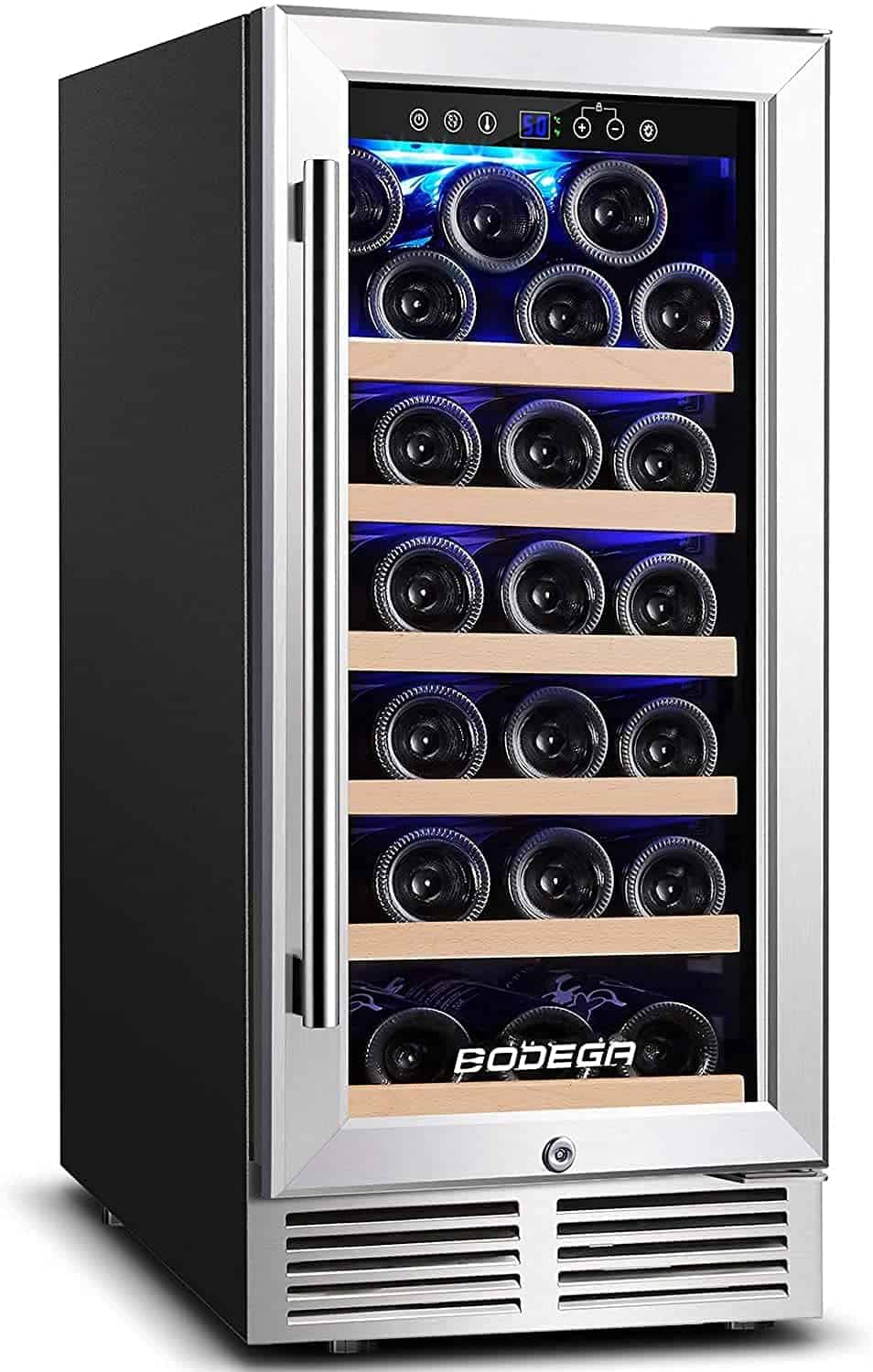 Key Features
Size/Capacity: 31 Bottles
Cooling Technology: Compressor
Cost: $$
The final product on our list is the Bodega 15-inch wine cooler, and this model tries to appeal to all wine lovers with all its amazing features. Bodega has a unique air circulation technology that keeps all the wine bottles at appropriate temperatures and keeps air circulating in every interior corner.
It uses advanced carbon filtration technology that makes sure your wine is in the perfect environment and prevents any annoying odors.
Another great feature we loved in this wine cooler is the stable sliding cracks made from eucalyptus, which is always good to have on any cooler.
It is generally a freestanding cooler with double-layer magnetic doors with glass that makes sure your wine is always at the perfect temperature. This high-quality glass also protects your wine from UV.
An advanced compressor is also equipped to prevent shock absorption and stop the aging process of wines. It only produces a little noise, so you can put it in any area of your house without encountering any issues.
It has an average temperature that ranges from 41 to 68oF, and you can easily track this progression on the LCD.
The Bodega 15″ wine cooler has four adjustable feet, which makes it portable and gives it balance while it is on the floor.
Mini Wine Fridge: More FAQs
Can You Use a Wine Fridge for Beer?
Yes, you can use a wine fridge for a beer. Since beers and wines are stored and in their best condition at similar temperatures, wine fridges can also preserve beer.
What Are Some Common Problems with Wine Coolers?
Wine coolers are not immune to problems, and there are some notable ones you should be aware of:
Storage: If you do not keep your wine in the coolers properly, it could damage the wine and make it turn rancid. It is always best to store your wine bottles horizontally with the label facing upwards, so the labels do not get damaged.
This lets you identify your wine easier and keeps the cork wet. Dry corks tend to shrink and allow air into the bottle.
Temperature: The ideal temperature for wine ranges between 40 and 65oF, and some users might experience problems with temperatures that aren't ideal for their wine. If your fridge is too warm or cold, firstly check the temperature with an independent thermostat, not the one in the fridge, to determine the correct temperature, then make your adjustments.
Lighting: Some wine coolers have clear glass sheets in front, which could emit bright lights or ultraviolet lights that alter wine composition. It's best to keep the wine in dark places, so replace glass with darker materials that will not emit or reflect light.
Technical Parts: Many technical issues can make your wine cooler stop working. There are a couple of steps you can take in performing a routine checkup of the components.
Firstly, check if it is plugged in, then inspect the fuse box to confirm if the breaker linked to the outlet provides enough power. If there are any other problems greater than this, you should get technical support.
Also Read: Does Wine Need to Be Refrigerated?
Final Words
If you're an experienced wine connoisseur or just an enthusiast of wine, any of these wine fridges will be a perfect storage unit for you to keep your wines in the best condition.
However, if we were to pick one wine fridge from this list, it is the Phiestina 46 Bottle Wine Cooler. This wine fridge packs the best features every wine fridge should have. It has an excellent design, portable shape, and remarkable technologies to preserve the quality of your wines.
If you're more concerned about having space in your wine fridge, the Kalamera 15 Inch Wine Cooler or the Antarctic Star 1.6 Cu. Ft. Wine Cooler gives you enough to store all your bottles and offers excellent features.
If you want something smaller and still delivers exceptional quality, the Nutrichef 12 Bottle Wine Refrigerator is a perfect choice.
Remember to consider all the factors before choosing, as the best mini fridge for one person is not usually the best for others. Make a selection from the above based on your preferences and needs.