Lake Chelan is one of the most popular and largest lakes in Washington, but aside from its beautiful views, there is a varied selection of top-notch wineries that call the region home.
How Many Wineries Are In Lake Chelan?
There are currently over 30 wineries in Lake Chelan. The region's unique climate and glacial soils provide optimal growing conditions for grapes, apples, and other fruits, so it's no wonder why Lake Chelan is so popular for its scrumptious wines and ciders.
What Wine Is Lake Chelan Known For?
Lake Chelan became recognized as an AVA in 2009 and boasts around 300 acres of planted vineyards. There are a wide variety of wineries and tasting rooms in the region, from grand estates to small but cozy bars.
Some of the most popular wines produced in Lake Chelan are Syrah, Malbec, Merlot, Chardonnay, Riesling, Pinot Gris, and Gewurztraminer.
What Is Lake Chelan Known For?
Lake Chelan is known for its breathtaking natural scenery, exciting water sports, marvelous fishing spots, and delicious apples. It's the biggest natural lake in Washington and the third deepest lake in the United States, measuring 52 miles long and a maximum depth of 1,436 feet.
The region is renowned for its high-quality apples, which are both flavorful and vibrant. Among some of the most popular outdoor water activities in Lake Chelan are boating, swimming, kayaking, paddleboarding, snorkeling, and fishing.
You'll find native fish species like the Kokanee Salmon, Rainbow Trout, Lake Trout, Chinook Salmon, Burbot, and Smallmouth Bass.
Best Wineries In Lake Chelan
Now that you know the types of wines and activities this AVA has to offer, here are the 10 best Lake Chelan wineries you need to visit on your travels.
Tsillan Cellars
If you're looking for Chelan wineries with food, spectacular views, and high-quality wines, Tsillan Cellars ticks all the boxes. This majestic winery was awarded the title of Washington Winery of the Year by Wine Press Northwest in 2020, and for good reason.
Their commitment to producing top-notch wines, a welcoming atmosphere, exciting events, and luxurious dishes ensures you'll have a memorable visit no matter what type of experience you're after.
Tsillan Cellars features a gorgeous Tuscan-inspired tasting room for a sublime Chelan wine tasting escapade. It boasts Italian marble and tile, hand-carved woodwork, Italian porcelain, and Rosa Verona inlaid mosaics.
You can enjoy an extensive list of wines such as Chardonnay, Gewurztraminer, Pinot Noir, and Merlot, as well as a tasty array of decadent dishes, from appetizers to main entrees. They serve brunch, lunch, dinner, and desserts, all of which pair wonderfully well with their estate wines.
The winery puts on live events on a regular basis like seasonal activities, live music, and dinners, so there's plenty of things to do other than wine tasting.
There is a grand bridal party preparation room situated across a stone bridge leading to their wedding island, which has a stunning Travertine stone finish, Rosa Verona Tumbled marble, and handmade porcelain. The Pavilion is equally beautiful and is perfect for outdoor and indoor dining, as well as weddings and private events.
If you need a striking venue for your special occasion, you'd be hard-pressed to find a more elegant establishment than Tsillan Cellars.
Benson Vineyards Estate Winery
Another esteemed winery in Chelan is Benson Vineyards Estate Winery, situated on the sunny north shores of Lake Chelan. They produce an array of award-winning wines like Chardonnay, Merlot, Syrah, Sangiovese, Viognier, Pinot Gris, and Gewurztraminer.
The views are spectacular, featuring acre upon acre of vineyards, luscious foliage, and the dazzling waters of Lake Chelan. You can enjoy your wine while soaking up the scenery and fresh air.
The Tuscan-inspired tasting room has a cozy, friendly ambiance, making it your home away from home. In addition to outstanding wines, Benson Vineyards offers delicious food at their onsite Cafe Myth.
They focus on Neapolitan-style pizzas, but they also serve exquisite salads and antipasti. Why not pop in for a visit to enjoy mouthwatering food washed down with a luxurious glass of wine?
Vin Du Lac Winery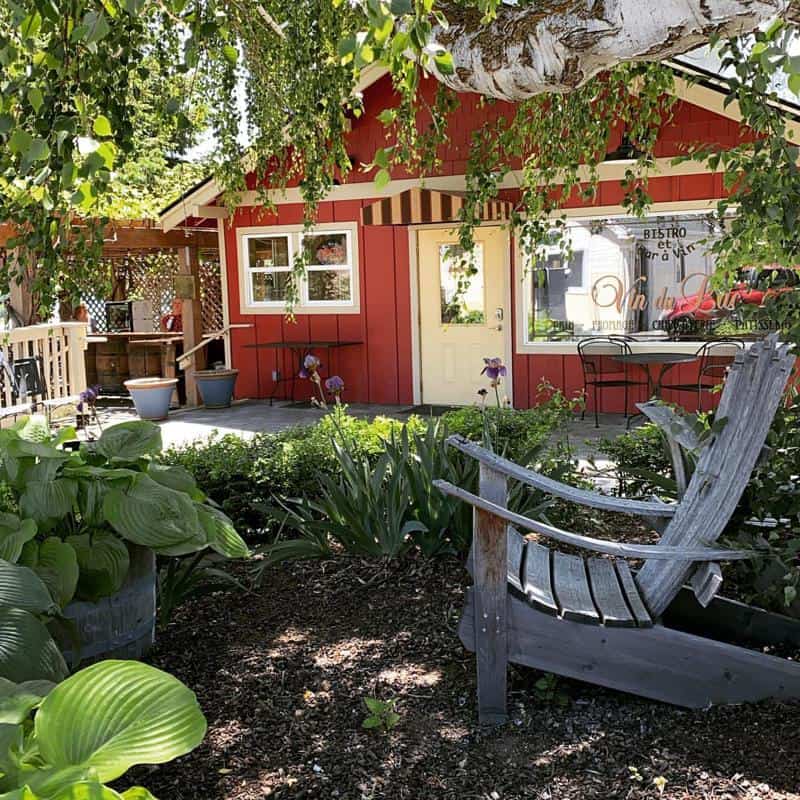 Featuring an excellent Chelan wine tasting experience, scrumptious farm-to-table food, and a delightful atmosphere, Vin Du Lac Winery is a must-visit. All of their wines are limited production and crafted with hand-harvested fruit from Lake Chelan and Washington vineyards to ensure both quality and flavor.
Tastings, flights, and wine by the glass and bottle are available every day at the winery's rustic tasting room. You can enjoy a sample of 3 of their daily selection of wines for just $10 (free with any bottle purchase!).
After you're finished indulging in sumptuous wines, stop by the winery's bistro for a decadent meal. They craft a variety of appetizers and main entrees like fries, soup, hamburgers, salads, and pasta dishes.
The winery's expansive estate is available to hire for weddings and other private events – they even offer catering so you can experience a good time and good food.
Siren Song Wines Vineyard Estate and Winery
Situated in Lake Chelan, Siren Songs Wines offers tantalizing European-inspired dishes and wines, as well as jaw-dropping views at their spacious estate. You can enjoy tastings and food outside, the latter of which pairs exceptionally well with their beverages.
All of the dishes at Siren Songs Wines are fresh and hand-crafted every day for impeccable texture and flavor. From pizzas to salads, the food at this winery is sure to satisfy your hunger and cravings.
You can reserve the winery for private events, as well as order banquets and wine to delight your guests. Siren Song Wines also host their own events, including live music, seasonal activities, and cooking classes.
Lake Chelan Winery
Lake Chelan Winery is one of the most popular wineries in the region, offering an assortment of high-quality red and white wines. Their cozy tasting room provides a comfortable wine tasting experience where you can enjoy complimentary samples of their wines ($10 per person for big groups).
The winery's experienced and attentive staff will guide you through each wine to increase your tasting knowledge, as well as make you feel right at home. If you're interested in getting a behind-the-scenes peek at Lake Chelan Winery's winemaking process, you can go on a complimentary tour of the estate.
You'll be led through the winery's vineyard, crush pad, and production facility by a knowledgeable wine assistant, learning more about the history and backstory of Lake Chelan Winery.
If you pop down to Lake Chelan during the warmer months, you'll be able to experience their popular BBQ in the Vineyard event, which includes tasty wines and BBQ goodness. Delicious!
Karma Vineyards
Karma Vineyards first started their winemaking journey in 2002 and have come on leaps and bounds over the last two decades as they are now one of the most renowned wineries in Chelan.
Their 14-acre vineyard grows Gwürztraminer, Pinot Noir, Syrah, Chardonnay, Riesling, and Pinot Meunier. The land is situated on the south shore of Lake Chelan on a north-facing slope, providing a moderately late harvest season.
Experience the taste of their brilliant wines yourself in their rustic tasting room or book a tour of the grounds to get a peek at their winemaking method.
If you're searching for high-quality Chelan wineries with food, you can't go wrong with Karma Vineyards. The 18 Brix Restaurants offers a casual dining experience and serves a range of sumptuous dishes for those looking for a touch of indulgence.
Karma Vineyards is one of the most beautiful venues for weddings and private events in Lake Chelan. Their attention to detail and creativity will ensure your event goes ahead without any issues.
There's a 3,000 sq foot wine cave for dancing and a panorama patio that features sweeping views of the vineyard and lake.
Mellisoni Vineyards
Awarded the title of 2021 Washington Winery of the Year by Seattle Wine Awards, Mellisoni Vineyards is clearly one of the best wineries in Chelan. The gorgeous scenery is a phenomenal setting for tastings and tours.
All of their wines are made in small batches, resulting in rich flavors and exquisite textures. There is limited seating indoors but there is ample seating outdoors on their covered patio and lawn, complete with viewing views of Lake Chelan.
Succession Wines
The owners of Succession Wines were hit hard by the 2014 Carlton Complex wildfires which destroyed their home, but through that tragedy, they discovered an enthusiasm and passion for producing wine. With their dedication and hard work, they formed Succession Wines.
In a short space of time, their business has rapidly gained attraction and is now considered a world-class winery in Chelan. Their beautiful scenery and grounds provide a serene ambiance, which is perfect for spending time with good company and good wine.
The picturesque patio overlooks the vines, mountains, and Lake Chelan, allowing you to enjoy your wine in ultimate tranquility, even more so with some live Sunday music. Succession Wines offers tastings and wine by the glass, but reservations are recommended to guarantee a spot for their tasting experiences.
Fielding Hills Winery
Fielding Hills Winery is only a 5-minute drive from downtown Chelan and features a stunning 270-degree of Lake Chelan. They offer tastings and tours, the latter of which take you around the vineyards and production facilities while sipping on wines and munching on small bites.
Recreations are necessary as both their tastings and tours are quite popular! You can enjoy a range of highly rated wines, occasional library vintages, and small production lots.
If you're feeling peckish, Fielding Hills Winery offers a selection of snacks like crackers, cheeses, chocolate, and charcuterie. They taste even better when paired with wine!
Cairdeas Winery
The final Chelan winery we recommend is none other than Cairdeas Winery who produces Rhone-style wines using high-quality Washington fruit. You can experience wine tastings, flights, and wine by the glass and bottle at their homely tasting room and outdoor seating area.
The winey's knowledgeable and helpful staff will be happy to assist you with any inquiries and to ensure you have an unforgettable visit.
Cairdeas Winery hosts a variety of fun events on a regular basis, from winemaker dinners to winery tours. They even put on seasonal activities to get you in a festive mood!
Related Read:
Final Thoughts
Boasting scenic views, a serene atmosphere, and as much delicious wine as you can drink, Chelan is a wine lover's dream. The wineries above are some of the best places to visit for experiencing the joys of this beautiful region.
And when you're busy tasting wines and eating decadent food, you can enjoy a variety of activities like watersports, hikes, and fishing around the beautiful Lake Chelan.