Tennessee is a state in the Southeastern region of the United States. It is geographically, culturally, and legally divided into three Grand Divisions of East, Middle, and West Tennessee. Nashville is the state's capital and largest city with the largest metropolitan area.
Tennessee has a diverse and rich history which its wine can also reflect. At Tennessee, you can follow the several wine trails and explore fantastic wineries of different wine variants and different cultural experiences.
The Rocky Top Wine Trail is located in the heart of the Great Smoky Mountains, and it offers over 70 unique wines to try. Perfect for those looking to make a day of wine tasting. The Great Valley Wine Trail is a group of wineries located in the beautiful East Tennessee area.
Along the way, you will experience the rich history and a variety of wine styles. At the Upper Cumberland Wine Trail, you can explore different vineyards and wineries and marvel at beautiful vistas while sipping at delicious wines.
The Natchez Trace Wine Trail, off the famous Natchez Trace Parkway, is an experience of fresh air, stunning views, and unique wines. The trail is approximately an hour outside of Nashville, and it's a wine experience worth a day's road trip. The Foothills Wine and Cider Trail runs along through mountains and offers beautiful scenery.
There are so many things to see and do on the trail that you are sure to enjoy. Take a walk on America's longest swinging bridge or zip line over the river. There are award-winning wines and ciders, festivals, and gorgeous vineyards.
Lastly, at the West Tennessee wine trail, you can Discover a unique experience of community, history, and winemaking style. Each winery is family-owned and dedicated to providing the best wines and experiences you will never forget.
10 Best Wineries in Tennessee
Belle Meade Historic Site and Winery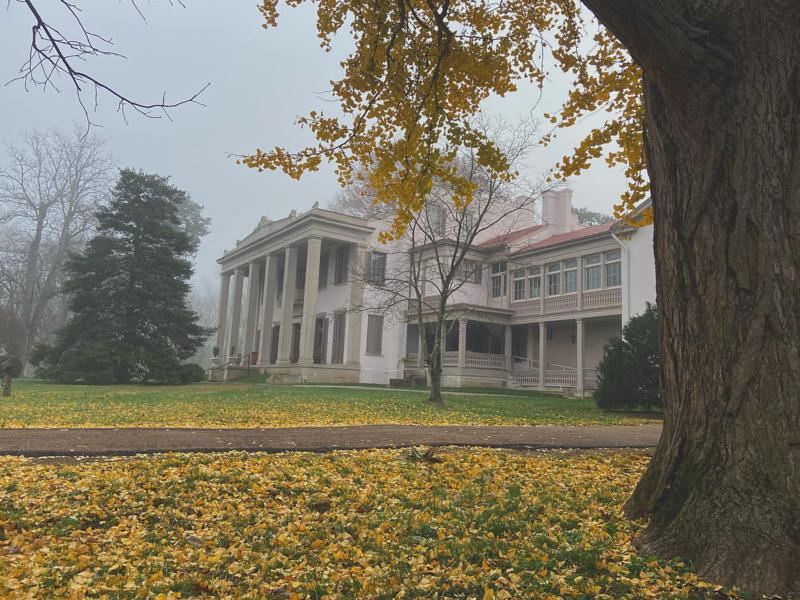 Belle Meade's primary goal is to preserve Tennessee's history, architecture, hospitality, and equestrian legacy. It is a sanctuary of southern hospitality. With their ambition to maintain their culture, Belle Meade created fantastic and educational historical tours, family tours, wine and food pairings, bourbon tastings, and chef-inspired food and wine pairings. With these tours, everyone can get immersed in the culture.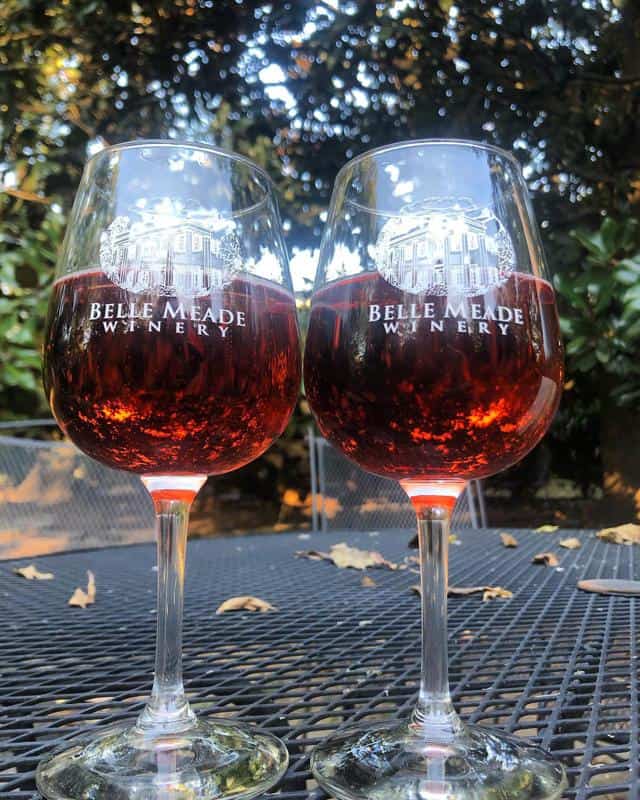 As the premier breeding farm for American Thoroughbreds in the South for over a century, Belle Meade hosted US Presidents, fabled American frontiersmen, and America's foremost business tycoons. Today Belle Meade welcomes guests from all over the world, carrying on the family tradition.
In 2009, The Belle Meade decided to establish a winery as a non-profit fundraiser for the continuing preservation of the site. They aim to honor the legacy of winemaking in the American South with traditional Muscadine and Blackberry wines and produce an entire library of red, white, and sparkling wines inspired by Europe's rich winemaking culture.
Wine Tasting
Belle Meade offers daily tours and tastings without any reservation. However, if you wish to have a more intimate wine tasting with your friends and family, they also provide private tastings. At private tastings, you get to try a flight of five wines accompanied by light food pairing.
Food Pairing
Alongside your wine, you can taste a world-class food pairing crafted by Executive Chef Stephen Kruger. Then, guided by a senior Belle Meade Sommelier, you will taste a flight of their award-winning wines and experience the four-course pairing.
Arrington Vineyards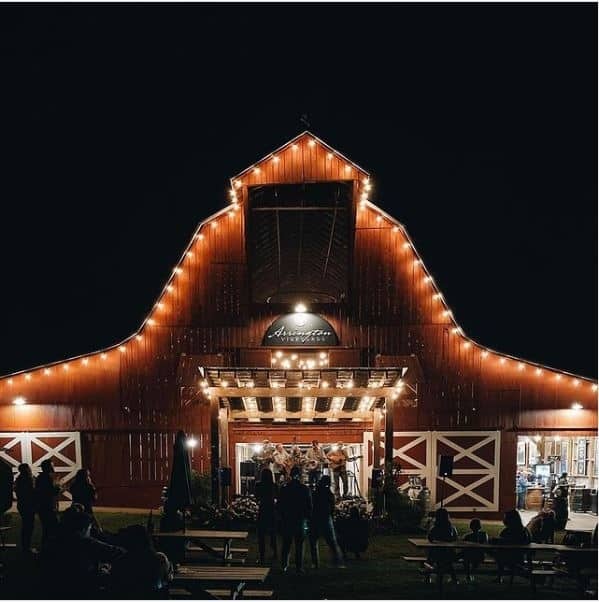 Arrington Vineyards first opened its doors on July 1st, 2007, intending to provide an enjoyable "wine country experience" among the hills of middle Tennessee.
The vineyards were initially established in 2003 when Kip Summers and a fellow wine enthusiast purchased a 25-acre hog farm and planted the first vines. Later, in 2004, Kix Brooks purchased the cattle farm adjacent to the original vineyards. With more space, new ideas began to grow. Eventually, within a few years, the winery was established. That farm included a farmhouse that got remodeled into the first tasting room and a retail store.
Today, Arrington Vineyards not only brews award-winning wines but has also grown exponentially to include another remodeled farmhouse used for events and weddings and an outdoor pavilion.
Wine Tasting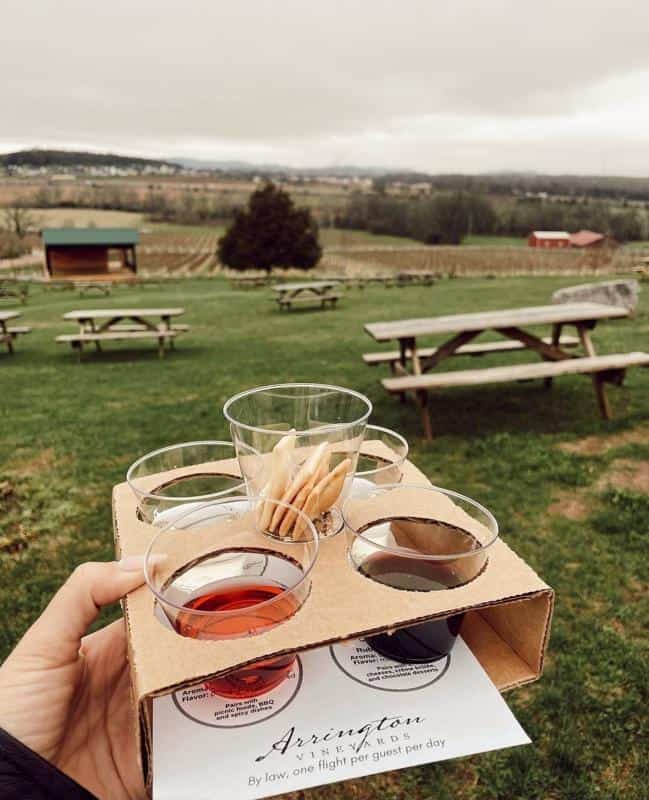 Wine tasting flights are available every day with no reservation needed. A wine flight is a tasting of four different wines, self-guided for you to enjoy at your table. You may choose from a selection of Red, White, Semi-Sweet, or Mixed flights. If you prefer to book a tasting in advance, go for the Signature Group Tasting, a seated and guided wine tasting experience in a private tasting room.
Food Pairing
Premier Tasting Experience is a food and wine pairing. You taste through seasonally selected small bites prepared by Simply Living Life paired perfectly with award-winning wines. This is perfect for groups of two to six guests.
City Winery Nashville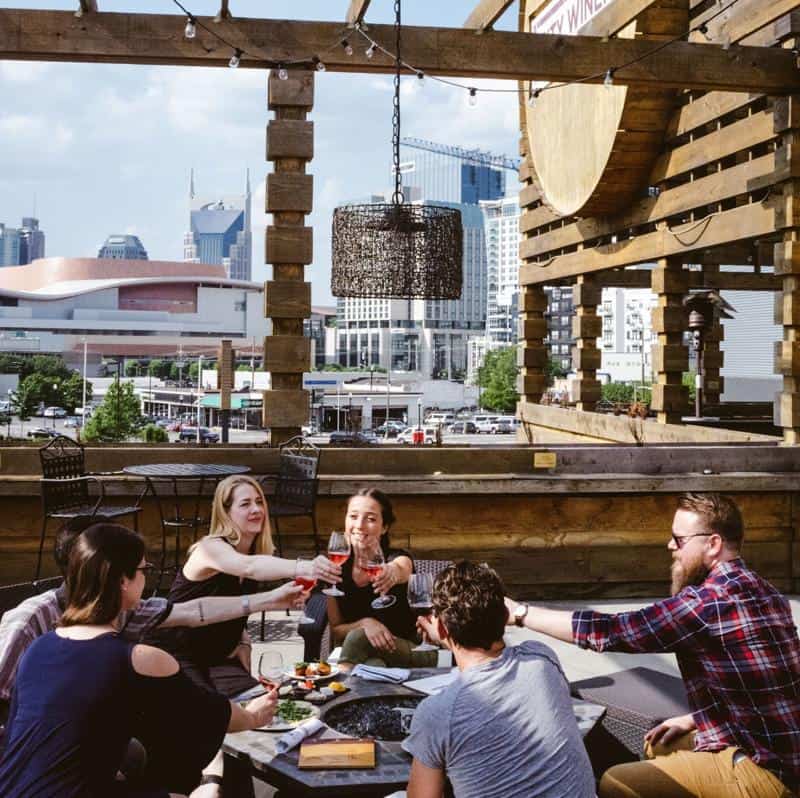 The first City Winery was founded in New York City in 2008 by Michael Dorf to deliver a unique combined culinary and cultural experience to urban wine enthusiasts. Every City Winery offers intimate concerts, food and wine seminars, private event spaces, upscale dining, and a fully functioning winery.
Similar to the original City Winery, City Winery Nashville aims to give a wine experience to urban wine enthusiasts who desire the experience of making their wine but who are not going to leave their comfortable urban lifestyle to decamp to a vineyard.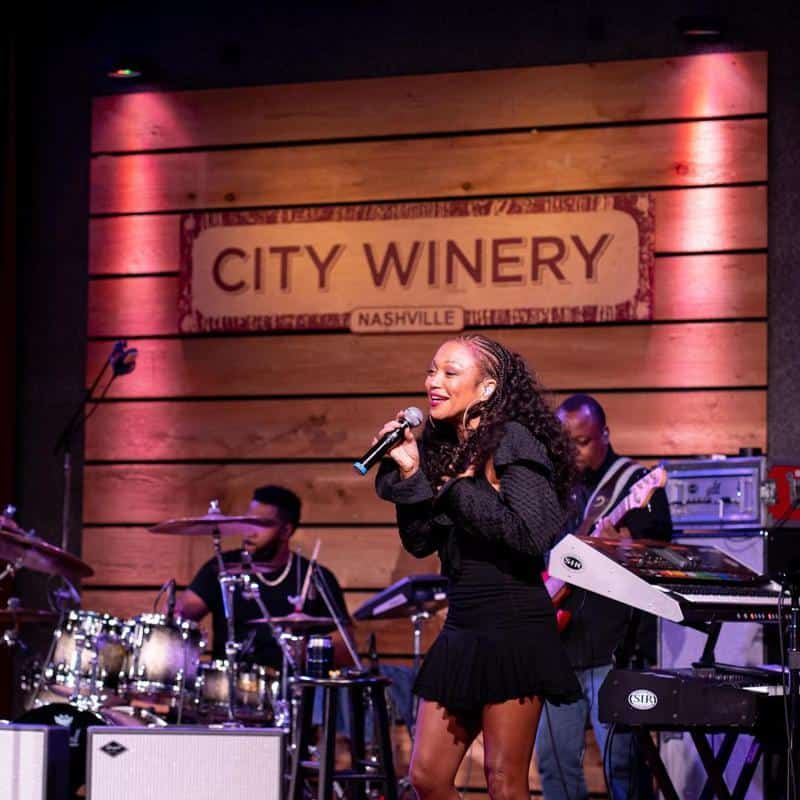 Beyond making wine, it also focuses on the enjoyment and satisfaction of sharing wine with friends. City Winery wishes to capture the unique social bond when communities of like-minded people gather over a bottle of quality Cabernet while dining on a freshly-prepared meal and listening to their favorite artists perform.
Wine Tasting
The Barrel Room at City Winery is an intimate restaurant and tasting room that serves fresh wine on tap. There are 11 wines on tap from which you can choose any six for a tasting.
Winery Tours
Explore the winery and have a guided educational tour on winemaking by walking through the winery's facilities. The tour ends with a sampling of their in-house-made wines paired with a charcuterie & cheese plate, plus a parting gift.
Restaurant
The Barrel Room Restaurant and Wine Bar is located on the ground level and includes a beautiful outdoor patio. The menu is wine-inspired, globally influenced, and locally sourced, perfect for pairing with wine.
Sugarland Cellars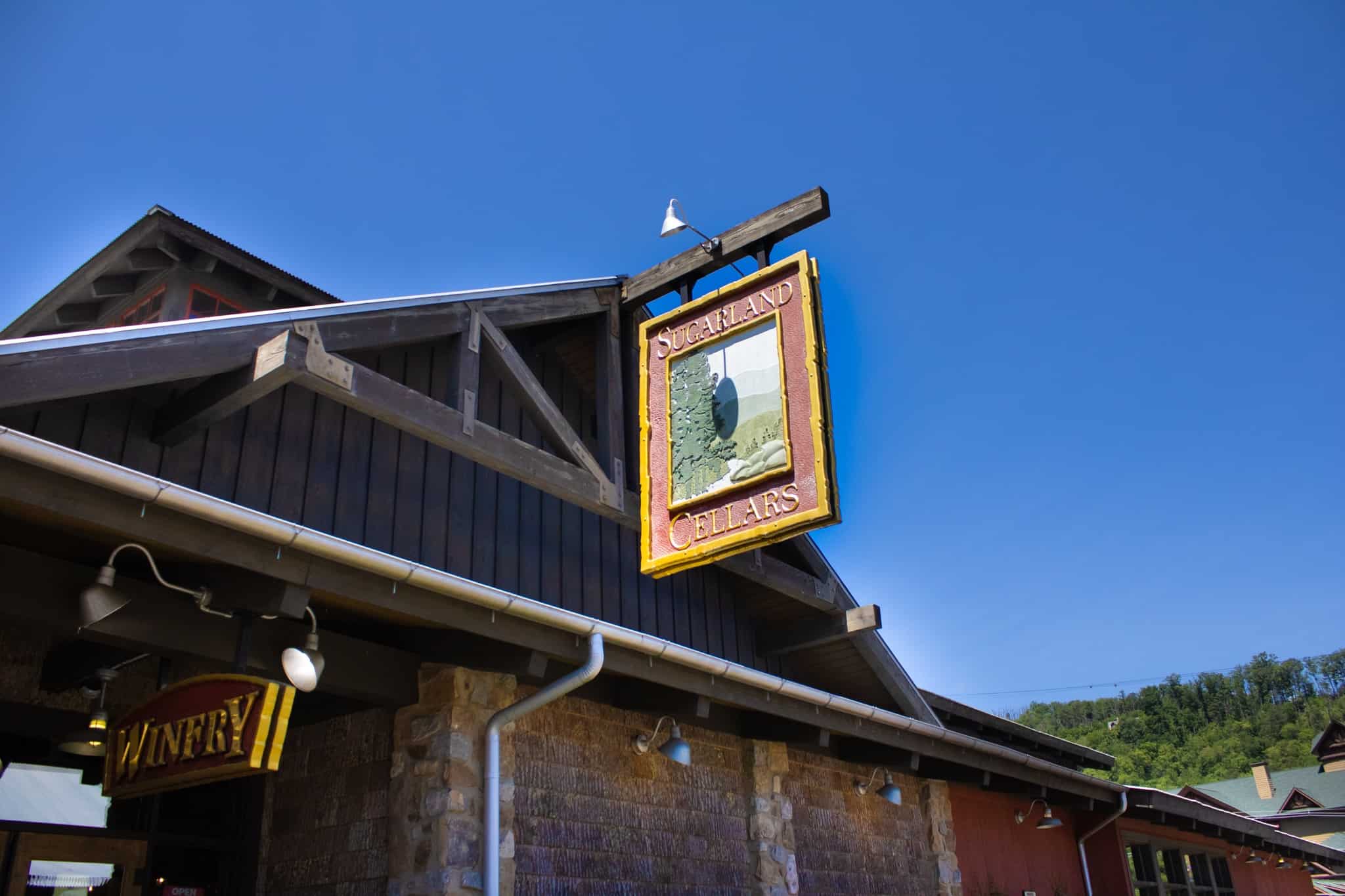 Sugarland Cellars opened its doors in 2010, aiming to deliver unique, alpine-style wines from the Smoky Mountains. It is a fully operating Gatlinburg winery offering tours and complimentary tastings of all wines available. Furthermore, the gift shop is a great experience filled with plenty of wine-related gifts and other area-related items. It is famous mainly for its delicious, southern Muscadine, Blueberry, and Pinot Noir options.
The winery makes wines using only locally grown grapes. With over 53 local farmers, Sugarland Cellars produces between 12-18 unique wines every year. To celebrate their region's history, each of their wine has a name associated with an important historical figure, key location, or another fact about the surrounding area.
Each season, they partner with local artist Robert A Tino and the non-profit group Friends of the Smokies. Together they release a limited edition wine with Robert's artwork to help raise funds to help preserve and protect the Great Smoky Mountains National Park.
Wine Tasting
Once you arrive at the winery, you are served a free sample of their in-house wine. Still, without a reservation, you can have a tasting of a flight of your choice and learn more about winemaking and wines from a knowledgeable staff member.
Apple Barn Winery
Apple Barn Winery was established in 1994, and it is part of the Apple Barn Village complex. Located on the Little Pigeon River banks, it is next door to the world-famous Apple Barn General Store & Cider Mill, two excellent restaurants, a bakery, a candy store, an ice cream shop, and a Christmas shop.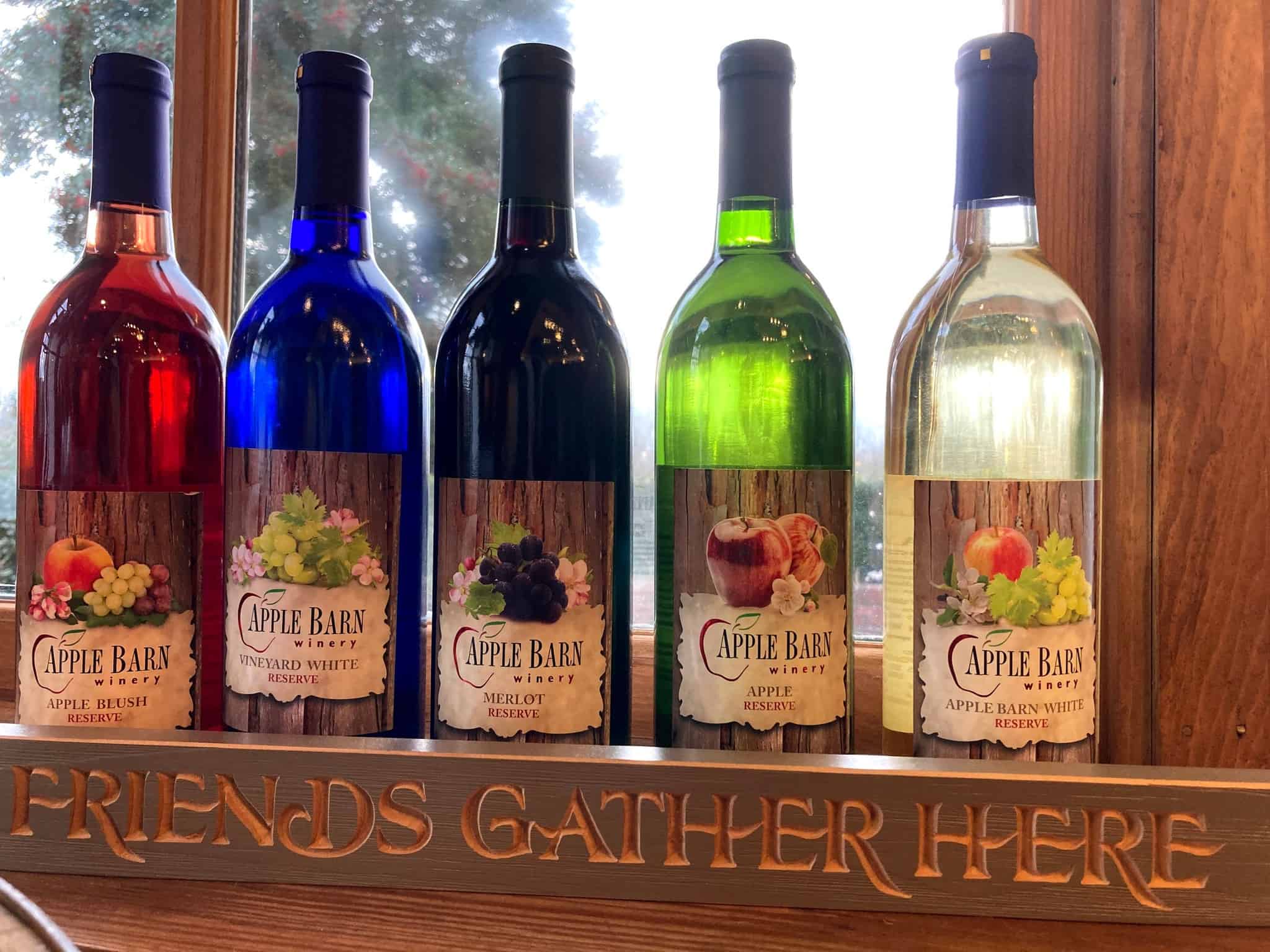 As the winery's name indicates, their wines are apple-based blended with local fruit and grapes, and thus, it offers a unique twist on wine. Their wine is handcrafted in small lots to provide each customer with the best possible wine from local fruit.
At Apple Barn Winery, expect the family-oriented staff to provide you with outstanding service. Even if you are not a "wine connoisseur," you will still take pleasure in browsing their gift shop full of unique items as well as wine accessories. Furthermore, their video tour is an excellent educational experience that provides the opportunity to learn more about the winemaker's art.
Wine Tasting
The tasting room is open daily, and without any reservation, you can easily experience a guided wine tasting. One of the staff members will guide you through their various wine types and help you select the best choices for you and your companions for a delicious experience.
Mill Bridge Winery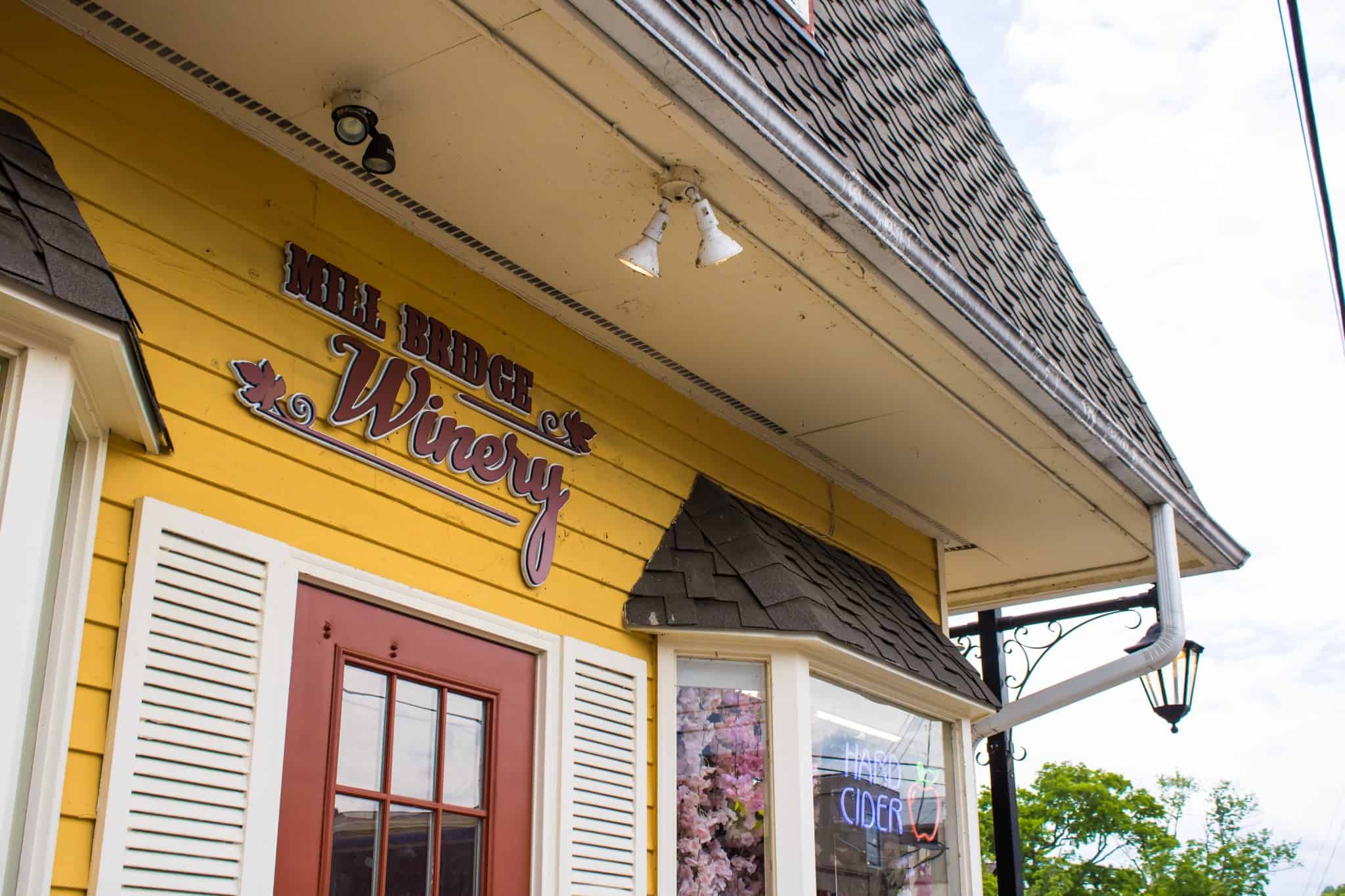 Located in the Old Mill Historic District of Pigeon Forge, Mill Bridge Winery offers a relaxing experience. Although it is indeed a winery with delicious wines, it also has a long history of producing handcrafted hard cider. If you love both wine and cider, this is the perfect place to taste a flight of wine and a flight cider!
Furthermore, the tranquil ambiance of the winery is perfect for spending the afternoon sitting on our outdoor patio overlooking the Little Pigeon River with your cider or glass of wine. The staff will be happy to take you through a guided tasting experience and introduce you to their most distinctive offerings.
Their most popular wine is the Indian Summer which is a blend of blueberry and lemon. Additionally, their best ciders are the iconic tonic, an apple, honey, and lemon blend, the platypus, a pear blend cider, and the pomicide, an apple and pomegranate blend.
Wine Tasting
Once you arrive at the winery, you are served a free sample of wine or cider. However, you can also spend a lovely afternoon sitting on the outdoor patio overlooking the Little Pigeon River with your wine flight tasting or cider.
Tennessee Homemade Wines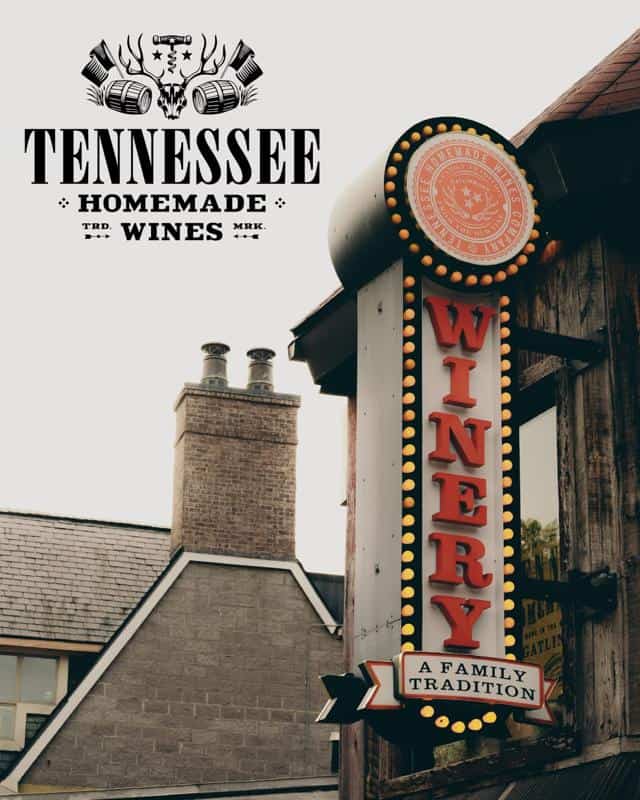 The founders of Tennessee Homemade Wines are local Gatlinburg folk, rooted in the deep family tradition of Tennessee sweet wine. Furthermore, The winery is located at the foothills of the Great Smoky Mountains. Thus the family has been raised in Appalachian traditions of hospitality and heritage.
They use fresh fruits, local craftsmen, and southern hospitality to make and sell the best sweet wine in the Smoky Mountains. Their goal is to showcase an atmosphere reflecting the way of life in the Smokies. To accomplish that, the winery and their partners offer two incredible lodgings right in the heart of the Smoky Mountains. The two cabins are designed to make you feel home away from home. They are just minutes away from the heart of downtown Gatlinburg, the national park, Gatlinburg's Arts & Crafts Community, top dining destinations, and much more.
As you take in the beautiful vistas from the decks, relax in the hot tub, meander among the muscadines, or watch the black bears play, you'll feel as if the hustle and bustle of the city is a thousand miles away. Also, there is no better place and way to fully appreciate their wines than becoming part of the Smokies lifestyle.
Wine Tasting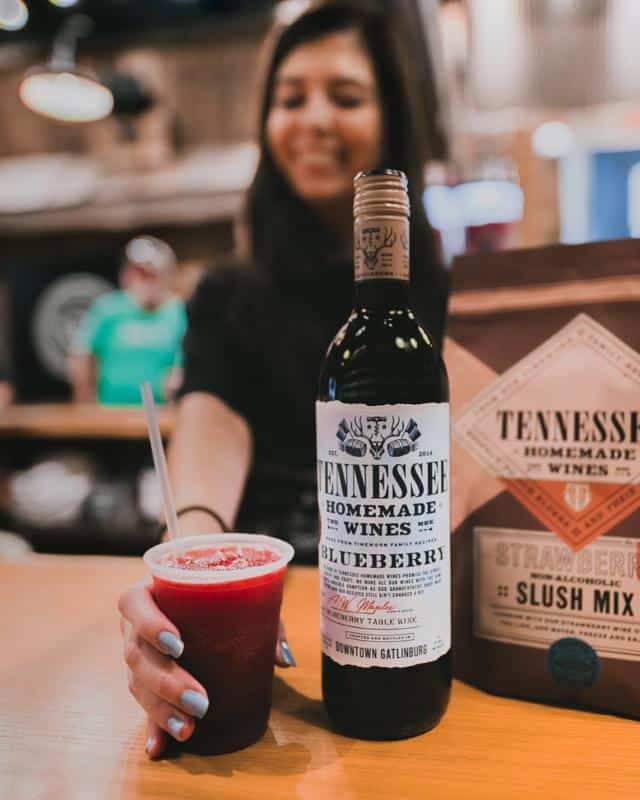 Here, you can also have a free sample of their in-house wine seven days a week. Still, you can have a wine tasting of a flight of your choice with the help of one of their staff members.
Beachaven Vineyards & Winery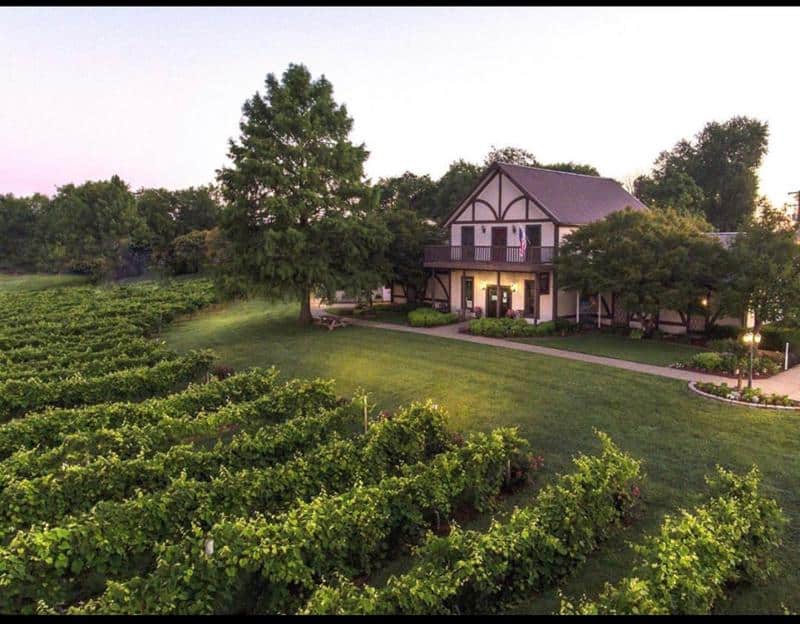 Beachaven is the oldest single-family-owned winery in Tennessee, first licensed in 1986. Beachaven was spearheaded by late Judge William O. Beach, his daughter Louisa, and his son-in-law, Ed Cooke. They only opened a winery in the mid-80s, but they were already award-winning home winemakers.
Their ambition is to always produce wines both from local and regional fruit. Due to this, for the past 30 years, their wines have been critically acclaimed for quality, variety, and consistency. With responsible stewardship of their vineyards, grape-grower relationships, commitment to excellence, cutting-edge technology, and old-world know-how, they manage to uphold their name as one of the top wineries in their region.
In fact, Beachaven quickly gained a reputation for outstanding wines thanks to the plenty of gold medals they earned in wine competitions. Each of the award-winning wines is available in-store and online, and a large gift shop offers a wide array of items. Additionally, the winery hosts many events throughout the year. Still, they are known for their famous outdoor concert series, Jazz on the Lawn, in the summer months.
Wine Tasting
There are two options available daily. You can taste wine by bottle or glass. If you would like to sample a variety, they offer a Wine Flight or a Wine Tasting. Wine Flights include four 3 oz samples of the wines of your choice. You can join Wine Flights at the picnic area or a standing table in our Glass or Bottling Room. Wine tastings include four smaller samples. Wine tastings are enjoyed at the sting bar as an employee leads you through your selections.
Winery Tours
Tours are offered on weekdays by appointment. They include a tour of the grounds, the winemaking facility, and a full wine tasting. Since the tours involve walking around the property, availability may vary depending on the weather.
Hillside Winery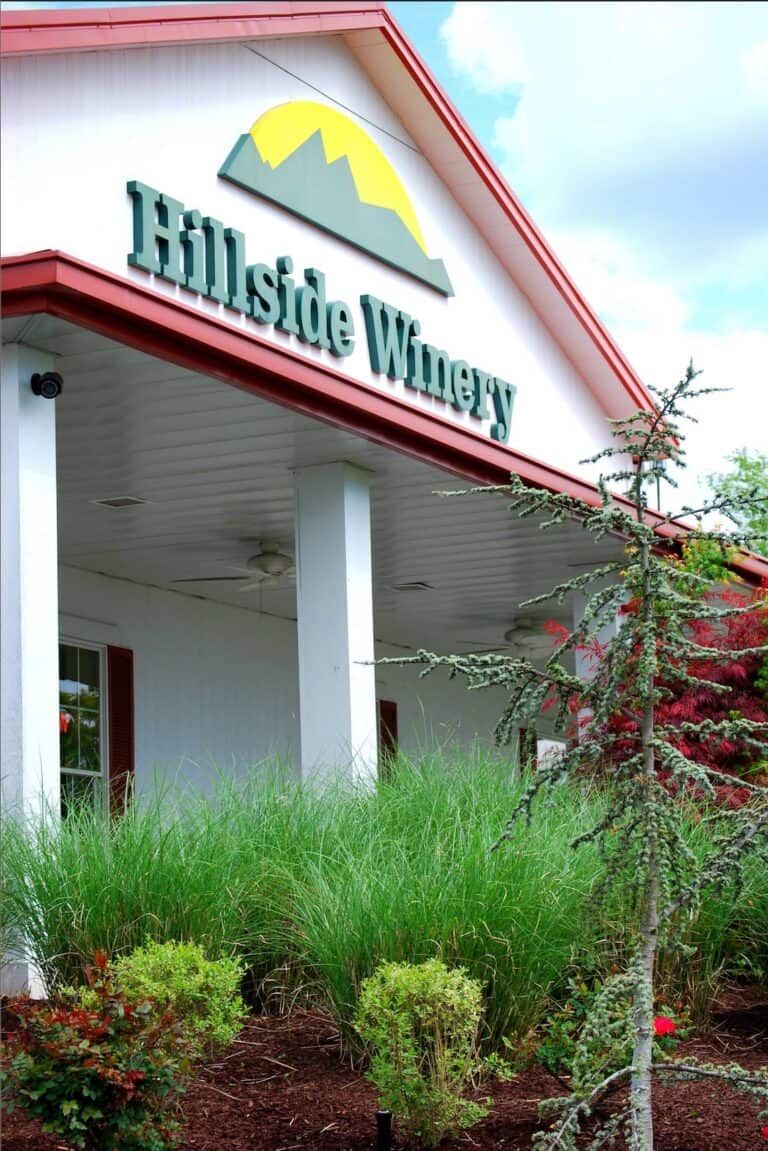 Hillside Winery brings the vineyards of Tuscany to the Great Smoky Mountains. With Italian-style and bubbly wines, Hillside Winery has always been the first choice of Smoky Mountain locals. From more traditional wines like Sangiovese to the best-selling Black and Blue to the award-winning Muscadine Mist, Hillside Winery truly has something for not only every person but every occasion, too.
Partnering with local grape farmers, Hillside Winery is responsible for crushing over 856,000 pounds of Tennessee grapes annually. That's why you can feel that when you're at Hillside, you are in the heart of Tennessee Wine Country.
It may be the second newest winery in the mountains of East Tennessee. Still, as it is right in the middle of one of America's favorite vacation spots, it is a favorite amongst locals and guests. Explore the Sevierville, Pigeon Forge, Gatlinburg, and Smoky Mountains Area and sample their excellent wines while having an educational tour of the winemaking process.
Wine Tasting
Once you arrive, you get to taste four different wines for free. The employees are always ready to chat with you while tasting and advise on which wine is best according to your taste and preference. Furthermore, you can taste their wine slushy, and you get to pick your cup from the shelf and sit on the covered balcony while you enjoy it.
Mountain Valley Vineyards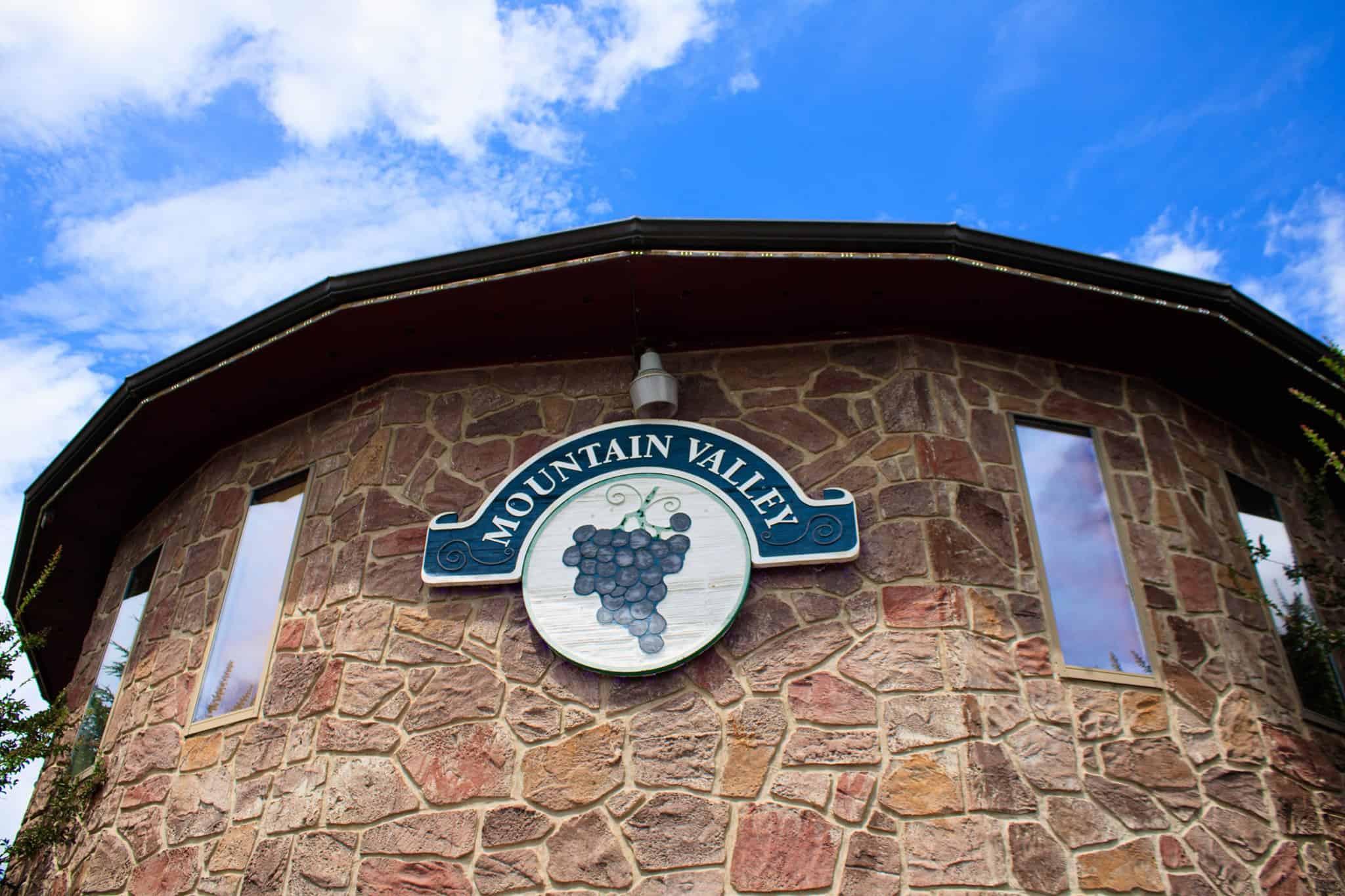 Mountain Valley has been operating since 1991 and is one of the oldest wineries in Tennessee. Also, here you will find some of the most unique wines in the country. Since 1991, Mountain Valley Winery has produced over 200 exclusive wines garnering more than 1,000 medals from various competitions.
Till today they strive to continually provide excellent choices to their guests and focus on making French and German-style wines. However, their specialization is sweet, fruit wines. Among the popular options of sweet wine, flavors include Watermelon, Rhubarb, and Red Velvet.
The winery is located just past the Titanic Museum Attraction in Pigeon Forge. Hence, it is right in the heart of the Smoky Mountains vacation area. So not only will you get to taste delicious wines, here you will enjoy the fantastic views of the mountains.
Wine Tasting
The wine tasting is free and includes three wine samples of your choice. Here, the employees are always eager to help thus, they will be attentive to your needs throughout the tasting.
Final Thoughts
Tennessee as a state naturally has a very diverse history, culture, and also environment. Therefore, expect to have very different experiences regarding wine and winemaking. Explore the different wine trails across the state and taste from red to white to rose to sparkling and dessert wines.
When you experience wine tradition and southern hospitality at any of Tennessee's wineries, you will definitely be left awed and blissful.
Also Read: