Asheville is a unique, special place that stays in your mind and memories for years to come. The city has a rich architectural legacy due to the mix of Art Deco, Beaux-Arts, and Neoclassical styles in the perfect retro-urban buildings. Here you can find locally-owned shops and art galleries, distinctive restaurants, and many exciting entertainment venues.
Although it emanates an alternative-urban ambiance, Asheville also prides itself on its fascinating Appalachian past and celebrates this culture with various events and festivals. Thankfully, Asheville's historic and architecturally diverse downtown remains beautifully preserved.
This thriving mountain city features a funky and eclectic downtown, a burgeoning culinary scene, a thriving live music scene, and the awe-inspiring scenery of the Appalachian Mountains. But more importantly, Asheville has made a great name for itself in the wine industry with more than 30 wineries within the city and the North Carolina mountains and foothills.
Let's check out the top 12 wineries in the Asheville area.
Best Wineries in Asheville Area
Biltmore Estate Winery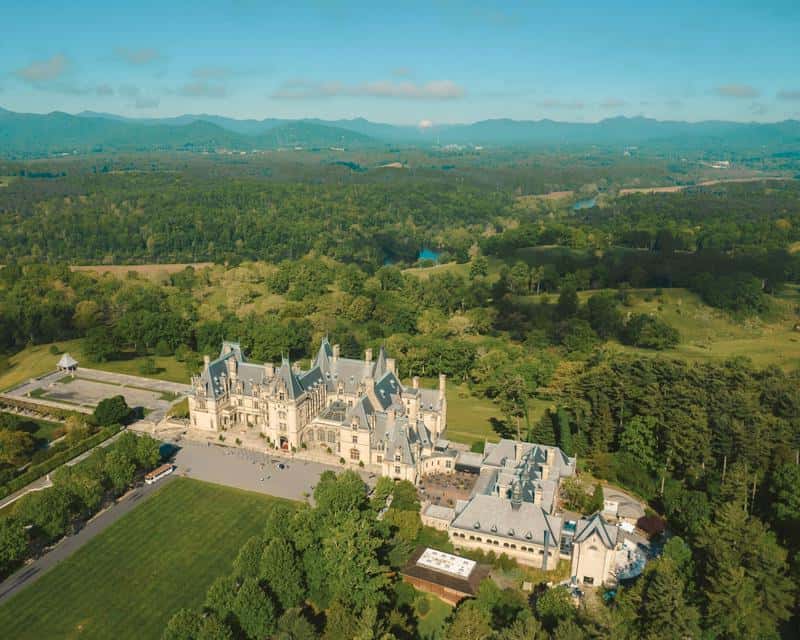 Biltmore Estate Winery, home of George and Edith Vanderbilt, is all about luxury, elegance, and inspiration. Constructed in 1895, the estate is the largest house in the US. It still preserves its original furnishings and masterpieces of art. Biltmore combines the natural beauty of the mountains and the majestic house and gardens to intrigue, inspire, and allow guests to escape from the everyday.
Nestled in the Blue Ridge Mountains of Asheville, the winery has a distinctive portfolio of multi-award-winning reds, whites, rosés, and more than 20 handcrafted vintages. By purchasing a ticket, you have access to the house, the gardens, trails, restaurants, and a complimentary wine tasting.
Tasting Room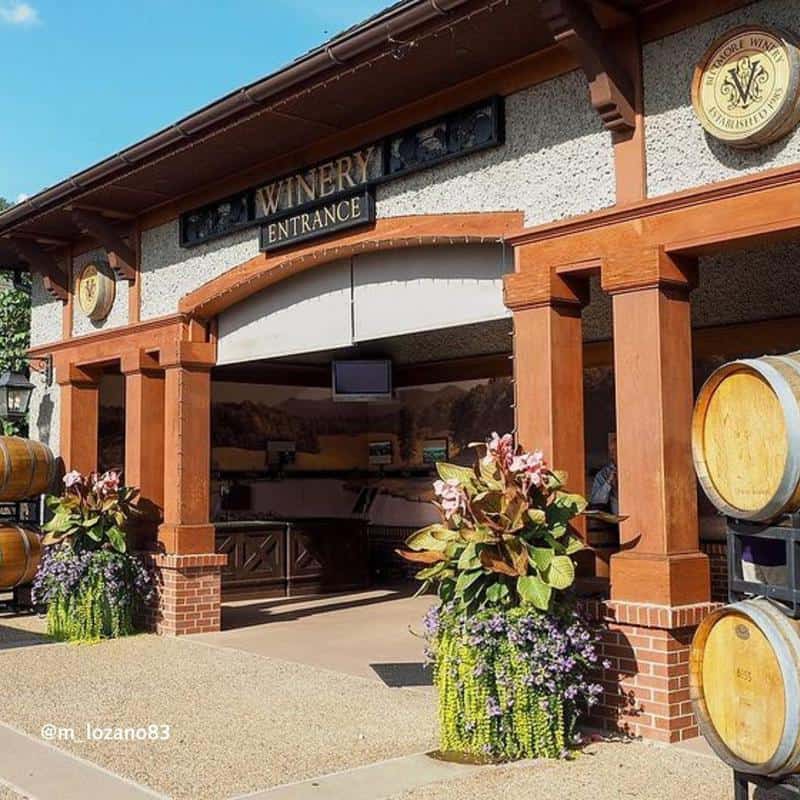 The estate's main tasting room is perfect for those who wish to have a luxurious wine experience. Step back in time and experience a unique old-world elegant experience. Taste the selective wines by knowledgeable experts at the beautifully designed indoor and outdoor Wine Bar with charcuterie and locally-made truffle.
Winery Tours
Visitors learn more about Biltmore wines on the Behind The Scenes Winery Tour. You can also taste their premium wines and see how champagne is made. With a small group, you are able to enjoy a private wine tasting separate from the public tasting area.
A second Biltmore wine tour is the Red Wine and Chocolate Tour.
You receive a shorter winery tour and then head to Biltmore's clock and bell tower for the tasting. The chocolates come from the infamous French Broad Chocolates, a must-try dessert from Asheville.
Check out the Biltmore vineyard timelapse:

Burntshirt Vineyards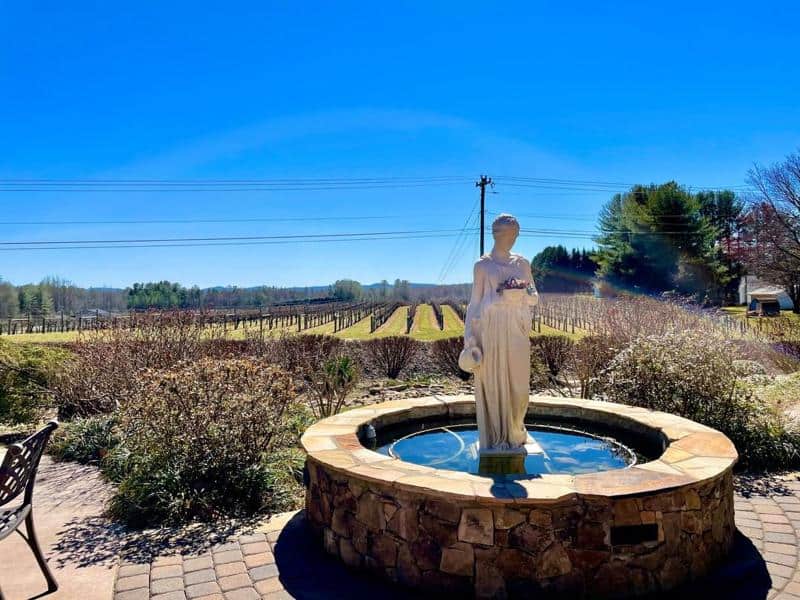 Back in the day, farmers used to burn their fields to clear the land for planting. For good luck and the fields to yield beautiful crops, they would toss their shirts in the fire. Thus, the name Burntshirt Vineyards. Today, it is among the favorite wineries near Asheville for wine enthusiasts because of its picturesque location and award-winning wines.
Burntshirt has a patio with stunning views of the vineyards, a majestic fountain, and a firepit. Furthermore, it has quirky decorations and a nifty little gift shop that sells all sorts of things such as wind chimes, terracotta watering cones, and a cat face mask.
Tasting Room
The new and renovated farmhouse turned into a quirky and unique tasting room. Here, an expert will guide you through a tasting and tour that will educate and entertain you. Enjoy excellent wine on the patio with a spectacular view of the Sugarloaf Vineyard.
Bistro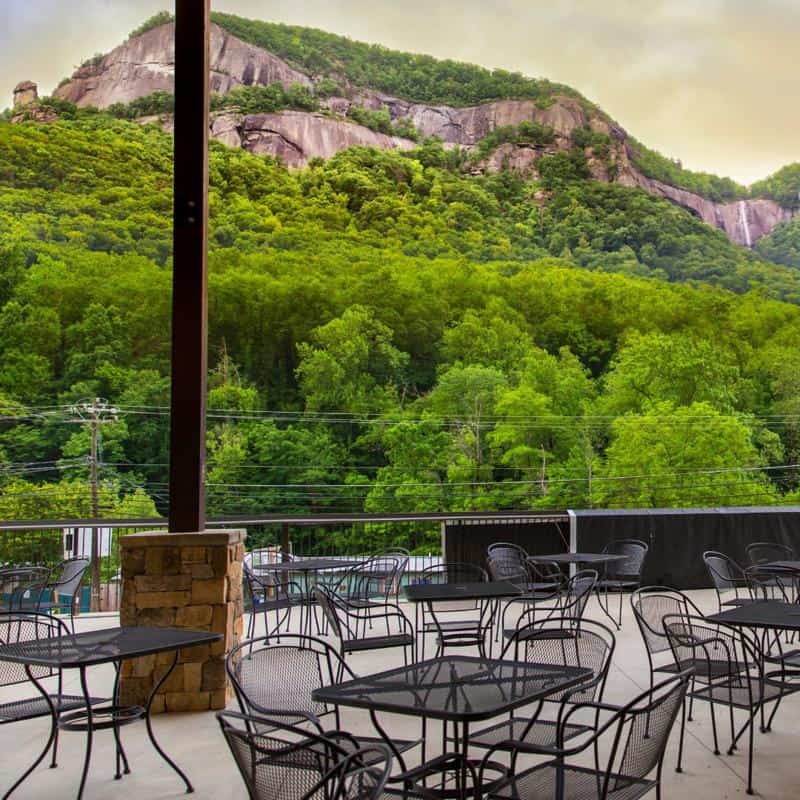 Stop by our Chimney Rock Tasting Room and Bistro for some of the best views of Chimney Rock and Hickory Nut Falls from the covered patio. Explore the Bistro's menu of inspired "Southern Winery" cuisine for the perfect tasting. The Bistro offers a rotating menu of casual, seasonal dishes expertly designed to pair with Burntshirt Vineyards award-winning wines.
Linville Falls Winery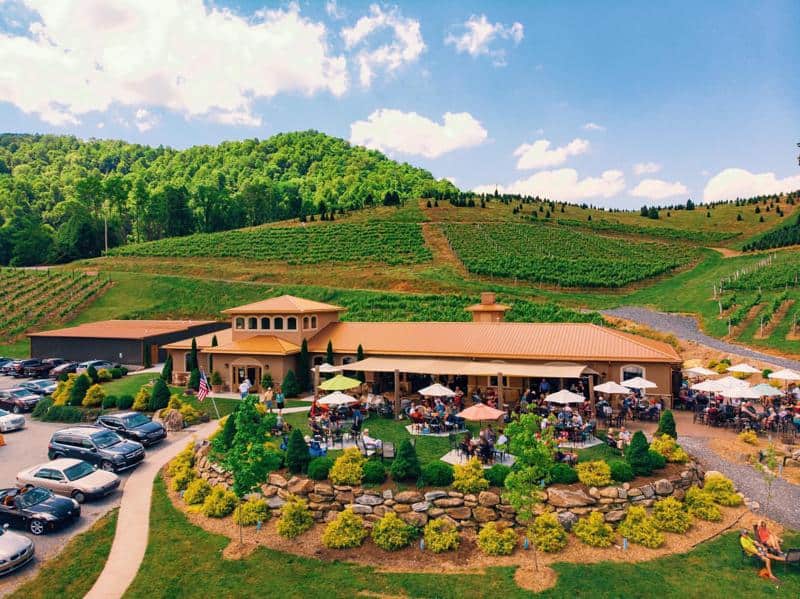 Linville Falls Winery is a family-owned and operated vineyard, winery, and farm in the Blue Ridge Mountains. It is a winery where you can taste and experience the passion for cultivating grapes and winemaking.
The 40-acre vineyard and farm are situated in a fertile valley between hills filled with rows of lush, green vines producing varieties such as Seyval Blanc, Vidal Blanc, Noiret, Marquette, Petit Verdot, Marechal Foch, and Riesling's flagship grape.
The culture of wine is truly a beautiful thing. Here you can come face to face with nature, to see the vines, walk among them, and drink their fruits. You can see the beauty of the High Country, meet their welcoming family, and taste what the mountains have to offer.
Tasting Room
After exploring Grandfather Mountain or hiking, Linville Falls is the perfect spot for a much-needed break with wine and a picnic. You can have wine either by the bottle or by the glass or even as a wine flight and enjoy the stunning views of the vineyards from the tasting room's stone patio.
Food Truck
Every day you can find a food truck of different food options by the tasting room. Some food trucks you might come across are Cut and Cured, Lobster Dogs, Rascal Jack's Sandwich Shack, and Accardi Bros Brick Oven Pizza.
Marked Tree Vineyard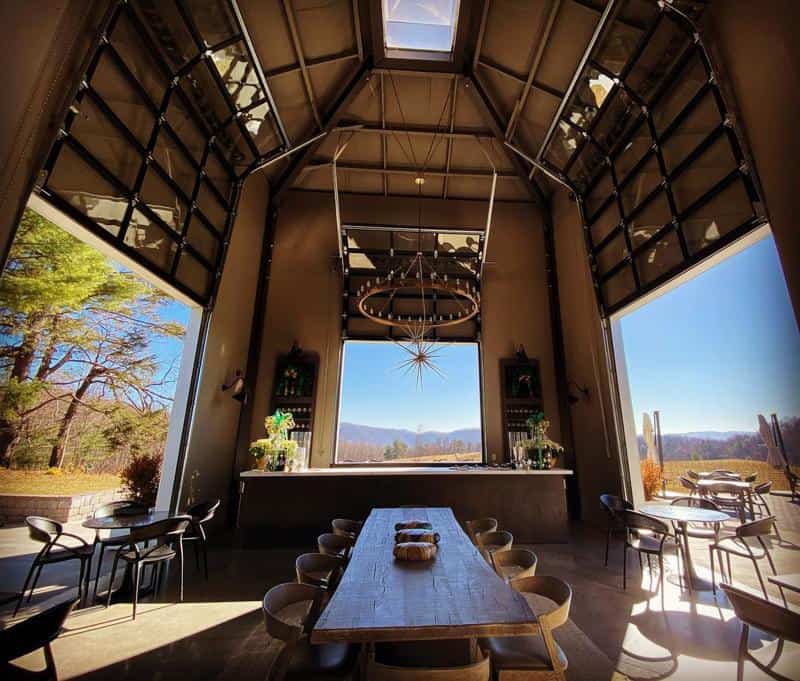 Marked Tree Vineyard is a new 2020 winery near Asheville at Flat Rock. Out of all of the wineries near Asheville, the most unique to Marked Tree Vineyard is their gorgeous wine bottle labels filled with sketches of trees, owls, and dogs.
Marked Tree Vineyard is one of Asheville's most romantic places for couples. A fog encircles the modern winery giving it a romantic and elegant atmosphere and gorgeous views of the vineyards.
Tasting Room
There are numerous outdoor seating areas around the winery, such as picnic tables, Adirondack chairs, and cafe tables to enjoy the stunning views while sipping at one of their best wines. Around the property, you'll spot a few ancient fireplaces that elevate the winery's romantic and cozy ambiance.
Mountain Brook Vineyards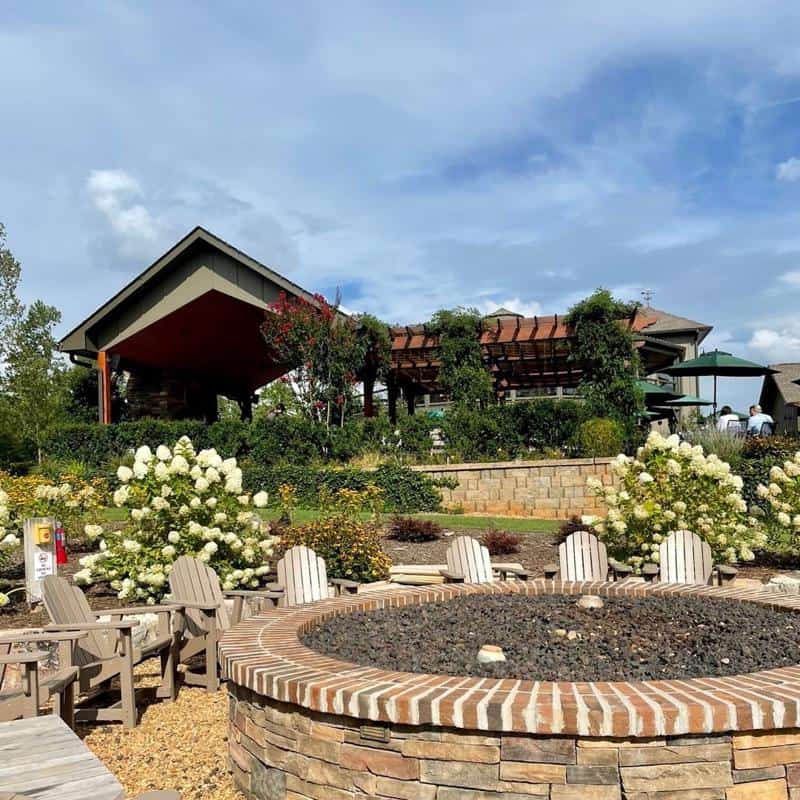 Mountain Brook Vineyards is a family-owned winery nestled in the Tryon, less than an hour from Asheville. Located on 75 acres of land, the vineyards and winery provide a magical escape from the world.
The winery's goal is to provide you with three intertwined experiences, extraordinary service, a beautiful environment, and exceptional wines. The terraced outdoor seating areas offer incredible views of the vines and mountains that you can enjoy as you savor their best wines.
Tasting Room
Surround yourself with beautiful views, wonderful friends, and great wines in one of their modern and elegant seating areas. They have a lovely indoor area perfect for hot days and when the weather is less than ideal. The covered patio deck provides a nice elevated view of the vines and mountains.
It is a great spot to enjoy live music or movie events at the lower pergola. A warm and cozy fireplace can warm you up during the cooler months in the covered outdoor seating area. There is also a large outdoor fire pit that is a great spot to gather around, sip a glass of wine, and enjoy the heat from the flame.
Saint Paul Mountain Farms Vineyards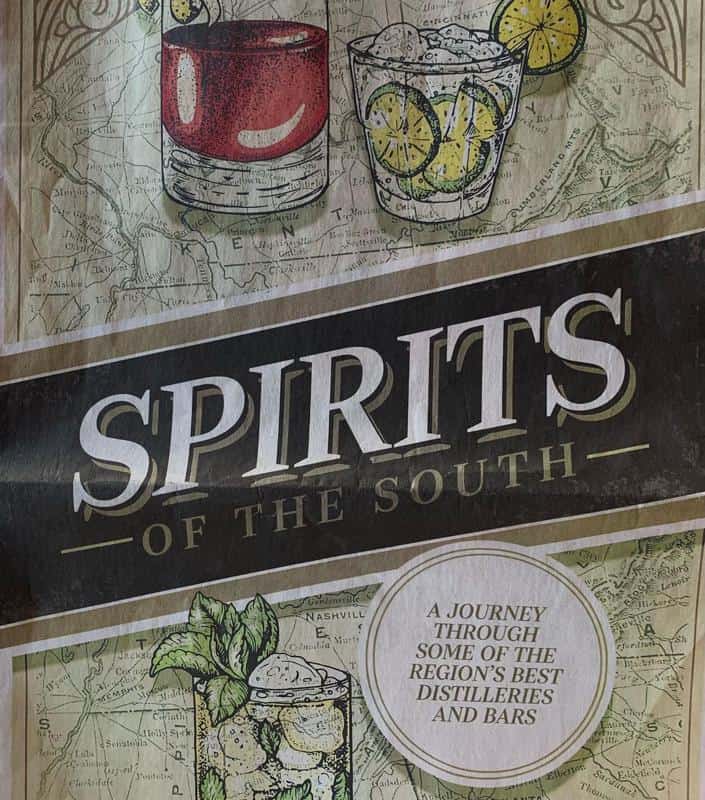 Saint Paul Mountain Vineyards has an inviting and welcoming atmosphere that you can't miss. Their family-like ambiance and culture provide the very best quality and experience. It is a place for learning, laughing, and loving every moment of your visit.
The knowledgeable staff will take you on an educational and entertaining tour of their incredibly cozy winery and delicious wines. If you wish to take your time and experience the wine lifestyle, Saint Paul Mountain also offers a beautifully renovated family home for the perfect weekend getaway.
Tasting Room
Their inviting tasting room with a stone fireplace and an open-air patio offers a fantastic ambiance for a relaxed wine tasting. You can discover more about their wines and winery's history with live music in the background and pairing dinners for a complete wine experience.
Events
Saint Paul Mountain Vineyards is known for amazing events like The Summer Kickoff Party, Semi-Wild Women Night, Wine Release Parties, and The Low Country Boil. Furthermore, every weekend there is Live music and a variety of food to accompany your wine of choice. Otherwise, join the weekly yoga classes with Keri Ann Yoga to release all the negativity of the bustling city life.
Overmountain Vineyards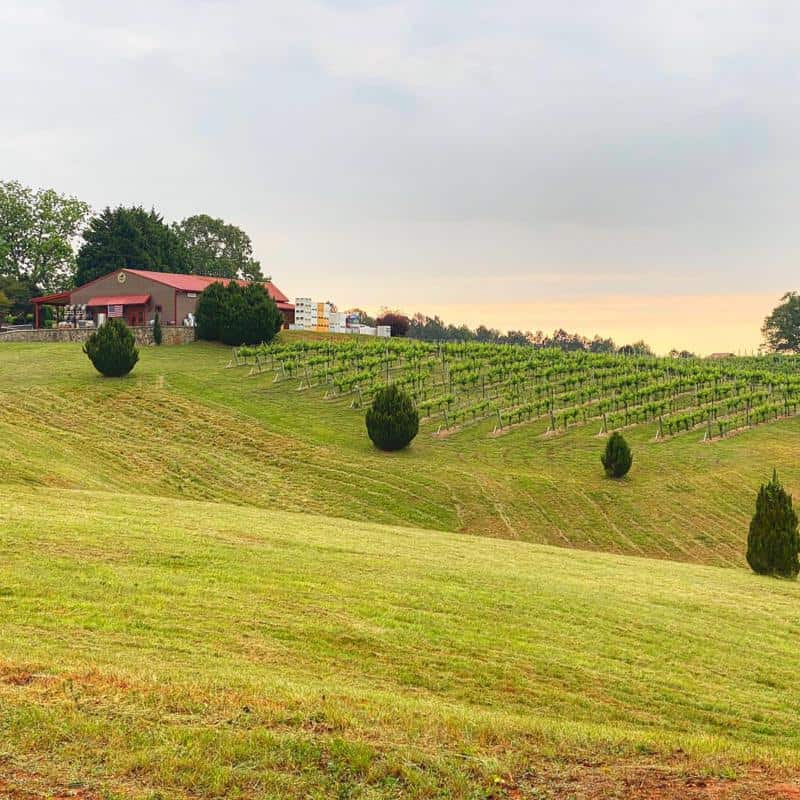 A bit farther out from Asheville lies Overmountain Vineyards, a family-owned farm with gorgeous views, plentiful covered and uncovered outdoor seating, a tasting room, and luxury villas.
The Lilly Family bought the land that is now Overmountain Vineyards in 1990. They began planting Cabernet Sauvignon in 2000 and planted four other varieties over the next four years. Today, they are one of the only wineries near Asheville offering a rich white Port.
Tasting Room
The tasting room is a quaint guest cottage overlooking the Tryon Foothills. The staff loves sharing knowledge about everything from grapes and winemaking philosophies to the area's rich viticultural history at every tasting. Furthermore, you can book a private party or meeting and join neat events like alcohol ink art painting.
Point Lookout Vineyards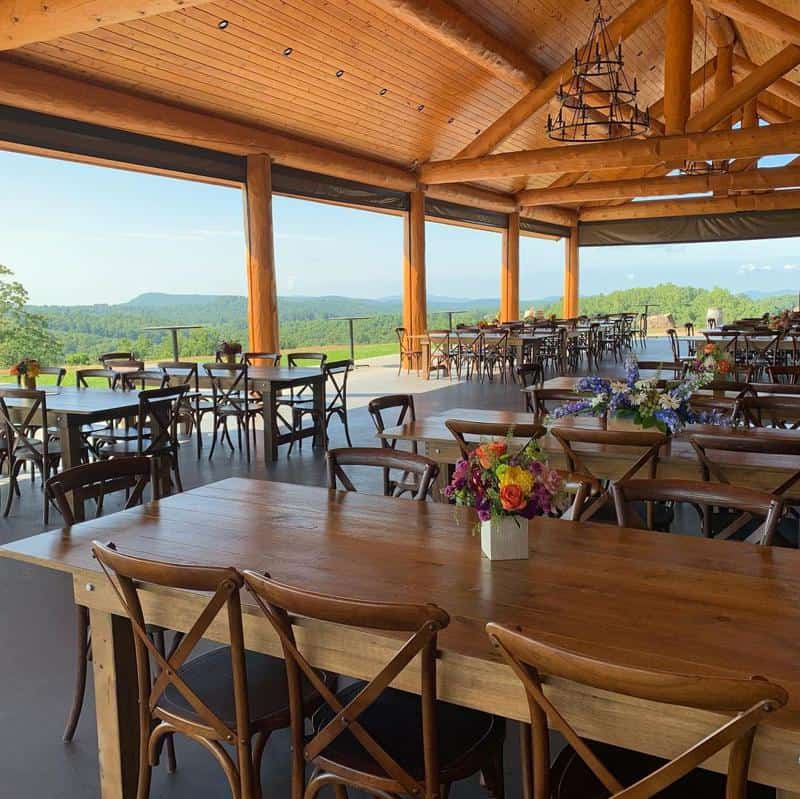 If you are looking for one of the best wineries near Asheville with scenic views, then Point Lookout Vineyards should be your destination. Perched atop the southeast slope of Point Lookout Mountain, they boast 30-mile panoramic views.
Here you can explore multiple rooms, including an area with massive windows and fireplaces overlooking Western North Carolina. Furthermore, Point Lookout Vineyards has plenty of events you can join, including live music gigs or celebrations such as weddings and other anniversaries.
Tasting Room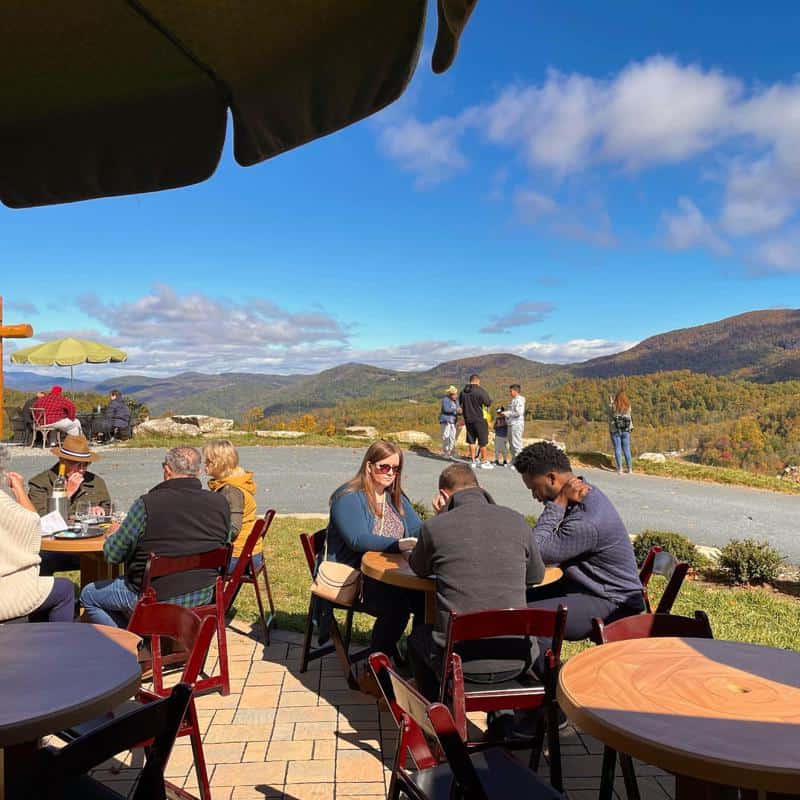 Here, you have stunning views of the mountains, but you can also enjoy a relaxing day with delicious wine and dinner from an on-site food truck. They also offer a small menu of food perfect for wine tasting.
Parker-Binns Vineyards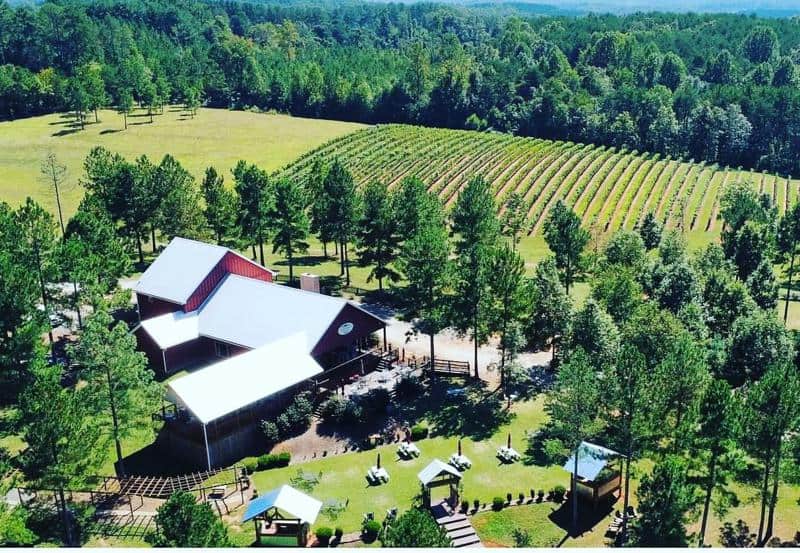 Like many wineries near Asheville, Parker-Binns is a multi-generation, family-run winery and vineyard. It is located in the Tryon Foothills of the Blue Ridge Mountains. With an Airbnb and a restaurant, this is the perfect winery for a relaxing weekend getaway.
What makes this winery unique it's that you can taste a flavorsome wine while enjoying a delicious burger at The Burger Barn, the on-site kitchen. It has a simple menu of tasty food options to go with your wine of choice.
Tasting Room
Grab a seat at the wine tasting room and enjoy some of their best wines or if you prefer, enjoy the stunning scenery at the outdoors covered tasting bar. You can also find Adirondack chairs and plentiful seating with vineyard views throughout the property.
Plēb Urban Winery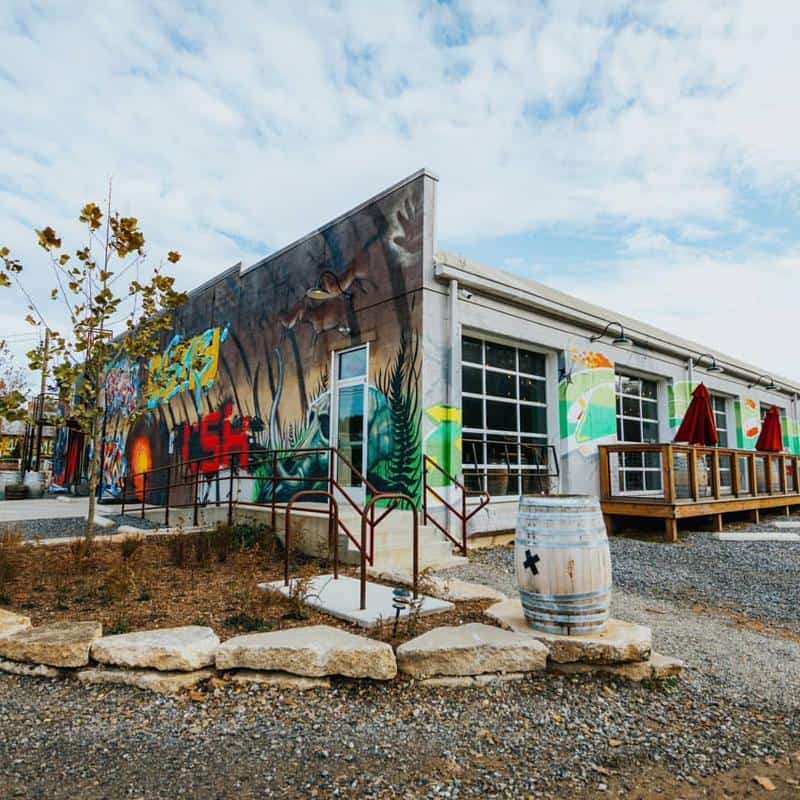 Plēb urban winery in the River Arts District (RAD) is one of the best Asheville wineries for space and ambiance. It is a winery surrounded by vibrant street art your eyes will love. It is the perfect destination if you wish to explore artists' studios and shops and taste delicacies from a stellar restaurant.
Plēb outsources grapes from local farms, and they create small-batch tapped and canned wines. They practice minimal intervention winemaking with little to no alterations to the grape, juice, or wine. Canned wine might feel and taste different, so this is an excellent opportunity to give it a try.
Tasting Room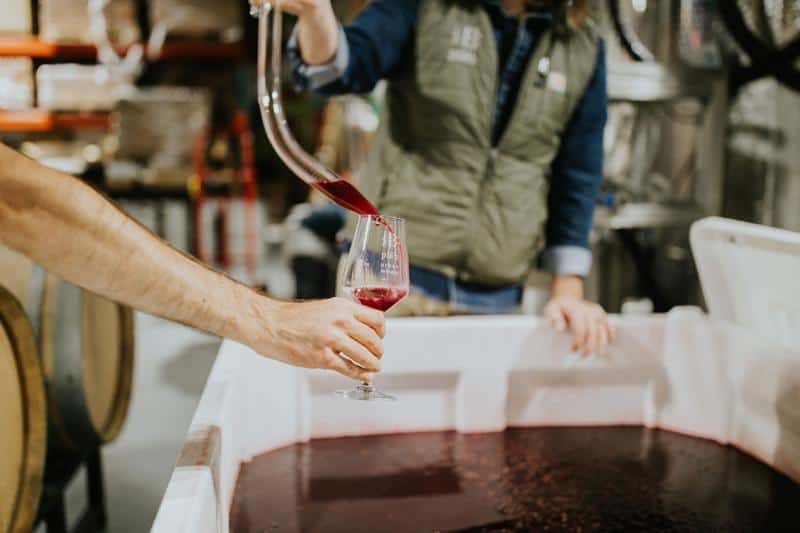 Enjoy a wine flight as you sit at a wine barrel high-top in an urban garage filled with beautiful murals. Outside, you can explore more urban art, go to the skate park or visit the Wedge Brewing.
Winery Tour
The Production tour is a one-hour walking tour through an urban winery production facility. A wine tasting is included, and the tour completes in the tasting room.
Addison Farm Vineyard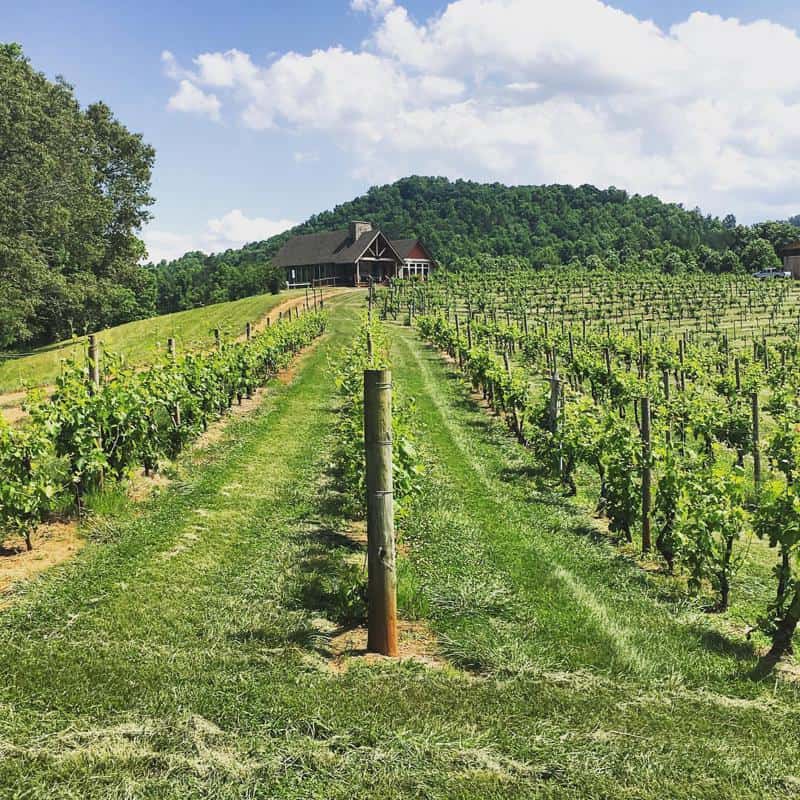 Addison's fourth-generation family farm is one of Asheville's closest wineries. They produce small-batch fine wines, including a Cabernet Franc, Petit Verdot, Sangiovese, and Petit Manseng.
Frankly, you'll love sitting outside at Addison Farms on a gorgeous day with a Sangiovese, Alchemy Herbal Wine, or Barbera. It has lovely views of the farm, the mountains, and the vineyards. It is the perfect winery for a romantic getaway.
Tasting Room
The tasting room has a gorgeous indoor fireplace with high wood beam ceilings. You can warm up in the quaint tasting room during the colder months while sipping at one of their best wines and chatting with the friendly staff to know more about their wines and winemaking procedure. In the summertime, you can enjoy the astonishing view of the winery and the mountains from the tasting room's outdoor seating area.
Winery Tour
With the Winemaker's Tour and Tasting tour, you have the chance to join the owner and winemaker, Jeff Frisbee, for a personal tour and tasting experience. This unique experience will take you behind the scenes of the winery and vineyard. The tour ends in the tasting room to taste currently available wines.
Stone Ashe Vineyards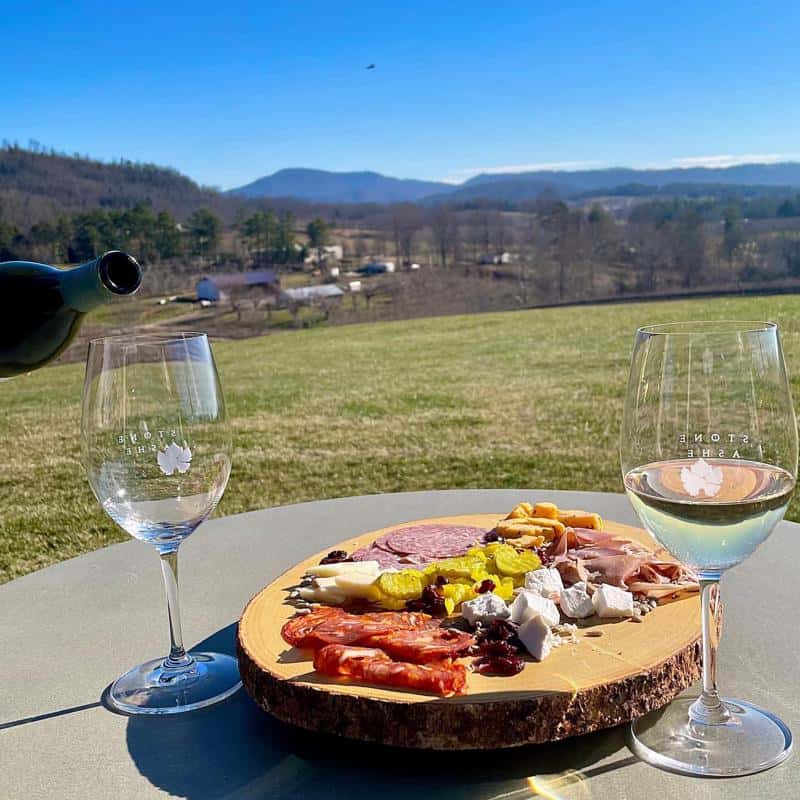 Stone Ashe Vineyards is a must-visit winery if you are all about aesthetics and scenic views. The winery boasts of one stellar mountain view, so just imagine sitting outside with a spicy red, enjoying the marvelous view.
Stone Ashe is a new winery in the winemaking scene of Asheville and North Carolina, yet it has attracted many wine enthusiasts. With the vision to create an estate vineyard similar to those of the great growing regions of France, it combined elegance, complexity, and finesse and today produces a selection of traditional Bordeaux wines.
Tasting Room
Enjoy a seat in the rustic tasting room while overlooking the rolling hills and lush vineyards which created the beautiful wines. The wine tasting covers all of their wines, but Cab Franc and Petit Verdot are among the favorites.
Also Read: 10 Best Wineries in Tennessee to Visit
Final Thoughts
At Asheville, outdoor recreation, history, farm-to-table dining, and great wine experiences await you. You can explore wineries of all shapes and sizes, and the wine community offers something for every palate.
Whether you're new to wine or have enjoyed it for years, you'll find that the wineries are welcoming places to relax and spend time with friends and family. Many wineries have stunning mountain views and are great spots to admire the landscape. If you are a true wine enthusiast, you won't regret visiting Asheville.