Fennville is a small city in Allegan County in the U.S. state of Michigan. The city was first established in the 1800s as a little village by Elam Atwater Fenn, hence Fennville. Nowadays, it is known for its Goose Festival that has been happening every October since 1984, and its wine.
Generally, when thinking of the best wine in the U.S., people think of Sonoma and Napa Valley. Still, Michigan has its own unique and delicious wine.
The proximity to Lake Michigan is a delicate balance of being close enough to provide significant moderation of winter temperatures and far enough away from the lake so that during the summer months, there is a moderate cooling effect.
The winter minimum temperatures must be moderated to ensure the vine's survival. The summer temperatures must be warm enough to allow for a complete ripening without "cooking" the grapes on the hot days during late summer.
A look at an atlas of the world will show that the significant viticultural areas are almost always located near a large body of water that somehow moderates the climate. California, Washington, Oregon, Australia, Germany, Italy, France, and Michigan meet these criteria.
Initially, the land had tree fruit farms, and all the fruit trees had to be cleared to prepare the land for vineyards. For this reason, the first wines that were produced were natural fruit wines. In fact, Fennville's wineries got the award for best fruity wines. So, let's see the best wineries in Fennville that you should visit.
Best Wineries in Fennville
Map of best Fennville wineries:
Fenn Valley Vineyards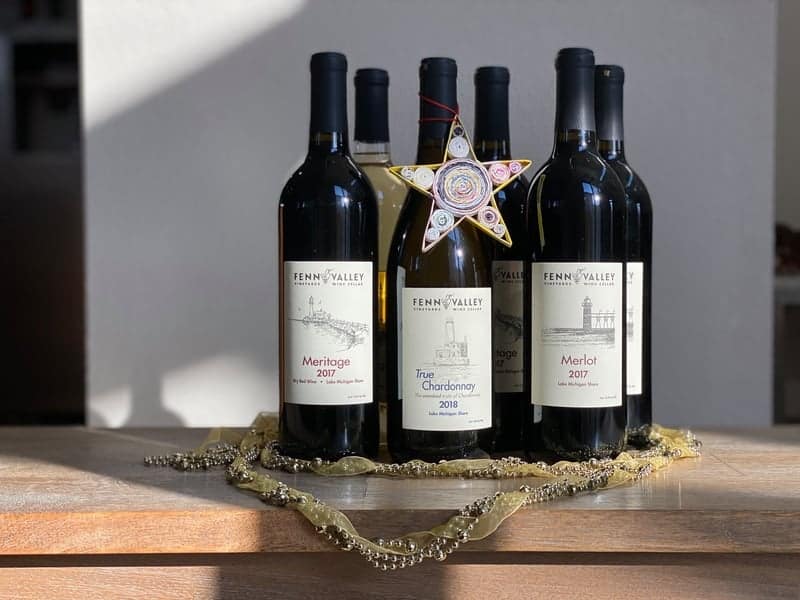 Fenn Valley has been family-owned and operated since 1973. It is a 240-acre estate just five miles away from Lake Michigan. The Welsch family migrated from Chicago to Fennville, and based on the available data on the area's climate, weather, and soil, they purchased the best land for viticulture.
The vineyards are on top of a prominent sand ridge extending inland from Lake Michigan between the Black River and Kalamazoo River valleys. Due to the proximity to Lake Michigan, there is a perfect balance of getting significant moderation of winter temperatures and a moderate cooling effect in summer.
Thanks to the perfect climate conditions, Fenn Valley always persists in producing world-class wines from grapes grown along the shore of Lake Michigan.
Wine Tasting
At Fenn Valley, there are three options for tasting wine.
For those who want to avoid crowds and lines, booking a Reserved Wine Tasting in advance is the best option. Those with reservations are ensured a dedicated table, socially distanced from anyone not in their party. A unique outdoor location overlooking the vineyards will be made available as space allows when the weather permits.
For a more private wine tasting, you can go for a Private Wine Tasting Party for up to 20 people.
The Wine and Food Pairings tasting is the most suitable for those who want to experience wine elegantly and delicately. You will get specially designed small plates expertly paired with Fenn Valley wines. You will have approximately 90 minutes to work through house-prepared food and wine courses in a relaxed atmosphere. Tasting room staff can answer questions about the food, wine, and pairings.
Wine Tasting Tours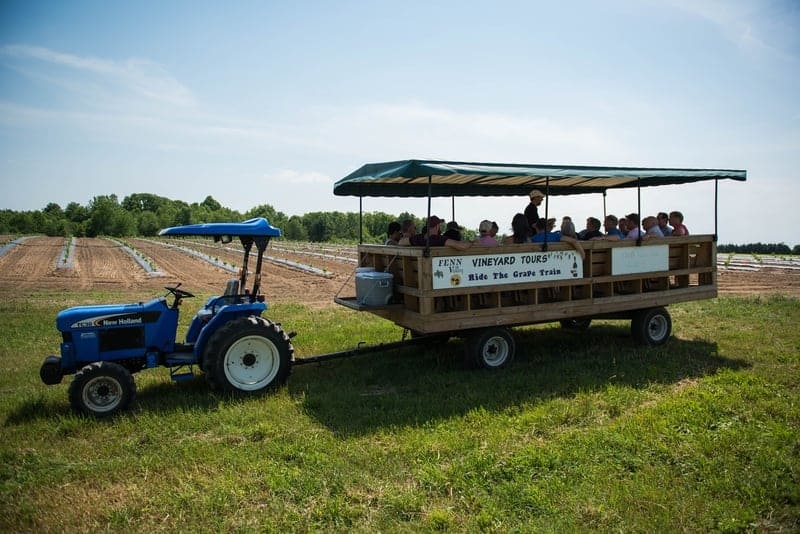 Fenn Valley's vision is that wine should be approachable. Thus, they designed tours to help take the mystery out of making world-class wine. Their goal is to strike a balance between education and entertainment. To experience winemaking, they have three different tours that can suit everyone.
The Standard Tour strives to bring you entertainment and fun. Thus it is best for larger groups. It includes a walkthrough of the production facility, complete with limited wine sampling, a souvenir glass, and a glass of wine or hard cider at the end. During the tour, the guide will highlight the winemaking process and explain the equipment and surroundings in the cellar.
The Extended Tour is hosted by an experienced member of the staff, and the content is designed for both individuals and groups who want to dive deeper into how grapes are grown and wine is made. Wines tend to skew towards the drier side, though it is up to each guide to determine the profile and quantity of samples served. Vineyard tours are conducted using the famous "grape trains," giving guests incredible views of the vineyards during the tour. It also includes multiple wine samples throughout, detailed descriptions of winemaking and grape growing, and plenty of opportunities to ask questions.
The Private Tour is done only at specific times of the year. A guide from the staff gives detailed tours of the vineyards and the cellars. Each tour can accommodate up to 20 people.
Modales Wines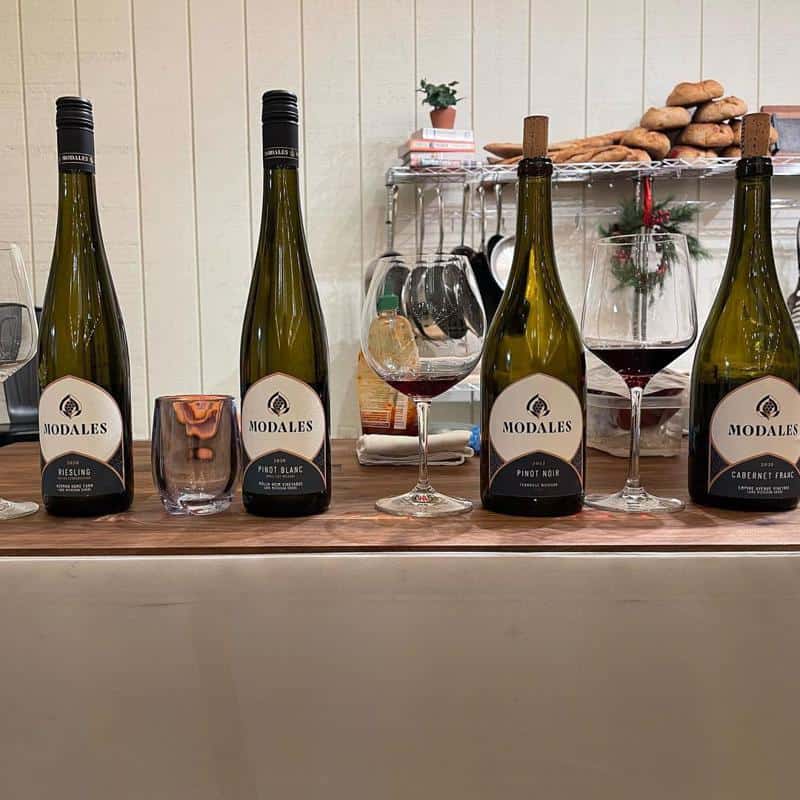 Located in the heart of the Fennville American Viticulture Area in Michigan, Modales offers estate-grown bottles of elegant red and white wines. The house sitting on the vineyard was home to one of the earliest families of Fennville. They filled the land with peach and cherry orchards, and over the years, they planted nearly 26 acres of grapevines.
In 2014, Jim and Carol Gonzalez purchased the vineyard, partnered with viticulturist Todd Robbins and winemaker Andrew Backlin. Since then, they set out to create wines and be part of generations of Michigan fruit-growers. Modales treat every grapevine as an individual and take pride in the sense of place that these small-batch Fennville wines express.
Their selection of dry, concentrated, elegant, sweet, and off-dry comes from paying close attention, taking artistic risks, practicing patience, and having faith.
Wine Tasting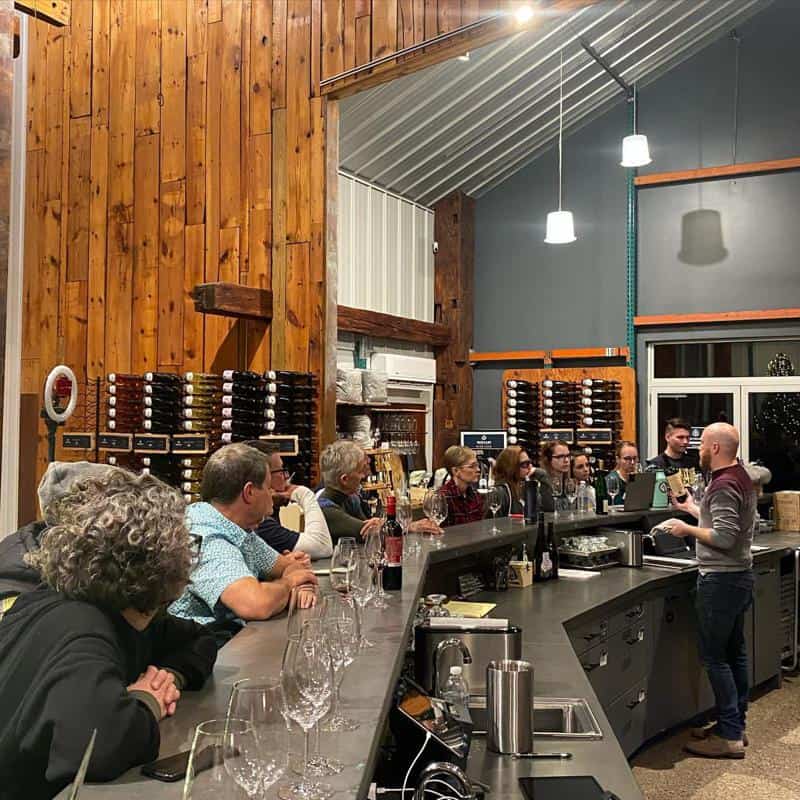 Reserve a tasting by the glass or in a flight format and enjoy five one-ounce pours of their best wines or ciders. It is only $15 per person for 60 minutes. However, at the moment, they are not accepting reservations for groups larger than six people.
Every day, guests at the Modales Wines Tasting Room Bar can have a guided wine tasting through five of their handcrafted wines by one of their Wine Ambassadors. The tasting lasts for approximately 45 minutes, only for up to six guests.
Wine Tasting Tours
At the Sip and Cellar Tour, you can have a behind-the-scenes experience of the winery. You will be greeted with a taste of one of the most celebrated wines, walk through the vineyard, learn about the winery's rich agriculture history, and then explore the Barrel Room for a sample wine in the making. Afterward, you can relax at your private table with charcuterie, cheeses, and a freshly baked baguette while tasting their small-batch wines.
Crane's Pie Pantry Restaurant and Winery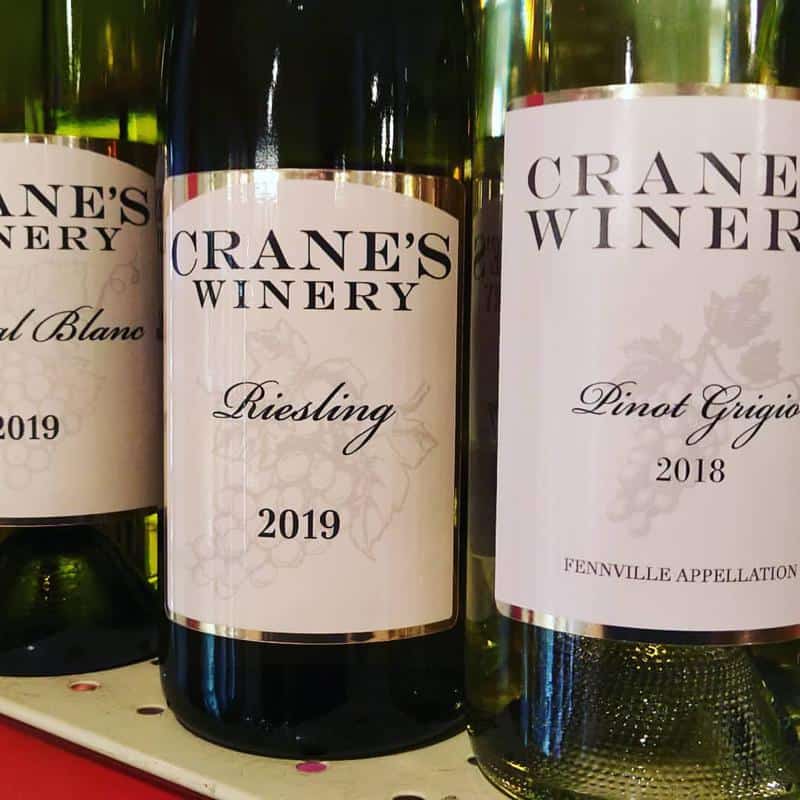 As a young mom raising five kids, Lue Crane started making up custom fruit baskets in her farmhouse kitchen in 1967. Soon after Crane purchased a cider press and an old donut machine, the juice and cider donuts were flowing, and Crane's Cider Mill was born.
By 1972 Bob and Lue Crane opened Crane's Pie Pantry Restaurant and Bakery, and their small family side business was established. Although cider is king around here, in 2014, Crane's Winery opened. Today cider making has evolved to crafting fine hard ciders and wines.
As a fifth-generation Michigan farming family, they bring history, tradition, and skill of fruit growing. With a combination of a hundred years of knowledge and a new generation of inspiration and winemaking, Crane's Winery's goal is to bring only high-quality wine and cider to you with small-batch expertise and artistry. Their products are locally grown, locally produced, with local talent, and without artificial flavoring or coloring.
Wine Tasting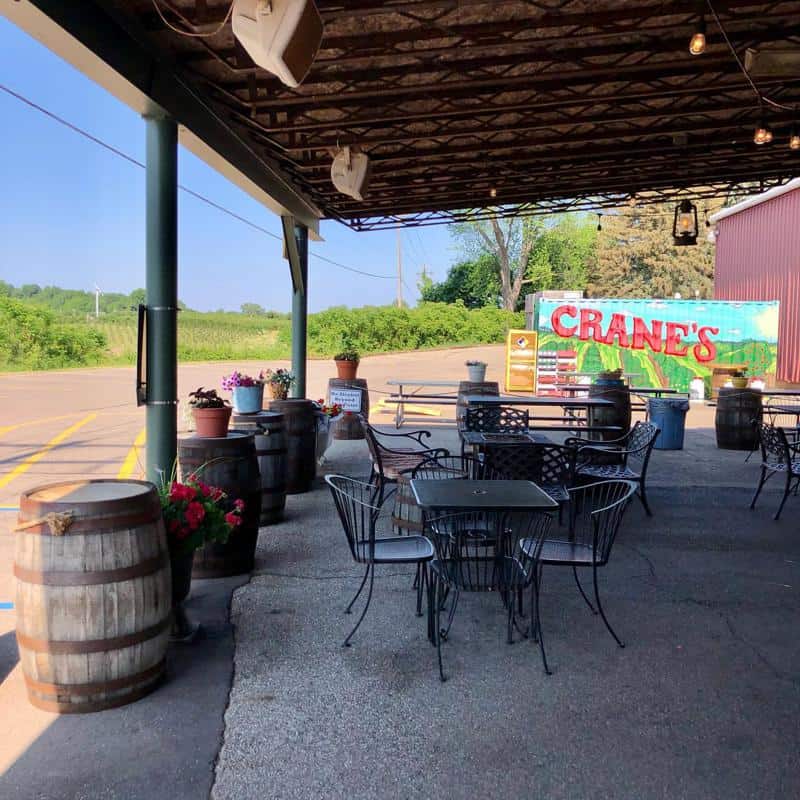 Reserve space for a group tasting by email and experience an alternative wine tasting. You can both taste a flight of wines or cider accompanied with Crane's famous and delicious pies. You can visit their tasting room on Mondays and Wednesdays through Sundays for the perfect escape from mundane life.
Restaurant
The bakery and restaurant offer fresh farm products that make you think they came right from grandma's kitchen. Specializing in Michigan fruit pies and desserts, Crane's bakery also includes bread, cinnamon rolls, muffins, cookies, apple cider donuts, and much more to make your mouth water. They offer a complete menu of handcrafted meals, including soups, salads, and American mains, served in a historical surrounding of local memorabilia and antiques.
Michigan Wine Company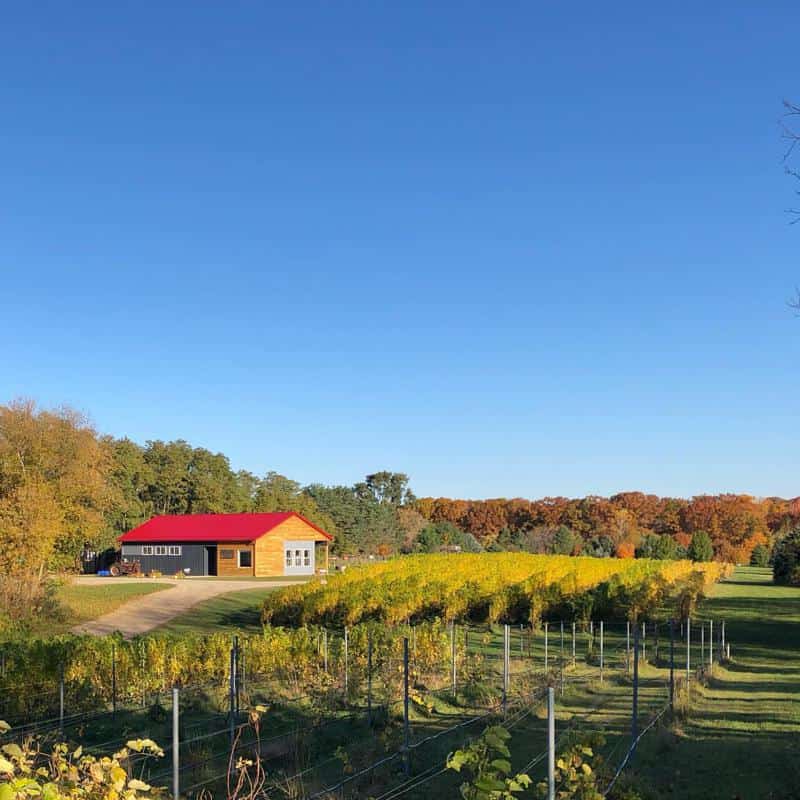 Mr and Msr K dreamed of opening and operating their winery for years. After searching for the perfect place, they purchased a small parcel in Fennville. An empty field, long removed from its days as a fruit orchard. Less than a mile from Lake Michigan's protective lake effect micro-climate, the sandy soils seemed perfect for planting their first vineyard.
In 2017, they planted the first vineyard. The milestones were small, but the Michigan Wine Company was finally established in 2018. Then, they began construction on the winery and tasting room building. Pulling triple duty, they spent their free time being farmers, designers, and builders and learning the hard way about walnut toxicity, powdery mildew, hydraulic pumps, and nail gun safety.
In 2019 even more, milestones were accomplished. They got their first commercial crop, the first vintage pressed, MAEAP (sustainability) certification, a website, finished indoor plumbing, and exciting new winemaking equipment.
Wine Tasting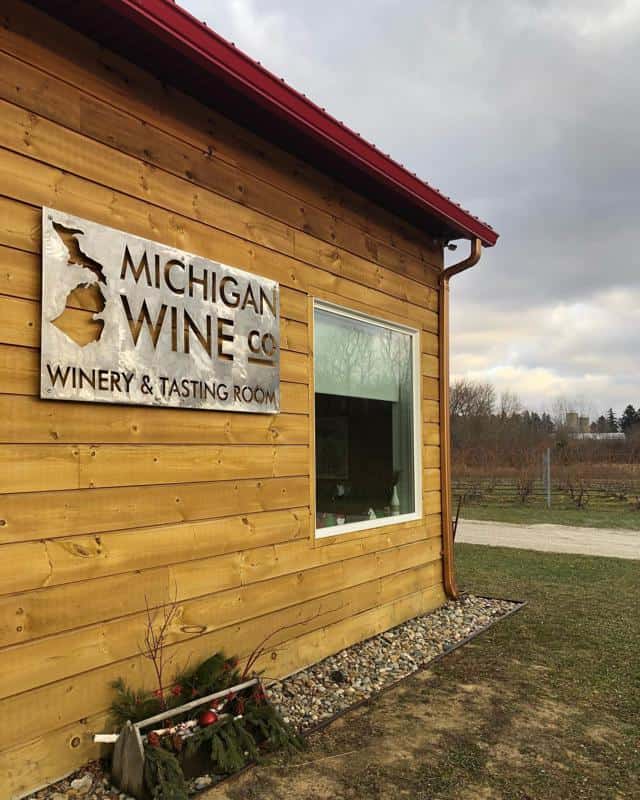 Enjoy four wines of your choice either by flight or by the glass. Here you can tell that Mr. and Mrs. K are passionate about wine crafting with their informative and delightful greetings. The tasting room is gorgeous, and the views of the vineyards are perfect for sitting and sipping delicious wine.
Group Wine Tasting
They can make a reservation for any group by phone or email. You can still have a walk-in reservation, depending on the availability. However, they recommend that groups of six or more people make a reservation in advance. There is table space indoors or outdoors.
Tours
They can host a tour group for a private tour or tasting, which can be done only by reservation. Depending on the season and weather conditions, you can have a thorough tour of the winery and the vineyards, with a tasting at the end of the tour.
Virtue Cider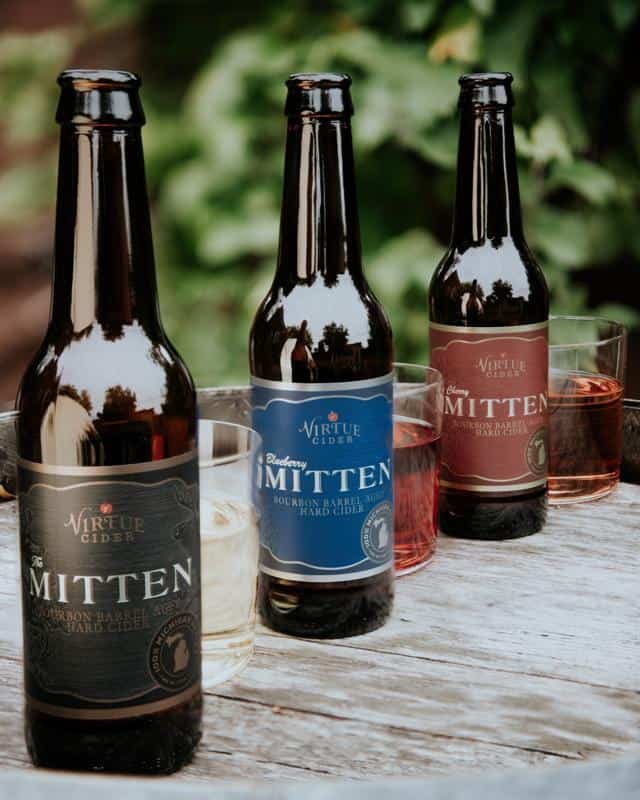 Virtue Cider may not be a winery but it is worth mentioning since Fennville may have some of the best cider producers in the U.S. At Virtue Cider, proper farmhouse cider is a style tied to provenance and process. Farmhouse cider needs traditional craftsmanship combined with sustainable methods. It is a blend of the finest apples grown in orchards with a suitable climate.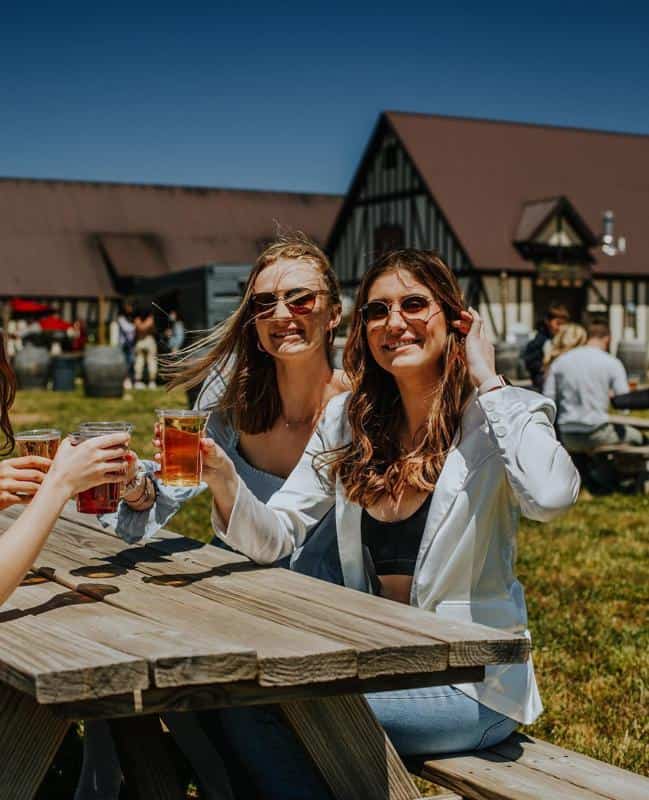 Specifically, proper farmhouse cider is all about hand-picked apples, barrels, and cider makers with a ton of patience. Because like all good things in life, proper cider needs time. They say patience is a Virtue, and it just so happens that Virtue requires patience. Virtue, it's at the core.
So, if you love sweet wine, these delicious ciders will definitely appease to your taste buds.
Final Thoughts
Fennville is but a small city, and however, it has a rich history in cider and winemaking. It started as a small village with fruit tree farms, orchards, delicious pies, and tasty ciders. But now, it has grown to hold some of the best wineries and wines of Michigan and the U.S. in general.
Here you can experience the quiet and peaceful lifestyle of a small town near the beautiful waters of Lake Michigan and taste exquisite fruity wine accompanied by good company and magnificent views of the vineyards.