Pennsylvania is home to over 100 wineries, so there's no shortage of fantastic tasting rooms and sublime wine tasting experiences to try out in the area. Need help narrowing down the top ones?
Is Pennsylvania Known For Wine?
Pennsylvania has a rich wine history and is quite well-known for its wine. In fact, it is the eight-largest wine producing state in the United States!
The first hybrid of vitis vinifera and vitis labrusca grapes were found in Philadelphia in 1740. In 1987, the first commercial vineyard was established in 1787 by Pieree Legaux in Spring Mill, which is just northwest of Philadelphia.
Are Pennsylvania Wines Good?
Pennsylvania's growing conditions are wildly different across the state, which might seem like a negative for growing wine grapes, but it's actually a positive! Due to the region's diverse growing environments, a wide range of grape varieties can be grown.
The wines produced in Pennsylvania are good, particularly whites and sweet wines – they are rich and bold in flavor, while pleasing on the palate.
Some of the most popular wines you'll find in Pennsylvania are Pinot Noir, Albarino, and Cabernet Franc. However, Teroldego and Gruner Veltliner are also rising in popularity across the state.
Top 10 Wineries in Pennsylvania
Now that you know a bit more about Pennsylavnia's wine history, let's dive into some of the best wineries in this AVA.
Blue Ridge Estate Vineyard & Winery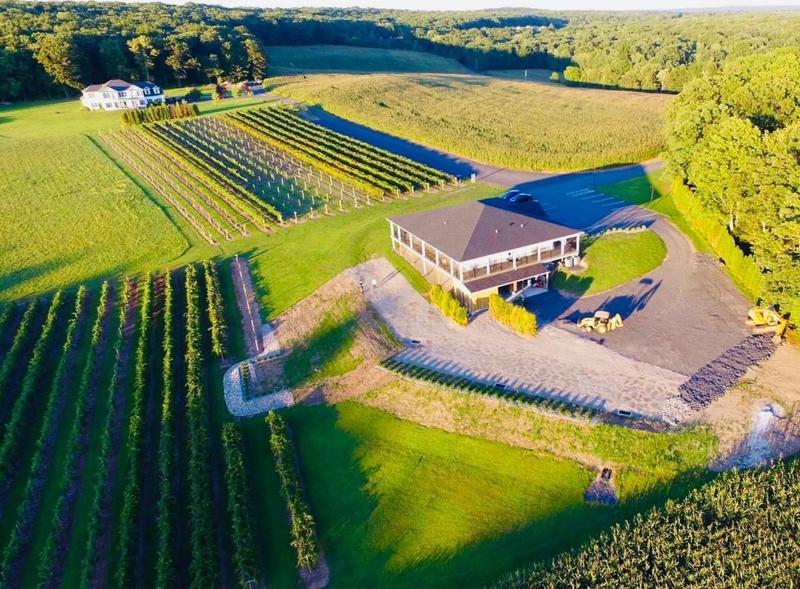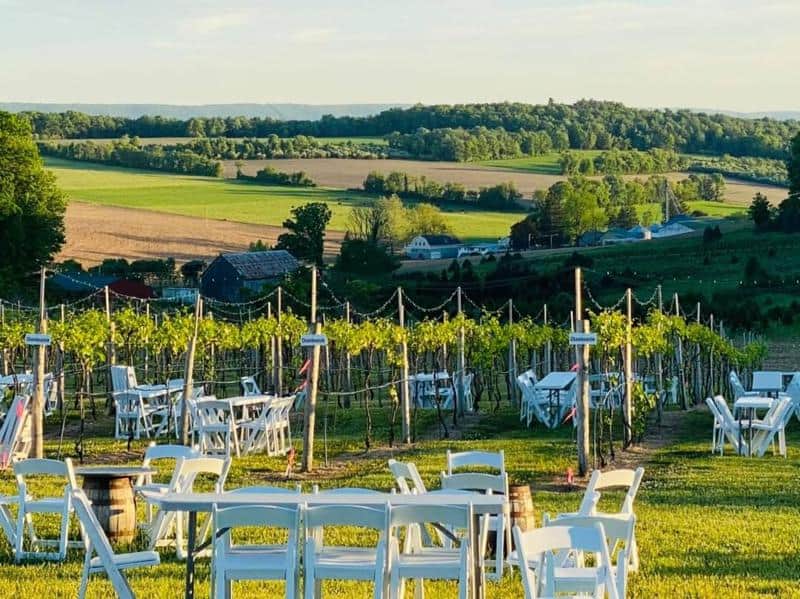 Blue Ridge Estate Vineyard & Winery is one of the most renowned and best Pennsylvania wineries, boasting striking 360 degree views of the vineyards, mountains, and Christmas tree farm located in the valley.
It's hard not to get in the festive spirit during the cooler months with a magical backdrop of fir trees! Throughout the rest of the year, the winery's natural setting will make you feel wonderfully relaxed, allowing you to fully de-stress and unwind.
Aside from its enchanting scenery, Blue Ridge Winery produces an array of top-notch wines, including Chardonnay, Pinot Grigio, Merlot, and Riesling. Their stunning tasting room has panoramic views of the sweeping vineyards, in addition to a serene atmosphere.
If you're looking for exciting events to participate in after some wine tasting, Blue Ridge Winery has you covered. They host Friday night dinners that include a wealth of tasty dishes, as well as murder mystery events and undergound experinces in their gorgeous underground room.
You can also book out the winery for private events – their beautiful establishment and estate will provide a picture-perfect backdrop for your special occasion.
Adams County Winery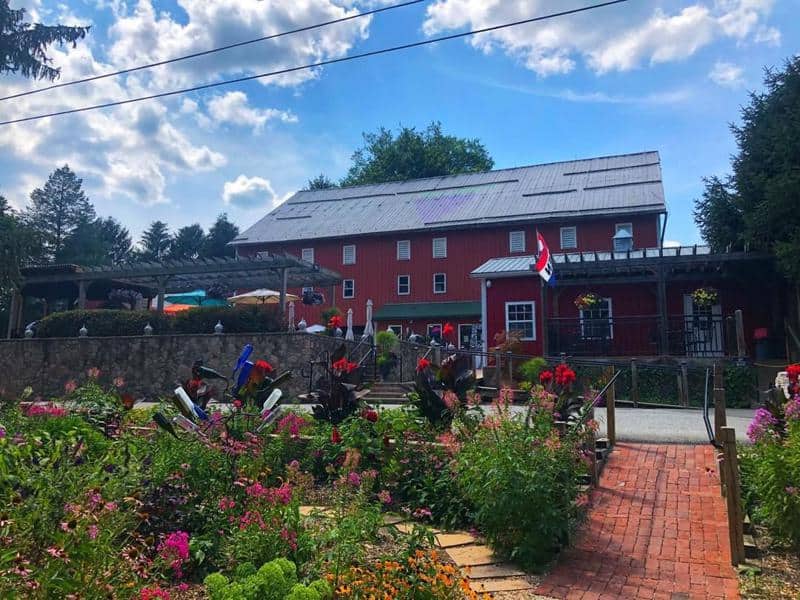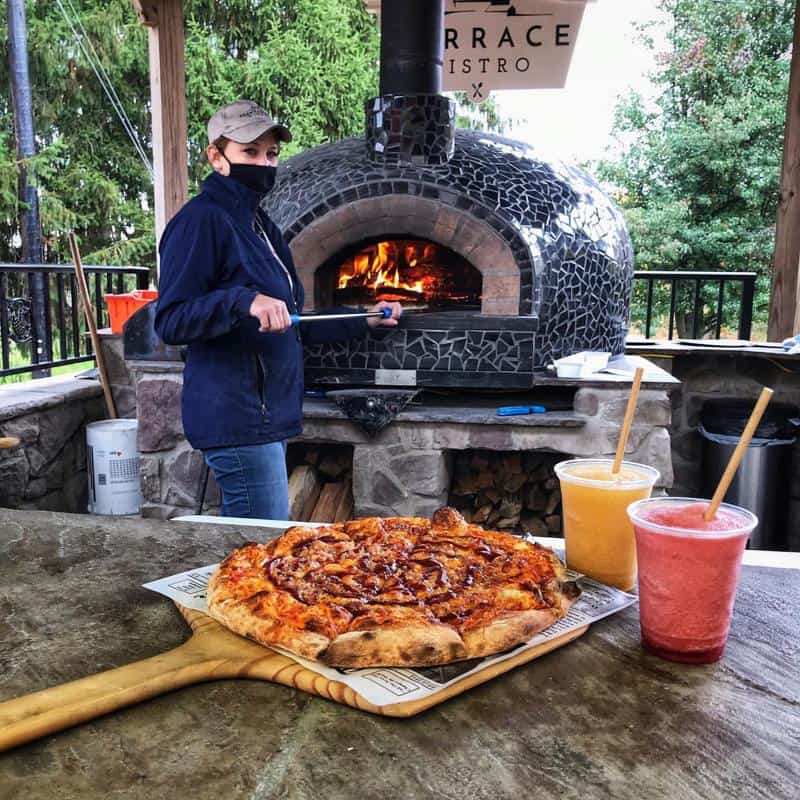 Adams County Winery is the fifth oldest winery in Pennsylvania as well as one of the most esteemed. They're known for their cozy and casual atmosphere, beautiful tasting room, and jaw-dropping grounds.
The tasting room is located in a historic bank barn that was built in the 1860s. It sports an inviting, comfortable ambiance for you to relax in. There is also a covered pavilion outside, complete with scenic views.
Flights are available for those looking to try some of the winery's luxurious wines, as well as an assortment of small snacks like artisan cheeses and meats. The winery's attentive staff will be happy to assist you and ensure you have a memorable visit.
Events take place at Adams County Winery on a regular basis, including festive activities like wreath classes – perfect for getting you in the mood for the holiday season!
Narcisi Winery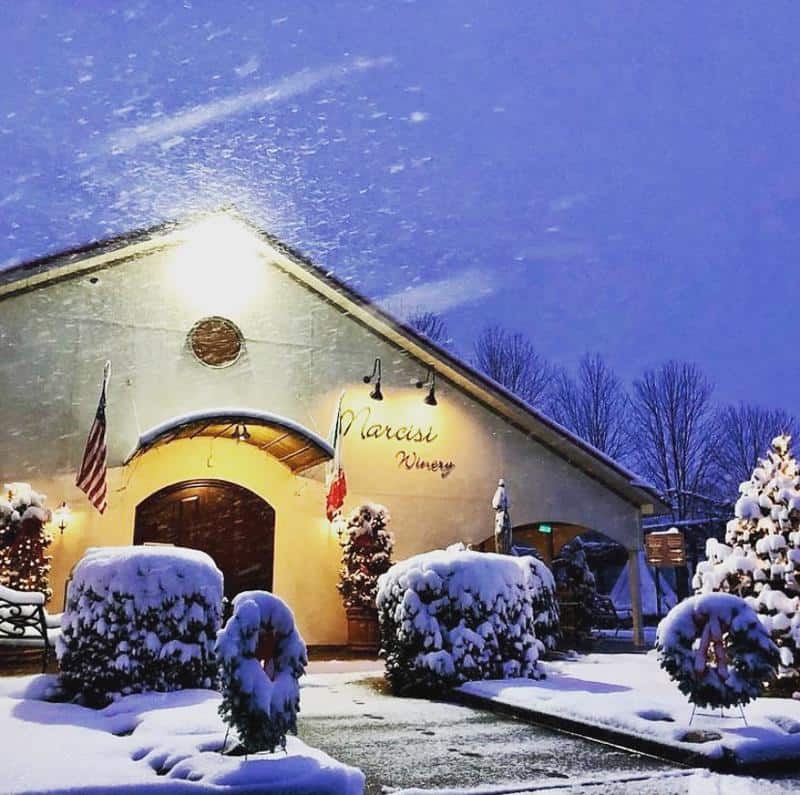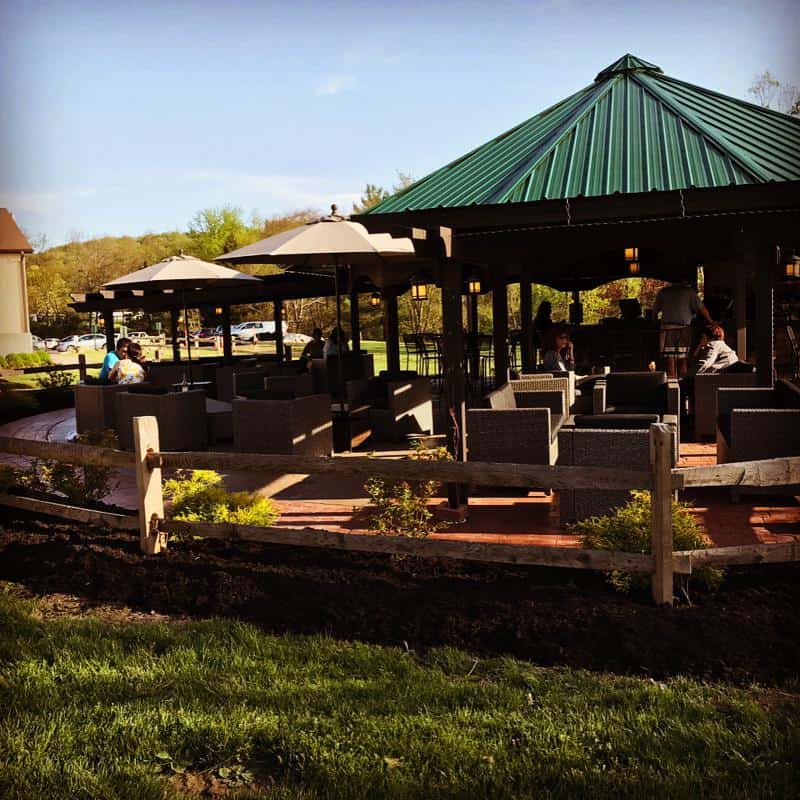 If you're looking for world-class western Pennsylvania wineries, Narcisi Winery is an excellent choice. They're located only 10 miles north of Pittsburgh and have been operating since 2001.
The winery offers a range of classic and one-of-a-kind wines at their Tuscan villa, as well as decadent Italian-inspired dishes at their beautiful restaurant. You can satisfy both your thirst and your hunger at this fine establishment, while soaking up the views of the rolling hills and surrounding scenery.
During the weekends, Narcisi Winery offers private tastings and tours, allowing you to get a sneak peek at their vineyards and production facilities, followed by six samples of their phenomenal wines.
The winery hosts a variety of events throughout the year, from winemaker dinners to festive food and wine pairings. Live music also occurs regularly so you can unwind with a tasty glass of wine and listen to enchanting songs.
Fancy booking your own event? Narcisi Winery is the ideal selection for both small and large gatherings! They have multiple spaces to choose from, including an expansive dining room, pavilion, lawn, and bar.
Folino Estate Vineyard & Winery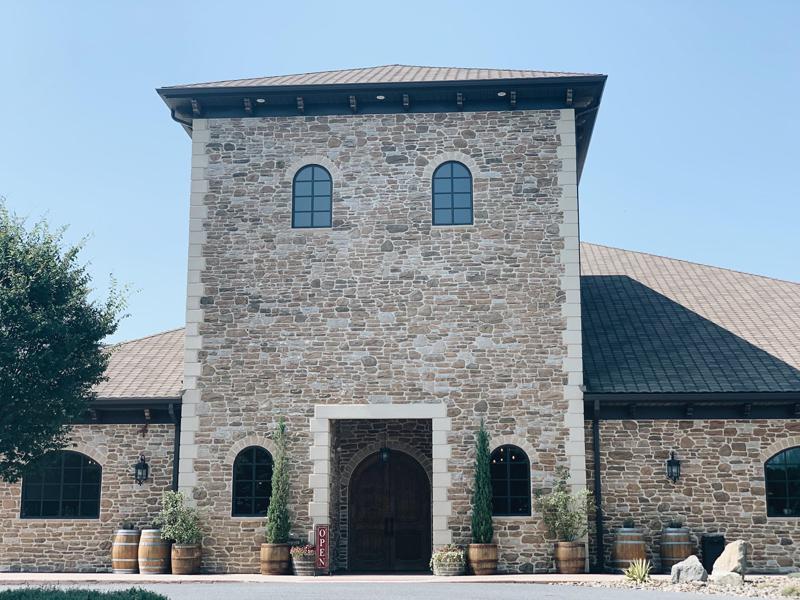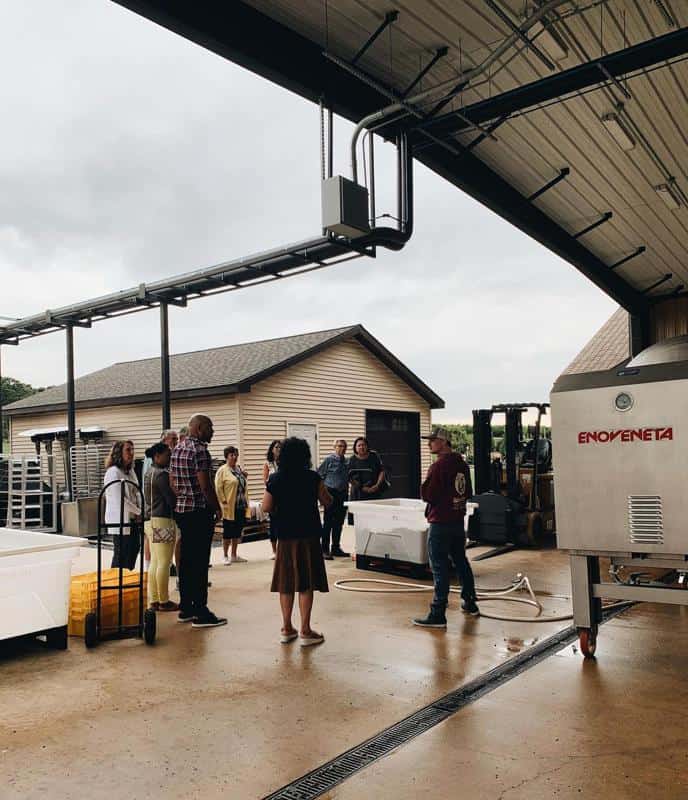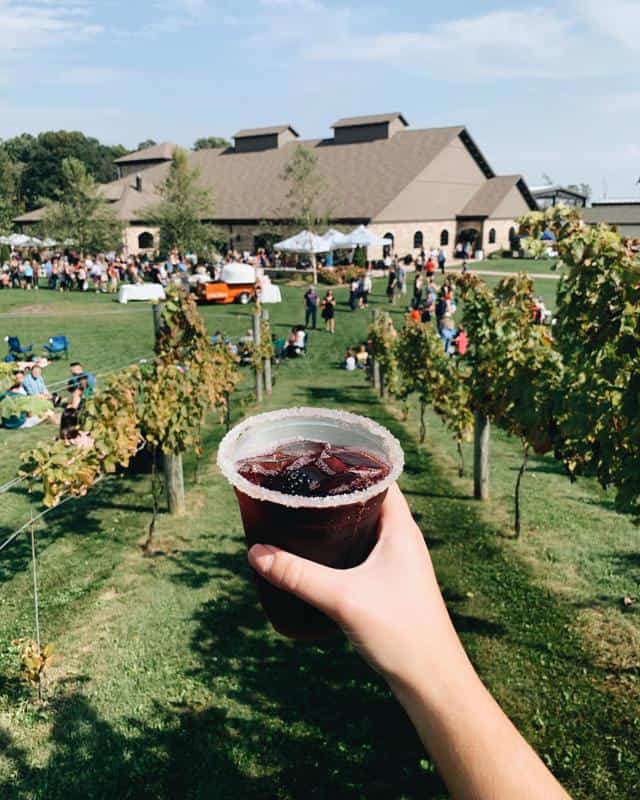 Next up is Folino Estate Vineyard & Winery, renowned for their fine wines, mouthwatering food, and charming atmosphere. Their beautiful property is surrounded by luscious vineyards, towering trees, and vibrant foliage, making them one of the best Pennsylvania wineries for views.
As soon as you step onto the estate, you'll be in awe of just how stunning the setting and grounds are. There is a comfortable tasting lounge that features a toasty fireplace, authentic Italian food, and a casual ambiance.
It's a great place to stop by with friends and family to sip on delicious wines and munch on scrumptious food. Additionally, there is a tasting room where you can sample wines or browse through their delightful gift shop.
Folino Estate Vineyard & Winery hosts various events during the year like live music, wine pick-up parties, and murder mystery dinners.
As you'd imagine with such a beautiful property, the winery is a phenomenal place for a wedding or other private event. There is so much they have to offer to make your dream wedding come true, including an outdoor waterfall (great for photoshoots!), vineyard-inspired ballroom, and cobblestone piazza.
Brookmere Winery & Vineyard Inn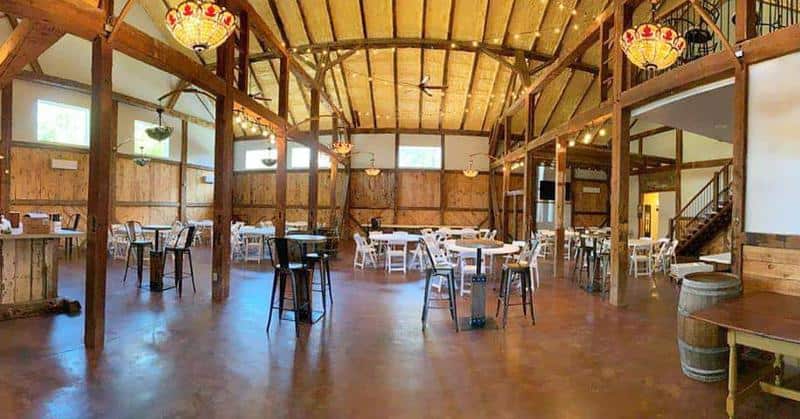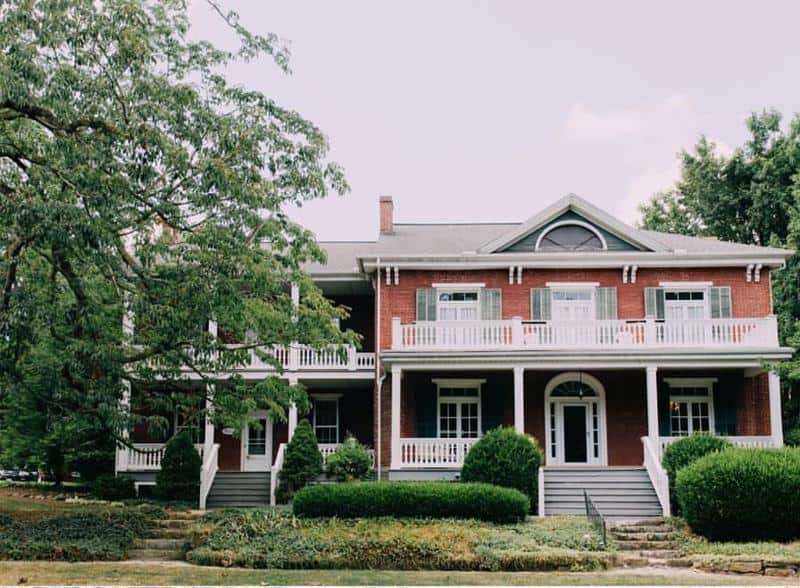 Featuring stellar wines, a casual ambiance, and comfortable lodging, Brookmere Winery & Vineyard Inn is definitely worth a visit when you're next in Pennsylvania. All of their wines are made using their estate grapes and local fruits, resulting in outstanding taste and flavor.
They offer a varied selection of wines, including rich reds, wonderful whites, brilliant blush wines, and fantastic fruit wines. Every Sunday afternoon, the winery puts on love music so you can enjoy your wine while listening to easy-listening tunes.
One of the best features of Brookmere Winery & Vineyard Inn is their cozy accommodation. They have three modern rooms for you to rest and relax in, which come with a tasty breakfast in the morning! If you're looking for a peaceful retreat, you can't go wrong with this winery!
Additionally, the winery is available to hire for private events like weddings, birthday parties, and bridal showers. They have a stunning indoor barn and wedding pavilion for you and your guests to enjoy.
SpringGate Vineyard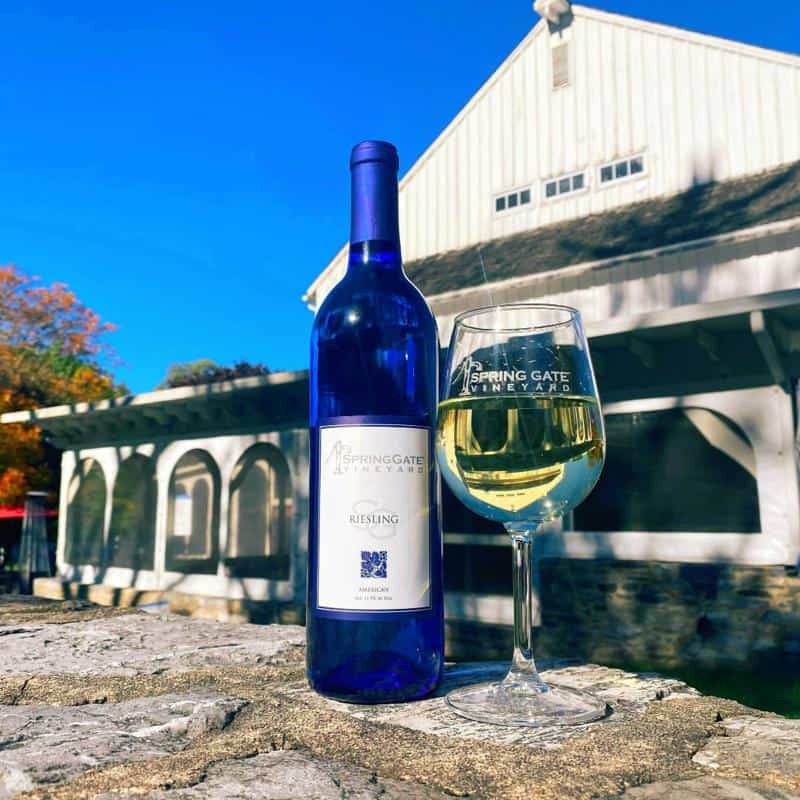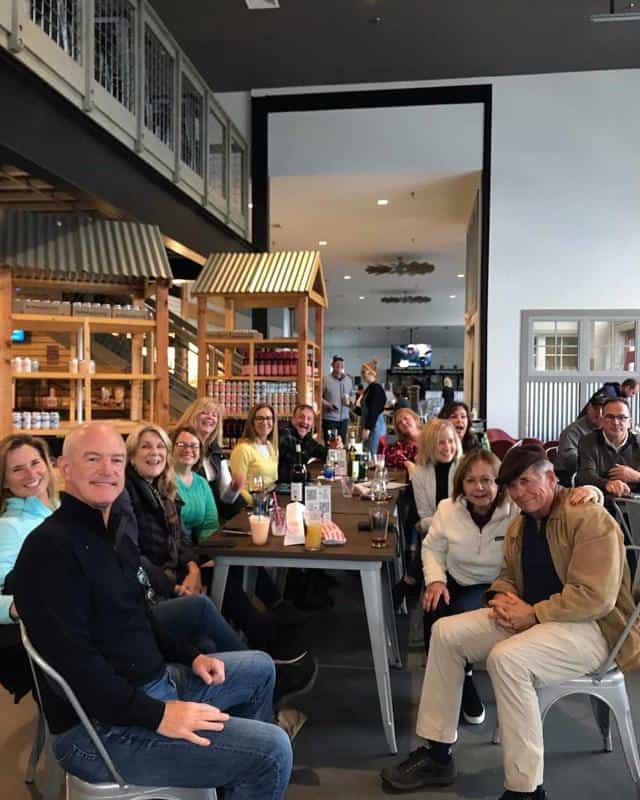 SpringGate Vineyard is one of the most popular wineries in Pennsylvania, and it's not hard to see why. They feature a rustic environment, breathtaking views, and phenomenal wines.
They offer tastings at various areas within Pennsylvania, including at their expansive estate, the latter of which occurs on a delightful porch. You'll sample seven wines, which change every week for an exciting and new experience each time.
They host food trucks, BBQs, music, and more frequently if you're looking for something else to keep you engaged after your wine tasting. You can also book at their many locations and spaces for private events if you need a lovely venue for your special occasion.
Seven Mountains Wine Cellars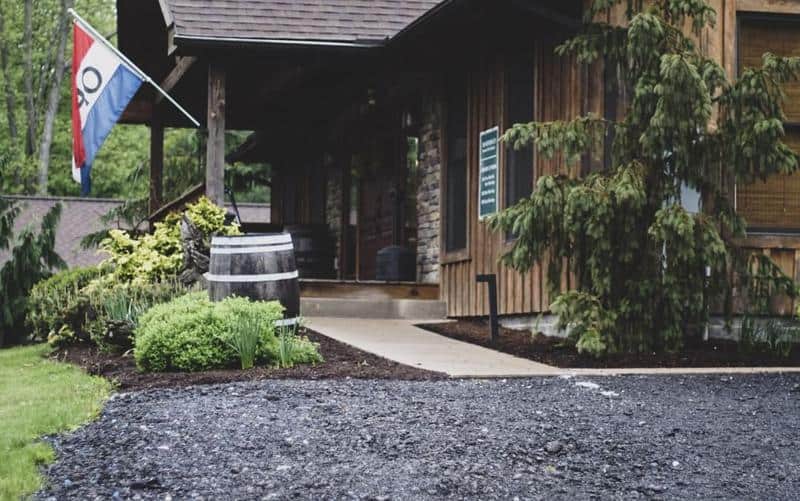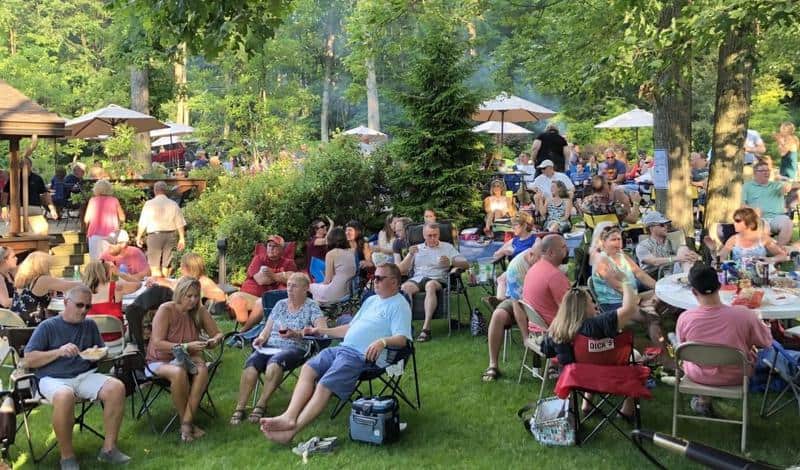 Last but not least is Seven Mountains Wine Cellars, an award-winning winery that produces delicious, flavorsome wines. They're open daily for tastings, tours, and good times spent with good company.
Their stunning estate and inviting atmosphere will make you feel right at home as soon as you enter the property.
The winery offers venue rentals for large and small gatherings, so if you need a lovely venue for your private event, Seven Mountains Wine Cellars is a fine choice.
The Inn at Grace Winery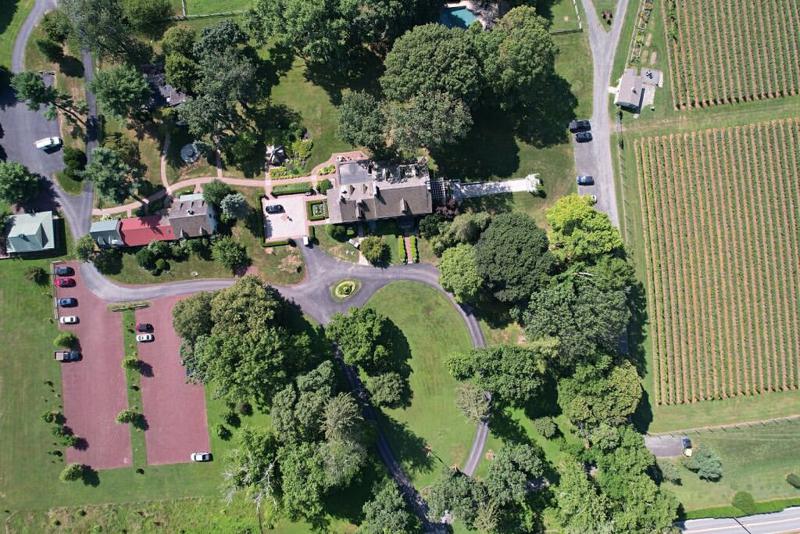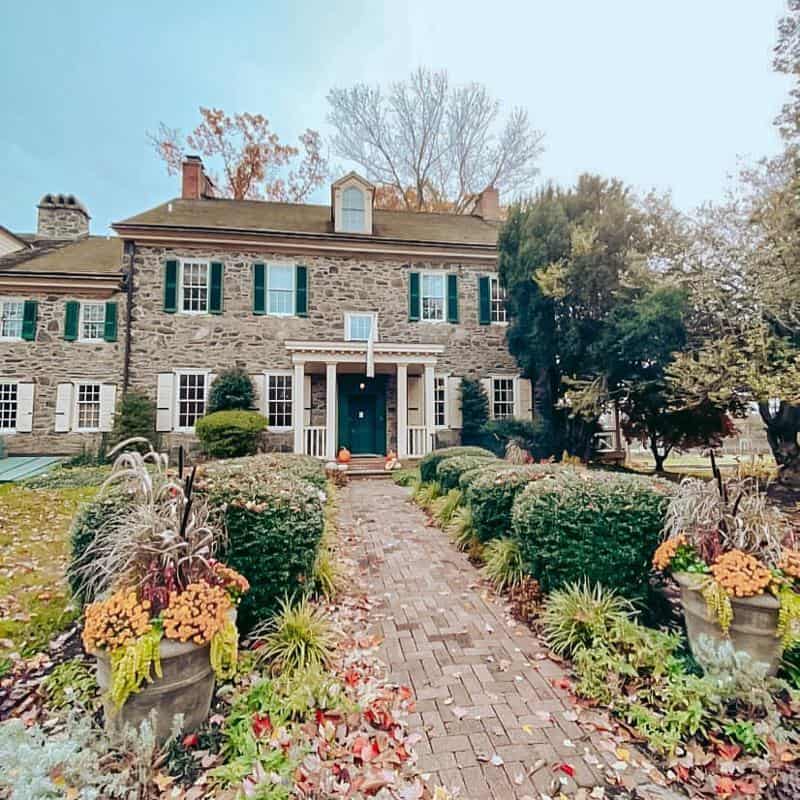 The Inn at Grace Winery features high-quality wines, luxurious accommodation, peaceful views, and more. The estate is situated on 35 acres and produces a range of fantastic wines for you to enjoy.
The rustic tasting room offers a calm and relaxing ambiance, allowing you to sip wine by the glass, flight, or bottle in ultimate tranquility. You can also purchase a selection of beers, seltzers, and small snacks like artichoke dip and lemon pepper chicken bites.
If you're in the mood for something more substantial, the winery offers a variety of dishes like burgers, flatbreads, wraps, and chicken wings to tempt your taste buds.
The winery offers comfortable accommodation for those in need of a relaxing rest or retreat. They have several cottages and seven guest rooms at their historic Manor Hour, all of which are well-presented and charming.
The Inn at Grace Winery puts on live events frequently, including dinners and music, so there's always something to look forward to. Alternatively, if you need a beautiful venue for your private event, the winery is a great option!
Bella Terra Vineyards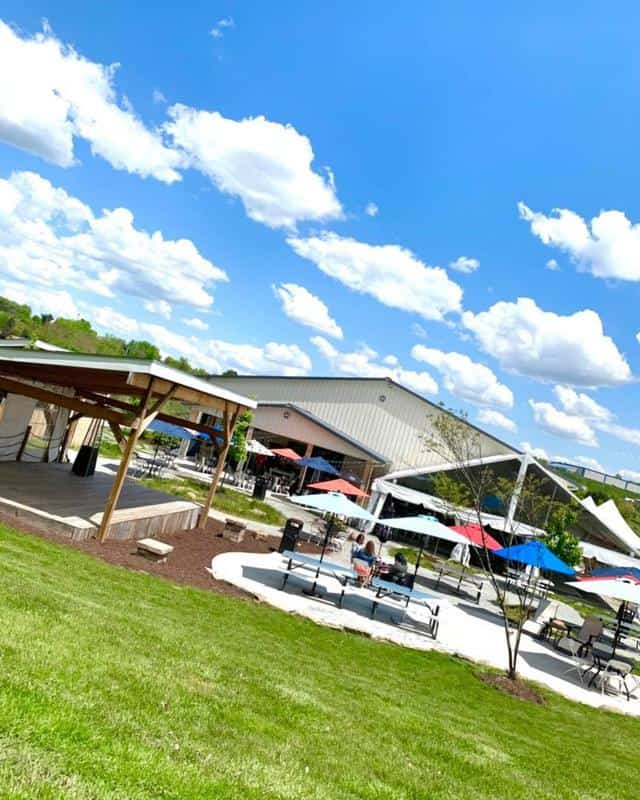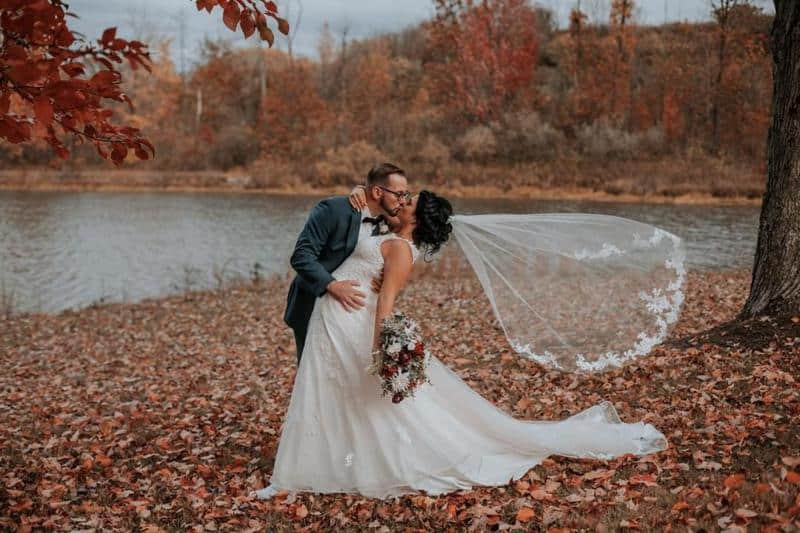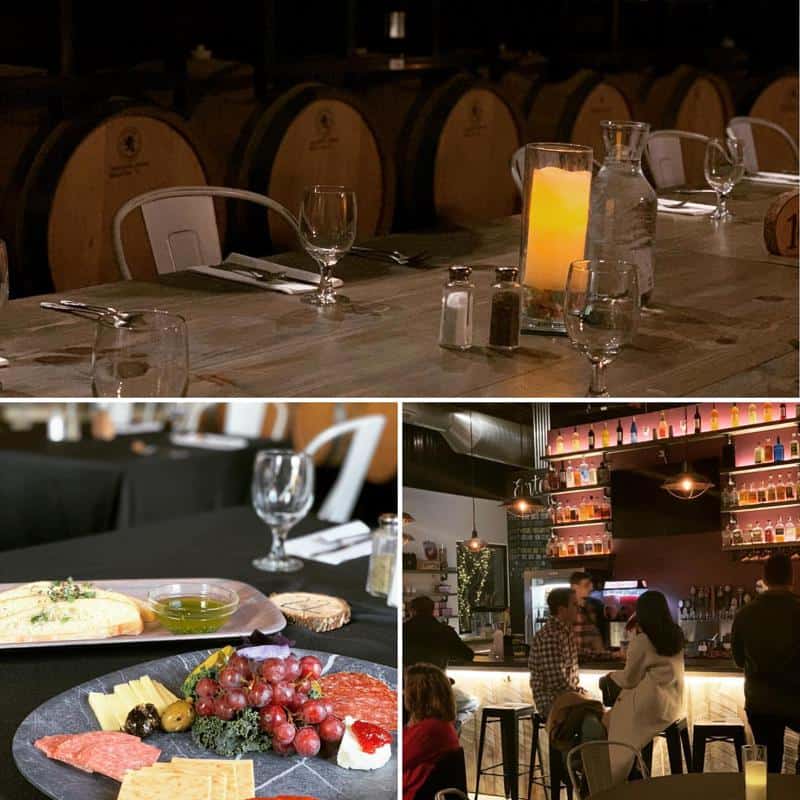 Another great winery in Pennsylvania is Bella Terra Vineyards, boasting a modern interior, striking outdoor space, decadent food, and superb wines. Their bright and stylish tasting room offers a luxurious experience for wine tasting.
The winery's calendar is always brimming with events, including game nights, live music, comedy nights, seasonal activities, and much more. There's plenty to get excited about at Bella Terra Vineyards other than their spectacular wines!
Fancy a bite to eat during your visit? Stop by the winery's gorgeous bistro to tuck into dishes like sesame mandarin salad, brisket tacos, smoked chicken salad sandwich, and their famous bruschetta burger.
Betta Terra Vineyards' breathtaking estate is also available to hire for private events like weddings, bridal showers, and family gatherings. Your guests are sure to love the tranquil, peaceful atmosphere and enchanting scenery!
Penn Shore Winery and Vineyards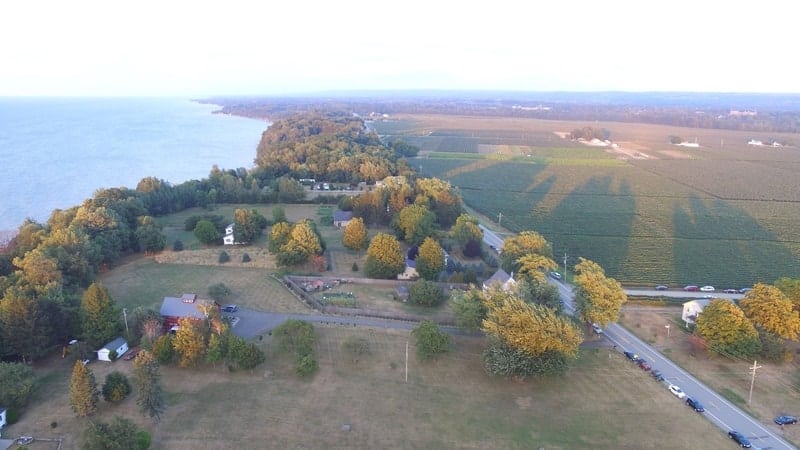 Penn Shore Winery and Vineyards are one of the top Northeast Pennsylvania wineries. They first began crushing grapes in 1969 and opened their doors in 1970.
Penn Shore Winery and Vineyards are committed to producing high-quality and affordably priced wines. The winery has a spacious tasting bar and scenic outdoor patio, both of which have lovely views of the estate vineyards.
You can enjoy tasting flights of 4 pours of your choice, alongside self-guided tours if you're interested in learning more about the winery's history and winemaking process. There is also a large museum and retail area you can peruse at your own leisure.
Pennsylvania Wineries With Lodging
If you're looking for Pennsylvania wineries with lodging, you're in luck! There are several estates that offer both exquisite wines and comfortable accommodation for the ultimate peaceful retreat.
Brookmere Winery & Vineyard Inn: At Brookmere Winery, you can indulge in stellar wines, unwind with some live music on Sundays, soak up refreshing scenery, and rest easily at one of their three modern rooms (breakfast included!).
The Inn at Grace Winery: This beautiful winery offers top-notch wines, sumptuous food, exciting live events, and luxurious accommodation at their several onsite cottages and majestic Manor House.
Top Pennsylvania Wineries Weddings
Need a stylish and magical venue for a wedding? The Pennsylvania wineries below will be more than happy to accommodate you and your guests.
Blue Ridge Estate Vineyard & Winery: This striking winery boasts beautiful views and several event spaces, providing a beautiful backdrop for your special occasion.
Narcisi Winery: At Narcisi winery, you can choose from numerous spaces for your wedding, including a large and grand dining room, scenic lawn, and picturesque pavillon.
Folino Estate: From outdoor waterfalls to a cobblestone piazza, Folino Estate is a wonderful venue for a wedding. They even have a vineyard-inspired ballroom – even your wedding can be wine-themed!
Brookmere Winery & Vineyard Inn: Brookmere Winery offers cozy accommodation, a rustic outdoor barn, and a wedding pavilion to make your dream wedding become a reality.
The Inn at Grace Winery: This 35-acre property provides stunning views, a rustic setting, and spacious areas for a picture-perfect wedding.
Bella Terra Vineyards: Featuring an modern indoor space and magical outdoor area, Bella Terra Vineyards' atmosphere and views will ensure you and your guests have a delightful stay.
SpringGate Vineyard: SpringGate Vineyard offers venue rentals at most of their locations, all of which are expansive and charming for an unforgettable wedding.
Seven Mountains Wine Cellars: This winery's casual and easy-going atmosphere, alongside its lovely views make it ideal for intimate weddings and small gatherings.
Final Thoughts
Pennsylvania is known for its exquisite wines and vast number of excellent wineries, making it a top destination for wine lovers.
All of the wineries and vineyards above are well worth a visit if you get the chance. Their fine wines, beautiful views, and cozy atmosphere will ensure you have an unforgettable stay.