Are you an experienced home chef who regularly whips up tasty meals? Or have you decided to try your hand at creating a culinary masterpiece? While most recipes seem straightforward to make, you might feel that some of your favorites are lacking that burst of flavor you're looking for.
If you're looking for that special secret ingredient to give the dish that wow factor, you might be surprised to learn that the right white wine makes all the difference to certain dishes. Whether you're cooking seafood, chicken or even pasta, a crispy dry white wine works best to bring out the best flavor.
The problem with cooking with white wine is that recipes can often be very vague! If the recipe simply calls for "dry white wine" it doesn't help you very much when you're standing in the wine aisle of the supermarket! Fortunately, this article is going to help you distinguish between the different white wine options best suited to different dishes!
What Does Dry White Wine Do in Cooking?
If you've ever spent more than 20 minutes researching ways to enhance various flavor options, you've undoubtedly heard (or read) that when you want to cook with white wine, it needs to be dry. But why is this?
The term "dry white" refers to any white wine that isn't sweet. The best tip we can share with you for enhancing your seafood, chicken or pasta cooking is this – Opt for a white wine with high acidity. These wines are often referred to as "crisp".
Crisp wines usually have three primary purposes in the kitchen:
Marinade ingredient
Cooking liquid
Flavoring in the finished dish
Essentially, the function of white wine in dishes such as poultry, seafood and pasta is to enhance, intensify and accent the aroma and flavor of the food. The right type and quantity will serve to fortify the flavor rather than mask it!
Is Dry White Wine Better than Cooking Wine?
When adding wine to any dish, one of the best tips we can give you is to use a wine that you would drink with the dish once it's served. While many recipes might call for cooking wine, your palate will thank you for opting for the dry white instead!
Cooking wine is usually the go-to wine for dishes that will add a hint of the flavor you need but it won't bring out the creamy, robust flavors that will distinguish your dish from anyone else's. Always opt for drinking wine when you cook!
What is a Good Dry White Wine for Cooking?
As you know, one white vino is not the same as another. Many food pros will agree, always have a go-to white wine option in your pantry. While it's nice to use the right wine with the right food, it's always good to have a go-to option in case of a spontaneous lunch or dinner dish.
For many home chefs, two brilliant go-to wines include a Sauvignon Blanc and a Chardonnay. Since the Sauvignon Blanc is crispier, it's best suited to seafood, chicken and even pasta dishes. Chardonnay on the other hand is fuller-bodied and it easily brings out the flavor in pork and shell-fish dishes.
Also Read: What Does Dry Wine Mean?
3 Dry White Wine for Cooking Seafood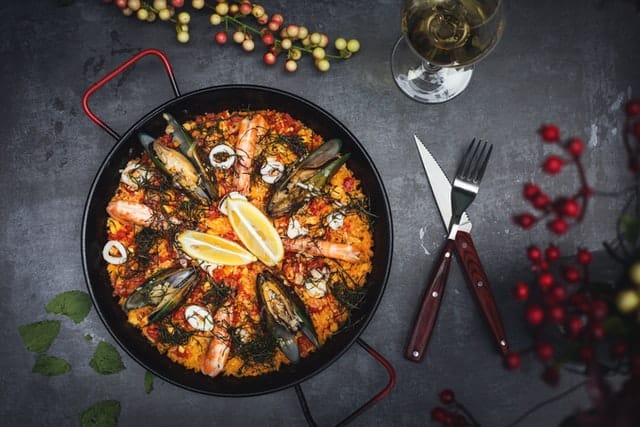 If you love seafood, and you love dry white wine, then you know what a magical combination they can be! While a quality Sauvignon Blanc might be your go-to wine, the good news is, there are a few more options to consider when you're going to whip up some seafood.
Some of the more popular dry wine options for cooking seafood include the following:
Sauvignon Blanc: As we mentioned earlier, a good Sauvignon Blanc is the perfect addition to any seafood dish. With its high acidity and soft herbal notes, this wine adds an incredible flavor depth to dishes such as steamed mussels or peri-peri prawns.
Muscadet: Since Muscadet is a crisp, low-to-no-oak white, it's an ideal wine to add to any fish dish. Its high acidity and citrus fruit flavors pairs well with anything from shrimp to rich oysters.
Pinot Blanc: Made in the French style, this wine is the perfect addition to spicing up any flaky white fish. It's also a great idea to use this wine to make a simple sauce as a side dish.
3 Dry White Wine for Cooking Chicken
Chicken is one of the most versatile meat dishes you can make. Whether your roasting, grilling or barbecuing your chicken, every cooking method will benefit from adding a little bit of dry white.
Dry Marsala: Ever heard of chicken Marsala? Well, that tasty dish is named after the dry white that gives it that tasty flavor! This popular wine is the perfect addition to any dish that contains both chicken and mushroom.
Dry Riesling: While Rieslings are generally great for seafood as well, a quality Riesling adds a zesty flavor to any creamy chicken A big plus is that a chilled glass of Riesling also complements the dish as your drink of choice.
Chardonnay: Unoaked versions of Chardonnay will balance and enrich the tangy flavors of creamy sauces such as the type you make for tarragon chicken. Unoaked Chardonnay doesn't become heavy or bitter as it cooks. What you'll get is a rich, sharp creamy sauce instead!
3 Dry White Wine for Cooking Pasta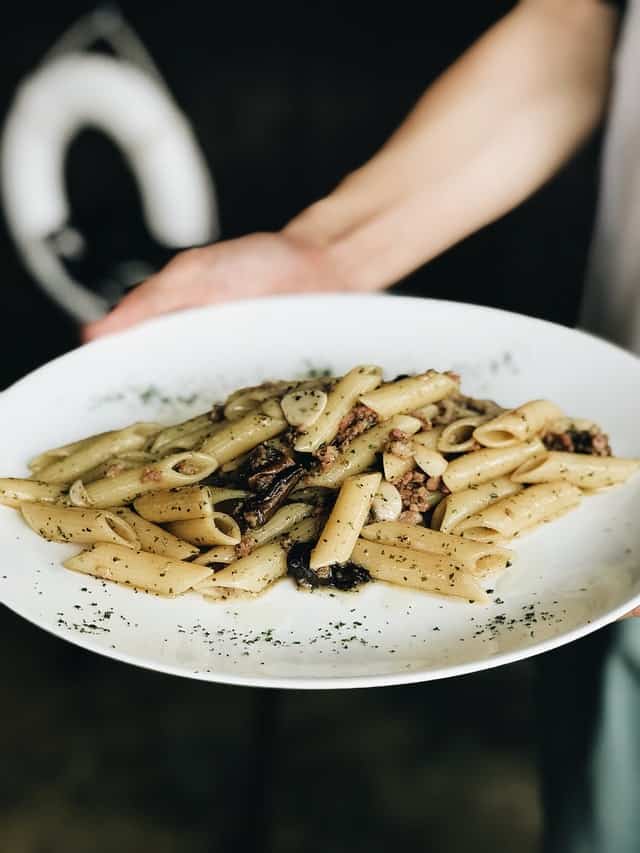 Who doesn't enjoy a creamy pasta dish? Just when you thought your signature mushroom pasta dish couldn't get any better, adding some dry white wine will change your mind. We've listed a few of the best white wines to spice up any pasta dish.
Pinot Grigio: It's no secret that Pinot Grigio is the perfect drink to serve chilled with any pasta dish. However, adding it to your light pasta sauces such as Alfredo will give your pasta dish a whole new flavor profile!
Pinot Gris: The buttery, oaky flavors you get when you cook with Pinot Gris are the perfect way to enhance any pasta sauce. Any pasta dish served with vegetables will also benefit from the refreshing acidity of a Pinot Gris.
Dry sherry: Although dry sherry is a fortified wine, it adds a nutty flavor to any pasta dish. Since it has a slightly higher alcohol content than most other wines, you just need to add a small amount to get a great flavor in any light pasta sauce. A dry sherry pairs well with garlic and mushroom sauces.
6 Best Cheap Dry White Wine for Cooking
Another tip to consider when you're looking for the perfect dry white wine to add to your cooking, it's worth noting that you don't have to opt for the most expensive vino! Cheaper, dry white wines can create just as much flavor as the more expensive choices.
Some of these include the following.
Tips for Choosing the Right White Wine for Any Dish
To ensure the wine you've chosen to cook with will do the flavor trick, always remember these simple expert tips:
High acidity: Choose a dry white wine with high acidity and boasts citrus notes to enhance savory dishes
Low alcohol: Opt for a wine choice that's low in alcohol content to prevent overwhelming your dish. The alcohol content should always be lower than 12.5% ABV.
Cheaper whites: Don't pay too much for the wine you're going to cook with. This is because the majority of the alcohol will cook away. Cooking heat will diminish the tasty nuances that make you enjoy a fancy wine.
Oaky whites: Avoid oaky white wines because these buttery bold wines can easily overpower the dish and in some instances, even leave a bitter taste. A common example of this is the oaked Chardonnays. That's why you should always opt for an unoaked Chardonnay.
Choose a go-to option: Some wines don't have a good shelf life once opened. It's no secret that some wines even start losing that crisp flavor if left for too long. To prevent this from happening, especially if you don't cook often, consider opting for only one go-to dry white wine. Choosing a wine that you'll drink as well as cook with is a bonus! That way there's no wasting such a delightful drink!
Also Read:
Final Thought
Once you taste just how much better the right dry white wine can make a variety of dishes, you'll look for reasons to dirty a few pots and pans!
Opting for a dry, crisp white wine is always the best option, and having one or two go-to vinos in your pantry will ensure you're always ready to whip up a delicious dish at a moment's notice. Whether it's Marsala chicken or peri-peri prawns, your signature dish is about to get a lot tastier!