Wine sommeliers take pairing wines with different foods seriously! If you want to enhance both the flavors of your meal as well as the wine you're drinking, you need to match the drink and food. Perfect pairing of wine and food creates an intricate balance between the two, while augmenting the characteristics and components of both.
When wine pairing with salmon, you're not limited to only reds or whites. Being a darker-fleshed fish, salmon can be accompanied by a variety of different wines. However, if you want to ensure your palate is satisfied, you need to know which wines are best with this type of fish.
Our article will cover the basics of pairing wine with salmon, the best vino to drink with this fish, and how to make your choice depending on how the meal has been prepared. Let's get started!
The Basics of Pairing Wine With Food
Before we look at what wines go with salmon, let's cover the basics of wine pairing with food. Wine connoisseurs generally use the following guideline to get the most out of the combination:
Acidity: In most cases, it's best to pair wine that's more acidic than the food, for great flavors.
Sweetness: Opt for wine that's sweeter than the food it's being served with.
Intensity: Choose a wine that has a similar taste intensity as the food it's being matched with.
Sauces: Try to pair the wine with the sauce rather than the meat.
Fats: Bitter or red wine is often best paired with fatty foods.
Red wines: Are best enjoyed with strong flavored foods such as red meats
White wines: Opt for this type of wine when eating foods with a lighter flavor such as chicken or fish.
Contrasting pairings: Most common with white, rosé, and sparkling wines
Congruent pairings: Mostly occurs with red wines.
Following the basics of wine pairing with food will help you get started if you're still new to the game! But, as you become more confident with your wines, you'll discover that you can break these rules by experimenting with various wines when matching with different food. Salmon is one of those foods that can be paired with a wide range of wines.
What Wine Goes With Salmon? – The Basics
Salmon is an oily fish with a dark, rich, flavorful flesh. It can be prepared in a variety of ways including being served straight up once grilled. When finding the best wine to pair with salmon, it's essential to know how the fish has been prepared to get the right balance between the drink and the food.
Salmon can be roasted and topped with a creamy sauce. It can also be poached before covered with a sauce. One of the most popular ways of eating this fish is as smoked salmon. Gently fried salmon is another favorite as is the grilled option. This fish can also be served as glazed salmon, giving a tantalizing sweet-savory flavor to the meal. Salmon can also be dished up as a stew or as chowder.
Do You Drink White or Red Wine With Salmon?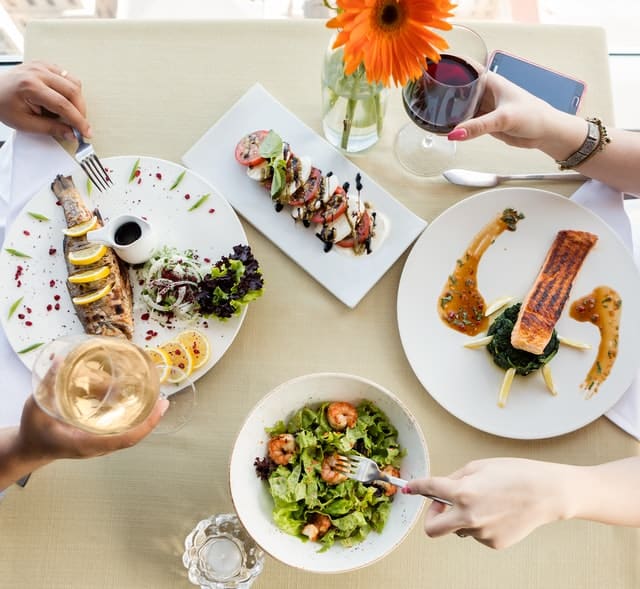 Salmon is one of those foods that can be served with both white or red wine. Most full-bodied white wines complement this rich, oily fish well. Examples of these white wines include:
White Pinot Noir or Burgundy
White Rioja
Marsanne
Chardonnay
Viognier
However, depending on how the salmon has been prepared, you can also choose a rosé or light-bodied red wines that are low in tannins.
Best Wine With Salmon – How Has it Been Prepared?
Pairing the best wine with salmon comes down to how it has been prepared. Let's take a look at the different ways this fish can be served and which type of wines go best with it.
Best Wine Pairing With Plain Roasted Salmon
If the salmon has been roasted gently, the meat will be soft and flaky, at times even mushy. This type of salmon, when not served with any accompanying sauce, is best paired with an oak-aged or well-matured white wine.
Look out for spicy and lemony notes in the wine to enhance the nutty and spicy flavor of the fish. Some great white wines to consider include:
Central Coast Chardonnay produced in California
Aged Spanish White Rioja
Oak-aged Sicilian Chardonnay
Hunter's Valley's Semillon
Australian Chardonnay made in the Victoria wine growing region
If you prefer a white wine with less intensity, combine salmon with wines such as Loire Valley's Sauvignon Blanc or Burgundy's White Chardonnay.
Best Wines for Salmon Topped With a Creamy Sauce
Salmon that has been roasted and topped with a creamy sauce can be matched with any of the following white wines:
The dry white Grüner Veltliner
Tuscany's Vermentino wine
Sauvignon Blanc from warmer wine-producing regions
Note that different creamy sauce recipes such as lemon dill, cucumber and yogurt, or plain dill can be paired with any of the abovementioned white wines.
What Wine Goes Well With Grilled Salmon?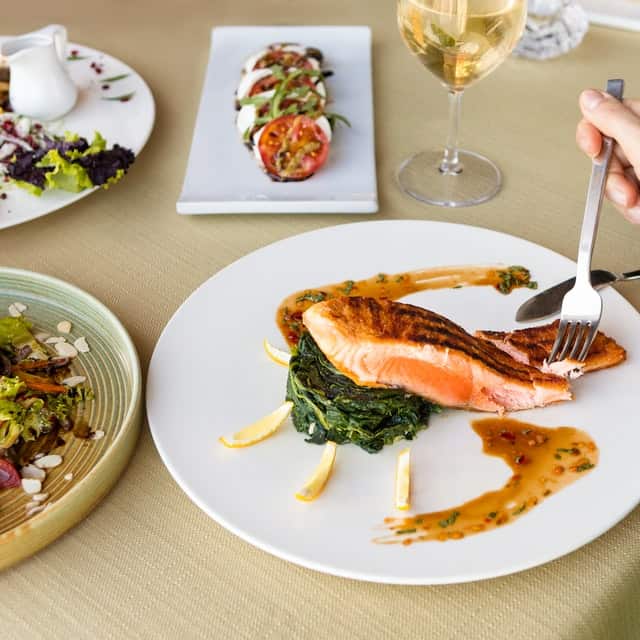 If you're looking for a wine to pair with a succulent piece of grilled salmon, you have a few options available to you. This time, you'll be looking at red wines that have low tannins and medium acidity. This combination ensures you don't get a metallic taste.
A light fruity red such as a Pinot Noir works well while you could also sip on a red Burgundy when enjoying your grilled piece of fish. Both choices cut through the oiliness of this fish without taking away the delicate flavors of its pink meat.
Some other wines to try with grilled salmon include:
Beaujolais
Lambrusco especially in rosé
Grenache rosé
Carignan (which is high in tannins and acidity but somehow works well with grilled salmon!)
Heavily oaked Chardonnay is an absolute no-no with grilled salmon so avoid it at all costs! It will simply overpower the flavors of your fish.
Smoked Salmon – Bubbles Anyone?
If you're a fan of sparkling wine or champagne, now is the time to pop the cork and enjoy it with your next plate of smoked salmon. Fish prepared this way is saltier and it's wise to go with a bolder sparkling wine or rosé. The secret to matching the right wine with smoked salmon is ensuring there's enough acidity to enhance the flavor of the fish.
Experiment with any of the following wines when entertaining with guests and serving smoked salmon:
Rosé champagne
Blanc de Blanc
Riesling
Blanc de Noir
Light, fruity wines with a fresh note always pair nicely with smoked salmon. If you want to get adventurous, try sourcing a bottle of Manzanilla Sherry. This is a dry, light white wine produced in the Sanlúcar de Barrameda area. Its zesty, fresh notes surprisingly complement smoked salmon and you'll love its salty, oceanic aromas. It's best served chilled.
Which Wines for Glazed Salmon?
Glazed salmon is a combination of saltiness and sweetness, its various flavors depending on the ingredients used in the glaze. You're looking at ginger, brown sugar, pineapple juice, honey, teriyaki, and soy sauce as some of the components of this glaze recipe.
Some of the best wines to pair with this delicious combination of flavors include:
Dry Riesling
Bold rosé wines
Moscato
Lambrusco
Gewurtztraminer (a powerfully aromatic, fruity white wine with a gold coloring)
Full-bodied white wines pair well with glazed salmon, giving you all the right flavors from both the vino and the fish.
How to Pair Wine With Salmon Stew
The challenge with pairing the right wine with salmon stew is factoring in all the different ingredients and flavors that make this delicious dish. This recipe often includes tomatoes, coconut milk, cilantro, and lime juice.
When eating this meal, drink any of the following wines with it:
Madeira
Orange wine (a skin-contact white wine)
Dry sherry
While you may be amazed by these wine choices. But, they do combine nicely despite their largely varying taste profiles. Orange wine is an extremely intense drink while dry sherry or madeira wines are sweeter. Experiment with them all and decide for yourself which is your favorite when having salmon stew.
Sparkling Wines and Salmon Chowder
Salmon chowder is full of fiery spices such as cayenne pepper, turmeric, and smoked paprika. Fennel is another strong ingredient often used in this chowder recipe. To ensure you get all the robustness of these flavors without them overpowering your choice of wine, serve salmon chowder with most sparkling wines.
You can also try any of the following:
Californian Chardonnay
Malbec produced in Argentina
German Riesling
Opt for both dry reds and whites when pairing with Salmon chowder dishes. Oaked-aged red wine also complements this meal nicely.
Wine Pairing With Salmon: FAQs
Does Pinot Grigio pair well with salmon?
This mild white wine with floral aromas and fruity flavors, resembling pears and peaches, is a good pick for pairing with salmon. Being a full-bodied white wine, it's best paired with poached salmon served with homemade mayonnaise. This wine also pairs well with salmon topped with a lemon creamy sauce or yogurt.
It's also known as Pinot Gris and holds well against the oiliness typical of this fish.
Does Sauvignon Blanc go with salmon?
A classic Sauvignon Blanc pairs well with salmon that's been lightly baked with herbs and lemon juice. A dry white wine, with slight acidity, Sauvignon Blanc has a strong aroma which could overpower some flavors so familiarize yourself with all the ingredients before pairing with this vino.
Does Merlot go with salmon?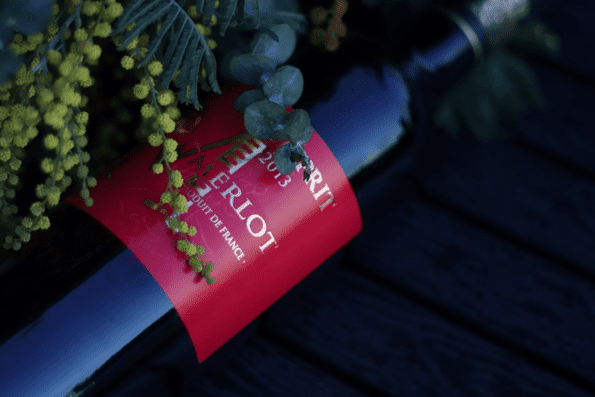 Merlot is a good wine to pair with grilled salmon. Sockeye salmon is often the best one for grilling as it has a firm, meatier flesh. It's also one of the fattiest out of all the salmons which is why it's a popular choice for cooking on a grill. Merlot is excellent for pairing with this type of salmon dish.
The lush, fruity tones of this red wine can handle the smoky, full flavors of this fish without overpowering its taste.
Final Thoughts
Salmon can be prepared in a variety of ways which is why you can pair it with either a white or red wine. Sparkling and rosé wines are also popular choices for some salmon dishes and Merlot breaks the general rule of thumb that all fish should be paired with white wines!
When picking the best wine to pair with salmon, make sure you know all the ingredients in the recipe before deciding on the right vino. This way, pairing becomes simple!