For the perfect wine to enjoy while listening to your public radio programming, NPR (National Public Radio) has a wine club that provides wines to members while listening to their programming.
NPR wine club delivers high-quality wines to your doorstep every 3 months totaling up to 6 shipments annually. Some of the wines are NPR themed, and a portion of the value supports the public radio.
But is it worth a try?
In this NPR wine club review, we bring you the key details of this wine club, including membership plans and benefits, who should join, wine selection, cancellation policy, shipping and delivery and alternative wine clubs.
Let's get started.
NPR Wine Club Overview
What is NPR Wine Club
The National Public Radio launched the NPR wine club in 2017, intending to introduce new and exclusive labelled bottles and backstories for members at their doorstep. The wine club was a way for fans to support their local station.
They have partnered with Direct Wines and Wines that Rock, which help to sample over 40,000 options before selecting the wines that go into each case.
The first shipment mainly includes California and New Zealand wines for $79.99. It comes with detailed tasting notes that introduce you to the different grape varieties, the regions they call home, inspirational stories of winemakers and the wine styles they specialize in.
How to Join NPR Wine Club
The NPR wine club has only one membership level. They ship 12 bottles of wine every quarter, and you are allowed to choose between reds, whites or a mix of both.
Nevertheless, the first shipment comes with 15 NPR-inspired bottles for $79.99; after that, you receive 12 bottles every 3 months.
Laithwaites selects the wines for you and decides which ones go into each case. Also, if you do not want to join the club, you are allowed to shop for individual bottles on the website. The money is used to keep NPR on air.
Here are the simple steps of joining
You indicate which case you like: international mixed dozen, globetrotting reds dozen, or world whites dozen +3 bonus NPR bottles
Fill in your shipping details
Fill in your payment details
Complete your order
Here are the wines selected for my first shipment
90-Point, Gold Medal Italian Primitive 2020 (2 Bottles)
Double-Gold Portuguese Favourite Aluado Alicante Bouschet (2 Bottles)
Gold-Medal Italian Pinot Grigio (2 Bottles)
Npr Weekend Edition Viognier (1 Bottle)
Premium California Chardonnay (1 Bottle)
Luscious Lodi Zinfandel (1 Bottle)
Heroic South African White (2 Bottles)
Historic Portuguese Reserva (1 Bottle)
Gold-Medal, Glory-Vintage Bordeaux (1 Bottle)
NPR Code Switch Merlot (1 Bottle)
The Jumper Sauvignon Blanc (1 Bottle)
Key Details of NPR Wine Club
Here are some important details.
Wine Club Plan &Membership Benefits
When you join the club, you receive the first shipment (introductory offer) of 15 NPR themed wine bottles for just $79.99. After that, you will receive 12 expertly selected wines for the same price every 3 months plus a $19.99 shipping fee.
Each case includes NPR inspired wines and award-winning varieties from Laithwaites wines, plus tasting notes that provide background information on the wines.
There are no strict commitments, and you are allowed to pause or cancel at any time. If, for any reason, you are not satisfied with their wines, just let them know, and you will receive a full refund.
Wine Selection and Brands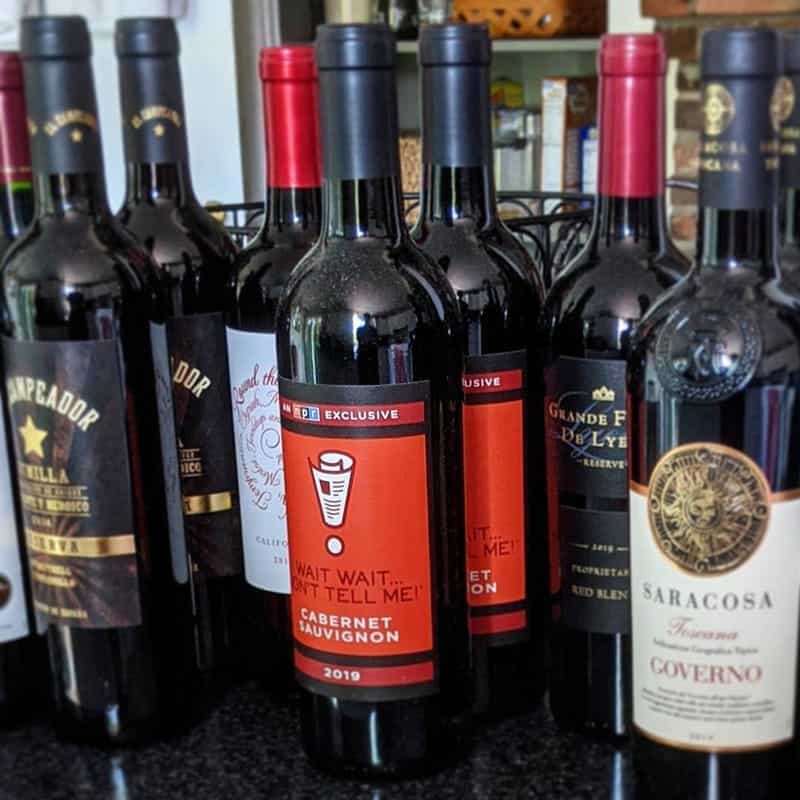 NPR wine club offers a large variety of wines from France, the US, Argentina, Spain and Italy. They are best known for cabernet, verdejo and Merlot varietals.
Laithwaites runS the wine club, and you will find most of the brands in both of these clubs. Some of the most popular ones include
Aluado Alicante Bouschet
Round the Blend
Schroeder Estate
Lime Leaf
Stones and Bones
NPR allows members to get wines they like by creating their favorite list, rating, and recording preferred wines. This helps them to get personalized recommendations from the club.
Wine Education
Each case comes with tasting notes that offer information on the different grape varieties, winemakers' stories, wine styles and regions, and recommended food pairings.
Gift Option
Currently, the wines cannot be bought as a gift. You can, however, purchase the wines directly and gift them later at your convenience.
Cancellation Policy
Cancelling your membership Is quick and easy.
If you do not want to be an NPR member, you can cancel your membership at any time. Go to the wine club settings, scroll down to the bottom of the page, and cancel. Also, you can skip a case or change delivery time instead.
Shipping and Delivery
NPR offers a flat shipping rate of $19.99 per order. However, like other clubs managed by Laithwaites, you can subscribe to their delivery club for $80 per year and get free shipping. This is a shipping prepayment discount, and it is a good deal if you plan to get all six deliveries annually.
Delivery Times
Depending on the state you are in, all deliveries take about7-18 days to arrive.
Once your order is processed, you will receive a confirmation email that includes your estimated delivery date range.
An adult 21+years should sign all wines.
Can You Swap Wines/Hold in Your Shipment
NPR does not provide an option to swap your wines. But, it allows you to choose the types of wines you like. For example, if you want all reds or a mix of whites and reds. You can change your preference on the wine clubs button in your online account.
You can hold in your shipment or cancel at any time. To delay your delivery, follow the steps below
Go to wine club settings
Click on the next delivery date dropdown menu
Choose the date that best suits you.
How to File a Damage Claim
If you receive a broken bottle, you should email the NPR wine club through [email protected] within 60 days, and they will give you a replacement at no cost.
Is NPR Wine Club Right for You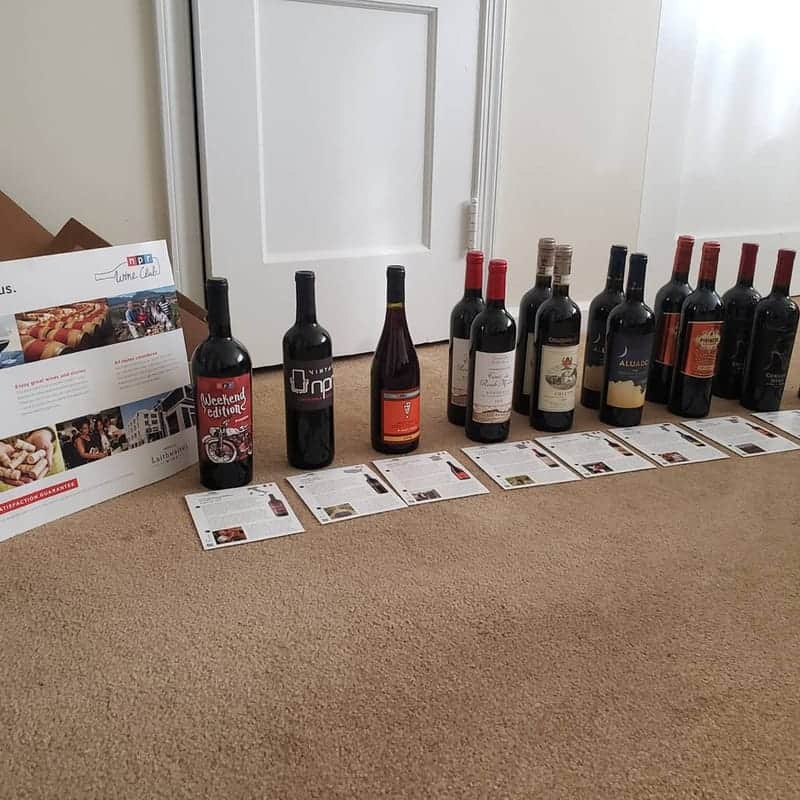 NPR is well known for producing and distributing programs that portray cultural expression and the highest standard of public service in journalism. Now, with a team of wine experts, they help guide their fans on a journey of discovery in the land of wine.
If you are a fan of NPR and would love to support your local radio, NPR is worth trying. It has a huge collection of wines from Laithwaites and offers a full refund if you do not like the wines.
NPR Wine Club Real Customer Reviews
There are many positive reviews online. However, we also found a few complaints about changes in the quality of wines.
Here are some reviews.
Love how the various wines accompany our charcuterie boards ❤️
Love Laithwaites wine and their support of NPR!! Great wine that I always look forward to drinking with dinner!
Great wines in every shipment. I have been a wine club member for over 10 years and love my quarterly wine shipments. Always quality wines.
I would have given you five stars, hands down, before you sent the letter about a supposed change in the Colorado liquor laws necessitating various changes. Unfortunately, the letter was extremely vague, and I was unable to get answers about the NPR Wine Club and your continued support of NPR, which was frankly the SOLE reason I became a customer in the first place […] I am no longer getting the specific NPR wines, nor are some of my favorite wines from you available […] I also feel that the quality and "match" of the wines to my tastes you send have dropped…
Who Should Join NPR
NPR wine club is a good start for both wine lovers and NPR lovers. It has a large collection of wines from Laithwaites that allows new members to discover new varieties and get into the world of wine.
Also, if you want to support NPR, you could try their wines.
Who Should Not Join NPR
NPR may not serve your purpose if you are looking for wines from specific wineries or small batched wines.
In addition, NPR offers 12 bottles every quarter; therefore, if you do not take more than two bottles a month, this club may not work for you.
Alternative Wine Clubs
Winc is a good NPR alternative that allows members to choose the wines they like by filling an online Plate Profile. This questionnaire contains things like how much you like flavors such as mushrooms and citrus. This offers a personalized approach to help members receive their preferred wines.
Wine Awesomeness is another alternative that offers three or six bottles of wine each month from a single wine region or of a theme. They help members explore and discover new wines that they have never heard before at interesting wines. They offer 3 wines for $45, shipping included. You are not likely to find their wines elsewhere. Besides, they offer gift cards and reward programs.
Conclusion
If you like public radio, then this wine club might be your best shot. It provides you NPR-themed wines every quarter. However, you are limited in choice and flexibility over your wines. Laithwaites selects the wines that go into each case.
NPR wine experts taste over 40,000 wines annually to find the favorites to add to the club's catalog. NPR has you covered if you love wine and do not want listening to radio to go out of style. They offer a 100% satisfaction guarantee, which is a plus if you do not like the wines.
Additionally, you don't have to be a club member; you can support NPR by buying individual bottles from the website.