Fredericksburg is known for many attractions, including the Enchanted Rock State Natural Area, National Museum of the Pacific War, and its excellent wine scene. You'll find a varied selection of world-class wineries in this city, from luxurious estates to intimate tasting rooms.
If you're not sure which places to visit first, don't worry, our list of the best wineries in Fredericksburg, Texas, will help you narrow down your options!
Quick Summary
Best Wineries in Fredericksburg With Lodging
Need a relaxing place to stay while you're in Fredericksburg? The wineries below offer cozy accommodation alongside delicious wines.
Fischer & Wieser: This winery and cooking school has various comfortable B&Bs located in Fredericksburg, including a rustic log cabin, historic train car, and farmhouse so you can stay close to the heart of the city.
Pontotoc Vineyard Weingarten: Situated in Hye, Texas, this winery's spacious and gorgeous stone cottage named Camp Wanderlust is a charming place to rest while you're busy wine tasting in Fredericksburg. It features 2 bedrooms, 2 bathrooms, and 3 beds.
Best Wineries in Fredericksburg With Food
If you're in the mood for food, why not settle down for a hearty meal at one of these wineries?
Grape Creek Vineyards: Grape Creek features a stunning vineyard-inspired restaurant that serves a range of seasonal goodies, from stone-baked pizzas to mouthwatering salads. No matter what you're in the mood for, you're sure to come away satisfied (and full!) here.
The restaurant is only available for club members, but don't worry, joining Grape Creek's club is completely free and comes with various other benefits, including discounts!
Fiesta Winery: At the winery's 290 tasting room in the Rocky Hill Complex, you can enjoy an assortment of tasty small food items like chips and salsa, turkey sandwiches, gourmet meat and cheese boards, and their fan-favorite Take me to the Beach Sandwich.
Cross Mountain Vineyards: Alongside fine wines, Cross Mountain Vineyards serves homemade pizzas that are sure to leave you wanting more. They also offer charcuterie if you want the perfect pairing for your wine.
Top 10 Wineries In Fredericksburg Texas
Grape Creek Vineyards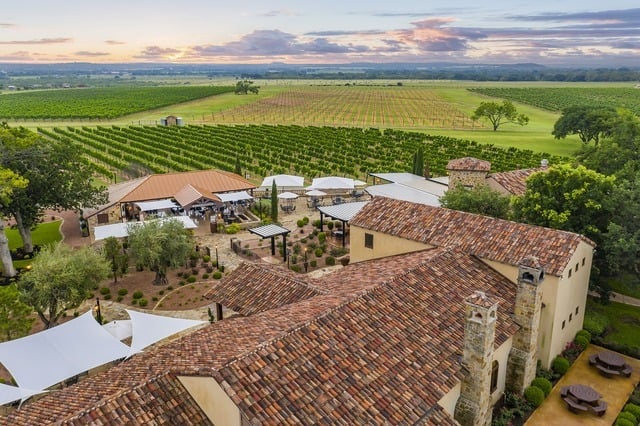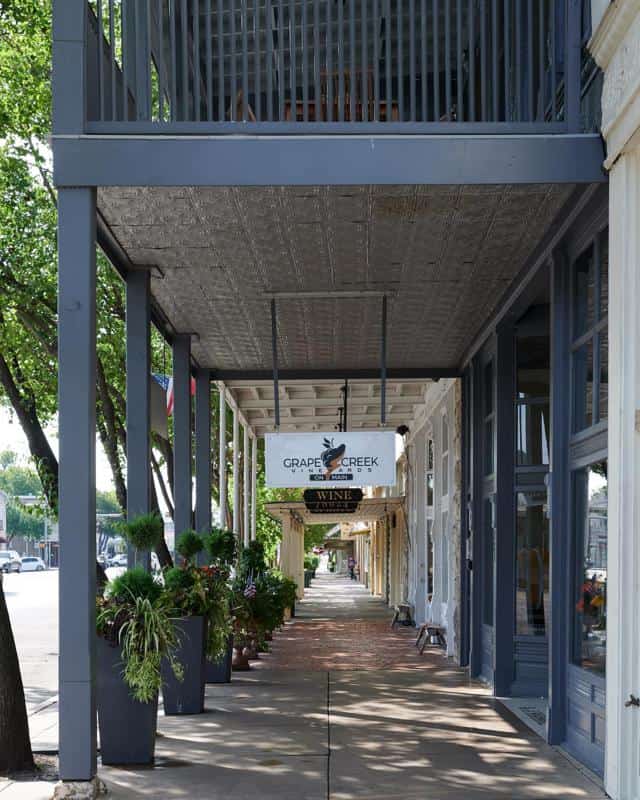 Address: 10587 E U.S, US-290, Fredericksburg, TX 78624, United States
Contact Number: +1 830-644-2710
Grape Creek Vineyards specializes in French and Italian wines, so if you're a fan of these styles, it's a must-visit during your visit to Fredericksburg. They have a stunning Tuscan-inspired tasting room that exudes elegance and sophistication, enhancing your wine drinking experience to the next level.
They offer several wine tasting options, including a Classic Wine Tasting, Private Wine Tasting, and Tour and Wine Tasting. The latter consists of a tour around the winery's expansive estate via a tram ride as you learn more about their winemaking process, followed by a tasting flight in their intimate tour-tasting room.
The winery hosts an assortment of events on a regular basis, such as seasonal activities for spring, fall, and Valentine's Day.
They have various spaces, including a couple of scenic patios and an on-site restaurant. However, all of these areas are exclusive to members of their wine club, so if you want to experience everything that Grape Creek Vineyards has to offer, consider joining their club (it's free!).
Das Peach Haus – Fischer & Wieser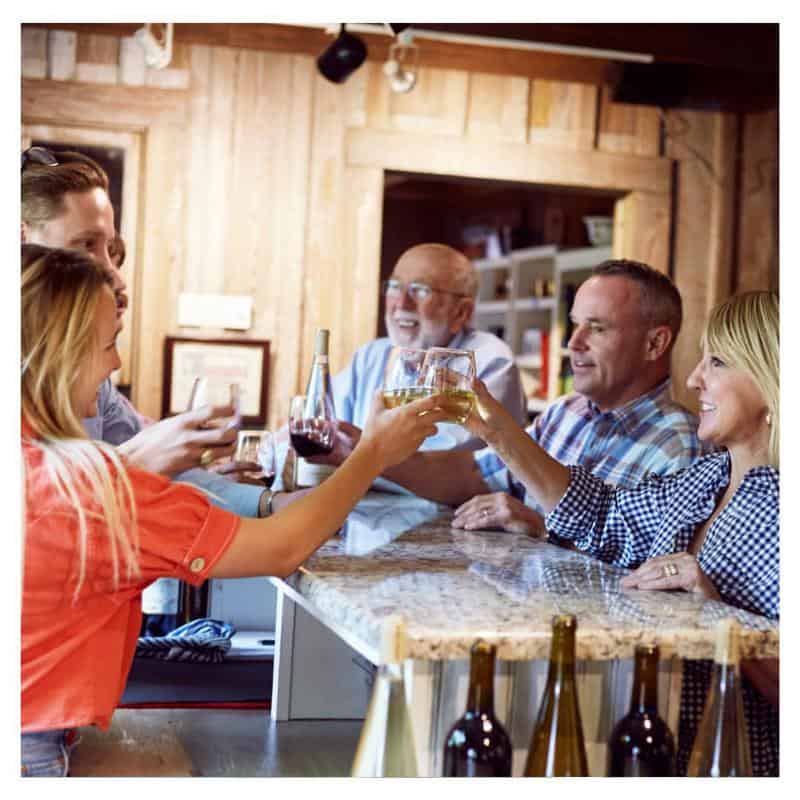 Address: F&W Farmstead,1406 S US Highway 87, Fredericksburg, TX 78624, United States
Contact Number: +1 830-997-8969
Fischer & Wieser's gorgeous tasting room is situated inside the historic Das Peach Haus and showcases some of the best wines from across the globe. Their collection began with 100% Texas wines, but they now have numerous beverages from around the world.
Their jams, sauces, and jellies pair spectacularly with all of their wines, so if you want to enhance your wine tasting experience, you won't be disappointed with this winery.
Alongside wines, Fischer & Wieser also have a cooking school where you can learn how to create delicious dishes, as well as venue rentals, various B&Bs if you're in need of comfy accommodation. Fischer & Wieser put on an array of live events, too, including seasonal parties, luncheons, and dinners.
Lost Draw Cellars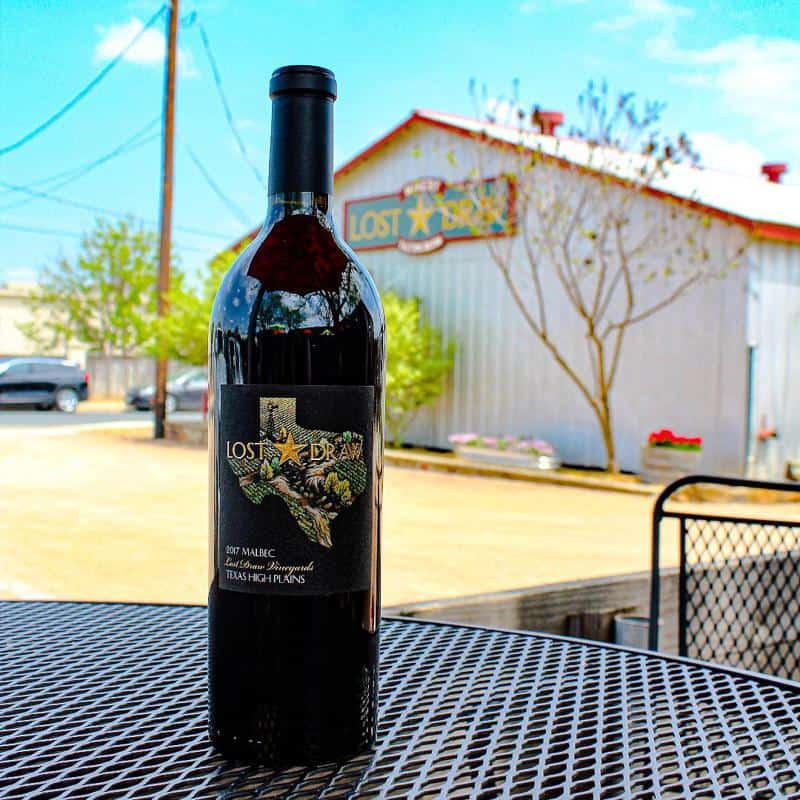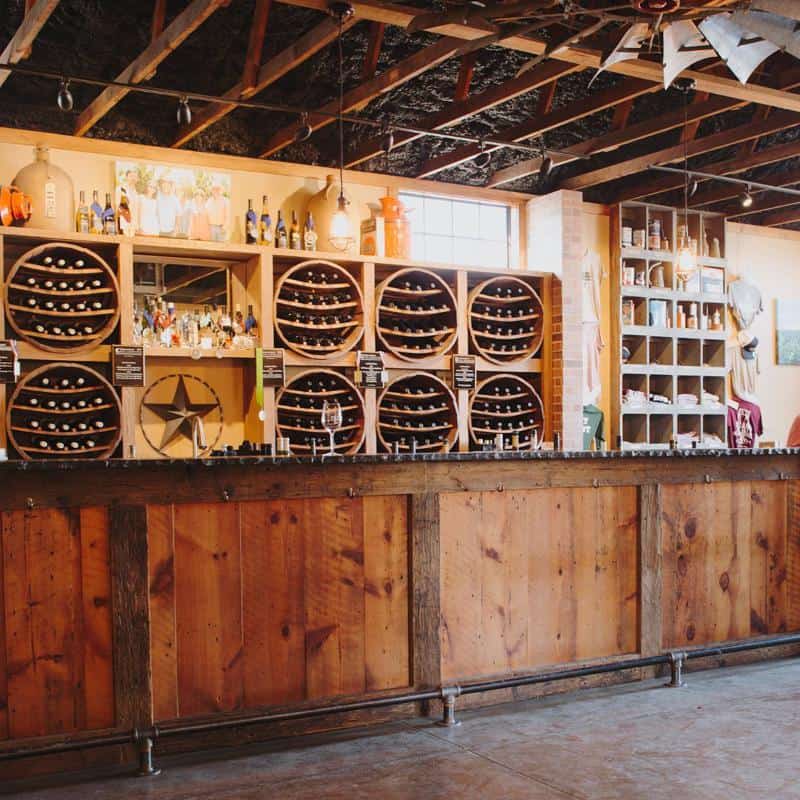 Address: 113 E Park St, Fredericksburg, TX 78624, United States
Contact Number: +1 830-992-3251
Another top-notch winery in Fredericksburg is Lost Draw Cellars, who first opened their doors in 2014. Despite being a relatively new winery, this estate is definitely one to check out when you're in the area as their wines are fantastic.
From Petite Sirah to Roussanne, this winery stocks a varied selection of delicious wines. No matter your wine preference, you're bound to find something exquisite at Lost Draw Cellars.
They offer several tasting options, including Reserve Tastings, Select Tastings, and Food & Wine Tastings. The latter costs $40 per guest ($20 for club members) and includes 4 limited-release wines and an assortment of mouthwatering small bites to eat.
Be sure to book an appointment ahead of time as tastings require reservations.
The winery features a lovely courtyard for you to sit and unwind with, even more during their weekly live music events!
Fiesta Winery – Fredericksburg Tasting Room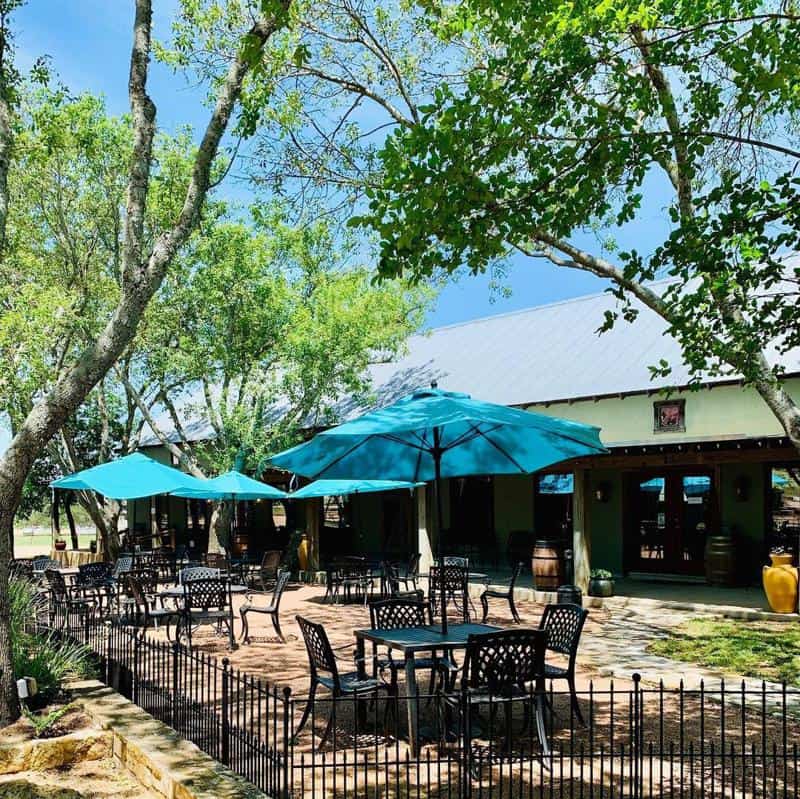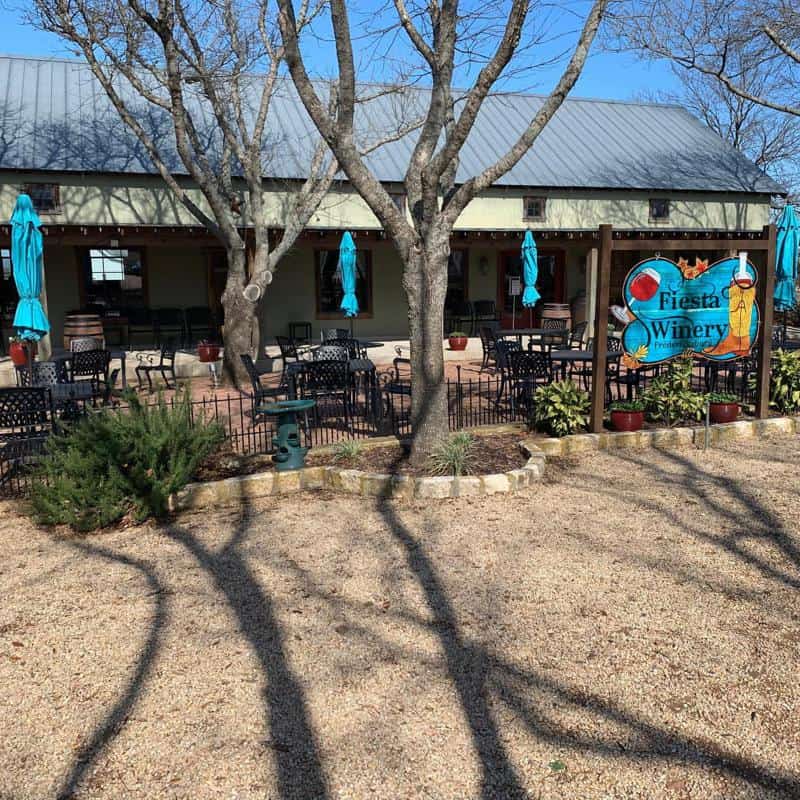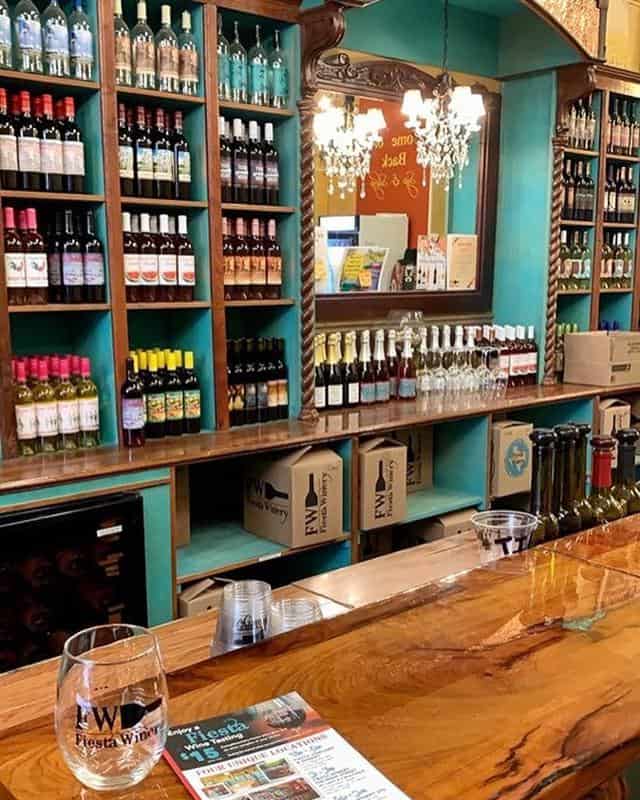 Address: 6260 East US Hwy 290, Fredericksburg, TX 78624, United States
Contact Number: +1 830 997-4466
Fiesta Winery has four locations across the United States, including two in Fredericksburg. Both tasting rooms are excellent, but the 290 estate situated in the Rocky Hill Complex is particularly great, featuring a spacious covered patio – perfect for warm weather!
All of their wines are sublime, allowing you to experience the flavors and aromas unique to Texas. The tasting room is comfortable and rustic, so you'll feel right at home as soon as you walk through the door.
You can enjoy a wide range of wines at Fiesta Winery's 290 Tasting Room, as well as indulge in a variety of snacks like turkey sandwiches, meat and cheese boards, and chips and salsa.
Need a stellar venue for your special occasion? All of Fiesta Winerys are available to hire for private events, including their vineyards!
Becker Vineyards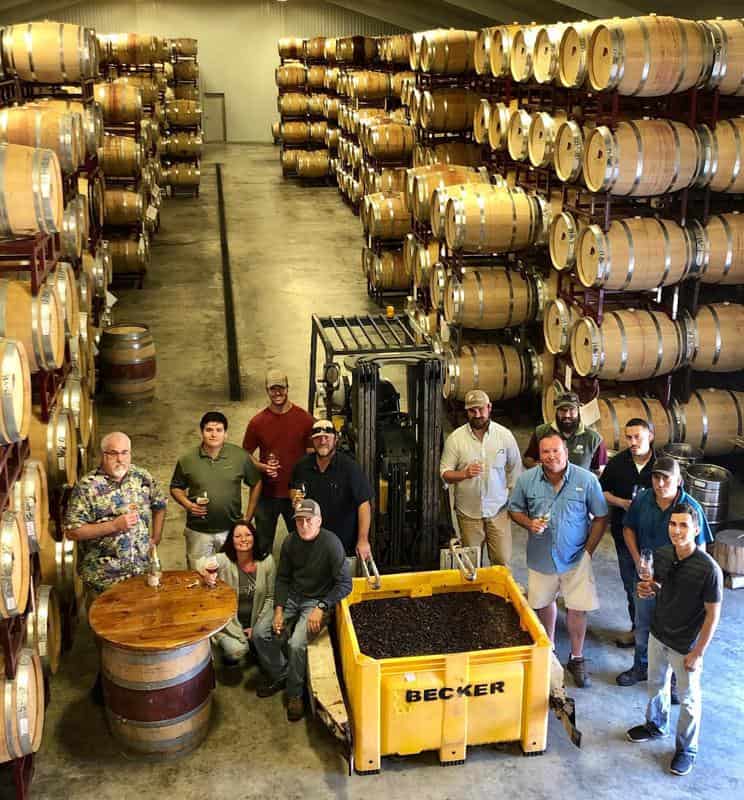 Address: 464 Becker Farms Rd, Fredericksburg, TX 78624, United States
Contact Number: +1 830-644-2681
Established in 1996, Becker Vineyards is a breathtaking winery situated in Fredericksburg. Their estate tasting room is grand, majestic, and oozes luxury. There is also a pavilion and verandah where you can relax in ultimate tranquility.
Becker Vineyards usually offer multiple tasting options, such as a General Tasting, Riedel Wine Glass Tasting, and Reserve Library Tasting. However, currently they are only offering group tastings and general tastings.
The latter includes six wines of your choice, as well as complimentary Ridel glass. You can purchase charcuterie plates if you're in the mood for a bite to eat, which pair phenomenally with all of their wines.
Cross Mountain Vineyards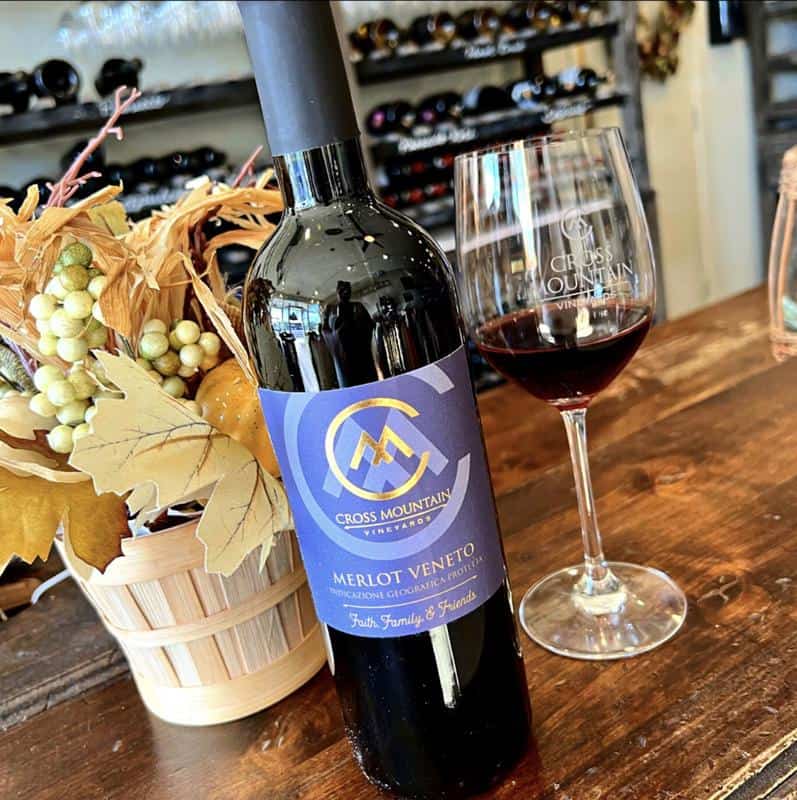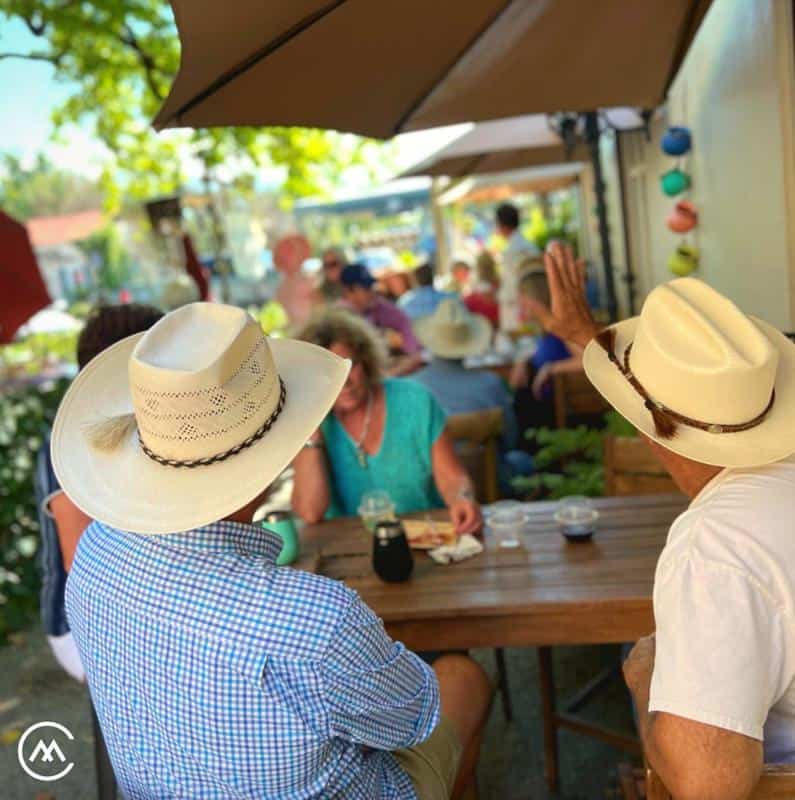 Address: 308 E Main St, Fredericksburg, TX 78624, United States
Contact Number: +1 830-333-9931
Situated in downtown Fredericksburg, Cross Mountain Vineyards is well worth a visit if you get the chance. Their stylish tasting room has a casual, cozy atmosphere which is perfect for relaxing with friends and family.
They serve fine Italian wines, homemade pizzas, and charcuterie, so you can satisfy both your thirst and hunger in one visit! You can enjoy wine by the glass or tasting inside or outside on their patio.
Cross Mountain Vineyards' knowledgable and attentive staff will be happy to answer any questions you may have about their wines and make you feel welcome. And if you're after a stunning venue for a private event, this winery has you covered.
Fat Ass Ranch & Winery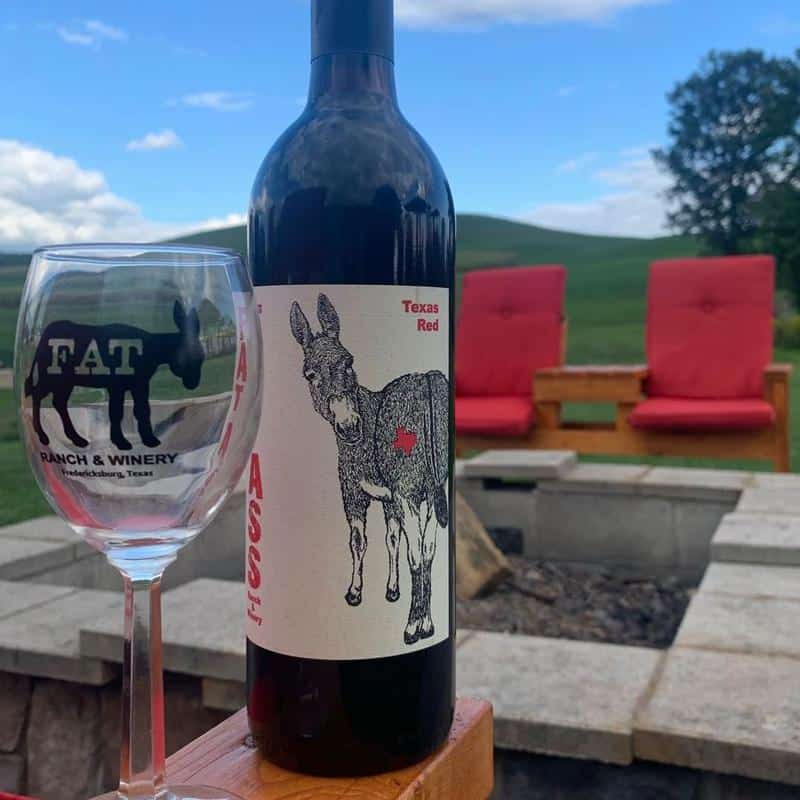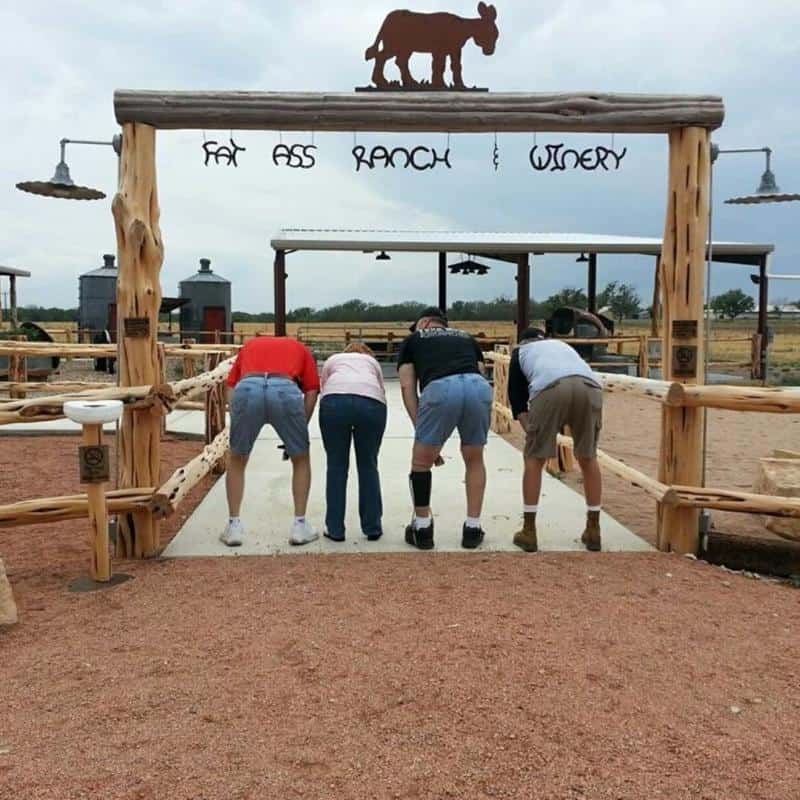 Address: Highway 290 – Wine Corridor, 51 Elgin-Behrends Road, Fredericksburg, TX 78624, United States
Contact Number: +1 830 644-2300
Fat Ass Ranch & Winery produces an array of award-winning wines, so if you're after high-quality beverages packed with flavor, you'll find exactly what you're looking for at this winery.
They have a couple of locations in Fredericksburg – one on Highway 290 and one on East Main Street. Why not stop by both if you have the time?
Tastings cost only $10 and come with five samples of their featured wines and a complimentary logo glass that you can take home as a souvenir. For just $30 every Saturday, the winery puts on a special event that takes you on a tram ride through their vineyard to their sister winery, The Wine Garage (and back again!).
You'll also receive five tastings at the Fat Ass Ranch Winery and another five at The Wine Garage, as well as a free frozen sangria and a tour of their iconic car collection!
Heath Sparkling Wines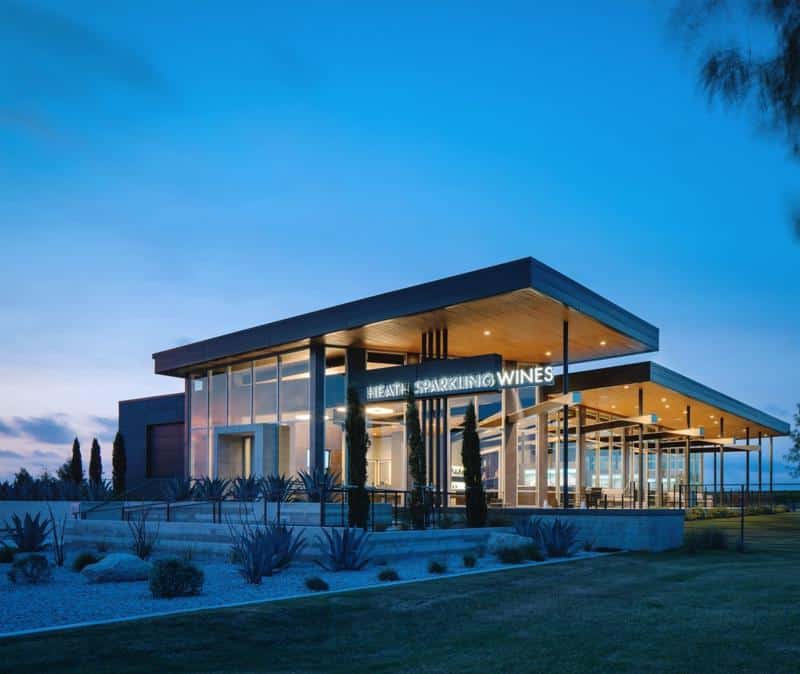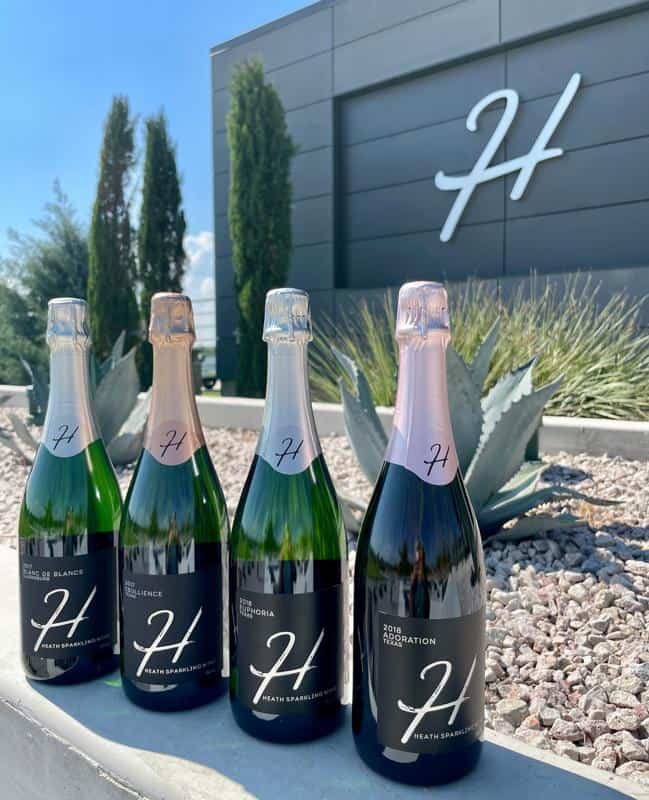 Address: 10591 East US, US-290, Fredericksburg, TX 78624, United States
Contact Number: +1 830-304-1011
Last but not least is Heath Sparkling Wines which, as you may have already guessed from their name, specializes in sparkling wines. They are part of Grape Creek Vineyards but offer a wholly unique experience.
Heath Sparkling Wines is the first winery in Texas that has expertise in sparkling winemaking, so if you're a fan of this type of wine, they're certainly one to check out. The ultra-modern estate is as elegant as it is cozy, allowing you to enjoy your wine in comfort and style.
Wine tastings cost $35 and come with a selection of fine sparkling wines paired with seasonal small bites. While walk-ins are allowed, it's best if you book an appointment as they normally get quite busy.
Pontotoc Vineyard Weingarten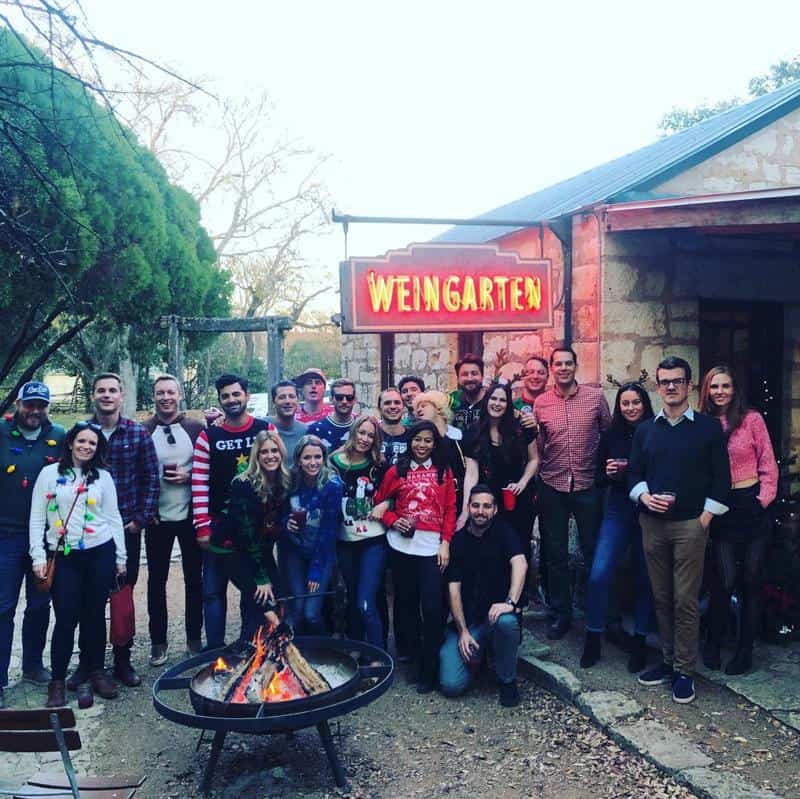 Address: 320 W Main St, Fredericksburg, TX 78624, United States
Contact Number: +1 512-658-0023
Next up is Pontotoc Vineyard Weingarten, a historic and picturesque winery located in Fredericksburg. They offer a varied collection of vintage wines made solely from grapes grown in Texas Hill Country.
Their weinhalle and winery are converted from an old grocery story, post office, and hardware store. The weinhalle provides a relaxing and cozy atmosphere, featuring exposed sandstone walls and an arched doorway that leads into the winery.
You can enjoy your wine in either setting, completed with views of the estate and surrounding scenery. There is also a movie theater which puts on film screenings, theatrical acts, and live music from time to time.
Alternatively, you can rent out the winery, weinhalle, or movie theater for private events. Pontotoc Vineyard Weingarten also has a gorgeous stone lodge called Camp Wanderlust situated in Hye, Texas, if you're after a beautiful but cozy place to stay.
Elk Store Winery & Distillery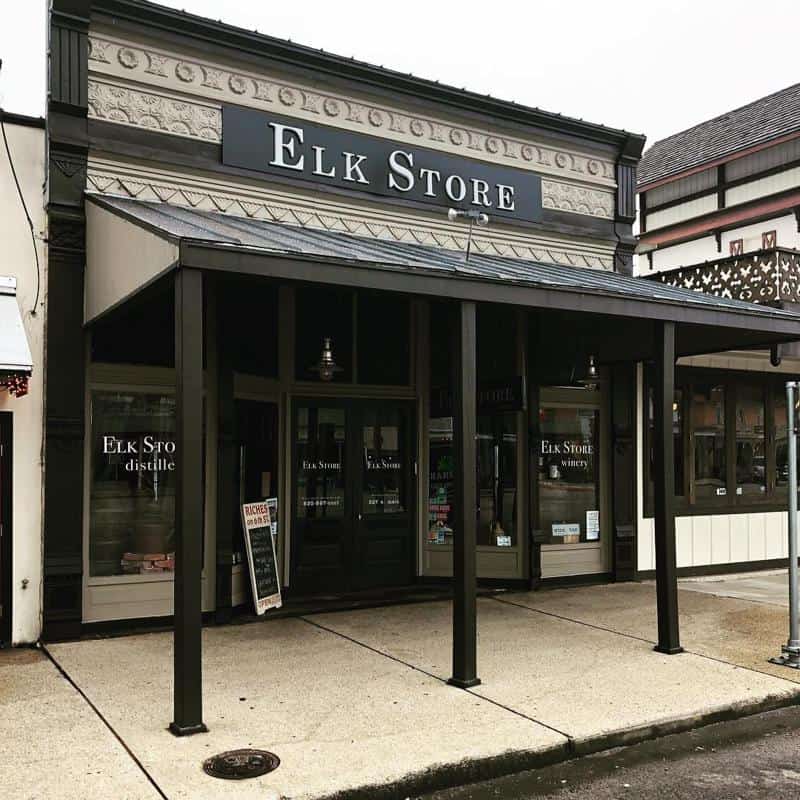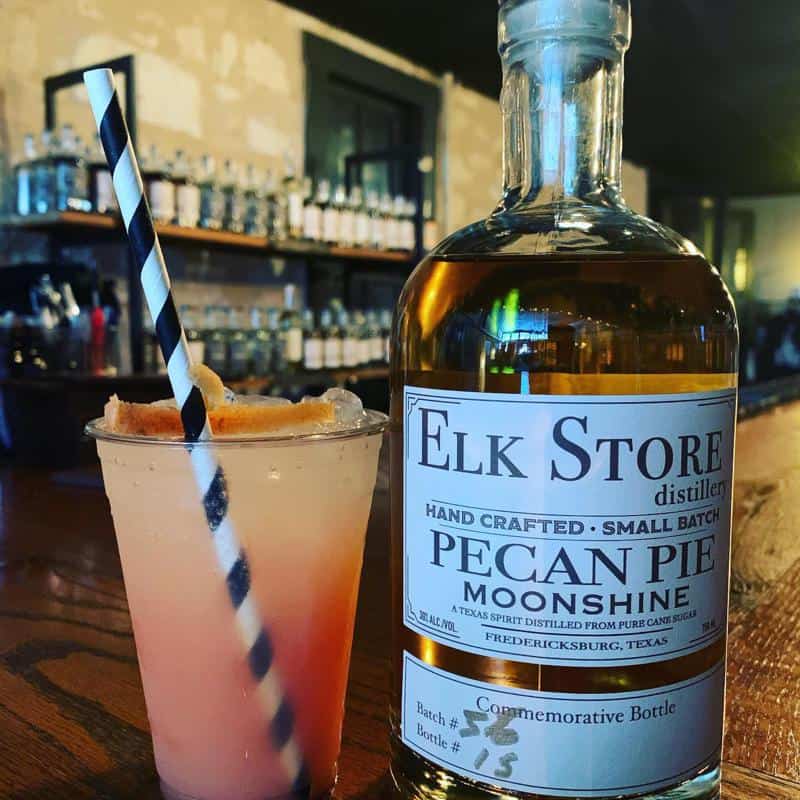 Address: 327 E Main St, Fredericksburg, TX 78624, United States
Contact Number: +1 830-997-2665
Elk Store Winery & Distillery first started out as a general supplies store during the prohibition era. They continue their legacy by crafting high-quality moonshine, rum, whiskey, and gin, as well as stocking a wide variety of French-style wines like Malbec and Cabernet Sauvignon.
The winery boasts a modern, spacious tasting room, which provides a lively and casual atmosphere. You can enjoy guided tastings of their wines or relax in their stylish bar for wines, cocktails, and small food bites.
FAQs
What Wine Is Fredericksburg Known For?
Fredericksburg produces a wide variety of wines but it is most known for its Roussanne, Syrah, Viognier, Marsanne, Petite Sirah, Malbec, Sauvignon Blanc, Cabernet Sauvignon, Sangiovese, Picpoul, Cinsauly, and Tempranillo.
Most wineries in the area will offer some, if not the majority, of the wines above.
How Much Are Wineries In Fredericksburg?
Cost varies from winery to winery, though most places tend to be around $25 per person for wine tastings.
How Many Wineries Are In Fredericksburg?
There are over 50 wineries, tasting rooms, and vineyards in Fredericksburg, so there's no shortage of choice in the area. The Texas Hill Country contains more than 100 wineries, so Fredericksburg makes up half of the state's wine scene!
Do You Need Reservations for Fredericksburg Wineries?
Most wineries in Fredericksburg are available for walk-ins, but some places only operate by appointment. It's best to contact the winery before you visit to check whether you need a reservation.
Related Read: 7 Best Fredericksburg Wine Tours: Tasting Pure Texas Wines
Final Thoughts
Fredericksburg in Texas is home to many exquisite wineries, vineyards, and tasting rooms, but the places featured above are some of the best, showcasing the finest wines in the city.
Whether you're after an elegant, majestic establishment to indulge in luxurious atmosphere or a charming, intimate winery to unwind with good company, any of the wineries above are well worth checking out.