Sonoma County is in California and only 30 miles north of San Francisco. It is known for its acclaimed food and wine, relaxing spas, and excellent and stunning wineries that create a wine country experience like no other.
Here, with more than 425 wineries, you can taste different wines thanks to the diverse terroir of the county. Furthermore, in Sonoma County, you will have the chance to hike among towering redwoods, marvel at the gorgeous Pacific Coast, and get to know inviting small towns. Or, you can simply sit back and enjoy the beauty of Sonoma while sipping an exquisite wine at one of the wineries.
Best Wineries in Sonoma County
Gloria Ferrer Caves & Vineyards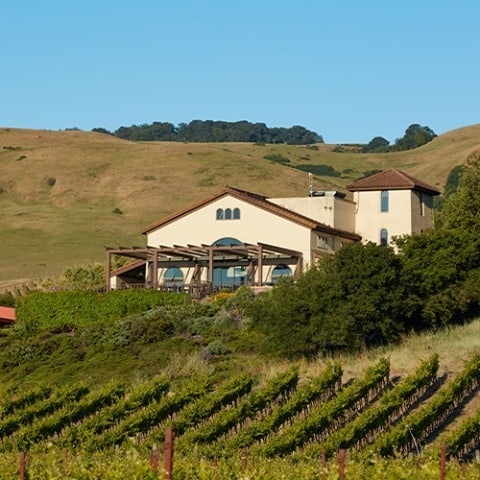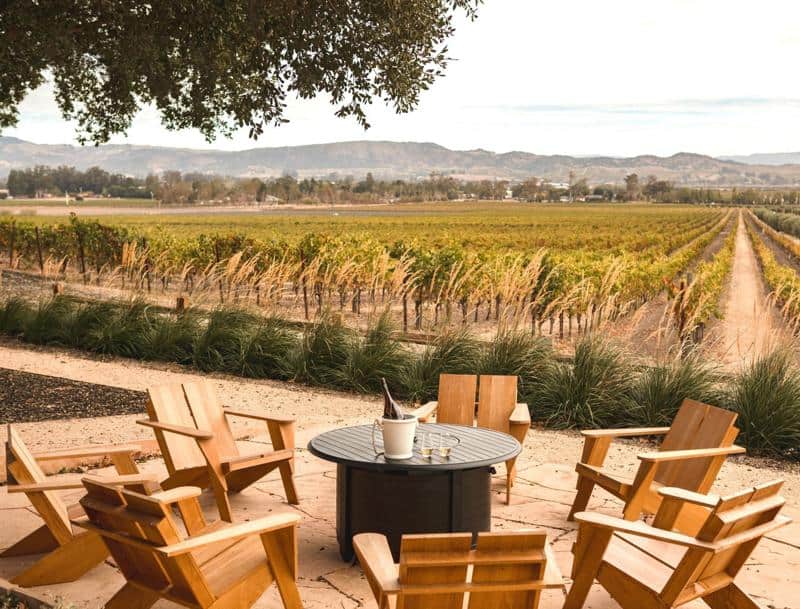 José Ferrer, in the 1980s, ventured from Barcelona, Spain, to Sonoma, California, with his wife Gloria in search of the ultimate region to make sparkling wine. They settled upon Carneros and established Gloria Ferrer. For the Ferrers, whose Spanish sparkling wine growing experience goes back generations, the potential of Los Carneros was unmistakable, even before it became an established AVA.
Specifically, Sonoma's warm days, cool nights, predictable winds, summer fog, and a long growing season coax grapes to maturity slowly and consistently with a desirable balance of sugar and acidity. Thus it is the perfect environment for Pinot Noir vines, Chardonnay vines and sparkling wines.
Their house style of sparkling wine is rooted in a dynamic blend of innovation and consistency. Here the winemakers use creativity, ingenuity, and a gentle hand to reveal the distinctive Carneros terroir through Pinot Noir-dominant sparkling wines.
Editor's Note: This is the first sparkling winery in Carneros.
Buena Vista Winery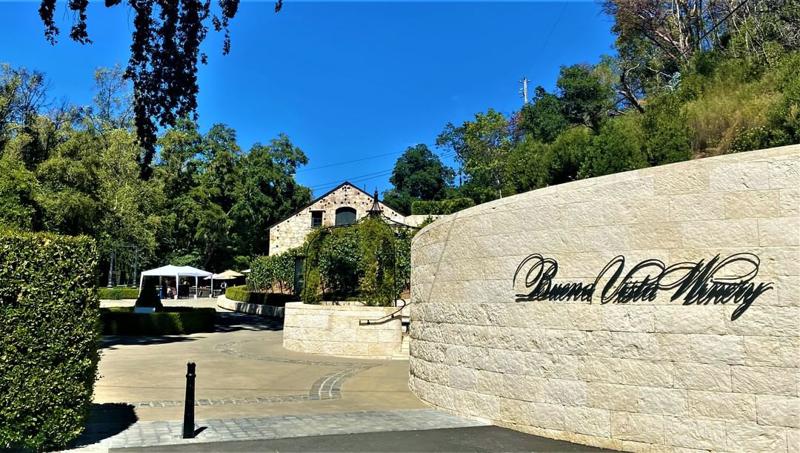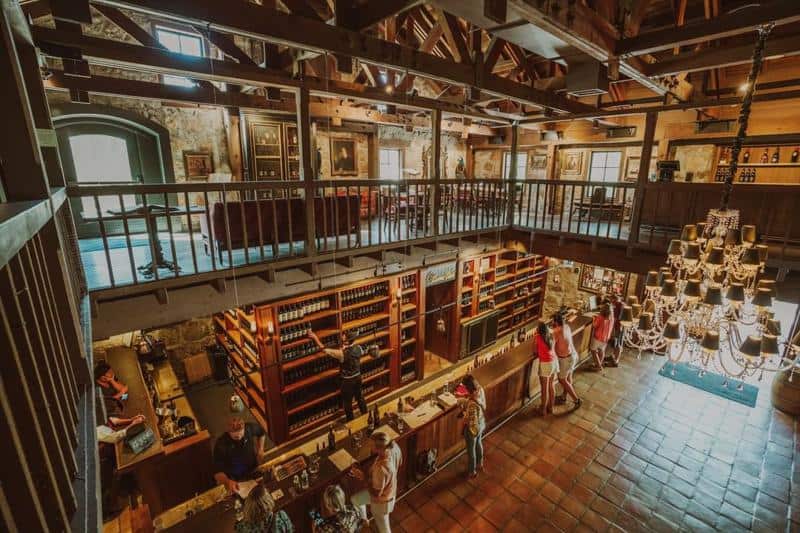 Buena Vista Winery has been producing premium wine since before California, and Sonoma Valley became well-known worldwide for wine. Founded in 1857, Buena Vista is California's first winery, and its history is colorful.
Today, the legend is being re-born under the vision of Jean-Charles Boisset. Just outside the town of Sonoma, the original winery is now a California historical landmark and home to our Winery, Tasting Room, and Visitor's Center.
Through traditional techniques and modern enological knowledge, we make wines that tell the story of viniculture from the historical to the contemporary to genuinely reflect the character and style of each grape and vineyard.
Editor's Note: This is the oldest winery in Sonoma.
Ferrari-Carano Vineyards and Winery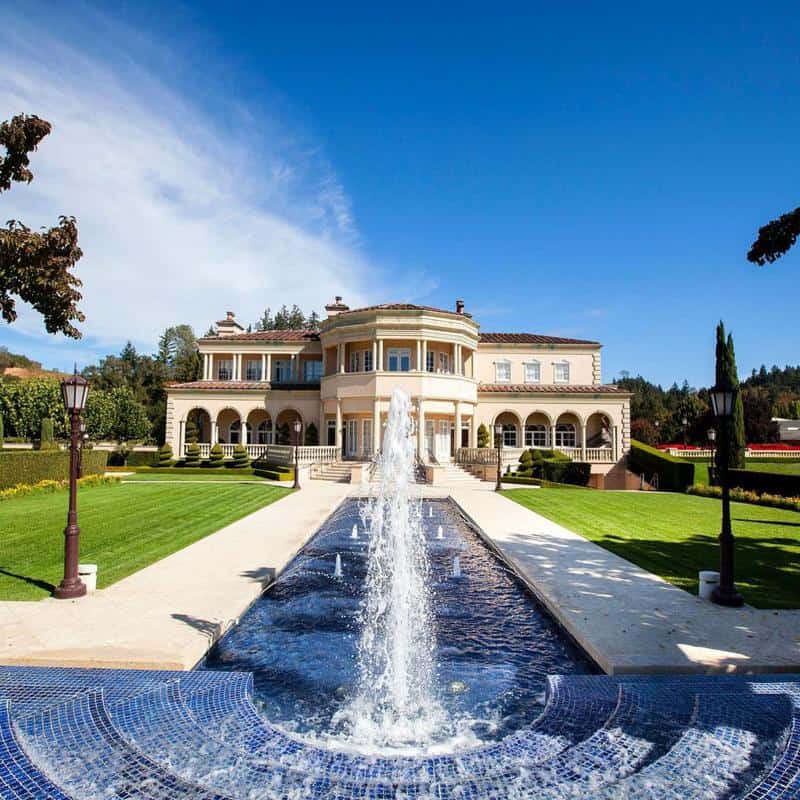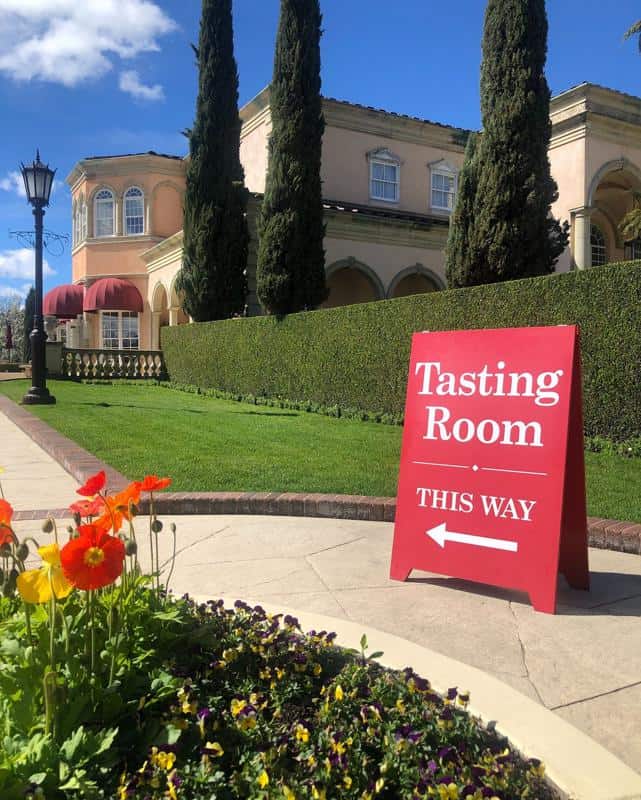 Don and Rhonda Carano, natives of Reno, Nevada, and second-generation Italian-Americans, founded Ferrari-Carano in 1981. Don and Rhonda were introduced to the beauty of Northern Sonoma County in 1979 while searching for wines to enhance the wine lists at Eldorado. They eventually purchased a 60-acre parcel in the Alexander Valley.
Realizing this area's potential, the Caranos' began to acquire additional vineyard land in Dry Creek Valley in 1985. The first wines bearing the Ferrari-Carano label were released in 1987. Those first wines were a 1986 Fumé Blanc and a 1985 Alexander Valley Chardonnay. Today, Ferrari-Carano produces those wines and over 20 other white, red, and dessert wines.
Editor's Note: In 1973, Don established the Eldorado Hotel and Casino in Downtown Reno. Today, Eldorado Hotel is the area's premier location for fine dining, excellent wine lists, and impeccable service.
Truett Hurst Winery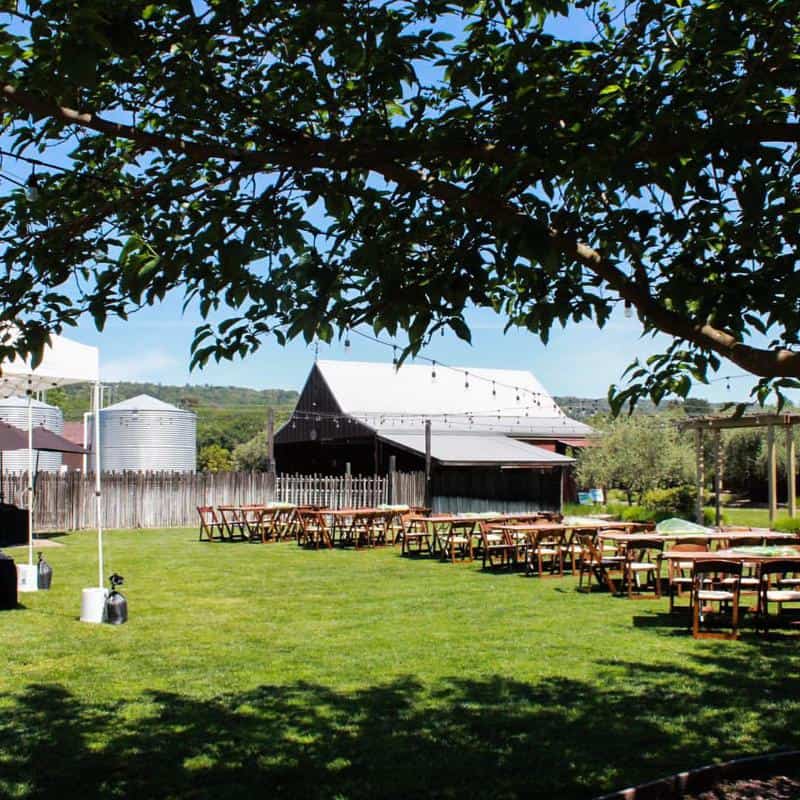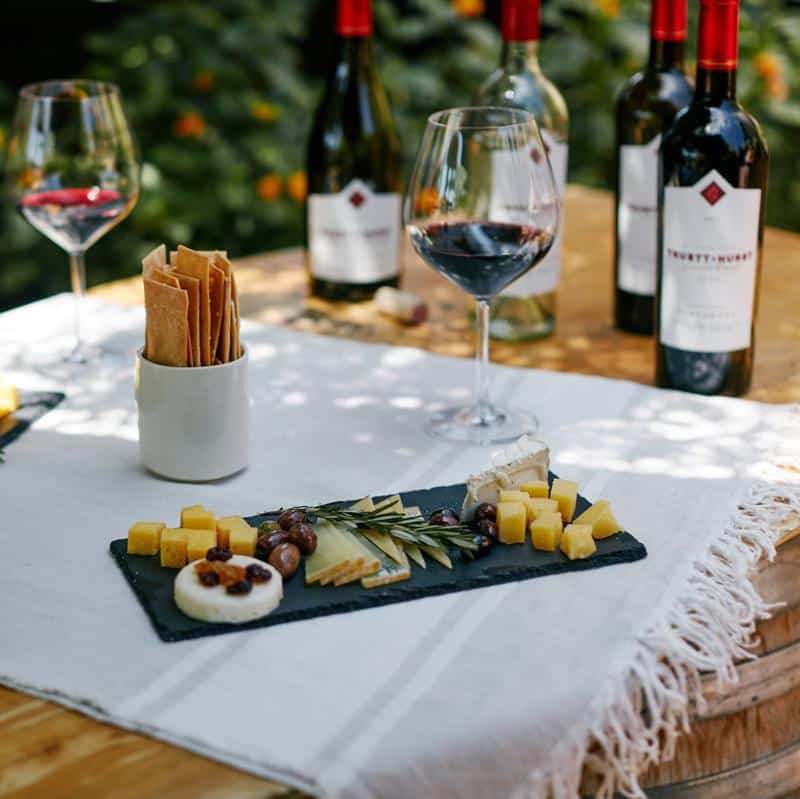 The two founding families of Truett Hurst had storied careers in wine long before joining forces. Phil Hurst is a UC Davis winemaking alumni, and Paul Dolan has been growing wine grapes for over 40 years. However, both wanted to join forces, to build a legacy for future generations. The Dolan family has always been passionate about wine and winemaking.
Paul's great grandfather left north Italy in the early 19th century. He settled in Sonoma County and established the Italian Swiss Colony. The Truett name originates from the first vineyard planted by the Dolan family three generations ago to supply grapes to that historic brand. The Hurst's had a vision for making dark, rich, and robust wines from the famed terroir of the Dry Creek Valley. From this combination of passion and vision, Truett Hurst was born.
Editor's Note: Truett Hurst is a vibrant 26 acre certified organic and Biodynamic vineyard and farm that is home to a small herd of goats and sheep, a restored creek and riparian ecosystem, seasonal steelhead and coho salmon, osprey, red tail hawks, golden eagles, blue herons, white cranes, ducks, and even an occasional otter.
Matanzas Creek Winery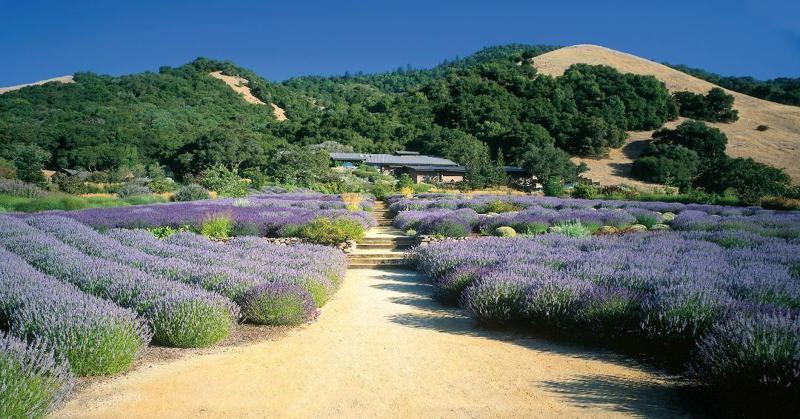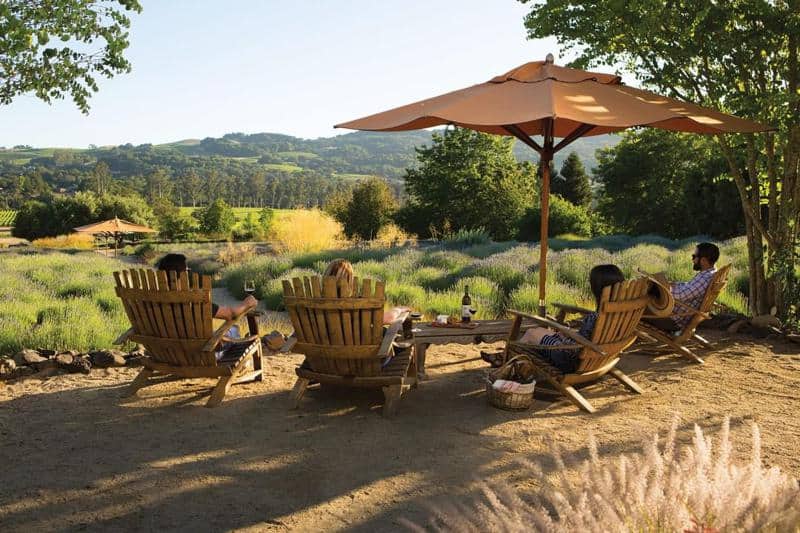 Matanzas Creek is in the remote but breathtakingly beautiful Bennett Valley region of Sonoma County. Since its launch in 1977, the winery has built its reputation on Sauvignon Blanc and Merlot. These are two varieties that thrive in Sonoma's temperate climate.
Still, Matanzas Creek also produces Chardonnay, Pinot Noir, and Bordeaux-style reds, the most famous wines of Sonoma. The winery's fruit comes from sustainably farmed estate vineyards scattered throughout the county's AVAs.
In addition to its wines, Matanzas Creek is also famous for its spectacular lavender gardens. The unique character and beauty of Matanzas Creek's winery, vineyards, lavender fields, and gardens have earned the Estate worldwide recognition as a premier California wine country destination.
Editor's Note: At Matanzas Creek you will discover the best recipes to pair with wine.
St. Francis Winery & Vineyards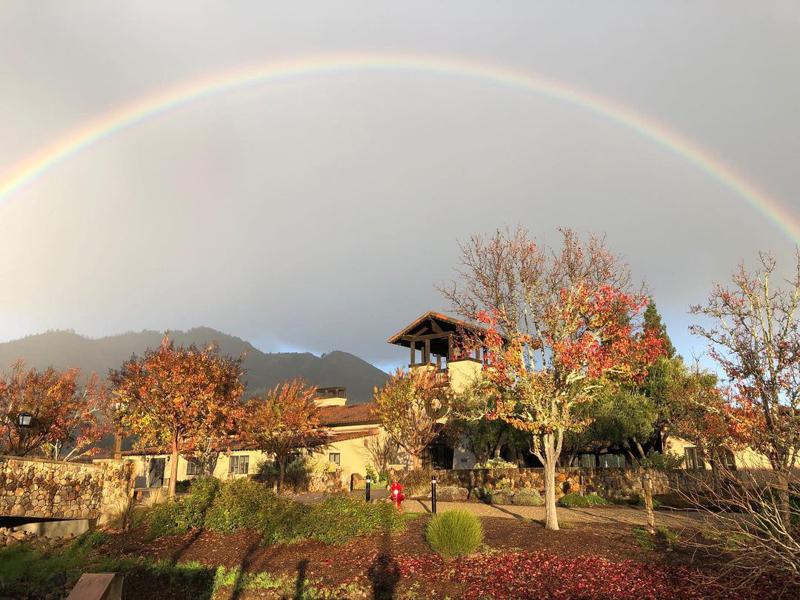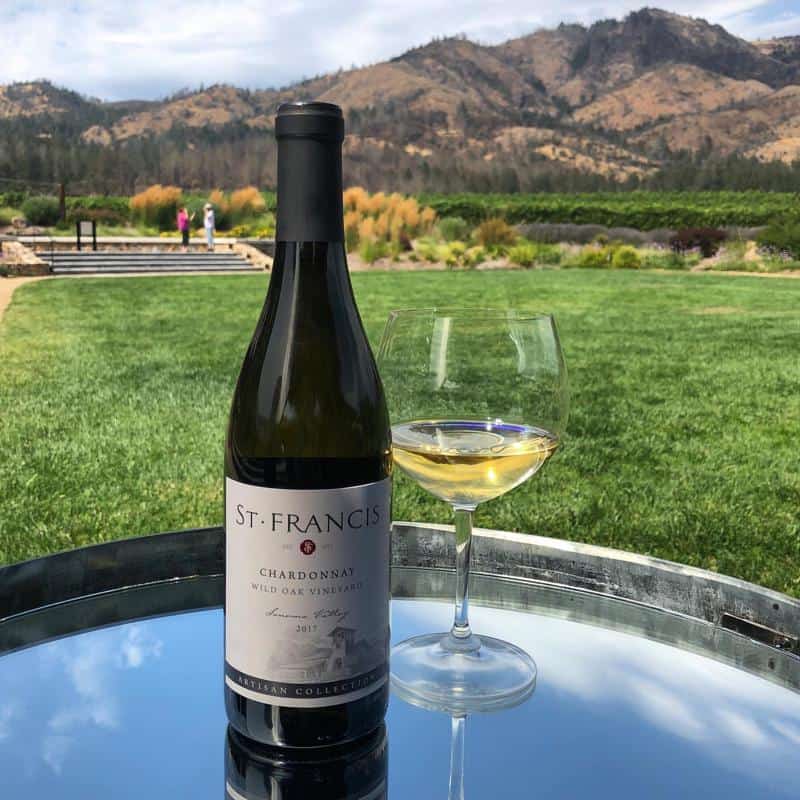 In 1971, Joe Martin fell in love with Sonoma Valley and established St. Francis Winery . He began by planting 22 acres of Chardonnay and the first 60 acres of Merlot in Sonoma Valley. After achieving great success as a grower, Joe opened his winery in 1979, and for five decades, the wines of St. Francis Winery & Vineyards have reflected the finest mountain and valley vineyards in Sonoma County.
Today, the long tradition of luscious, elegant, fruit-driven wines from Sonoma County grapes continues. St. Francis farms more than 380 acres of Certified Sustainable estate vineyards in Sonoma Valley and Russian River Valley. Each has varying compositions of loam, clay, and volcanic soils.
Furthermore, they also nurture long-term relationships with top Sonoma County grape growers, giving the Winery access to some of the region's most coveted old vines, Zinfandel, and other varietals from acclaimed vineyards.
Editor's Note: The winery and stunning mission-style Tasting Room are in the heart of Sonoma Valley, surrounded by estate vineyards. The bell tower houses a 1,000-pound bronze bell cast by the Marinelli Foundry in Italy. It chimes every hour and can be heard throughout the valley.
Ram's Gate Winery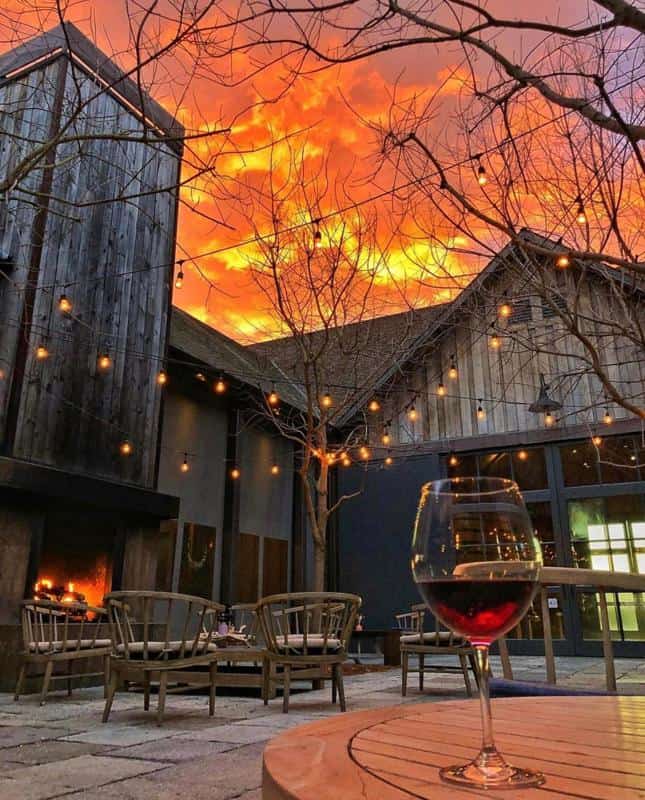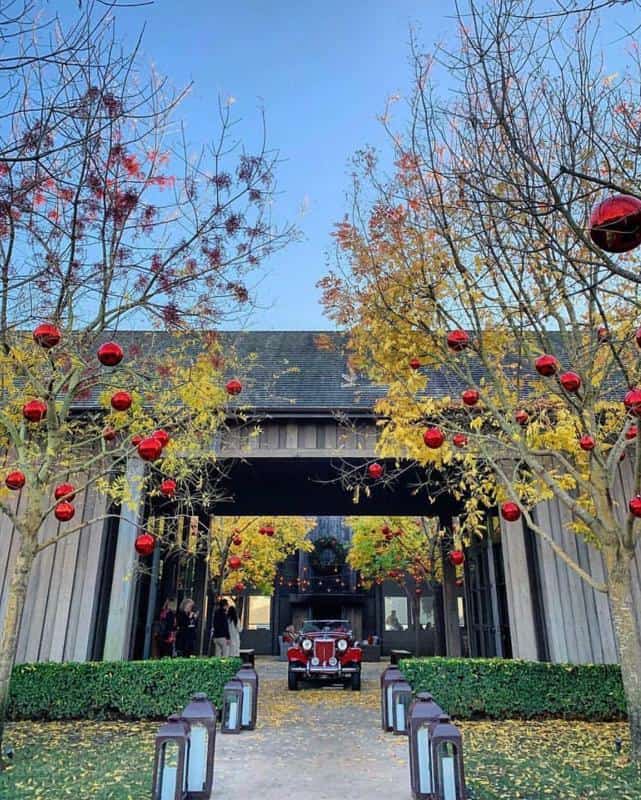 Perched upon a rolling hillside, Ram's Gate Winery overlooks the San Francisco Bay and meets the edges of Napa and Sonoma counties. The estate vineyard is in a perfect position. The Sonoma Valley ends on the south side of the vineyard, the Sonoma Coast on the east, and Carneros on the west, making it the compass rose of Sonoma and the gateway to Wine Country.
Founded in 2011, the winery has long been recognized for its portfolio of wines. Building on a decade of discovery, the culmination of stewardship, careful farming, and thoughtful winemaking shows in every bottle. Today, the estate vineyard is known for its thoughtful precision farming, sustainability, and elevated wines.
Editor's Note: The winery has superb wines, architectural beauty, refined hospitality programs, and sublime culinary experiences.
Korbel Champagne Cellars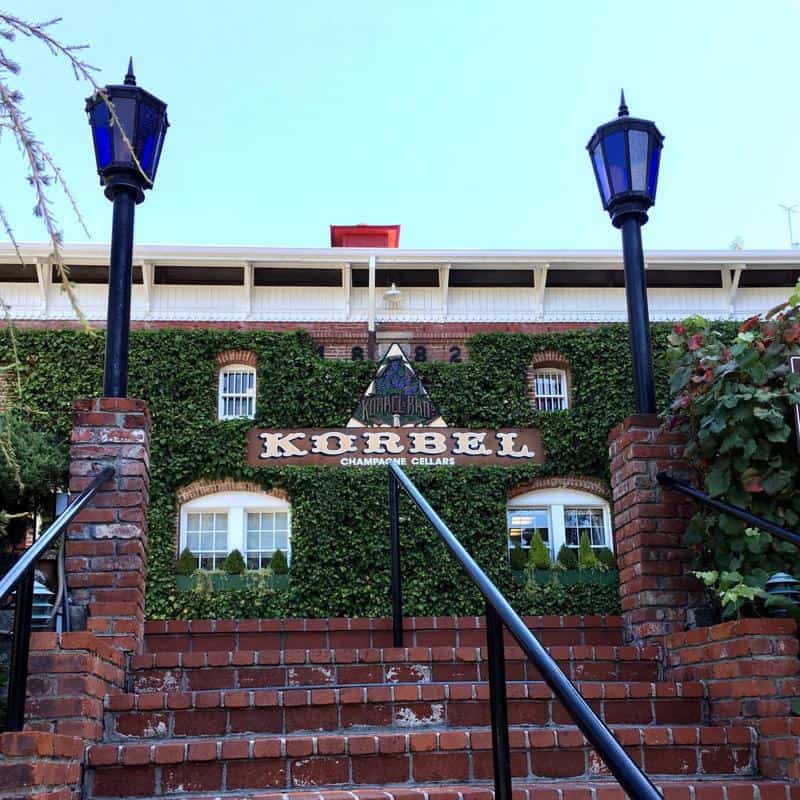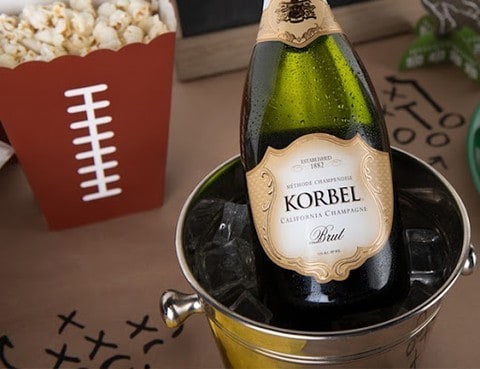 Korbel Champagne is near Guerneville and along the Russian River. Hidden among giant redwood trees, it makes a fantastic destination for its wine and beautiful views. Furthermore, apart from a historic winery, it also has a fully stocked delicatessen and gourmet market, a gift shop, and a picnic area. They also have a regular tour schedule and "California Champagne, "sparkling wine.
Korbel was founded by three brothers who migrated to California from a small village of Southern Bohemia, which today is in the Western Czech Republic. After successful occupations in the lumber, dairy, and other businesses, they decided to purchase a career in the wine industry.
They experimented with different grape varieties, including Pinot Noir and sparkling wines using the traditional Méthode Champenoise. Today after 139 years, they are still making some of the best wines in Sonoma.
Editor's Note: There is an old railroad station on the winery grounds, where the Korbel Brothers' railroad line, the Arcata & Mad River Railroad, once operated.
Francis Ford Coppola Winery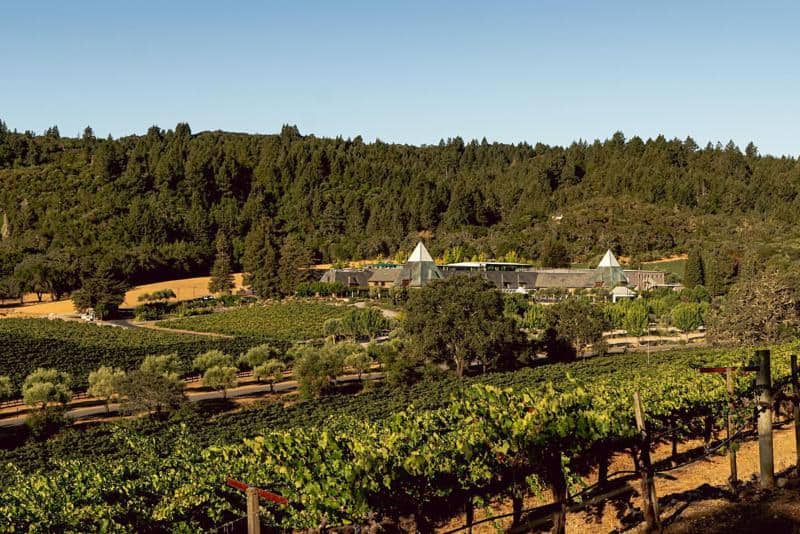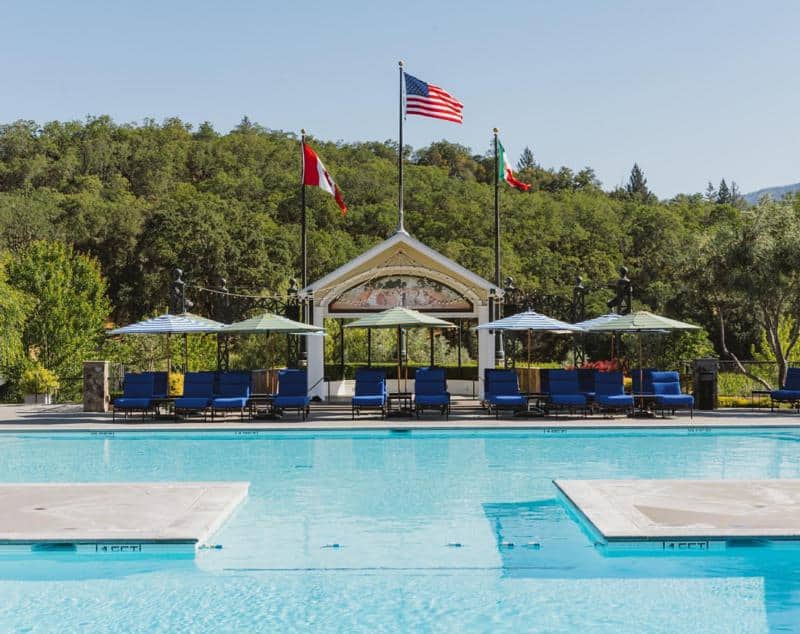 Francis Ford Coppola was influenced by Tivoli Gardens in Copenhagen, which was the inspiration for all the modern amusement parks. The beautiful theater pavilions with the curtains painted with peacock feathers, the little ballet performances, the rides, but more importantly, the cafes and the refreshments, gave the sense of being in a children's garden.
Thus, Francis Ford Coppola Winery aimed to become such a park. It is a place where the family can go and enjoy, where there are things for kids to do, so they can be close to their parents who are sampling wines and foods.
The Coppola family purchased the historic Chateau Souverain property in Sonoma County in 2006. After many renovations and turning it into a winery. Finally in 2010 the winery opened to the public with its newly renovated tasting room, museum, and Rustic, Francis's Favorites restaurant.
Today the winemaking team has created a strong grower relations program. In fact, they are regarded as leaders in the wine industry for their innovative and engaging approach.
Editor's Note: at Francis Ford Coppola Winery you can experience wine but also culinary delights, cinematic history, and entertainment for the whole family.
Ledson Winery & Vineyards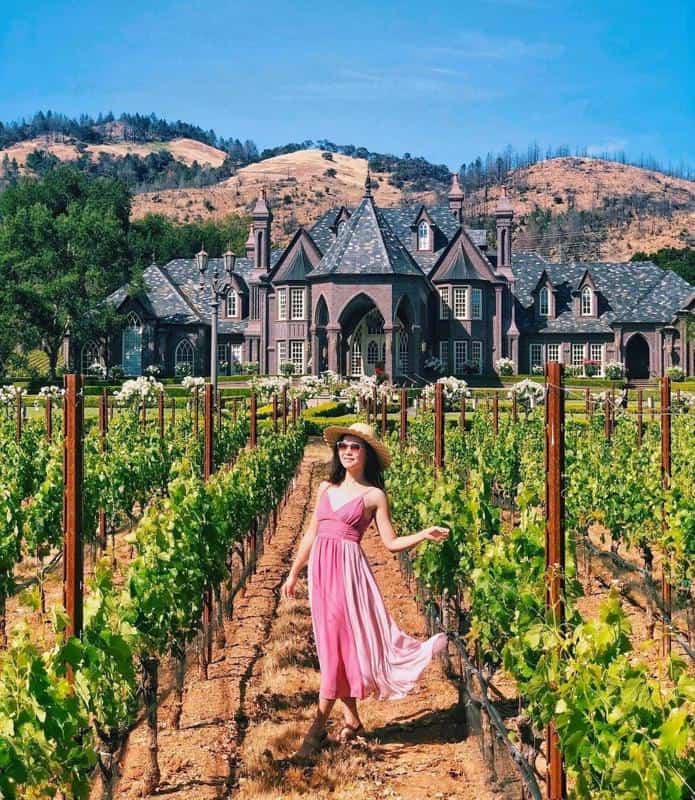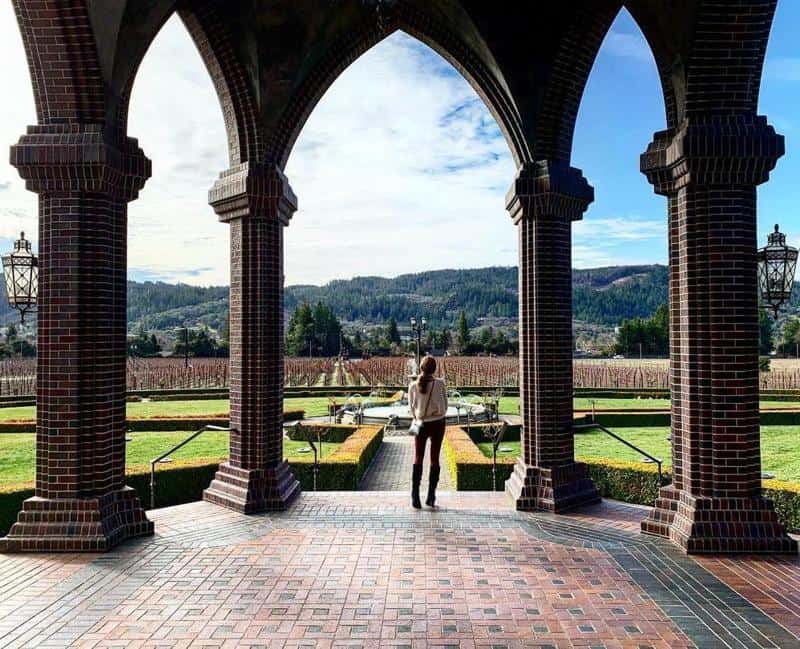 Ledson Winery is the story of five generations, spanning two centuries with one common family trait, a tenacious determination, and tireless work ethic to pursue their dreams. It is the story of sauterne for breakfast and castles built of prune boxes.
In the heart of Sonoma Valley, you will find an architectural landmark known throughout the world as the "Castle." Founder and winemaker Steve Ledson designed the impressive tower. The winery consistently produces exceptional, small-lot handcrafted wines showcasing Sonoma County's excellence as a Wine Country.
The winemaking philosophy is, "everything begins in the vineyard." Steve chooses quality over quantity, only selects the best grapes, and will reject fruit if it doesn't meet his approval.
Editor's Note: The Gourmet Marketplace offers a great selection of local and unique cheeses, meats, fresh sandwiches, and salads, plus many Ledson delicacies, such as flavored mustards, olive oils, and wine-infused chocolate sauces. After the tasting, many decide to enjoy a delicious picnic in the majestic Oak Grove.
Also Read:
Sonoma vs. Napa
There's so much to love about California wine country that choosing between Napa and Sonoma almost feels like choosing a favorite child. Both have their unique charms, incredible food, memorable experiences, fantastic scenery, and, of course, delicious wine.
An essential piece of information to remember is that there is Napa Valley and the town of Napa. And there's Sonoma Valley and the town of Sonoma. It can get confusing sometimes, especially for people who haven't visited either before.
Nevertheless, Sonoma County and Napa County are next doors, but there's a big mountain between them, so it takes a while to drive from one valley to the next. That's why it's not a good idea to book a morning tasting in Santa Rosa and then an afternoon tasting at a winery in Yountville. You'll just be spending the day in a car rushing, and that's so not the vibe for wine tasting.
Truthfully, one is not better than the other, but they are both very different. A better thing to know is which region is more your style. Generally, in Napa Valley, you can hit the high road in a limo while the scenery glimmers with Michelin stars and more than 95 point ratings. While in Sonoma County, you can drive slowly down a dirt road to a casual outdoor patio with inexpensive tastings.
Related Read: Best Time To Visit Napa Valley: Seasons Guide
Best Wineries with Tasting Rooms
Visiting a winery naturally means tasting different types of wines, but let's see the best wineries for tasting rooms or tours.
Ferrari-Carano Vineyards and Winery: Overlooking breathtaking vineyards, gardens, and fountains, the Villa Terrace Wine Tasting is the perfect place to relax and enjoy a flight of four award-winning reserve wines in an atmosphere resonant with the good life. Here, you can sip and relax while you learn about the winery's winemaking philosophy and vineyard practices.
Truett Hurst Winery: On the Patio or in the Tasting Room, you can enjoy the Homestead Tasting, a flight of five wines from Dry Creek Valley and the Russian River. You will be guided through the tasting by exploring the wines and winemaking style. Furthermore, you will learn of their ecological approach to Biodynamic farming and Dry Creek watershed restoration here on the Truett Hurst property.
Matanzas Creek Winery: Tastings are open daily by appointment for groups of eight or less. Here you can taste their excellent wines while having a spectacular view of the vineyards. From June to July, you can see the lavender fields in bloom, and they are at their peak in color and aroma. During this time you can have a joyful picnic with family, friends and even your dog.
Korbel Champagne Cellars: Experience Korbel wines by joining an intimate, guided tasting featuring a selection of their finest bubblies and still wines.
Best Wineries with Tours
Generally, all the wineries have tours but let's look at the wineries with the best wine, winemaking, and vineyard tours.
Buena Vista Winery: Explore the delights of this historic winery. Your tour will begin with a stroll through the beautiful grounds, followed by a journey through the renovated Champagne Cellar. Then you will be taken back to 1857 and have a tour of their history from the beginning until the present day while you enjoy a flight of Buena Vista current release wines. Next, you will step into the caves of Buena Vista to sample wine taken directly from a barrel.
St. Francis Winery and Vineyards: Here you can have an alternative experience of the winery and vineyards. It is a one-of-a-kind vineyard tour & wine tasting excursion that takes you through the heart of the Wild Oak Estate Vineyard. Climb aboard the fully sustainable, pedal-powered tasting trolley and embark on this fun and informative roving wine tasting. You can learn about the history, viticulture, and production practices through this tour while you sip wines amongst the vines.
Ledson Winery and Vineyards: Every time you take a trip to Ledson Castle, you're stepping into a place immersed in history. Classic tastings take part in one of three bars, each named for a loved and impactful member of the Ledson family, Steve's father Noble, and Steve's uncles, Winslow and Whitby. Visitors to Ledson Winery can taste handcrafted varietal wines. At the same time, the experienced staff offer recommendations, provide information, and ensure the thorough enjoyment of your tasting experience.at thei
Best Wineries with Restaurants
The best way to try a delicious wine is with excellent and tasty food. Many wineries have a restaurant at their premises where you can enjoy a fantastic meal with the winery's best wines.
Gloria Ferrer Caves and Vineyard: Relish the stunning views of Carneros on the Vista Terrace while enjoying a three-course lunch paired with four of Gloria Ferrer's exceptional wines. You'll be guided by one of their wine educators as you taste your way through this local and seasonal menu.
Ram's Gate Winery: Here you can embark on a wine and culinary adventure. You will experience a five-course pairing highlighting five wines hand-selected by the Director of Winemaking, Joe Nielsen, seamlessly paired with seasonal courses crafted by Executive Chef Stacey Combs.
Francis Ford Coppola Winery: Rustic is open for indoor and outdoor dining and to-go orders. Rustic's menu features Francis Ford Coppola's favorite international cuisine and traditional Italian dishes, emphasizing family-style cooking that highlights fresh, seasonal ingredients sourced from the property's organic herb and produce garden. This is the perfect restaurant to taste wine with a delicious meal.
Final Thoughts
Sonoma County is home to some of the most well-known wines of America and even the world. Sonoma is one of the best places to taste rich, silky, and smooth flavored wines. So, if you are a wine enthusiast, then Sonoma is the right destination.
No matter which winery you choose to visit, you will undoubtedly have an unforgettable experience. You can taste the elegantly flavored and balanced wines of California while enjoying this beautiful area. So, do not miss the opportunity to visit one of these fantastic wineries in Sonoma County.