Temecula Wine Country isn't just about wine. Temecula is a tourism hub. You have the Temecula wine farms in the valley, where you can go wine-tasting. But then you can also explore Temecula Old Town – a delightful place to explore historic buildings and shop for unique items.
You could visit the Temecula Valley Museum, where you can view antique agricultural equipment. Or you can simply wander around the old buildings—they are from the era of the Gold Rush. Temecula used to be on the pioneer trail, so you'll find many antique shops and paraphernalia.
You can also select to go to some of the music clubs such as the Temecula Stampede—the largest country and western music venue of the West coast. Or you can opt for the unique shops, which often sell fresh, locally-made produce from the region.
You can, of course, choose the nature reserves, hiking trails and lakes for your meanderings. There are plenty nearby.
But of course, you'll need to eat while you enjoy the region!
Whether it's during a normal visit, the International film festival or the Valley Balloon and Wine Festival, or whilst on tour on the championship golf courses, you can dine in style. Pick one of the many restaurants that nestle the countryside.
Would you like to find out more about the venues that offer excellent cuisine? Read on for news of the best winery restaurants, Mexican restaurants, seafood restaurants and more.
Best Winery Restaurants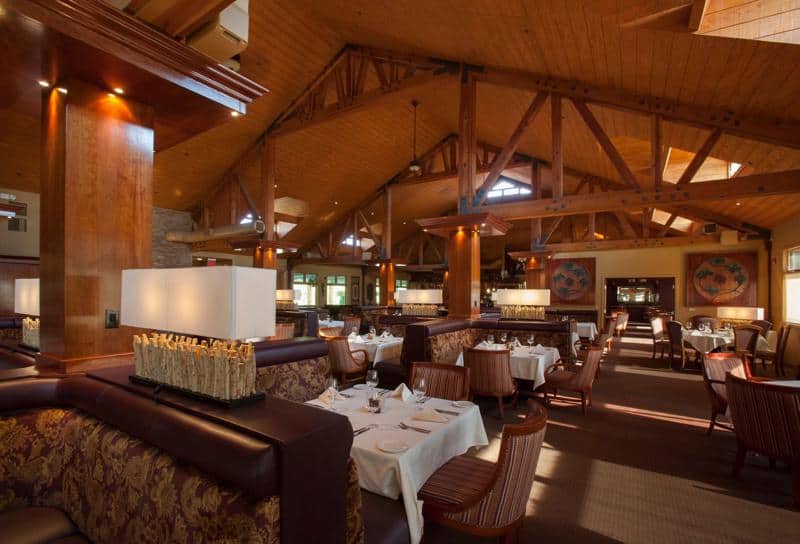 If you enjoy fine dining indoors, this is the restaurant for you. You can opt for delicacies from a few different places around the world – the menu is eclectic. They also pair the menu with choice wines, and you'd do well to order what they recommend. They know how their wines complement the flavours. Some examples:
Select grilled prime sirloin steak with garlic and parmesan pommes frites. Marry that with the winery's Wild Horse Peak Cabernet Sauvignon for an amazing taste experience.
Go Asian with Jidori chicken breast with pommes puree, heirloom carrots, cipollini onions, and celery. Match that with South Coast Winery Grenache Blanc.
They offer New Zealand lamb, Creole Jambalaya (a mixture of different meats), pasta, Miso salmon and sea bass. Add a fresh salad, and you couldn't get any healthier.
You can order for your room if you're staying on site, or you can order to take out.
Hours:
Breakfast: Monday – Friday 8:00 am – 11:00 am
Weekend Brunch: Saturday – Sunday 8:00 am – 3:30 pm
Lunch: Monday – Friday 11:30 am – 3:00 pm
Weekly Happy Hour: Monday – Friday 3:00 pm – 5:30 pm
Dinner: Monday – Sunday 5:30 pm – 9:00 pm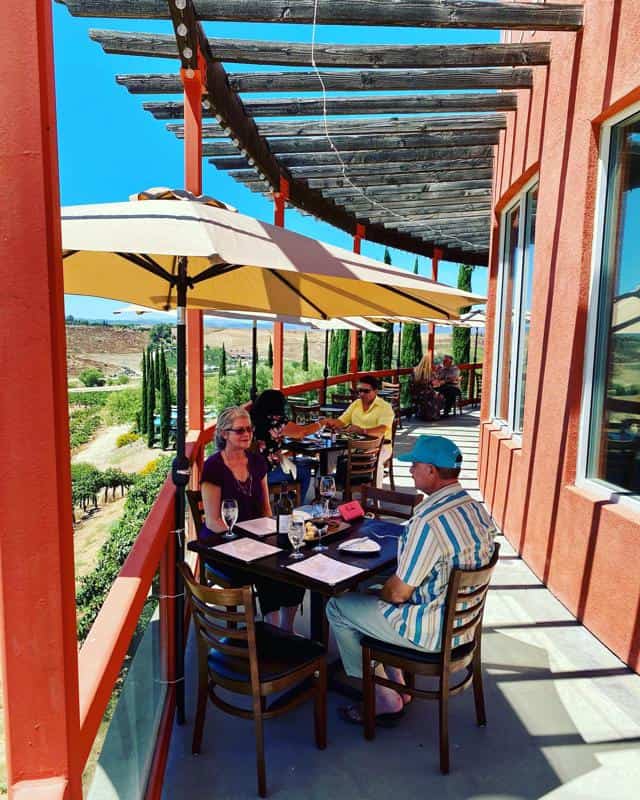 This dining-house is situated on a ridge, and offers both Mediterranean and American cuisine along with its stunning views. You can of course sit indoors with air-conditioning, or you can sit outside in the covered balcony. It's an ideal executive, wedding or banquet venue.
You can sample the Spanish octopus, cooked in a bouillon and finished on the grill. They serve it with lentils, and pour a little paprika oil and fresh lemon over it. Or you could choose Ray's Famous Black Angus Burger—black angus beef burger with melted pepper jack cheese. Pair with 2019 Falkner Meritage or 2017 Falkner Cabernet Sauvignon for the ultimate meal.
It's open daily 10 am—5 pm.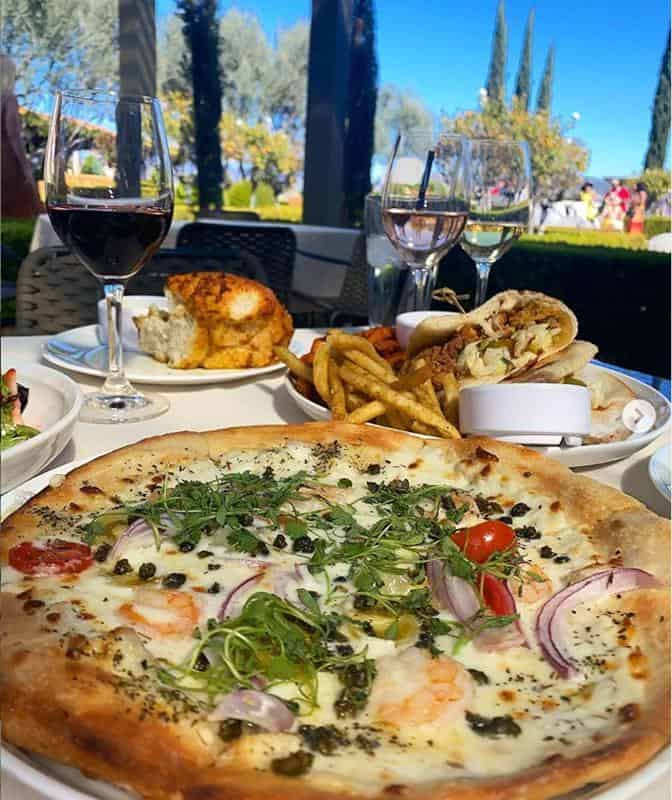 The restaurant at Ponte Winery is where you enjoy al fresco American dining. You can select from locally-grown produce, cheeses, wild-caught seafood and meat and game that's free from hormones.
The salads are very unusual: for instance, the Wine Country salad includes greens, grapes, feta, orange, and pecans in a vinaigrette.
Or you might try the mixed seafood dish, the Cioppino, with scallops, mussels, shrimp, clams and fish with a tomato red pepper broth and garlic crostini.
Their speciality is lamb served with mint pesto and meatloaf wrapped in bacon and served with horseradish and cheese potatoes.
You can also have pasta, pizza and sandwiches, some with the most interesting combinations of fish and seafood.
Hours:
Wednesday – Sunday: 11 am—7 pm
President's Day and Valentine's Day have special hours. Check the website for those details, which change from year to year.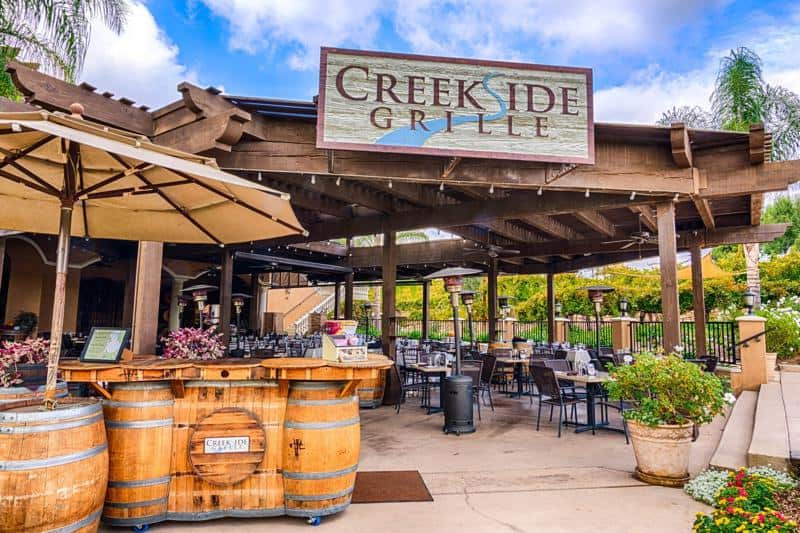 This restaurant in also in the open air, and offers a mixed array of dishes:
Try the braised lamb in red-wine and thyme sauce for an exceptional dinner.
You can try their burgers or short-rib for a simpler menu, with some farm-fresh salad.
The fish dishes are a house-favorite.
Opt for the dry-aged Kurobuta pork chop in tart dried cherry pan jus.
Add their Almond Sparkling Wine for something novel and refreshing.
Opening Hours:
Monday – Thursday: 11:00am—4:00pm
Friday & Saturday: 11:00am—5:00pm
Sunday: 10:00am—4:00pm *Sunday Brunch Menu only
Best Mexican Restaurants in Temecula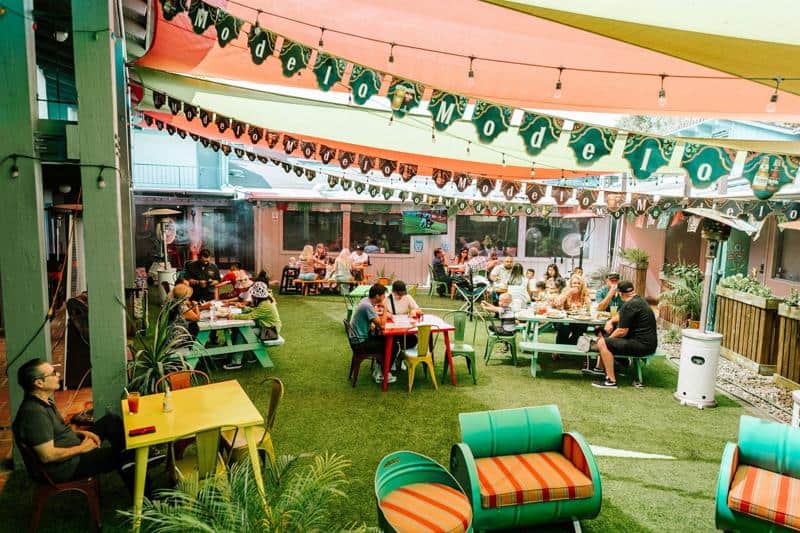 An authentic Mexican restaurant, Guadalajara's offers hot, spicy dishes, along with milder ones for the children or adults who prefer milder food. The restaurant itself is very colorful and fascinating—not upmarket, but comfortable, friendly and lively. They have a large number of dishes on the menu, with the usual tacos, tamales, fajitas, enchiladas, burritos and tostadas.
Many dishes are served with chili, beans, guacamole, or pico di gallo. Why not sample the seafood enchilada, where at least one of the enchiladas is stuffed with shrimp and Jack cheese? It's served with beans, rice and tortillas.
Naturally, you can order Mexican drinks like tequila, along with many other refreshments.
You can also order take-out.
Hours:
Monday – Thursday: 11 am—9 pm
Friday – Saturday: 11 am—10 pm
Sunday: 10 am—9 pm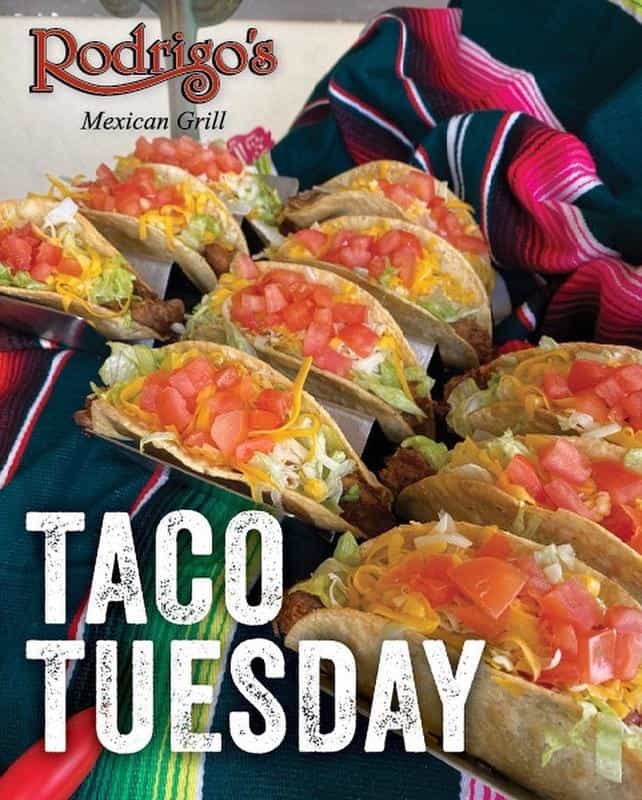 This is a chain-style restaurant, with genuine Mexican food, and to be found whether in the hills or close to the beach in Temecula.
It serves healthy salads, and you can order Ceviche. This is shrimp and wahoo fish marinated in citrus juices and mixed with tomato, cucumber, jalapeno, onion and avocado.
If you prefer keeping to the light side of the menu, tostadas will satisfy you, or you can select meatball soup.
When you prefer something more substantial, you can attempt their specialties. Stuffed Pasilla Chile Relleno is pepper stuffed with braised beef, beef chorizo, potatoes, queso fresco, cilantro cream sauce over a bed of rice and black beans.
Tacos are a popular favorite, with shrimp or grilled fish tacos being popular at the coast. Or you could sample Mexican pizzas – meat on flour tortillas with chilli, cheese, guacamole and cream.
Hours:
Monday – Sunday: 11 am—8 pm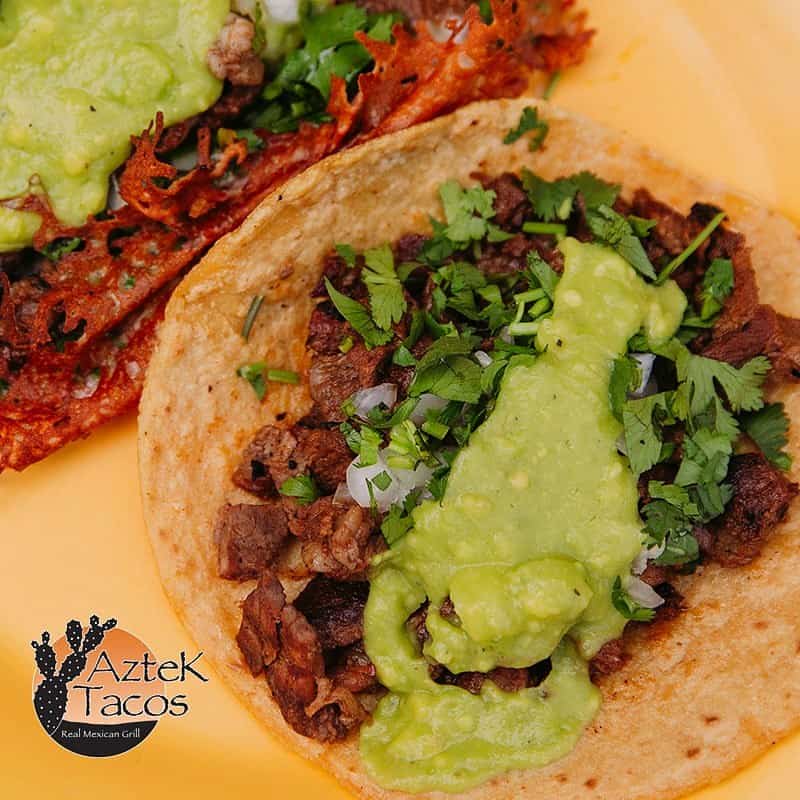 The Aztek Tacos restaurant also offers similar dishes to other Mexican restaurants. You can order limited items online and your order has to be above $20.
One of their selling points is that they serve cactus with some of their breakfast dishes and their Plato Azteca which is unique. What's more, they specialize in Tamales, filled with chicken, beef or pork.
Molcajetes is one of their house specialties. This consists of cheese, bell pepper, onions, mushrooms, rice, charro beans, tortillas and your choice of shrimp, chicken, or arrachera and shrimp.
Hours:
Monday – Thursday: 9 am—9 pm
Friday – Saturday: 9 am—10 pm
Sundays: 9 am—8 pm
Best General Restaurants in Temecula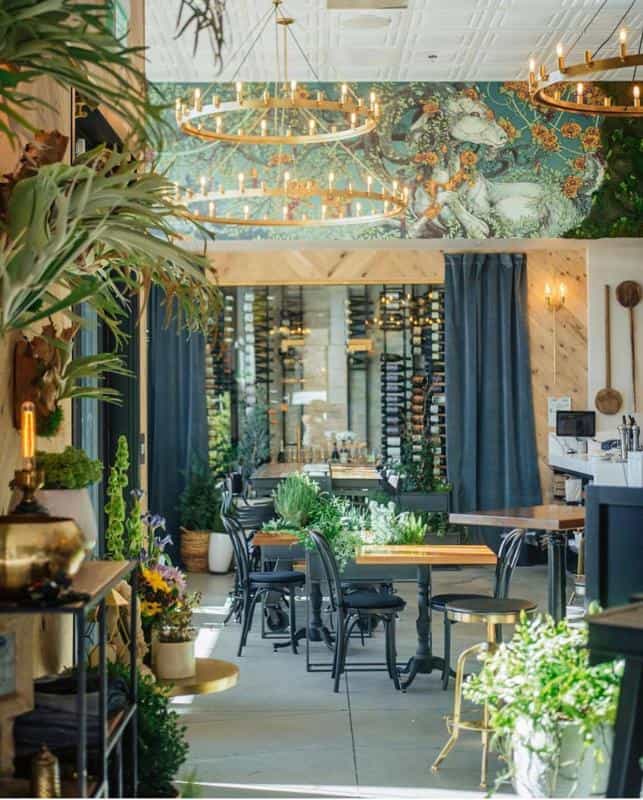 The Goat and Vine consistently gets top reviews. They don't take reservations, but you can join the wait list on Yelp.
What makes them stand out is that, not only do they have playful furniture and décor, but their menu is unique, unusual and creative. They also have excellent service.
Of course, the food is amazing:
Take, for instance, their Mother's Meatballs. Made from Snake River Farms Kobe beef, with home-made fennel sausage, and mixed with house marinara, mozzarella, provolone, parmesan, and basil, it's served with parmesan-crusted garlic sourdough bread. And that's just a starter!
The main course is Pizza. They're all made in a stone-hearth—the authentic Italian way. A winning option is the Goat, made with goat's cheese, shallot, grape tomatoes, lemon zest, basil, and a whole head of garlic.
If you're a meat eater, you can try the Steak Gorgonzola. The pizza is topped with roasted prime steak, garlic olive oil, caramelized onions, crimini mushrooms, and gorgonzola cheese. Over this, they drizzle fresh arugula and blue cheese sauce.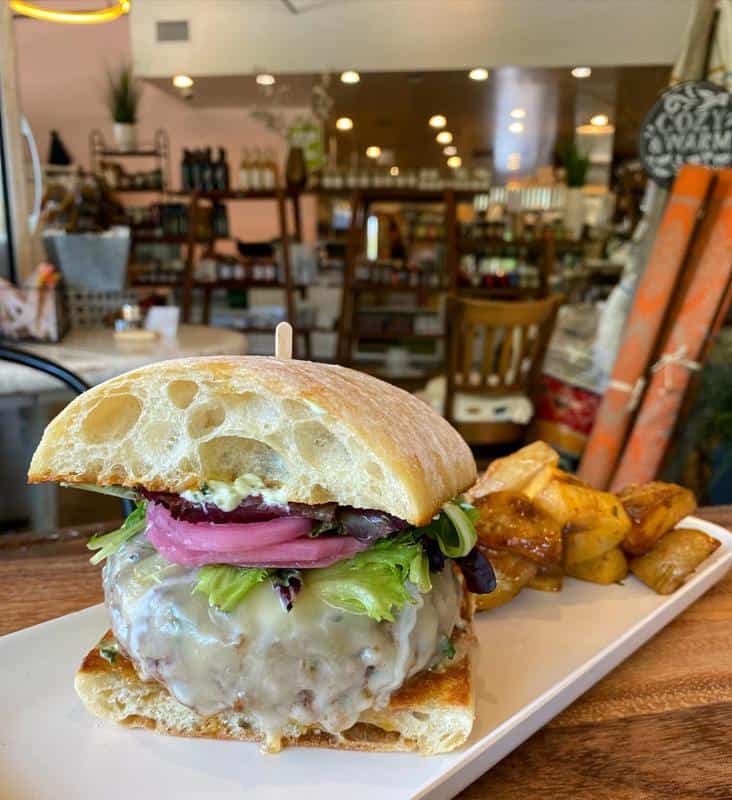 E.A.T is driven by providing the freshest, most nutritious local foods they can. They're one of the few that cater for dietary restrictions—carnivore, vegetarian, vegan, gluten-free and paleo diets included. The presentation is beautiful, but there is no service—you order over the counter.
Always go for the chef's specials first. The red lentil Tibetin soup is extremely tasty. Or try some of the sandwiches. Banh mi plant wrap is blackened tofu with spiked mayo, pickled red onion, slaw, cilantro and worth a try.
Hours:
Sunday—Monday, Wednesday—Thursday 8 am—3 pm
Friday—Saturday 8 am—7 pm
Tuesday Closed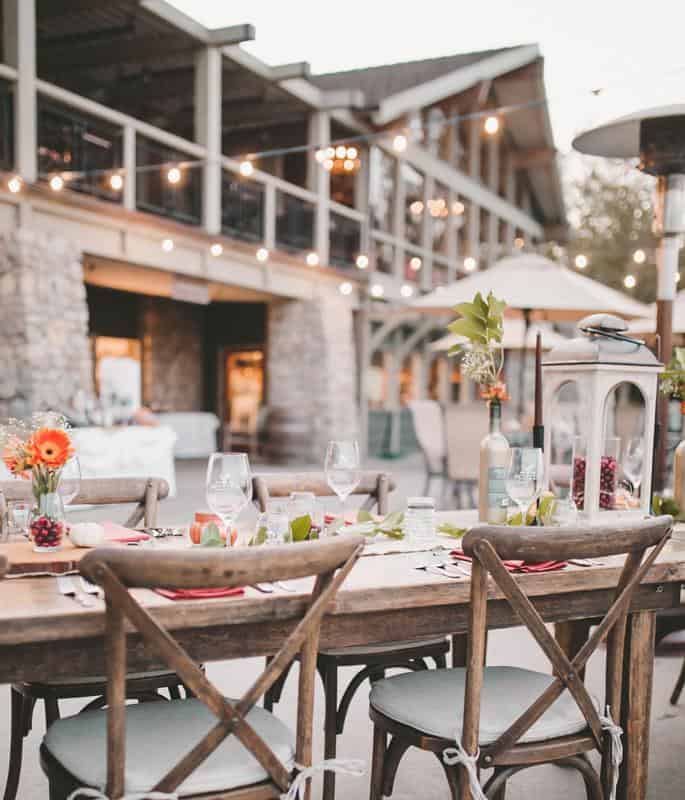 Cork Fire Kitchen is found in the canyon at Temecula Creek Inn. It overlooks both the rolling greens of a golf course and the mountains, so if you can, sit outdoors. It's said to be the most comfortable restaurant seating people have ever experienced. The Cork Fire restaurant both rustic and refined, and operates as a farm-to-table venue. Their menus are designed for sharing.
They use fresh goods, and obtain organic whenever possible. People rave about this restaurant for the variety of flavors and unusual culinary experiences. You'd be well advised to reserve your seat, because this restaurant is popular and fills up quickly.
What can you expect? The Kitchen offers Gulf Prawn Aguachile, made from prawns with almond salsa macha, cucumber, jalapeno lime broth, avocado puree, pickled onions and coriander.
You could also sample the Cast Iron Brussel Sprouts with bacon candy and black sesame caramel miso. Add a butternut squash salad which included grana padano cheese, roasted cipollini, salted seeds, farmer's greens, honey vinegar, and pistachio & mint pistou. Heavenly flavoring!
Hours:
Sunday—Thursday: 6.30 am—9 pm
Friday—Saturday: 6.30 am—10 pm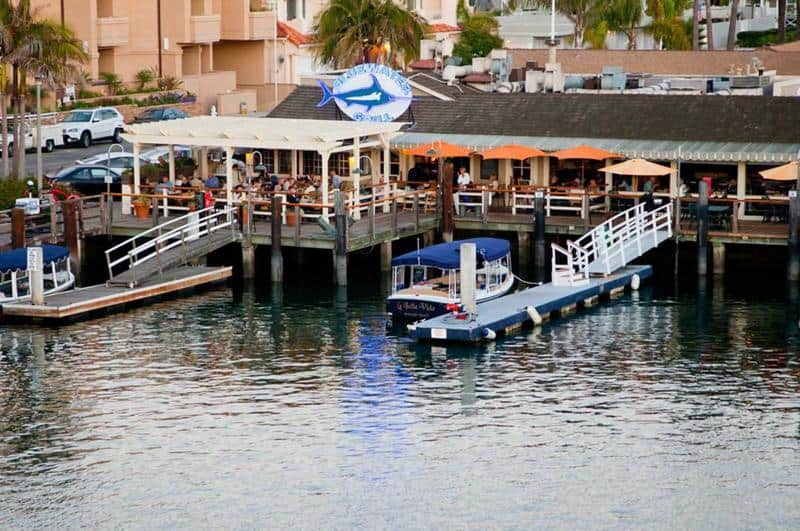 Seafood lovers enjoy Bluewater Grill for the fresh catch, done sustainably. They harpoon their own swordfish in season, and offer more than 40 varieties of seafood. Their oysters, and chowder are award-winning, and you can pair your food with any local wine.
Try the Mussels with Spanish Chorizo, served with clams, grape tomatoes, garlic, white wine and grilled bread. Or you can turn toward Japan with the Ponau Sashimi Sea Scallops, drizzled with Wasabi aioli and presented with wakame salad and pickled ginger.
If that's not your style, try French Bouillabaise, which is a Provençal-style broth with saffron, fish, mussels, clams, shrimp and scallops topped with rouille. Alternatively, go Italian with Italy's Cioppino, which consists in clams, mussels, crabmeat, shrimp, scallops and fish with a marinara sauce.
You may order online.
Hours:
Sunday and Tuesday—Thursday 11 am—8 pm
Friday—Saturday 11 am—9 pm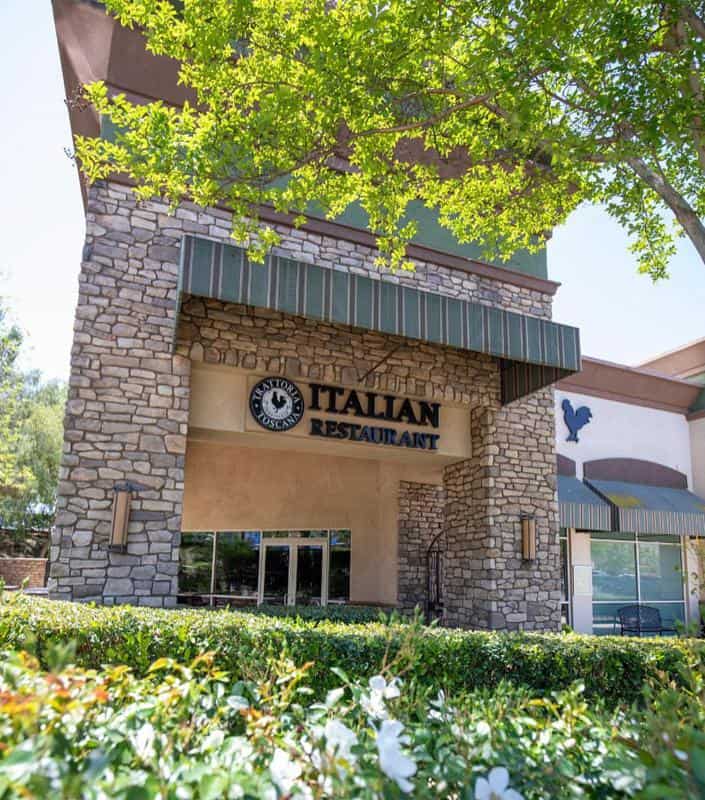 Authentic Tuscan-Sardinian cuisine can be found at Trattoria Toscana. You can be certain of a selection of fresh local ingredients and genuine Italian items for a high-quality meal.
You can always come for the antipasti if you like, or a full meal.
The antipasti can be regarded as light meals. You should really try the Polpetti alla Diavola, which is octopus sauteed with spicy tomato sauce and garlic.
The Primi courses are substantial. Normally, Italians will eat both first and second courses for their main meal. Attempt the Gnocchi alla Gorgonzola—potato dumplings in a Gorgonzola sauce—for your pasta dish. It's a memorable meal.
Among the Secondi, select the Filet Mignon con Porcini—filet mignon with a creamy porcini mushroom sauce. For your dessert, sample the Cannolli, an Italian pastry shell filled with ricotta cheese and home-made berry sauce.
Hours:
Sunday—Monday 4.30 pm—9 pm
Wednesday—Thursday 4.30 pm—9 pm
Saturday—Sunday 12 pm—3pm
Friday—Saturday 4.30 pm—10 pm
Tuesday: closed
Fresh, home-made bread is to be found at the Great Harvest Bread Company. The whole wheat is ground daily. You can find delicious lunches with the best meats, gourmet spreads and fresh vegetables. They also give the exact calories on the menu, so those who are counting can easily plan their meal.
The Mediterranean Veggie Sandwich is very healthy. It contains freshly made roasted garlic hummus, avocado, provolone cheese, tangy sundried tomato herb spread, pepperoncini, red onion, tomato, and pesto vinaigrette.
Or you could start with the California Cobb. This is a sandwich with oven-roasted turkey breast, fresh avocado, crispy bacon, home-made blue-cheese herb-spread, thin sliced red onions, spring mix and tomatoes.
Hours:
Monday—Saturday 6 am—6 pm
Best New Restaurants in Temecula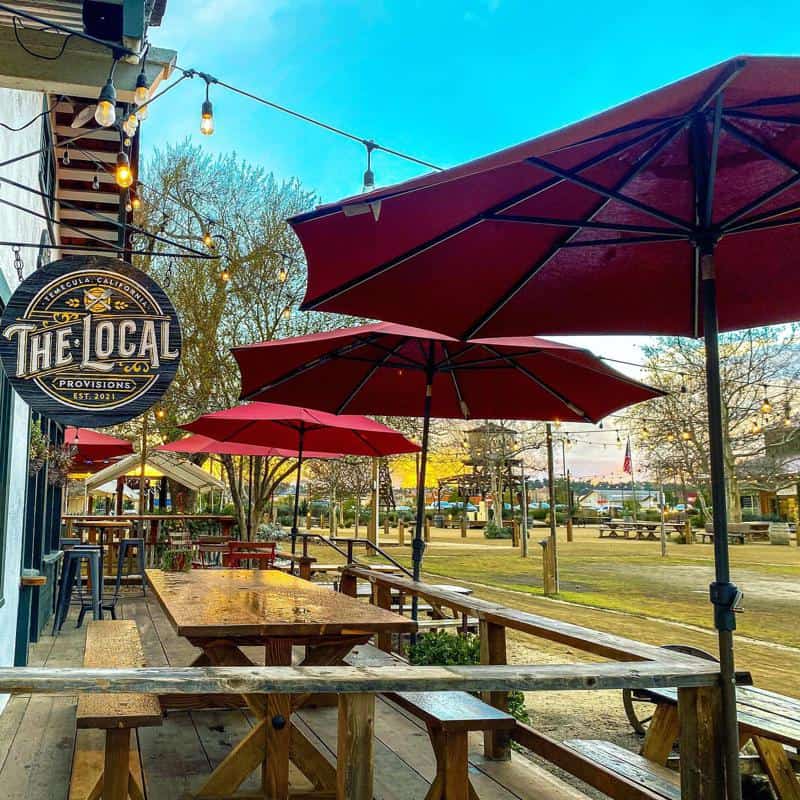 A new American-style restaurant, the Local Provisions offers sandwiches, burgers and salads with chips. One item to try out is Korean Pork Tacos—tacos with guacamole, Korean BBQ sauce, cotija, pickled onion and pineapple. The flavor is of another world.
People really enjoy the Pretzel starter with beer cheese, and burger-recommendation is the PB&J Burger. This is an Angus beef burger with bacon, cheddar cheese, lettuce, tomato and grilled onions. The magic ingredients are peanut butter and Mrs B's peach habanero jam o a brioche bun.
Some eat at this little restaurant several times a week – it's simple and easy on the stomach.
Hours:
Tuesday – Saturday: 12 pm—8 pm
Sunday: 12 pm—5 pm
Monday closed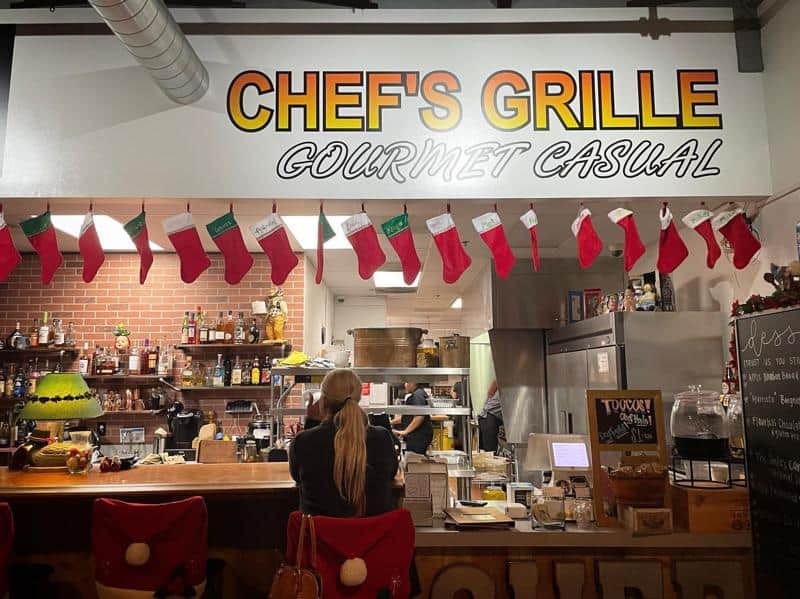 Although an over-the-counter service, the Chef's Grill gives you an elevated, quality dining experience. The patio area is pet-friendly, and it's a foodie's paradise, according to the owners.
For starters, pick Quack-A-Dilla, a seared duck dish with smoked gouda, cheddar, roasted red peppers, and caramelized onions served with sweet heat sauce. Then move on to the Blue Bull—grilled tri-tip with blueberry chutney and melted brie, drizzled with garlic aioli, and served on griddle roasted ciabatta.
Mac n Cheese is very popular, especially with families.
Hours:
Tuesday – Thursday: 11 am—9 pm
Friday – Saturday: 11 am—10 pm
Sunday: 12 am—8 pm
Also Read:
Conclusion
There's enough here to pick from, no matter your food preferences. Or do you know of other restaurants in the vicinity to consider? Share and help everyone find the perfect meal in Temecula.