As one of the areas that make up the Santa Barbara Wine Country, Solvang is well-known for its scrumptious wine and top-notch wineries. This small but charming Danish-style village has a lot to offer for casual and experienced wine drinkers alike, as well as an extensive list of stellar attractions.
Looking for the best Solvang wineries? Read on to find out which wineries and vineyards are worth checking out in this delightful American village.
What Wine Is Solvang Known For?
Home to over 120 wineries and more than 20 tasting rooms, Solvang offers an enjoyable and delicious experience for wine lovers. This small but charming village is located in Santa Ynez Valley and is just a short drive from Santa Barbara.
You'll find a sizable assortment of wines in Solvang, but some of the most popular ones produced here are Chardonnay, Syrah, Pinot Noir, Sauvignon Blanc, Riesling, and Cabernet Sauvignon.
Top 11 Best Wineries in Solvang
Now that you know more about the wine and attractions this AVA has to offer, here are the best wineries in Solvang that you need to check out.
Rusack Vineyards
If you're after decadent wines and picturesque views, Rusack Vineyards is one of the top wineries to visit in Solvang. The estate is burrowed among rolling hills and dense oak woodland in Ballard Canyon, providing a jaw-dropping background for wine tasting.
Their spacious outdoor deck underneath the oak trees has plenty of cozy seating, allowing you to drink your wine in comfort and style. Rusack Vineyards currently offers wine by the glass, bottle, and a wide assortment of wine samples.
They also offer scrumptious cheese and charcuterie boards, but make sure you order one 24 hours in advance.
Bear in mind that visits are only available by appointment, so you'll need to book ahead of time to give Rusack Vineyards time to prepare for your stay.
Rideau Vineyard
Specializing in small production Rhone wines and featuring a breathtaking ambiance, Rideau Vineyard offers some of the best wine tasting in Solvang.
Their stunning estate makes sipping delicious wine with friends and family even more special. As soon as you enter the winery, you'll be in awe of their historic, charming tasting room, known as the '"El Alamo Pintado Adobe".
Its comfortable interior offers a peaceful, inviting atmosphere that will make you feel right at home. Reservations are needed for experiencing this winery, so make sure you secure a spot well in advance.
Rideau Vineyard currently offers wine tastings, bottles, and glass service. They have a couple of flights to choose from, the Signature Flight and Adobe Flight. Both flights cost $25 and come with 6 wines poured into small carafes.
Every now and again, the winery puts on special events that feature live entertainment and plenty of mouthwatering wine to go around.
Buttonwood Farm Winery & Vineyard
Next up is Buttonwood Farm Winery & Vineyard, which has everything from splendid views, world-class wine, exciting live events, and more to ensure you have an unforgettable visit.
Their 106-acre property has 42 acres of vineyards and 38,000 grapevines, but they also grow other produce like olives, pomegranates, summer vegetables, peaches, herbs, and peonies.
The winery's delightful tasting room is surrounded by their home-grown crops and flowers, exuding a wonderfully rustic and natural ambiance. You can enjoy tastings at Buttonwood Farm Winery & Vineyard (by appointment) on their lovely patio or lawn area.
The winery hosts various events throughout the year, including a magical stargazing night complete with remarkable wines and a BBQ! Make sure you check their calendar to see what they have planned for your visit.
Lucas & Lewellen Vineyards
Lucas & Lewellen Vineyards is a family-owned and operated winery in Solvang that's known for its welcoming Italian spirit and traditional Italian wines. Their tranquil Toccata tasting room has a cozy and warm atmosphere so you can have a relaxed wine tasting experience.
The winery's friendly and knowledgeable staff will be happy to accommodate you and make sure you have a memorable, relaxing visit. There are 5 wine tasting lists to choose from, ranging from $15 to $20 per guest.
However, for groups of 8 or more people, you'll need to pay $25 per person for tastings and make a reservation. Whether you're a white wine, red wine, dry, or semi-sweet wine lover, there's something for you to enjoy at the Toccata tasting room.
The winery is both pet and family-friendly and hosts a range of exciting events on a regular basis, including wine release weekends, winemaker dinners, and winter wine round-ups. The latter includes tennis, spa, horseback riding, tennis, and wine drinking at an Arizona ranch!
Lincourt Vineyards
Enveloped by California pepper trees with splendid views of the Alamo Pintado Vineyard near Solvang, Lincourt Vineyards is brimming with charm and nature. They produce their wines in small batches and use only the best fruits to ensure each bottle is to the high standard they strive for.
Lincourt Vineyards creates a range of magnificent wines, including Chardonnay, Pinot Noir, Syrah, Merlot, Cabernet, and Sauvignon Blanc. They currently offer tastings by reservation on their expansive patio overlooking their breathtaking estate and vineyards.
Seated tastings cost $30 per person and include samples of their seasonal flight of 5 estate wines. It's best if you book an appointment at least 2 weeks in advance as they normally get quite busy.
From intimate family gatherings to large weddings, Lincourt Vineyards is able to accommodate private events of all the themes and budgets. They host their own events too, such as a summer concert series, Saturday night music, food trucks, and even a Friendsgiving pig roast!
Blackjack Ranch Vineyards and Winery
Another one of the best wineries in Solvang is none other than Blackjack Ranch Vineyards and Winery. They have won awards for many of their wines, including their Bordeaux varietals, which were given a 5-star rating by renowned wine critic Robert Parker Jr.
Their rustic tasting room has a relaxed, casual atmosphere and stocks a varied selection of great wines. They also have a lovely elevated pergola covered in wisteria vines and a sublime grassy picnic lawn, both of which are perfect for relaxing in.
Royal Oaks Winery – Solvang Tasting Room
Royal Oaks Winery has a passion for creating unforgettable moments of tranquility and elegant wines, so if you're after the ultimate peaceful (and delicious!) retreat, this winery won't disappoint.
You can enjoy a huge selection of wines at their spectacular Solvang tasting room, including rich reds, luscious whites, remarkable roses, tempting dessert wines, and refreshing fruit wines. Alternatively, you can soak up some sun and fresh air on their outdoor patio.
The winery offers special wine chocolate pairings, the latter of which are made by some of the best chocolatiers in the area. Both of the winery's sweet and dry wines are complemented with mouthwatering truffles, including some which are crafted especially for the winery to go with specific wines!
Royal Oaks Winery is available to hire for small private events too, so make sure to give them a call if you need a great venue for your occasion.
Casa Cassara Winery & Vineyard
Named Solvang's 2020 Winery of the Year, Casa Cassara Winery & Vineyard is definitely worth checking out when you're in the area. They've been growing grapes since 1992 and producing wine since 1998, enabling them to craft complex, flavorful beverages.
While Casa Cassara Winery creates a varied assortment of wines, they specialize in Pinot Noir, Syrah, Chardonnay, and Sauvignon Blanc.
The simple but pleasant tasting room is open from Wednesday to Monday, featuring a friendly, casual atmosphere that's ideal for those looking for an enjoyable and light-hearted wine tasting experience.
Dana V. Wines
Boasting a relaxing atmosphere and high-quality small production wines, Dana V. Wines is a spectacular winery located in the heart of Solvang. They offer wine by the flight, glass, and bottle at their stunning tasting room and outdoor patio.
Dana V. Wines' helpful and friendly staff will make sure you and your guests have a great stay and will be happy to answer any questions you may have about their wines.
If you've been itching to improve your wine tasting knowledge, the winery's Wine Education Series is the perfect class for you. You'll be taught how to taste wine just like a professional so you can show off your skills on your next wine tasting session!
Cali Love Wine
If you prefer a more informal and relaxed wine tasting experience, Cali Love Wine is a great place to stop by to sample mouthwatering wines. They have a lively and chill atmosphere, which is made all the more so by their welcoming host and stellar music.
The interior is nicely decorated with a unique guitar theme, so you can drink your wine in style. Cali Love Wine is perfect for unwinding over a sumptuous glass of wine with friends and family, so be sure to pay them a visit!
Dascomb Cellars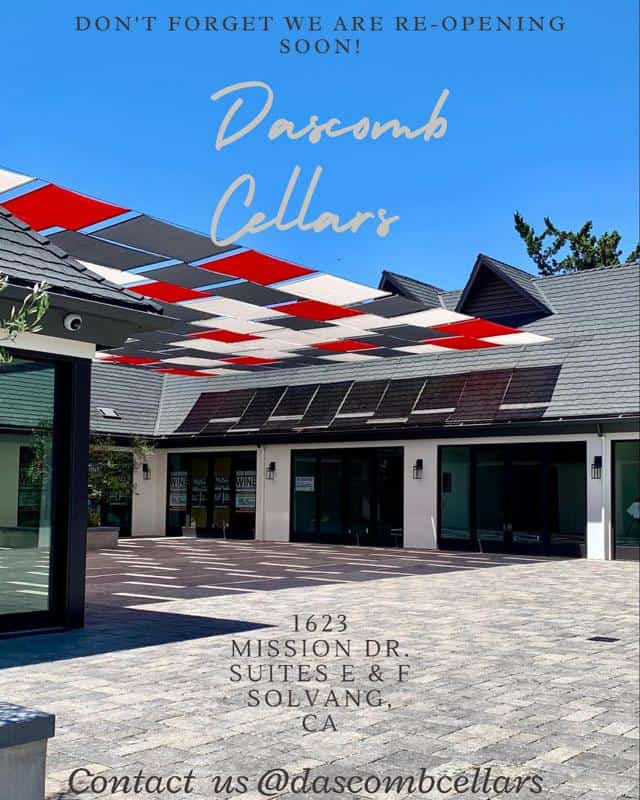 The last winery in Solvang we recommend is Dascomb Cellars, a family-owned and operated boutique winery that produces high-end wines using patience and old-world cellar practices. They have a keen eye for detail and a talent for the art of winemaking.
Dascomb Cellars' estate vineyard was first planted in 1974, making it one of the oldest vineyards in Santa Barbara County. Their modern and stylish tasting room is located in the heart of Solvang.
It features a peaceful and serene atmosphere and stocks a wide selection of top-notch wines that you can enjoy by the flight, glass, and bottle.
Things to Do in Solvang
While Solvang is primarily known for its wineries, that doesn't mean it's in short supply of attractions and things to do – quite the opposite, in fact! The first thing you'll notice about Solvang is its striking Danish-style architecture, so simply exploring the village is a lovely experience.
However, if you'd rather do some shopping, Solvang has over 150 unique boutique shops and art galleries to find some true treasures and one-of-a-kind items. There are also annual festivals like the Julefest (Yulefest) and Solvang (Grape Stomp), which are always a blast with friends and family.
If you want to learn more about Danish and American culture, be sure to stop by Solvang's many museums like Elverhoj Museum of History & Art, The Wildling Museum of Art & Nature, Hans Christian Andersen, and Old Mission Santa Inés.
Lastly, if you're more of the outdoorsy type, Solvang has a variety of exciting outdoor activities like beautiful hiking/cycling trails, horseback riding, and multiple golf courses.
Also Read: Santa Maria Wine Tasting: 8 Best Wineries to Visit
Final Thoughts
With its stunning Danish-style architecture, pleasant atmosphere, and diverse range of wineries, Solvang is hard to beat for wine tasting.
All of the Solvang wineries above offer the best wines, views, and ambiance in the village, so you're sure to have a special and memorable visit.
Even after you've sipped all the wine you can, Solvang has plenty of other attractions and activities to offer, like fascinating museums, beautiful hiking trails, unique shops, and exciting annual festivals.
If you haven't done so already, be sure to add Solvang to your must-visit vacation destinations list!