Santa Ynez Valley is home to some of the most spectacular wines you can imagine, with the added bonus of having some of the most beautiful scenery. There's nothing quite like sipping delicious wine against an idyllic landscape with rolling hills and majestic mountains.
Spending an afternoon at a vineyard in Santa Ynez is a great way to unwind and enjoy some of the tastiest wines you'll ever drink. However, there are a lot of wineries in this area, so it can be hard to decide which one to visit.
Here we'll be looking at the best wineries in Santa Ynez to save you some time and help slim down your choices.
Where is Santa Ynez Valley?
Santa Ynez Valley is situated in Santa Barbara County, California, nestled between the Santa Ynez Mountains and San Rafael Mountains. It has a population of roughly 20,000 residents split across Solvang, Los Olivos, Buellton, Ballard, and Santa Ynez.
Santa Ynez takes around 35 minutes to get to from Santa Barbara. It's a small but peaceful town that looks straight out of an old western movie.
It's known for its gorgeous scenery and hiking trails, as well as its hearty restaurants and award-winning wineries. There's even a wine trail!
What Wine is Santa Ynez Known For?
Santa Ynez has a diverse climate, going from cold and foggy in the east and warm and dry in the West. Cooler eastern areas provide the right conditions for growing grape varieties like Chardonnay, Pinot Noir, Sauvignon Blanc, and Syrah.
These are among the most popular wines in Santa Ynez, but you'll also find Bordeaux blends, Zinfandels, and other Rhône blends, especially in the west.
The varying climate and temperature is ideal for producing well-balanced wines with high acidity, which are commonly found in Santa Ynez.
The dynamic climate also results in different soil types across the valley. The foothills are made up of silty, clay-like soil, which is the opposite of the sandy and well-drained soils found on the valley floor.
With its rural roads and oak filled golden hills, Santa Ynez features some of the most breathtaking views. It has a total area of 5.1 square miles, which 99.86% is land (the remaining 0.14% is water).
Best Wineries in Santa Ynez
Santa Ynez winery map:
Sunstone Vineyards & Winery
Located only 35 minutes north of Santa Barbara in the picturesque Santa Ynez Valley is Sunstone Vineyards and Winery. This peaceful retreat offers a multitude of delicious wines, including red, white, rose, and sparkling.
The wine tasting room is open 7 days a week from 11am to 5pm. Each person is provided with a tasting flight of six wines, but they also offer wine by the glass and bottle.
From the acidic and bright Vognie to the berry-liscious Pinot Noir Reserve, each of Sunstone's wines are delectable. Their expansive menu means that no matter your wine preference, there's bound to be something for you to try.
Aside from wine, Sunstone Winery is also known for their charming 55-acre estate. The villa overlooks the Santa Ynez Mountains, so you can enjoy a glass of their various wines while taking in scenic views.
You can take a tour of the estate on Saturdays if you're interested in seeing more of the local grounds. The villa is also available to host weddings and private events.
They have a variety of tranquil areas to sit in for ultimate relaxation, including a French-inspired courtyard filled with rosemary and lavender, stone barrel-aging caves, and picnic tables surrounded by oak and olive trees.
Brander Vineyard
Another one of the best vineyards in Santa Ynez is the Brander Vineyard, just east of Los Olivos. It's a family-run vineyard situated on 52 acres of land, featuring a French Chateau-style estate.
The site was chosen for growing grapes due to its fertile soil, south-facing position, and ideal climate for grape varieties native to the Bordeaux region of France. As a result, the Brander Vineyard is popular for their mouth-watering Sauvignon Blanc and Cabernet Sauvignon.
Despite focusing more on the two wines above, Brander Vineyard & Winery has started to branch out into other wines. Alongside Merlot and Semillon, they have small planting of Chardonnay, Pinot Gris, Sauvignon Gris, and Syrah.
The wine tasting room is open all year round, from 11am to 5pm in the summer and 11am to 4pm in the winter. It costs $20 per head and includes five wines for you to try.
In addition to a wine tasting room, Brander Vineyard has a museum on-site that specializes in Latin America Folk Art, primarily from Mexico. They have an expansive collection with over 1000 pieces showcasing various styles and folk artists.
The museum hosts an assortment of local events throughout the year, including an annual Mercado in which artisans exhibit their crafts to the community.
Why not stop by Brander vineyard for a few glasses of their delicious Sauvignon Blanc and finish the day off with a museum tour? Sounds like the perfect way to spend a weekend!
Rusack Vineyard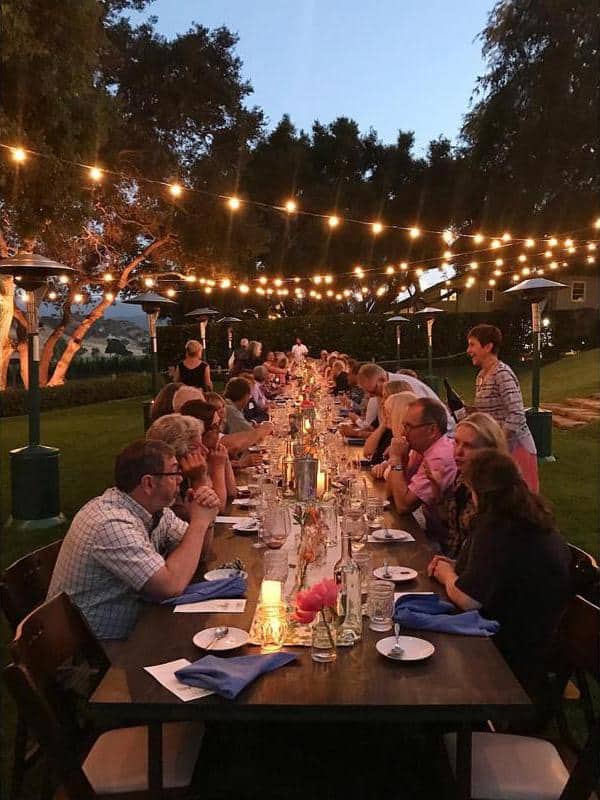 Situated in Solvang in southern Santa Ynez Valley is Rusack Vineyard, an idyllic and rural estate that's surrounded by fields and hills. On the way into the winery, you're treated to a stunning drive through their vineyards.
Among the grape varieties they grow are Zinfandel, Semillon, Petite Sirah, and Sauvignon Blanc.
The tasting room is normally open from 10am to 4pm and costs $18 per person. It boasts a gorgeous redwood deck made from ancient oaks that's sure to make you feel right at home. Inside is a custom-made tasting bar adorned with pottery and their award-winning wines.
They offer a huge assortment of wines, including red, white, rose, and sparkling, but they are popular for their Pinot Noirs and Chardonnays. You can also enjoy a sampling of a range of rich cheeses and crackers, which are the perfect complement to the vineyard's stunning wines.
Unfortunately, Rusack Vineyard doesn't offer the appropriate facilities to host local or private events. However, their wide range of wines and striking estate still makes this winery well worth a visit.
Roblar Winery & Vineyards
Next up on our best wineries and vineyards in Santa Ynez list is Roblar Winery and Vineyards, notable for their quality red wines. The vineyard also offers delightful white, rose, and sparkling wines.
Their vineyard is the perfect location for growing a mixture of grape varieties such as Sauvignon Blanc, Sangiovese, and Viognier due to its unique soil composition and dynamic climate.
Amenities include a gorgeous ranch-inspired tasting room, stunning vineyards, and a winery facility. The estate is burrowed among 20 acres of vineyards and oak valleys, creating a jaw-dropping backdrop to sip and taste wine.
The tasting room is open 7 days a week from 11am to 5pm, priced at $15 per person for classic wines and $20 per person for reserve wines. There are several locations to sit and try the vineyard's sublime wines, as well as the locally sourced food they offer.
These include the Twin Oak Terrace, main lawn, and the majestic Wisteria Pergola complete with a stone fireplace and fountain.
There is also hire out the estate for weddings, corporate events, and private dinners. Take a walk down the grapevine-filled Pergola, pick colorful veggies from their organic produce farm, or relax in their renovated ranch-style home with an infinity pool and hot tub.
Whether you're after a pleasant day out or a weekend getaway, Roblar Winery has plenty to offer you.
Barbieri Winery
Run by an Italian master sommelier, Barbieri winery's tasting room is located in Los Olivos in Santa Ynez. Known for creating savory, deep, and bold wines, the winery uses European winemaking techniques with Californian growers.
They have a number of vineyards, including Rodney's Vineyard situated on Foxen Canyon in the Santa Ynez Valley. It faces south and has a moderately warm climate that produces full-bodied complex Syrah with a distinctive spice and mineral flavor.
Barbieri Winery's tasting room is simple in appearance without any splendor grand decorations, but the wines they offer are spectacular. There's a wide selection of high-quality rose, red, white, or sparkling to test.
It costs $15 per person and is open 7 days a week from June 1st to January 1st. After these dates, the tasting room is closed on Tuesdays and Wednesdays.
They even offer scrumptious cheeses from all over the world to complement their tasty wines, as well as freshly baked baguettes and specialty food items (jam, honey, olive oil, etc.).
The winery hosts various local events throughout the year, including bi-annual pickup parties for club members and winemaker dinners. If you're after a luxurious night out, definitely consider the winemaker dinner.
You'll be treated to a delicious 4-course dinner from an expert private chef and plenty of Barbieri wines to go round.
Kalyra Winery
Known for their Australian-style winemaking technique, Kalyra Winery produces some of the best wines in Santa Ynez. Their impressive portfolio includes rose, white, red, and dessert. Each wine is crafted by expert hands with confidence and imagination.
The tasting room is open from 12pm to 5pm Monday to Friday and 10am to 5pm on Saturdays and Sundays. It's not as flashy as some of the other best wineries in Santa Ynez, but that's not to say the wines aren't as high quality.
Alongside wine tasting, Kalyra Winery offers private events for groups of up to 6, as well as intimate move nights at their outdoor movie theatre.
Gainey Vineyard
The last vineyard we recommend is Gainey Vineyard, a Spanish-style estate that produces some of the top wines in Santa Ynez. They make small quantities of wine to ensure their renowned high quality is maintained.
The vineyard is situated in the beautiful Stat. Rita Hills, which offers an ideal climate for red wine. In addition to luscious red wines, Gainey Vineyard also has expertise in white, dessert, and sparkling wines.
Priced at $20 per person, Gainey Vineyard's wine tasting sessions include six wines. The Vineyard View Lawn gives you the perfect setting to relax and indulge.
In addition to wine tasting, Gainey Vineyard provides tours so you can step up your wine-tasting knowledge. Alongside a complimentary gourmet cheese/charcuterie platter, it involves three activities to see if you really know your wines.
You'll taste five Limited Selection wines while blindfolded, requiring you to use your sense of smell to figure out the wine. Next, you'll taste several vintages of a particular wine. Lastly, you'll compare the taste of current release limited selection wines to wines directly from the barrel.
If you think you're the wine expert out of your friends and family, this tour is a great way to show off your skills.
Vincent Vineyards & Winery
Vincent Vineyards produces some of the most delicious French Cabernet varietals you can find in Santa Ynez using the finest farming, soil, and cultivation methods on their family-run estate.
They also craft lusciously rich Sauvignon Blanc, Syrah, Cabernet Sauvignon, Petit Verdot, and V Cuvee. The proof is in the huge number of awards the vineyard has. Wine Enthusiast Magazine even scored their 2016 Petit Verdot 92 points in 2020!
Vincent Vineyards offers wine tastings and food pairings at both their indoor main bar and outside terrace. The latter has a range of seating options whether you're looking for somewhere cozy for two people, or a large table for extended parties.
It has stunning views of the winery's vineyards and mountain vistas, providing you with the ultimate location to sip and enjoy wine.
Wine tasting is open from 12pm to 5pm Thursday through Monday, but it's recommended you make a reservation as they tend to book up quickly.
Other Wineries Near Santa Ynez You May Interested
Foxen Vineyard and Winery
Featuring two fantastic tasting rooms for you to visit, the Foxen Vineyard and Winery are worth checking out if you're in the Santa Ynez area. They have a reputation for their amazing white wines, but they also make some marvelous reds too.
Both locations are worth visiting, but the historic "shack" is a particularly great space to check out.
It's open from 11am to 4pm and costs between $20 and $28 per person.
In the Pinot Noir Tasting session, you'll try six of Foxen Vineyard's high-quality single-vineyard Pinot Noirs from the Santa Maria Valley and Santa Rita Hills AVAs. An experienced associate will talk you through each wine, teaching you about their winemaking process and vineyards.
The Classic tasting session includes six wines from their Foxen 7200 and FOXEN brands, and you'll learn more about each wine's history and production.
Both tasting sessions last 1 hour and 15 minutes. The staff at Foxen Winery are fantastic and extremely knowledgeable about wine, ensuring each customer has a pleasant and informative stay. This alone makes Foxen Winery one of the best vineyards in Santa Ynez.
Final Thoughts
Santa Ynez is a stunning location to spend a day at, but even more so due to the huge number of wineries it has to offer. From crisp Chardonnays to dry but acidic Pinot Noirs, this beautiful valley is well worth a visit for wine drinkers.
Hopefully, our list helped you decide on the next vineyard to visit on your day off. It's sure to be a delicious and relaxing one!