With stunning scenery, fun attractions, and plenty of spectacular wineries, Geneva in Ohio is a great place to visit with friends and family. The city is renowned for its marvelous Pinot wine varietals and ice wines, so if you're fan of such beverages, you'll feel right at home in Geneva.
Looking for some remarkable wineries to stop by on your stay in this city? Here are the best Geneva, Ohio wineries that you need to visit.
Where Is Geneva, Ohio?
Geneva is a city located in Ashtabula County, Ohio, United States. It was initially settled in 1805 and classed as a city in 1958.
The city is named after Geneva, New York, and is known for its world-class wineries, fantastic outdoor activities, and attractions like the Ashtabula County covered bridges, Geneva-on-the-Lake Strip, and Lake Erie.
What Wine Is Geneva, Ohio Known For?
Ohio is among the top 10 wine-producing states in the United States, so it's no surprise that Geneva is home to a wide assortment of wineries. While the majority of wineries and vineyards in Geneva produce a range of high-quality wines, Pinot varietals are by far the most popular.
Geneva is also renowned for its excellent ice wines, which is a sweet desert-style wine that's made from grapes that have been frozen while still attached to the vine.
Top 10 Best Geneva, Ohio Wineries
Map of best wineries in Geneva Ohio:

1. Ferrante Winery & Ristorante: Italian-Inspired Cuisine
Ferrante Winery is a fantastic place to visit in Geneva, offering delicious wines, mouth-watering food, and a sublime atmosphere. The outside terrace is inviting and cozy, with splendid views of the vineyards. The tasting room is equally as welcoming, providing a relaxing ambiance for wine tasting and catching up with friends and family.
Their Italian inspired dishes pair wonderfully with their wines, and they only use the freshest ingredients in their menu items. In the warmer months, the winery puts on live entertainment so you can enjoy a glass of wine while listening to some easy-listening music.
Ferrante Winery has an excellent wine club, with different packages to suit your wine preferences and budget. Alongside a shipment of three bottles of wine twice a year, you'll get access to perks like discounts in the tasting room, exclusive private events, and much more.
Editor's Note: If you're a fan of semi-sweet wines, you need to try the winery's remarkable Mom's Apple Pie Riesling. It has rich flavors of caramel, apple, and cinnamon. Perfect for making you feel warm and cozy in the cooler months!
2. Old Mill Winery: Sumptuous Food
Next up is Old Mill Winery, a rustic and delightful estate that produces an array of top-notch wines and scrumptious food. They have a comfortable tasting room and roomy outdoor area, both of which are well-presented.
The winery's extensive food menu includes a variety of tasty dishes, such as house salads, pizza, sandwiches, and pasta. If you're looking for a place to sip on delectable wines and grab a bite to eat, Old Mill Winery is a great choice.
Editor's Note: Why not grab a glass or bottle of the winery's Geneva Blanc when you stop by? It's fruity-liscious with a semi-sweet taste.
3. Hundley Cellars: Gorgeous Views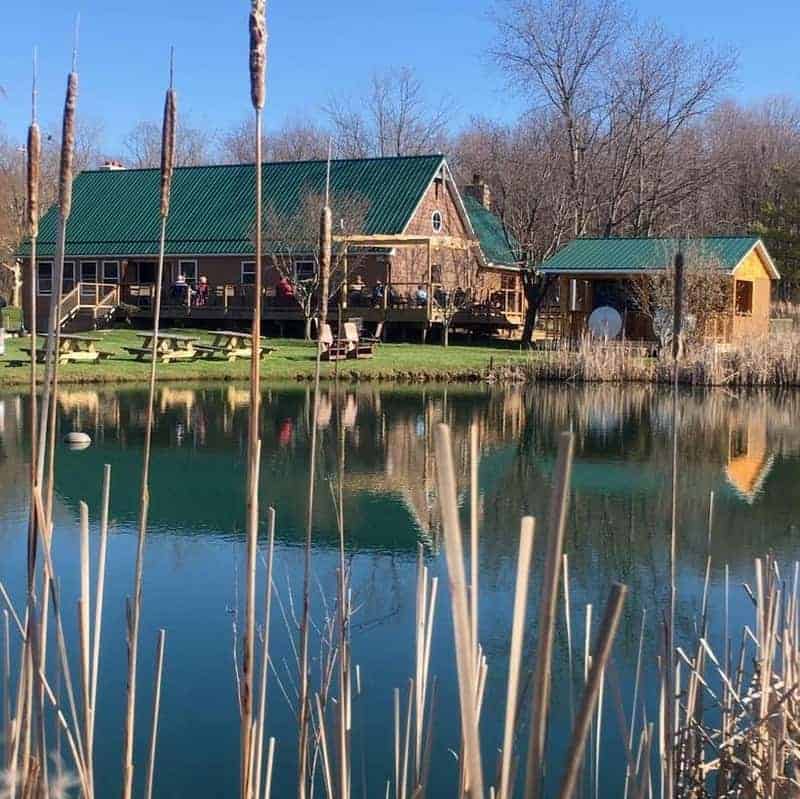 Situated in Harpersfield Township in Geneva, Ohio is the beautiful Hundley Cellars, a family-owned winery with sweeping views of vineyards, lush forest, and pastoral fields.
Their lodge-inspired tasting offers an intimate and cozy experience, ensuring you have an unforgettable visit filled with laughter, good conversation, and remarkable wines, of course.
There's a spacious outdoor deck that is perfect for drinking wine in all seasons. It boasts scenic views and wood-fired fireplaces, creating a warm atmosphere even when the weather turns cooler.
Hundley Cellars offers daily wine tastings, as well as an array of small food items such as cheese and meat boards, wood-fired pizza, and pretzel sticks. Every Saturday and Sunday, the winery hosts live music, allowing you to sit and enjoy your wine in a lively ambiance.
Editor's Note: Oaky, dry, and slightly buttery, the winery's Chardonnay is a must-try on your visit.
4. Laurello Vineyards: Luxurious Ice Wines
Another one of the best Geneva, Ohio wineries is Laurello Vineyards, situated in the heart of the Grand River Valley. The winery primarily produces Old World-inspired blends and single-varietal wines that harbor a crisp acidity and pronounced tannic structure to balance the intensely fruity notes.
They use Northeast Ohio-grown grapes in the majority of their wines, such as their Riesling, Pinot Grigio, and Christopher Mertiage Blend. Laurello Vineyards also creates a few outstanding ice wines, including one that has won awards for its excellence.
The winery offers tasting flights, priced from $8 for four wines. They also offer samples if you're having trouble selecting wine, and their friendly staff will be happy to help you with any questions or inquiries.
If you're feeling hungry, the winery serves a range of mouthwatering dishes, including meatballs, sandwiches, pizzas, and salads. From February to December, Laurello Vineyards provide live music on the weekends, allowing you to indulge in wine in a cheerful atmosphere.
Editor's Note: This winery is renowned for high-quality ice wines, with their award-winning Sweet Genevieve being a particularly fantastic choice. It has aromas of pear and apricot and gooey honey notes.
5. Kosicek Vineyards: Welcoming Atmosphere
Featuring remarkable wines, scrumptious food, and a friendly atmosphere, Kosicek Vineyards is a great winery to stop by for a respite when you're in Geneva. All of their wines are grown and produced onsite, and each one is made with passion and dedication.
They offer a wide variety of exquisite wines, including reds, whites, roses, and ice wines. Some of the delectable dishes on their extensive menu include flatbread pizza, soft pretzel sticks, apple strudel, artisan cheese boards.
In the cooler months, Kosicek Vineyards hosts live music on a regular basis in their covered pavilion. You can sip on delicious wine and indulge in sumptuous food while listening to an assortment of talented local bands and musicians.
Editor's Note: With hints of black tea, plum, and spice, the winery's Pinot Noir is one of the standout wines at this winery.
6. M Cellars Winery: Great Hospitality
M Cellars Winery is a family-owned estate that showcases some of the best wine in Geneva, Ohio. They are renowned for their cool-climate wines and outstanding hospitality.
Surrounded by dense vineyards and picturesque scenery, the winery provides a peaceful and natural ambiance. They offer tastings of a variety of wines, alongside live music and a tasty range of snacks like hummus and naan, bruschetta, and artichoke dip.
On select Saturdays, M Cellars is available for tours at 11am and 1pm. You'll wander through their lush vineyards while learning more about the winery's history and winemaking process. Be sure to book in advance to guarantee a spot.
Editor's Note: If you're planning on visiting the winery with friends and family, the winery's educational tours are a fun activity. You'll get a behind-the-scenes look at their production areas and vineyards, as well as samples of their signature wines.
7. South River Vineyard: Picturesque Views
Nestled in the heart of the Grand River Valley in Geneva is the striking South River Vineyard, boasting stunning grounds and buildings.
The winery is housed in a gorgeous century-old church that was originally situated in Shalersville, Ohio, creating a phenomenal wine tasting experience. You can also bring your own food so you can enjoy a picnic outside.
South River Vineyard is acclaimed for their beautiful scenery, top-notch wine, and excellent hospitality.
Whether you're wandering through their vineyards with your wine, relaxing by the outdoor fireplace in their pavillon, or gazing at the view on their rooftop pavilion, a visit at South River Vineyard is sure to be memorable.
Editor's Note: The winery's Sémillon is a luscious sweet and dry wine with notes of fig and honey. It has a gorgeous golden color that reminds you of summer.
8. Benny Vino Urban Winery: Rustic and Charming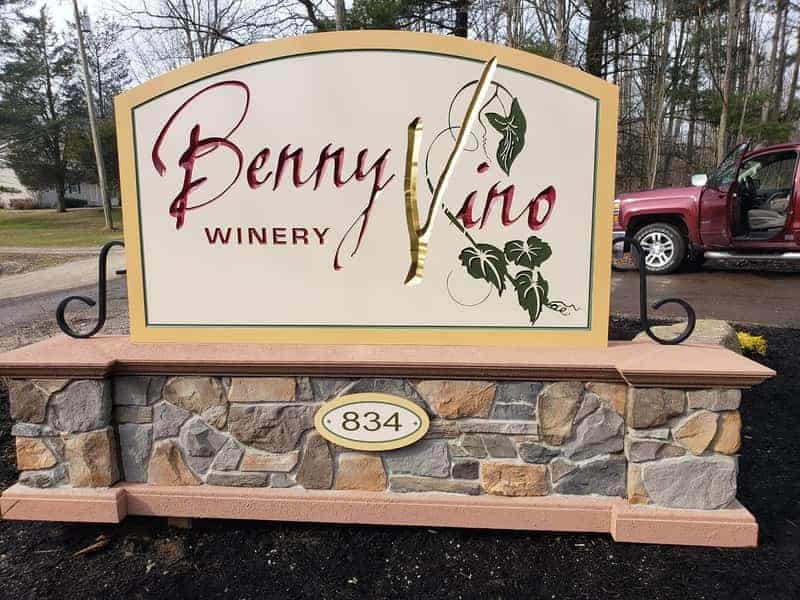 Overlooking the Grand River Valley, Benny Vino Winery has a charming and enchanting ambiance that provides you with the ultimate atmosphere for tasting wine. They handcraft some of the finest wines in Geneva, Ohio, as well as a variety of tempting dishes.
Whether you fancy a peaceful retreat, bite to eat, or a glass of high-quality wine, the winery has you covered. They offer pizzas, pretzel sticks, cheese and meat trays, and buffalo chicken dip, so you can feast on delicious food while sipping on spectacular wine.
Live music takes place at Benny Vino Winery every weekend, which is a perfect time to stop by friends, family, or that special someone. The rustic estate is also available to rent for private events like birthday parties, anniversaries, and bridal showers.
Editor's Note: Made from 100% Niagara grapes, the winery's Villaggio Bianco is a wonderfully sweet and fruity wine that's even better when shared among friends and family.
9. Virant Family Winery Inc: Fruit-Tastic Wines
Virant Family Winery is nestled in the Grand River Valley, a short distance away from Lake Erie. They make their wines with pride, patience, and commitment, which shows in the quality and taste of their wines.
All of their wines have a fruity scent, firm grape taste, and delicious aftertaste. They currently offer eleven wine varieties, as well as a range of craft beer, and an array of food items.
Virant Family Winery Inc has a great homely and friendly atmosphere, so you'll feel welcome as soon as you enter through the front door. On Saturdays, they host live music for a lively, energetic ambiance,
They also serve home-cooked steak, chicken, rib, and shrimp dinners on Fridays and Saturdays, which taste exquisite. Throughout the week, the winery offers other delectable dishes like cheeseburgers, fried shrimp, french fries, onion rings, and much more.
If you need a pleasant and charming venue for a private event, Virant Family Winery is a great option. It has an expansive indoor space that's ideal for small and large gatherings.
Editor's Note: As this winery is known for producing amazing fruit wines, you need to try a glass or two of Sonny's Strawberry Patch. It's a sweet strawberry wine that has a lovely strawberry shortcake aftertaste.
10. The Winery at Spring Hill: Exciting Events
The last winery we recommend in Geneva, Ohio is The Winery at Spring Hill, featuring a welcoming and cozy atmosphere that's ideal for sipping wine. Their menu includes a variety of wines, craft beers, hard ciders, and cocktails, so there's something for everyone to enjoy.
The winery makes an assortment of tasty food items like pizzas, house salads, soups, and artichoke dips. All are made from the freshest and most high-quality ingredients.
On Fridays, Saturdays, and Sundays, live music takes place so you can listen to an array of talented local bands and musicians.
Other events like ladies' nights, classes, and more occur on a regular basis, so be sure to check what the winery has planned on your visit. There's also a little gift shop so you can buy a souvenir or stock up on some wine and cider for when you get home!
Editor's Note: If you're not sure what wine to try on your visit, opt for the Chardonnay (Unoaked). It's estate-grown and has a brilliant complex flavor, with notes of melon, citrus, apple, and pear.
Final Thoughts
Geneva, Ohio is brimming with splendid wine just waiting for you to indulge in. While the city is home to a huge range of wineries and vineyards, the ones above particularly stand out and are a must-visit on your stay.
They produce some phenomenal wine and harbor a peaceful atmosphere to ensure a memorable, delicious experience that you won't forget anytime soon.