Carolyn's Sakonnet Vineyard is a premier Rhode Island destination that enlivens the senses, delights the mind and allows the spirit to be recharged by the alchemy of the earth's abundance.
Founded in 1975, the vineyard produces over thirty acres of award winning varietals like Chardonnay, Gewurztraminer, Pinot Noir, Cabernet Franc and Vidal Blanc. The vineyard hosts an annual concert series, many other local events and is the perfect setting for a variety of special occasions.
162 West Main Road
Little Compton, RI 02837
401.635.8486 , 800.91.WINES (94637)
www.sakonnetwine.com
[email protected]
Open Daily, Tastings available on demand
Tasting Room
Memorial Day – Columbus Day
Sunday thru Thursday 11 – 6, Friday & Saturday 11-8
Columbus Day – Memorial Day
Open every day 12-4
History of Carolyn's Sakonnet
Caroyln's Sakonnet Vineyard was first founded in 1975. It sits on 150 acres of land, 30 of which are home to their award-winning wines.
They use locally grown grapes that are handpicked and then barrel-aged in Russian, French, Hungarian, and American Oak.
The vineyard's winemaker is Elaine Phipps, who has been with the business for several decades. She was initially hired as a field worker in 1984 before becoming an Assistant Winemaker in 1995.
Elaine was taught by expert winemakers, John Sotelo and Dr. Christian Butzke, which led to her taking over as the vineyard's main winemaker in 2005.
Her passion and expertise give the wines at Carolyn's Sakonnet Vineyard their unique and exquisite taste.
Climate and Soil
The climate and soil at Carolyn's Sakonnet Vineyard are a little different than what is commonly found in northern America. As the location rests between two waterways, it has maritime conditions.
The cool air mixes with a humid subtropical climate, which results in a long ripening season and late harvest season (at least compared to most vineyards).
Soils at Sakonnet Vineyard are mostly mineral-based with little nutrients, providing the right conditions for vines to root deeply. While the grapes are rather slow to develop, once they mature, they have low sugar levels and high acidity.
This gives the wines at the vineyard their distinct fresh and in-depth flavor. Another factor that influences the vineyard's flavor of the grapes is its location.
Due to the vineyard being situated between two waterways, morning winds blow in from the water, leading to lower temperatures that change the flavor of the grapes.
Additionally, the occasional rainfall, fog, and salty sea breezes infuse the grapes with flavors you won't find anywhere else in New England.
Carolyn's Sakonnet Wines
Offering a wide selection of whites, rosés, reds, and dessert wines, Carolyn's Sakonnet Vineyard has a tasty beverage for you no matter your preferences.
Their crisp white wines include Chardonnays, Vidal Blancs, and Gewürztraminer. If you're after a floral and light-bodied wine, the White Lotus is a must-pick. It has aromas and flavors of citrus, rose, petal, and lychee, which gives it a crisp taste and lingering finish.
For you rosé drinkers, there's the Eye of the Storm and the aptly named 2012 Sacred Rosé. The latter is crafted with 100% Cabernet Franc Grapes, resulting in a dry and medium-bodied rosé with aromas and flavors of cranberry, strawberry, and bell pepper.
Fancy something sweeter? The NV Amrita, 2012 Winterwine, and NV 42º Parallel Reserve are the ultimate indulgence if you've got a sweet tooth. The 2012 Winterwine in particular is delicious.
It's a full-bodied Vidal Blanc that provides the perfect balance of sweet and crisp with honey, white peach, apricot, and butterscotch flavors.
Lastly, if you're a red wine drinker, Carolyn's Sakonnet Vineyard has few luscious wines to indulge, including the NV Blessed Blend Red, 2014 Aiman, and NV Rhode Island Red.
With deep aromas of cranberry, raspberry, dark chocolate, and a touch of cherry, the 2014 Aiman is one of the standout reds the vineyard produces. It's barrel-aged and has a gorgeous smokiness to it that will have you yearning for more.
Wine Tasting Room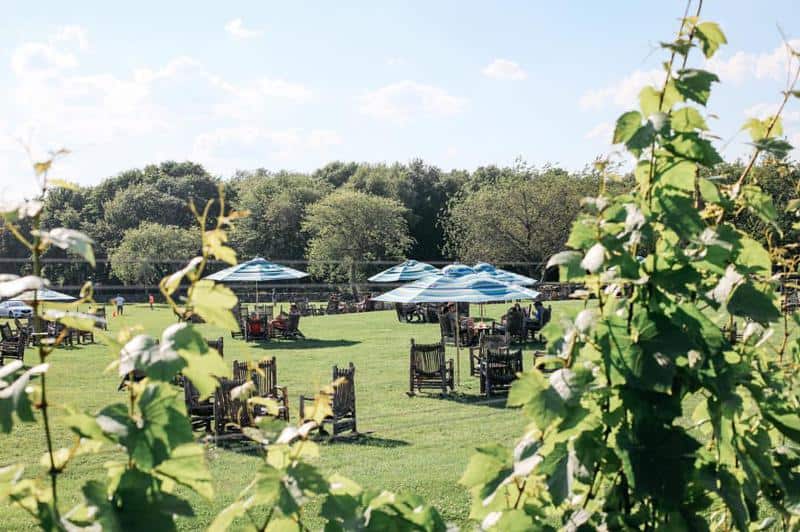 Carolyn's Sakonnet Vineyards features a modern and cozy tasting room for you to try a sampling of wines with friends or family. It's open from 12pm to 5pm on Friday, Saturday, Sunday, and Monday.
The tasting room can accommodate up to six people per group. Currently, their traditional tastings have been replaced with tasting flights, but we're hopeful that the vineyard will offer traditional tastings again soon.
The vineyard has a cafe that sells grab-and-go food items for you to enjoy with your wine too!
Carolyn's Sakonnet Events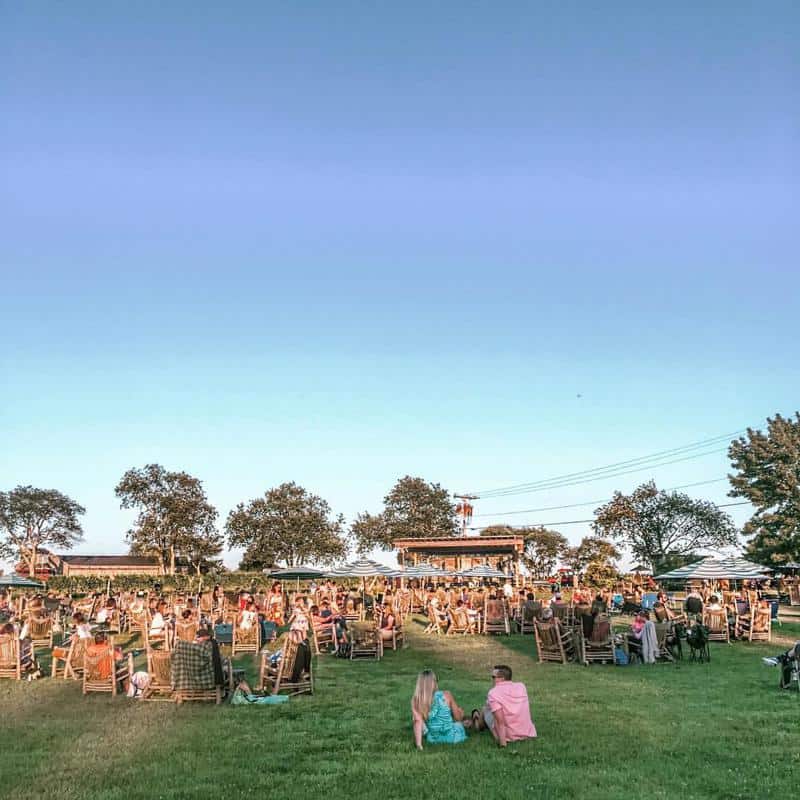 Carolyn's Sakonnet Vineyard normally hosts a variety of local events throughout the year, including annual concerts for an entertaining and fun-filled experience.
One of the best activities that the vineyard offers is a restoration tour in which you'll learn more about the history of Newport and those who lived there.
You'll get to wander the halls of the majestic Belcourt of Newport in all its 44,000 square feet glory, then finish the day off with a bottle or two of the vineyard's sublime wines.
Related Read:
Final Thoughts
Whether you're a red, white, rose, or dessert drinker, Carolyn's Sakonnet Vineyard is well worth a trip to the Little Compton Area in Rhode Island. It features striking, scenic views and mouth-watering wines that will have you downing glass after glass.
Better yet, marvel at the stunning Belcourt of Newport and learn more about the area on the vineyard's restoration tour. It's a must-visit if you enjoy architecture and drinking delicious wine.