Maryland has some of the most breathtaking scenery in the United States and is acclaimed for its gorgeous forested mountains, delectable seafood (particularly the blue crab!), and a historic trading port called Baltimore.
Although the state is mostly known for agriculture, its viticulture is growing quickly and has greatly improved over the last few years. As a result, more and more world-class wineries are popping up over the region.
What Wine Is Maryland Known For?
Maryland has a diverse climate and topography, making it ideal for growing a wide range of grapes. There are 36 different grape varieties grown in the state, so you'll find a large variety of wines here.
Grapes like Cabernet Sauvignon, Petit Verdot, Norton, Chardonnay, Cabernet Franc, and Chambourcin are particularly popular in the Western Mountain region of Maryland. In the Southern Plain region, Montepulciano, Vidal, Sangiovese, and Blaufränkisch grapes do well.
Cabernet Sauvignon, Chardonnay, Pinot Gris, Merlot, and Cabernet Franc thrive in the Piedmont region, whereas the Eastern Shore region is ideal for practically any grape variety, but especially Sangiovese.
There are a lot of different wines to choose from in Maryland, but Chardonnay, Cabernet Sauvignon, and Cabernet Franc are some of the most popular ones you'll come across.
Top 10 Wineries in Maryland
Here are some of the best wineries in Maryland you need to check out when you're next in the area.
Linganore Winecellars
Linganore Winecellars is one of the most highly acclaimed wineries in Maryland, and for good reason. They offer a wide selection of high-quality wines, vineyard tours, private tastings, and more at their stunning estate.
They have various private tasting options, including reserve tastings, sweet tastings, and blended tastings, which can all be enjoyed on their spacious deck, patio, or barrel lounge. You can even reserve a fire pit table outside to keep you toasty during the cooler months!
To complement your wine, why not try one of the winery's mouthwatering cheese or charcuterie boards? They're the perfect accompaniment to their wines, especially when shared with friends and family.
If you need a picture-perfect venue for a wedding, birthday party, bridal shower, etc, this winery is a great option. They have a couple of event spaces, both of which are stunning. The Abisso Banquet Hall is particularly enchanting and can accommodate up to 165 guests.
Linganore Winecellars offer terrific vineyard tours, allowing you to explore the vineyards and estate, as well as sample an assortment of sumptuous wines and cheeses. Tours cost $80 per person and are led by one of the winery's knowledgeable wine educators who will be happy to answer any questions or inquiries you may have about the winery.
Alongside wine tasting and tours, food trucks and live music take place on the weekends. If you enjoy discovering new bands/musicians, munching on tasty food, and sipping on top-notch wines, weekends at Linganore Winecellar won't disappoint.
Editor's Note: If you have a sweet tooth, the Late Harvest Vidal Blanc is a must-try. It's sweet ice-style wine with notes of melon, honeysuckle, pear, and vanilla.
Boordy Vineyards
Next up is Boordy Vineyards, a family-owned vineyard that produces an array of world-class wines, including Chardonnay, Pinot Gris, Merlot, Cabernet Franc, and many more.
Upon entering the winery, you'll see historic buildings and acre upon acre of lush land, giving you the opportunity to relax in a calm and rustic environment. You can enjoy your wine in their delightful barn tasting room or refresh your mind and body in their lovely outdoor area.
They offer wine by the flight and bottle, as well as food trucks and live music every weekend. There is a varied selection of wine flights to choose from, such as Landmark Whites, Landmark Reds, and Landmark Mixed.
Boordy Vineyards is also available to hire for private events like wedding receptions/ceremonies, rehearsal dinners, and birthday parties. They have several event venues, including their homely barn, charming wine cellar, and majestic St. Vincent room.
Editor's Note: The winery's Albarino Reserve has won awards for its excellence, so be sure to look out for it on your visit. It's fermented and aged in Burgundian oak barrels for 6 months, emitting aromas of Kumquat, orange, tangerine, and wet stone.
Black Ankle Vineyards
Another great winery in Maryland is Black Ankle Vineyards, who produce high-quality grapes and wine using sustainable practices. They craft a range of top-notch wines but pride themselves on their port-style wines.
The winery offers tastings, scrumptious food, and plenty of fun events, as well as various comfortable outdoor seating areas. You can purchase wine by the flight, glass, and bottle, and relax on the patio, courtyard, terrace, or lawn.
Black Ankle Vineyards offers a wide assortment of small food items, including artisan cheeses, crackers, olives, meats, and nuts. You're also welcome to bring your own picnic to enjoy on their lawn.
Friday evenings are one of the best times to visit Black Ankle Vineyards as you'll be treated to live entertainment and delicious dishes served from food trucks, which all take place on the patio and terrace.
The estate and grounds can be rented out for private functions and weddings too, so if you need a beautiful venue for your special occasion, Black Ankle Vineyards has you covered.
Editor's Note: You need to try the Terra Dulce VI on your visit, especially if you have a soft spot for sweet/dessert wines. It oozes aromas and flavors of figs/dates, dark fruits, raisins, baking spices, with a touch of dark chocolate, almond, vanilla, and dark brown sugar.
Big Cork Vineyards
Boasting award-winning wines, great hospitality, a charming atmosphere, and a spectacular setting, Big Cork Vineyards is one of the best wineries in Maryland. Their modern and spacious tasting room provides a luxurious ambiance, so you can drink your wine in style.
They offer wine tastings by appointment, as well as private wine tastings for a more intimate experience. Private wine tastings are available for groups of between 5 and 15 people, costing $24 per person.
You'll sample 6 award-winning wines in their stylish production room and be guided through each one by one of their knowledgeable wine associates.
The Big Wine Experience is a great option for those looking for the ultimate wine tasting experience. Suitable for groups up to 6 (minimum of 4), you'll sample 6 different wines, which are a combination of their special release and library wines, and barrel tastings.
You'll also be treated to a tour of the property and a sumptuous cheese pairing to go with your wines. Better yet, the winery hosts live entertainment and other exciting events every week, so you have something else to look forward to after your wine tasting session!
Big Cork Vineyards can accommodate private events from weddings and classes to corporate dinners and vineyard tours. Their peaceful and beautiful estate is sure to make your special occasion that extra bit special.
Editor's Note: While all of this winery's wines are delicious, the 2020 Muscat Rose is especially good. It has floral aromas and juicy flavors of watermelon and red cherry.
Old Westminster Winery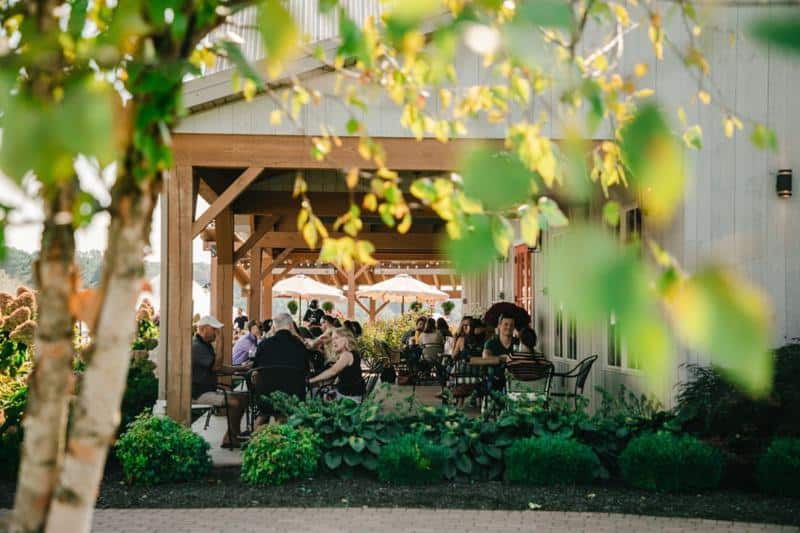 Featuring enchanting views, mouthwatering brick oven pizzas, and plenty of delectable wines, Old Westminster Winery is a wonderful place for a peaceful break. They offer an assortment of Maryland-grown wines, which rotate seasonally, so there's always something new to try.
There is plenty of cozy seating outside on their patio, picnic tables, and under their large sailcloth tent, complete with scenic views of the estate and grounds. All of these spaces are available to rent for private events too, so if you need a tranquil venue, look no further than Old Westminster Winery.
They offer wine by the flight, glass, and bottle, as well as a range of tasty dishes like pizzas, local cheeses, artisan jams, sourdough toasts, and honey. There's even a Sunday brunch menu if you get down to the winery early enough!
Editor's Note: If you fancy a refreshing and light wine, try the wineries Blinded by the Light, a blend of Piquette Blanc, Gruner Veltliner, and Vidal Blanc. It has flavors of lemonade, peach rings, pineapple, and starfruit.
Orchid Cellar Meadery and Winery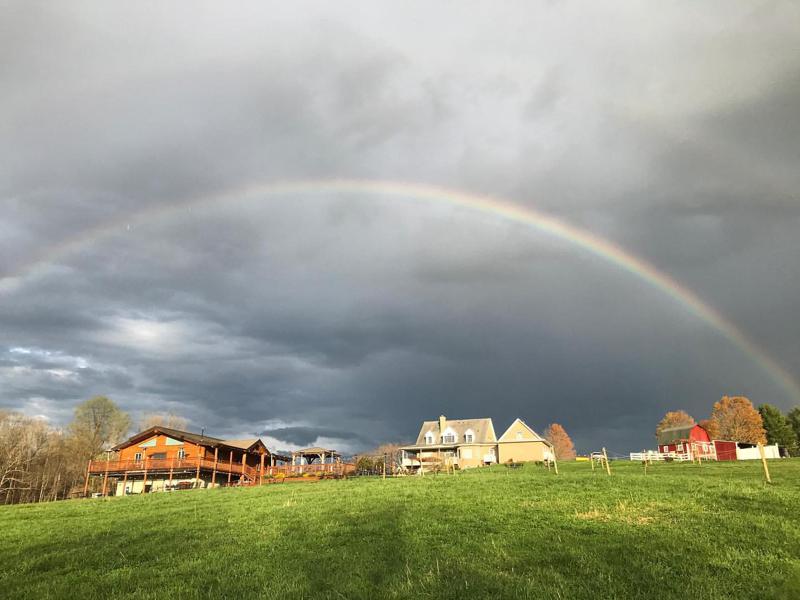 Situated in Middletown in Maryland is the beautiful Orchid Cellar Meadery and Winery, committed to making high-quality meads and wines. When they first opened their doors in 2010, they only offered a small selection of meads and a single red wine.
Fast forward to today and they now produce a huge range of meads and wines, with fans from all over the USA and even beyond! Their hand-built tasting room is nestled among 15 acres of land, 2 acres of vineyards, and a few beehives.
You can sample an assortment of meads and wines in their tasting room or enchanting outdoor area, which provides a breathtaking backdrop for tastings. Orchid Cellar Meadery and Winery can also be rented out for private events and functions.
The winery hosts a number of events throughout the year, including live music, seasonal events, release nights, and more. Make sure you check what they have in store for your visit!
Editor's Note: The Mazer Red is the best bits of wine and mead, resulting in a truly unique beverage that's essentially a red, white, and rose wine all in one package. It's bold and earthy with a semi-sweet taste.
Robin Hill Farm and Vineyards
Robin Hill Farm and Vineyards is a family-owned and operated winery situated in the picturesque Southern Prince George's County. Upon entering the estate, you'll see rustic red barns, rolling hills, grazing farm animals, and a gorgeous renovated tasting room.
The latter has been on the farm since 1957 and was originally a tobacco barn that was used to store, hang, and dry tobacco. Its rustic and charming appearance is also the perfect venue for weddings and private events.
The winery offers a variety of wines like Vidal Blanc, Viognier, Chambourcin, all of which are produced from grapes grown on their estate. You can enjoy their exquisite wines with some live music and bites to eat from food trucks weekly too, ensuring you have a relaxing and delicious stay!
Editor's Note: The Home Sweet Home wine at this winery is one to try if you fancy something sweet. Produced from their estate-grown Chambourcin grapes, it harbors natural flavors of chocolate and blackberries.
Elk Run Winery
Burrowed in the rolling hills of Frederick County in Maryland is the enchanting Elk Run Vineyard and Winery, who pride themselves on their fine wine and serene atmosphere. The cozy tasting room stocks a huge selection of wines and their friendly, knowledgeable staff will make you feel right at home.
Tastings cost $12 and include 6 samples of their wines from their full wine list. They also offer a couple of wine flights and free vineyards tours on weekends. Alternatively, you can book a private tasting and tour for groups of 10 people or more ($20 per person) if you want a more personal experience.
You can enjoy all of Elk Run Winery's wines in their tasting room or on their spacious patio. There are picnic tables on the grounds if you fancy bringing some lunch to go with your wine tastings, too.
Editor's Note: If you get the chance to try it, the winery's Pinot Gris is sublime. It's won multiple awards and has a lovely acidity with lemon zest and mineral flavors.
Layton's Chance Vineyard & Winery
With top-notch wines and fantastic hospitality, Layton's Chance Vineyard & Winery is a great place for spending time with friends and family. They offer nature trails, wine tastings, Friday night music, seasonal events like Christmas markets, wine pairings, private event venues, and more.
While there are a lot of activities and things to do at the winery, they still have a casual and calming atmosphere, enhanced by their striking views and lush scenery. The tasting room is spacious and comfortable, so you'll feel right at home as soon as you walk through the door.
There are a couple of wine tasting options to choose from: the Picnic Tasting and VIP tasting Experience. The latter is only available for larger groups and is priced at $25 per person, but is the ultimate wine tasting experience.
You'll be treated to tastings of all wines, cheeses, and chocolates, as well as a 15% discount on all wine purchases. It even comes with a souvenir wine glass!
The winery offers free tours of their vineyard and grounds during the weekends, which involves a 30-minute guided tour around the property. Be sure to make a reservation!
Port of Leonardtown Winery
Last but not least is the Port of Leonardtown Winery, which is located in a repurposed historic commercial building and surrounded by vibrant, luscious green land of the Port of Leonardtown Public Park.
They offer tastings, private party rentals, and plenty of events to keep you busy, including karaoke, trivia nights, and live music, which all take place on their newly built outdoor stage.
Their well-presented tasting room provides a casual and welcoming atmosphere, so you can sip on decadent wines with zero distractions. You can also take your wine outside on their spacious patio.
Tastings include 6 wines and cost $5, but you can arrange private tastings if you want a more intimate experience. The tasting room can be hired out for private events, too, if you want to host a party, bridal shower, or corporate dinner.
Editor's Note: Oozing flavors of bell pepper, black pepper, raspberry, and brambleberry, the winery's 2019 Cabernet Franc will delight and charm you.
Read More:
Final Thoughts
With its jaw-dropping landscape, impeccable seafood, and excellent selection of wineries, Maryland is a magnificent place to explore for those looking for a tranquil break.
All of the wineries above serve some of the best wines you'll find in the state, so be sure to check out a few of them during your visit to Maryland.