Minnesota is typically known for its many lakes, making it a good getaway for fishing, but if you get tired of doing that, there are other fun activities you can try out.
You will be amazed to find out that Minnesota has some fantastic wineries you can visit. It has grown substantially and expanded over the past few decades, with over 70 wineries in the state.
Every winery is different and has the way they excel; some provide an exquisite venue for dream weddings; some have quality cider and beer that matches their wine collection, while others are great for hosting family events.
What Wine is Minnesota Known For?
Minnesota has a cold climate, and many grape varieties typically need protection from the winter, so they are buried in the soil for the season. Winter temperatures generally have one of the highest effects on whether you can grow grapes in a certain region.
Minnesota has a continental climate where winters are colder, summers are warmer, and there are rapid temperature changes.
This cold climate makes it harder to grow grapes, unlike other grape countries with dry and arid climates. However, there are over 60 regional wineries scattered across Minnesota.
Although this is a tiny market, it is a booming one because of the grape pioneers from the University of Minnesota. It conducted innovative research and made strides in developing the cold-hardy grapes Minnesota is known for today.
The best areas for growing grapes commercially are along Minnesota, St. Croix, and Mississippi valleys in the southern third of the state. These areas formed in glacial times with notable large hills surrounding them. The sandy or gravelly soils in these areas also make them most suited for grapes.
Some of the most popular grapes for making Minnesota wines include La Crescent, Frontenac Gris, Marquette, and Frontenac, which is by far the most popular grape of the bunch. A lot of the wineries in Minnesota have breathtaking scenery, including many wine trails to keep things interesting.
Best Wineries in Minnesota
Check out some of the best wineries in Minnesota everyone should visit at least once.
Wineries Map:

Cannon River Winery
Location: 421 Mill St W, Cannon Falls, MN 55009
Tasting Price:$20
Contact Number: (507) 263-7400
Website:https://cannonriverwinery.com/
This winery is found in Minnesota's Sogn Valley hills on about 40 acres of land with many exceptional wines. If you're around the Twin Cities and Rochester, the winery is close to you, and you can quickly drive down to have a good time there.
Canyon River Winery is a historical ground with many activities, including the chance to explore the winery and vineyard where they make the wine. You can also check out the extensive collection of merchandise and enjoy live music. It has beautiful scenery that makes it an excellent venue for parties, weddings, and other special events.
Becoming a part of their Crew Club Membership will give you access to benefits such as a 20% discount on all your purchases from your joining date and 10% off your remaining purchases after that day. It also includes a tasting for six people yearly, a tasting for 4 in your birthday month, and quarterly pick-up parties that give you 20% off all your purchases.
Best wines:
Bootlegger's Red Port Wine
Gunflint Red Wine
Gunflint Gris
Gunflint White
Mill Street Red Wine
Sogn Blanc Wine
Minnesota Marquette
Fall harvest ceremony festivals:
Join them at Cannon River to enjoy and experience firsthand their wine creation process. You can choose to join in and get your hands dirty or stand watch and look while they harvest the grapes. This harvest ceremony is open to wine novices or local wine experts, and everyone will come out of the experience learning something new.
You can taste the grapes from the vine or have a taste of the finished product. The ticket price for reserving your seat is $25/person.
Crow River Winery
Location: 14848 MN-7, Hutchinson, MN 55350
Contact Number: (320) 587-2922
Crow River Winery is located in Hutchinson, Minnesota, right in the middle of the Crow River Watershed. Check out their wines, live music, delicious food, yoga, and lots more when you take a trip to this winery. If you plan a wedding or a special event at this winery, it is sure to be a fun ride packed with many activities to make sure everyone has a good time.
This winery features delicious hand-crafted wines in their Tasting Room, where you can excite your taste buds. If you're looking for breathtaking scenery, check out the vineyard that is sure to take your breath away and leave you in awe.
It also has the Luce Line Trail, which sets it apart from other wineries. You can hit the ground and take a chill ride alone or follow the gravel trail that will lead to their front door. You can take a break to enjoy a glass of wine before continuing the trip enjoying the view of the Minnesota prairie region. The tasting room hours are as follows:
Sunday-Wednesday 11 am-6 pm
Thursday 11 am-8 pm
Friday-Saturday 11 am-9 pm
Check out some of the best wines Crow River Winery has to offer:
Honeycrisp Apple Cranberry Wine
Red Porch
Honeysuckle
Township Marquette
LaCrescent
Red Coyote
20 Below
Blackberry
Chardonnay
Dine-in the vines event:
This is a yearly event at the Crow River Winery that brings people together to enjoy food and wine. If you love locally grown food and wine, you will fit right in here. Chef Craig's Catering is a local caterer that handles the dinner with inspiration from sustainable agriculture. You need to reserve your spot by buying tickets for this event and checking for the summer menu. This year's event holds on August 20.
Other festivals/events to keep track of are:
Grape Stomp
Pumpkin Fest
Mother's Day
Yoga at the Winery
Wine & Words Book Club
Also Read:
Parley Lake Winery
Location: 8280 Parley Lake Rd, Waconia, MN 55387
Wine Tasting Room Hours: Fri: 4pm – 8pm, Sat – Sun: 12pm – 6pm
Tasting Price: Start from $12
This vineyard is just a couple of minutes away from the Minnesota-St Paul airport and is generally regarded as one of the best wineries in Minnesota. Its origins go back to 2008 when two couples who loved delicious wines picked interest in it and how they made it.
It has won over 50 gold medals in many international wine competitions, standing out from other wineries in Minnesota and making it a must-visit if you're around. They have a diverse wine collection, including sophisticated wines, white wines, and limited-edition wines. They grow all the fresh grapes in their estate and hand-pick them to make all the wines attain perfection.
They have a wine club called the Goddess of Grapes which gives perks like 15% discounts on Wine Club orders and 15% discount on any additional wine purchases from their tasting room. It also offers a 20% discount on extra case purchases from their tasting room with an additional 10% discount on any Parley Lake Winery merchandise you purchase.
You can visit this vineyard on Fridays, Saturdays, or Sundays to taste their collection of highly-rated wines.
Some of the best wines in their collection are:
Apples & Vines
Marquette
Barn Quilt Red
Frontenac Blanc
Brianna Breeze
Frontenac Gris
Frontenac Limited Edition (Reserve)
Marquette Rose
ArtStock 10th anniversary art festival
This is an annual 2-day festival that combines music and art for a weekend of fun. It has artist booths and a beautiful vineyard setting with live music playing throughout the day. This year's event holds July 10 and 11 from 10 am – 5 pm; the winery will open by 11 am to visitors. There's no need to make any reservations to attend this event.
Other festivals/events to keep track of are:
Live Music with Matthew Griswold on July 9
2021 Concert in the Vines Series – Monroe Crossing on July 10
2021 Concert in the Vines Series-Keri Noble! On July 23
Waconia Wine Festival from July 24
2021 Concert in the Vines Series-Martin Zellar! On August 7
Schram Vineyards, Winery & Brewery
Location: 8785 Airport Rd, Waconia, MN 55387
Tasting Price: Start from $25
Contact Number: (952) 442-5105
Schram Vineyards is located in Waconia, Minnesota. It has a scenic view from the outside seating station, where you can enjoy some excellent hand-crafted beer and wine. The winery is open for you to book reservations for tasting or try their traditional yoga in the vineyard with a happy hour cocktail.
You can also play bocce ball along the vineyard while enjoying a delicious cup of wine or beer. The vineyard is also open for hosting private events on the premises for a beautiful experience. It also has beer and wine clubs where the members can get exclusive access to their latest recipes and enjoy being part of the Schram society.
Some of the best wines
Sparkling Frontenac Blanc
Bonfire
Blueberry Bumbley
Laketown Red
Semi-Sparkling Rose
Raspberry Bumbley
Frontenac 2018
Merlot
Vine to wine tours event:
These tours of the whole winery start at the Schram Vineyard property in Waconia with one of their tour guides and professionals. After touring the grounds, you'll have the opportunity to enjoy a seated tasting at the vineyard. They will cover important aspects like the vineyard history and expose you to the extensive wine portfolio with various in-process and preexisting wines throughout the tour. At the same time, you learn how to make it. The tickets for the tour are $30.
Other festivals/events to keep track of are:
Food Truck – Russell's Traveling Kitchen on July 10
Yoga in the Vineyard on July 11
Live Music – Tyler Herwig on July 16
Waconia Wine Festival on July 24
WineHaven Winery & Vineyard
Location: 10020 Deer Garden Ln, Chisago City, MN 55013
Tasting Price: $18
Contact Number:(651) 257-1017
This winery opened in 1995, and it was Chicago County's first estate winery. It is a family-owned vineyard that has been passed down from generation to year. They have perfected the art of making and growing unique grapes at WineHaven that produces some delicious wines.
WineHaven Winery is located between the Minnesota lakes and is full of beautiful scenery that can relax your mind. You can explore 50 acres of space with a horse-drawn carriage before taking a bite from one of the food trucks.
They also make many honey flavors from their honeybee hives on their grounds. Over 40 years of experience in taking care of these bees gives them a unique feature many wineries do not have.
Best wines:
2020 Deer Garden Red
Raspberry Wine
Lakeside Rosé
Sangria
Stinger Mead (Honey Wine)
Cranberry Wine
Annual rhubarb frenzy at wineHaven:
Enjoy the summertime with other guests at WineHaven and explore the new wines they have available. This year, they have six new unique flavors of wine slushies, vineyard lunch, and live music. You can also check out the various guest vendors on-site, and you might find something interesting.
Other festivals/events to keep track of are:
Wine Slushy Fest! On July 17
Yoga at Winehaven! In September and October
Federweisser Festival at Winehaven on October 23-24
Holiday Cheer at Winehaven! On December 4-5
Cabin Fever Days at Winehaven! In March
Saint Croix Vineyards
Location: 6428 Manning Ave N, Stillwater, MN 55082
Contact Number: (651) 430-3310
Saint Croix Vineyard was established in 1992 and is one of the most beautiful vineyards in America – not just in Minnesota. They have been in production for about 29 years now and have consistently delivered quality wines to their customers.
Their tasting room is in their restored barn, and it gives an elevated sense of comfort while you sit back to sip and enjoy the wines. If you want to visit for the scenery, you're allowed to pack a lunch for yourself and go there to enjoy the rustic surroundings while you take a bite.
Best Wines:
La Crescent
Raspberry Infusion Chocolate Wine Fudge
Frontenac
Frontenac Port
Marquette Rose
Zinfandel
Catawba
Yoga in the Vines event:
You can join other visitors on Sunday mornings on the Saint Croix vineyards for an outdoor yoga class on the grounds. Come over with your mat and any other material or equipment you need for practicing. You need a ticket which costs $15, which gives you access to the 60-minute class as well as a glass of wine.
Other festivals/events to keep track of are:
Wine Meets Art Festival
Henna & Sip
Cheese and Chocolate Weekend
Valentine's Weekend Special
Red, White & Sangria
Grape Stomp!
Toast, Taste, and Paddle
Wine and Canvas Painting Party!
Four Daughters Vineyard & Winery
Location: 78757 MN-16, Spring Valley, MN 55975
Contact Number:(507) 346-7300
This winery is located in Southeastern Minnesota, close to Rochester. It is home to their many award-winning wines and Loon Juice Ciders, where they always try to give guests the best possible experience. There is an elegantly designed tasting room, operational winery, and cidery to produce all of their exquisite wines.
Four Daughters Vineyard & Winery started with the original owners and their four daughters building up the winery from the ground up. Today, it has become a family tradition sitting on a 6-acre vineyard that belongs to the family.
They were the official provider of the Sundance Film Festival in 2016 and won Minnesota's Governor Cup in 2012 at the International Cold Climate Wine Competition.
Some of their best-selling wines are:
Big Boy Blend
White Oak
Polygon Rose
Velvet Hammer
Nude Etude
Pinot Noir
Aphrogrisiac
Dine-in The Vines:
Join other guests as you dine in their vineyard under the full moon. The Executive Chef prepares a 10-course dinner served on the patio. They'll pair all the meals with wines meticulously for a good time. You need to purchase a ticket before attending this event, and you should plan for a late night.
Other festivals/events to keep track of are:
Movies in the Vineyard hold periodically on several dates
Annual Lobster Boil on August 27
Millner Heritage Vineyard & Winery
Location: 32025 MN-15, Kimball, MN 55353
Contact Number: (320) 398-2081
Whatever makes you happy about visiting a winery – great wines, delicious food, or live music, Millner Heritage Vineyard & winery has it all. There is a fun activity for everyone at the winery, including a chilling spot to enjoy wines with friends and the paint & sip classes.
Millner Heritage Vineyard & Winery sits on 9 acres where they grow grapes of different varieties that give their wines a different feel. They use modern equipment in their winery to process the grapes and produce delicious wines for your consumption. Their collection ranges from Dry to Sweet to make over 15 labels. Their tasting room hours are as follows:
April – December:
Wednesday 11 am – 6 pm
Thursday 11 am – 6 pm
Friday & Saturday 11 am – 8 pm
Sunday 11 am – 6 pm
January-March:
Friday 11am – 6pm
Saturday 11am – 7pm
Sunday 11am – 6pm
Best Wines:
Nordsüss
Salier
Mullner Weiss
Drága
Gemütlichkeit
Sotan
Mein Onkel
Schnickelfritz
Naplemente
Little Iza
Riding Vineyard Tours:
Join their riding vineyard tour to explore the grounds of the winery. Hop on their vintage tractor as they take you through the vineyard rows to view the plants. You get to be up close and personal to see the grapes closely. Along the ride, they'll also explain how they grow the fruits in the vineyard and the processes for producing the wines. This should take about 1 hour and costs $4.50 for a ticket. You can continue the ride for a tour of the winery to see the wine-making process also. The winery tour costs $4.50 too, but you can do both tours for $7.50.
Carlos Creek Winery
Location: 6693 County Rd 34 NW, Alexandria, MN 56308
Contact Number: (320) 846-5443
Website: http://www.millnerheritage.com/
Settled in Alexandria, Minnesota, Carlos Creek Winery has been providing its gust with some of the best wine in the state accompanied by a fun experience since 1999. The winery stretches across 160 acres of the lake area, which is also Minnesota's first Federally Approved Viticulture Area. Carlos Creek offers several varietals of wine including whites, reds, desserts, fruits, and more.
There are plent of things to do at Carlos Creek Winery. You can do something as simple as walk along the property while drinking their signature Hot Dish Red, an unoaked and unaged red that has sweet notes of blackberries and spice.
The tasting bar offers pizza and lives music on the weekends. Wine flights are available everyday for wine tasting and guests are able to keep their souvenir wine glass.
One of their biggest events is the three-day Grape Stomp Festival which happens every September. Watch teams compete to crush 10,000 grapes with their feet, enjoy four stages of live music, and gobble down some food.
Wild Mountain Winery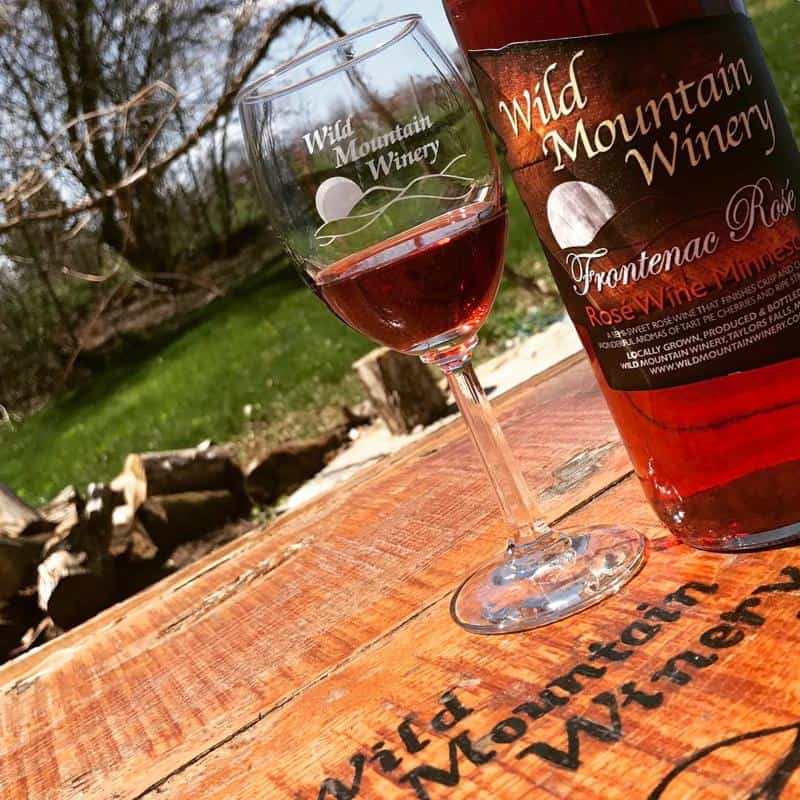 Location: 16906 Wild Mountain Rd, Taylors Falls, MN 55084
Contact Number: (651) 583-3585
Wild Mountain Winery is one of Minnesota's premier wineries, located on one of the highest points in Chisago County. Guests have a perfect view of the serene and gorgeous St. Croix River.
Wild Mountain's wines range from dry to dessert and they also offer ciders. For a dry wine, try out their signature Wild River Red, a light bodied dry red with hints of spice and smoke and ripe berries and cherries aromas. Wild Mountain offers camping, food, tastings, and plethora of live music concerts.
Alexis Bailly Vineyards
Location: 18200 Kirby Ave S, Hastings, MN 55033
Contact Number: (651) 437-1413
In 1973, the Bailly family planted the first Minessota vineyard, Alexis Bailly Vineyards. The vineyard released the first ever wines produced of 100 percent Minnesota grown grapes, when its tasting room opened in 1978. The vineyard offers several varieties of wine blends and all by the bottle, with a select few offered by the glass.
Known for its dessert wines, the Bailly vineyard, as it has matured, also has a focus on producing grapes for smooth and complex red wines.
An immersive experience of fine wine accompanied by beautiful views can be found here. The setting is on a bluff-top farm, great for picnicking.
Try one of their signature wines, Voyageur (voted best wine in Minnesota by Minnesota Monthly in November 2012), as you stroll through their sculpture garden or enjoy wine on the courts as you play bocce ball with friends or family.
The vineyard's tasting room is temporarily closed, but all outdoor sitting areas are available for use to enjoy your wine and visit. Bikes and dogs are welcomed at the property. From May through August, rain or shine, every Sunday the vineyard hosts Jazz in the Vineyard in the afternoons
Morgan Creek Vineyards and Winery
Location: 23707 478th Ave, New Ulm, MN 56073
Contact Number: (507) 947-3547
Having the only underground aging cellar in Minnesota, Morgan Creek Vineyards and Winery is a unique family owned and operated business. Since 1993, the winery has used socially and environmentally sustainable agriculture business practices.
Morgan Creek specializes in American, German, and French style wines. Ten Thousand Vines is Morgan Creek's proprietary Maquette blend. It is a bold red blend with a vanilla mid-mouth, pepper finish, and exhibits leather, cedar, oak, and berry aromas.
Wine tastings can be self-guided or be a personalized afternoon at the foot of the vineyard with the winemaker themselves. Several events are hosted on the property, including Jazz Nite and Morning Toast.
Conclusion
You cannot do wrong with any of these wineries in Minnesota. Take your partner along for a weekend getaway, or plan your vacation to visit one of them and have a swell time.