Selecting a wine club is a commitment you need to consider carefully before making a decision. We understand you cannot keep changing wine clubs every month before you find a perfect fit. So, we have helped you review the Wine Awesomeness club to know all the essential details without joining and determine if it's the right fit for you.
Check below for everything you need to know about Wine Awesomeness Club. It will include their features, prices, wines, policies, timing, and some user's comments. We also had our recommendations to tell you who the Wine Awesomeness wine club is ideal for, and it is not.
What is the Wine Awesomeness Club?
Wine Awesomeness club is a friendly, online neighborhood wine store. Unlike other wine clubs, it doesn't talk about their backstory or the people behind it. It is only intent on promoting the wines and services they deliver.
It offers an excellent, high-quality collection of wines from classic wine-producing regions and one or two up-and-coming wine-producing countries. It has a community of like-minded wine lovers centered around online magazines, education articles, and recipes.
How to Join the Wine Awesomeness Club?
Joining the club and purchasing wines is very easy, and you can do everything online by following the steps below:
Go online to their website and select the membership option from the top of the page.
Select from any of the two membership plans. They both have options for an all-red, all-white, or mixed subscription.
After selecting your box and subscription type, you will put your billing and shipping information on the next screen it displays. You can change your subscription frequency later if you desire.
When it is the appropriate time, you will get their wine deliveries along with the stories that accompany them.
Key Details of Wine Awesomeness Club
Check out critical details about the wine club:
Wine Club Plan and Membership Benefits
Wine Awesomeness club is a fully online club, and there is no need for you to meet the founder or any of the members personally before joining.
Their subscription pricing options starting from: $49 for a 3- bottle case up to $79 for a 6-bottle case. You can pay for your membership with the standard credit card options. Both plans give you wine cellar access, and the 6-bottle membership provides a better price per bottle. This puts the average price of bottles between $13.17 – $16.33 per one, an excellent bargain when you compare how much each bottle costs on its own.
Wine Awesomeness Club offers free shipping and delivery for both subscription plans and a 20% discount off all your wine reorders. Other benefits for becoming a member include early access to new wines, first access to unlisted wines, and small production batches. Your subscription comes with food pairing ideas, digital tasting notes, and member reviews & ratings. You can also choose to skip a month without any issues by checking the "Manage Membership" page on their website.
Club Theme For Each Shipment
If you prefer themes for your shipment, you will be pleased with the Awesomeness club. Their team of winemakers and sommeliers work together to develop pieces that revolve around specific regions or overarching topics like food. They then search the globe for wines based on the themes they have chosen and make their selection. It has several ongoing themes and collections, including organic cans, Friendsgiving, Mary Taylor wines, and mystery. They also select pieces from a wine region.
Wine Selection
They change their wine selection monthly and try to mix it up with each collection. If you're on the 3-bottle plan, you can choose between red only, white only, or a wide variety. The 6-bottle program, on the other hand, has variety as the only option. This way, you can choose to select your wine preferences or go with the theme of the month.
Wine Review
They do not limit their selection to USA wineries as they also explore bottles from Spain, South Africa, France, Argentina, Italy, New Zealand, Germany, Australia, and lots more. Selection is not usually based on the type of wine or location but more on the enjoyment and taste of each bottle. Colors typically include Red, Rosé, White or Sparkling.
Grape varietals available include Malbec, Merlot, Zinfandel, Riesling, Shiraz, Cabernet Sauvignon, Pinot Noir, Nebbiolo, Chardonnay, and lots more. You can check their catalog for more options with filters divided under Grape, Type, Collection, and Country.
Many of the brands they select are boutique brands that have unique blends without becoming too extreme. They also include some large varieties of grapes and take lesser-known varieties with the popular ones. Some examples of wines you can expect from them are as follows:
Hofstätter Südtirol-Alto Adige Lagrein: This unique wine has "jam-like" notes of violets and wild blackberry.
Green Eyes Grüner Veltliner: Wines of this blend has many fresh flavors such as lime, green apples, and ripe apricots with a little bit of fill.
Mary Taylor: This is a young winemaker that has cultivated a signature in producing wines with incredible details of its manufacture with simplicity and precision on every label.
Field Recordings Hock White Blend: Stand out and attractive Californian spin on the traditional Alsaton blend called Gentil (or Edelzwicker).
Italia Foto Wine Co. Montepulciano d'Abruzzo DOC: A wine that is 100% Montepulciano with notes of violets and black fruit. The maker has several wines in their collection.
Perdeberg 'Classic Collection' Chenin Blanc: A winery in the Coastal region of South Africa that produces a blend with intense feels of kiwi, pear, and guava. They also make some red wines.
Wine Education
Your membership also includes automatic access to their digital publication called Wine Cellar. This publication has sufficient information about tasting notes for your wines, personal ratings & reviews, and diverse recipes. They also produce a quality editorial for a monthly magazine called "The Back Label," which has some impressive photography and quality articles.
The Back Label gives you an in-depth exposure to all of the tasting notes for each bottle you receive. It is included in your order each month and is an excellent resource for information. It has information on all the 3/6 bottles in your collection, as well as little tips and tricks. It is a one-stop resource for entertainment, lifestyle content, and education. You can learn a great deal about food, wine and many more.
Also, Wine Awesomeness focuses a lot on travel, exploring, and discovering new wines, so it is featured a lot in their Back Label. You will find information about wines from different parts of the world with photography to match it. Some information you would typically find in the publication includes Pub Crawls in Bordeaux, France, cocktails to get in Disney world, underground winemaking in Chile, and many more.
It also includes unique recipes sourced from all over the world so you can try out different dishes from the comfort of your home. If you're trying to cook a fancy pasta dish to enjoy with your wine, this shouldn't be a problem. You can also check out some of the articles on their website for free, even if you're not a member. It gives you a taste of what to expect if you decide to join the Wine Awesomeness club.
Gift Option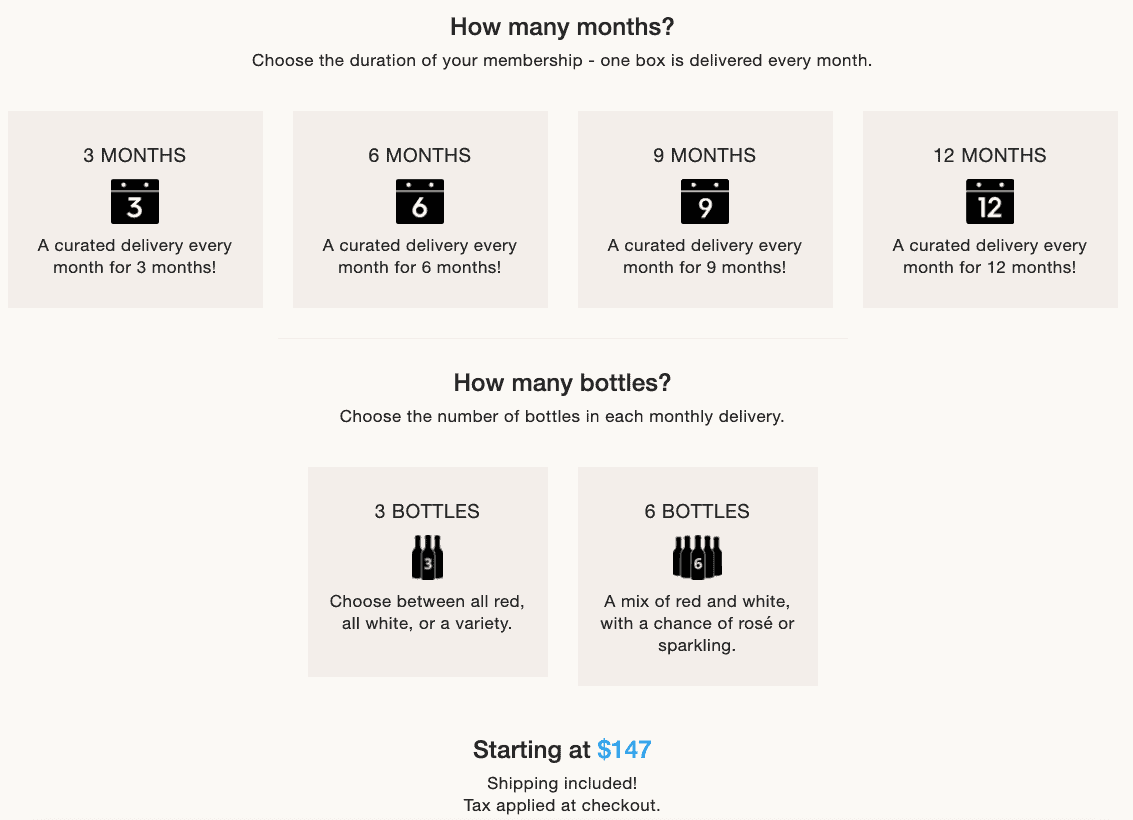 There are four choices for a gift membership. You can find this on the gift page of their website after clicking Gift subscriptions. Depending on your preference, it could be a monthly delivery for 3, 6, 9, or 12 months. The prices typically start from $147 and are all prepaid. You can purchase and gift curated gift boxes, corporate gifts, and gift cards.
You can choose to gift someone a bottle of wine if you come across something interesting while you're shopping through their options. All the sales tax and shipping are already included in your gift price, so you can see the total amount you will pay and stick to your budget.
After purchasing a gift, you can select if you want the recipient to handle their account or if you want to run everything upfront. If you choose to let the recipient manage their account, you will send them an electronic gift card to redeem. These gift cards can range in value from $20 to $1000. This flexibility is uncommon in most wine clubs, and it is a welcome addition.
Cancellation Policy
You can cancel their service anytime you want as long as it is a minimum of 24 hours before your next date for the order. From your account, you can fully access the cancellation and make your choices. Click on "Manage membership" on the website and go to "Deactivate" to make a cancellation, and it should take effect immediately. You can also reactivate your account through the same method.
Shipping & Delivery
As stated earlier, all delivery is free and is already included in their package. They ship to all states in the USA apart from Utah, Hawaii, Alaska, Mississippi, Alabama, South Dakota, and Arkansas because of their unique alcohol laws. In Alabama, you have to ship to an ABC Select Spirits store first to collect and pay the corresponding sales tax.
Delivery Times
Your orders typically go out within three business days and need an extra one to five days before you receive them on your doorstep. Consider that these are only business days, and holidays are not a part of it. Delivery times could vary based on the provider and state, so Wine Awesomeness has a map on their website that has detailed information on how long shipping takes for each state averagely.
You can also delay a shipment that hasn't gone through processing for whatever reason you may have. Go to the "Manage Membership" tab in your account and check the delay procedure. If the order has already been processed, reach out to customer support, although this may incur a $20 fee. Most of their orders are through FedEx, so if you plan to travel for a few days, you can arrange for your order to get shipped to the nearest holding location.
Can You Swap Wines/Hold in Your Shipment?
Apart from your regular monthly shipments, you can purchase add-on bottles separately and include them with your order. You can easily do this by going to the wine shop and adding the desired wines to your cart. Always remember to tick the "no-rush shipping" at checkout. The "no-rush shipping" ensures they add the bottles to your regular box and everything arrives at the same time without an extra delivery fee.
How to File a Damage Claim?
Orders are packaged securely, and there is usually no damage. However, if damage occurs to your order, contact them on their website as soon as you notice it. Check the "Submit a Request" function on the website to fill in the required information or check for their mailing address at the bottom of the "Terms and Conditions" page. They will reach out to you and sort out any problems you have.
If you have any other issues, you can explore the FAQ section on their website. It contains detailed information on handling cases regarding refunds, errors, damages, and online cancellations.
Is Wine Awesomeness Club Right For You?
Wine Club Real Customer Reviews
Check out some comments we got about this wine club occ social media:
Deplorable customer service for lost deliveries. I'll never order from this company again. Awesomeness? I think not. – Kent Alexander Dissatisfied in Western MA
I have been a member (with a few pauses sprinkled in) since 2015 and love it. We haven't gotten the wrong bottle and have learned many cool things about wine that we wouldn't have known otherwise, including many new favorites in the wine family. Their customer service is also top-notch, with only two shipping "issues" in over three years, and they were fast and friendly when rectifying it. Plus, for the price and customization, you really can't beat it (we've tried several others, and none of them come close). Highly recommend!! – Erin Scudder
I've been a member for almost two years. Yes, there have been some shipping issues, but every time I have emailed or done a live chat, it's been immediately addressed! I understand that shipments from other countries can be delayed & they were quick to substitute & give me credit for my patience. Plus, the variety is super & I always learn something. I highly recommend this club! – Mary Beth Olsen
Who Should Not Join?
The main downside to the Wine Awesomeness club is that there is no personal feel. Even when you submit a request through their website or online chat, there is no opportunity to talk to a natural person, and it could get frustrating sometimes. Also, there is no human face to the brand, and even though the website is friendly and upbeat, there is no human touch.
This might seem unimportant but joining a club online isn't as doing so in the everyday world. Members typically look for a leader who shares a similar passion, looks out for you, and has a broad community with people like you.
Who Should Join?
Wine Awesomeness Club is for people who don't care about having that personal feel or putting a face to the brand. The younger generation will be an excellent fit for this wine club as they offer great wines and many flexible controls over your account. You also have access to other members' boxes to see what types of wines to expect and their options. It doesn't hurt that their budget is relatively inexpensive compared to their competitors, and they offer free delivery on all their orders.
If you're looking to explore wines from different parts of the world and are looking to be surprised every month, Wine Awesomeness Club is a great fit. Their Back Label also gives quality education about these wines, including their backstory and tasting notes.
Alternate Wine Clubs
Another great online wine club that can be an alternative to the Awesomeness club is Winc Wine Club(Club W). They started by just sourcing bottles from retailers and third-party wineries like Awesomeness Club. However, since 2014 they have started producing their wines in their Central Coast Winery, delivering 200,000 cases of 100-150 unique wines yearly. They also collaborate with small producers and small vineyards across the US to produce dozens of wines.
Their pricing goes for $39 at an average price of $13/bottle for a three-bottle case which is cheaper than the $49 Club Awesomeness delivers for the same. The only caveat is there is an extra $6 for shipping; the only people who enjoy free shipping are those that order at least six bottles. Generally, their materials and label design have a little bit of a higher quality than Awesomeness club. They also include a food pairing and background information for each shipment which was exciting, but we prefer Awesomeness' "the black label" over it.
Other wine clubs like First Leaf deliver more complex and premium wines if you're not an amateur wine connoisseur. Their intelligent wine subscription service also tries to familiarize itself with you by asking for the quality and tasting notes you might prefer in your wine. Cellars Wine Club is one of the most customizable options we've seen so far, offering about 12 unique clubs you can switch between. All of these clubs are based on your preferences, and experts will select wines to cater to these sub-clubs' tastes.
If you're looking to explore what you like and discover your preferences, Bright Cellars is your go-to. They use data-driven insights to determine wines that would fit your preferences. Foodies that are just looking for wines to go with their favorite foods can try out Blue Apron for their unique model as a meal kit delivery company.
Also Read:
Cellars Wine Club Review 2021: Top-Notch Wine Selections
WSJ Wine Club Review 2021: Affordable and Personalized Subscription
Conclusion
There you have it! Wine Awesomeness Club typically gears its marketing, branding, and offering towards millennials and the younger generation. If you think they're a right fit for you, check out their website.