San Luis Obispo is a must-visit destination when you love to sample wines on the relaxing California Central Coast. San Luis Obispo (SLO) County in Edna Valley is a wine fan's paradise with exquisite vineyards and wineries.
Even if you are a Californian native, you may be unfamiliar with many SLO wineries and their finest wines. Situated between volcanic hills and the Pacific Ocean, SLO is a unique location for sampling crisp and delectable alcohols.
To bring these hidden gems to you, I have compiled a list of the 15 best SLO wineries to facilitate your weekend plan in town. These vineyards and tasting rooms offer breathtaking sceneries, inviting atmospheres, and excellent wines to explore!
A Brief Introduction To San Luis Obispo
Did you know that there is no country road in SLO that will lead you to sour grapes? Most people travel to San Luis Obispo for the brilliant wines and beautiful landscapes of wineries. If you also have that intention, you had better learn about the place!
San Luis Obispo Whereabouts
Located in the Central Coast region of California, San Luis Obispo is a city surrounded by volcanic mountains and the Pacific Ocean. Thus, it has a unique climate with long hot days and cool nights.
San Luis Obispo is relatively between Los Angeles and San Francisco. The city is surrounded by many fun areas, such as Pismo Beach and Morro Bay, making it a great weekend escape!
In the early 19th century, Spanish missionaries came to SLO and planted grapes. Yet, it was not until the 1970s that planting grapes became more of a business for making wine in the region.
The city has five distinct wine regions (or AVA – American Viticulture Areas): Paso Robles AVA, York Moutain AVA, Arroyo Grande Valley, Edna Valley, and San Luis Obispo Coast.
Among them, Edna Valley has the longest grape-growing history. For that reason, most of my SLO winery recommendations are from Edna Valley.
Recommended Ways To Reach San Luis Obispo
There are two main ways to reach San Luis Obispo: driving and flying!
For driving, you can either begin your journey from Los Angeles or San Francisco and enjoy the landscape along the way. However, the 200-mile trip may take over 3 hours to complete.
Alternatively, you can book a direct flight to San Luis Obispo County Regional Airport (SBP). You can depart from one of these airports: Los Angeles International Airport (LAX), San Francisco Internation Airport (SFO), or Hollywood Burbank Airport (BUR).
Top Accommodations In San Luis Obispo
It would be a pity to stop short your wine tour because there is no place to stay at night. Fortunately, San Luis Obispo's charming downtown section offers various spots to accommodate and visit adjacent Edna Valley vineyards.
You can choose specific San Luis Obispo wineries with lodging services or stay in hotels like Hotel Cerro, Granada Hotel & Bistro, Madonna Inn, Apple Farm Inn, and San Luis Creek Lodge.
Wine Sampling In San Luis Obispo: What To Expect?
San Luis Obispo also specializes in certain grape varieties like other renowned wine areas. In addition. the closeness to the coast (less than 5 miles) provides the area with cool sea winds, which are suitable for cultivating Chardonnay and Pinot Noir.
Besides, you will also sample other wines made from other grape types, such as Viognier, Cabernet Sauvignon, Grenache, Zinfandel, and Riesling.
In addition to exceptional wines, the picturesque scenery and cool climate will further enhance your sampling experience. I guarantee it will be unforgettable!
15 Best San Luis Obispo Wineries
Without further ado, let's explore the best San Luis Obispo wineries in the following section!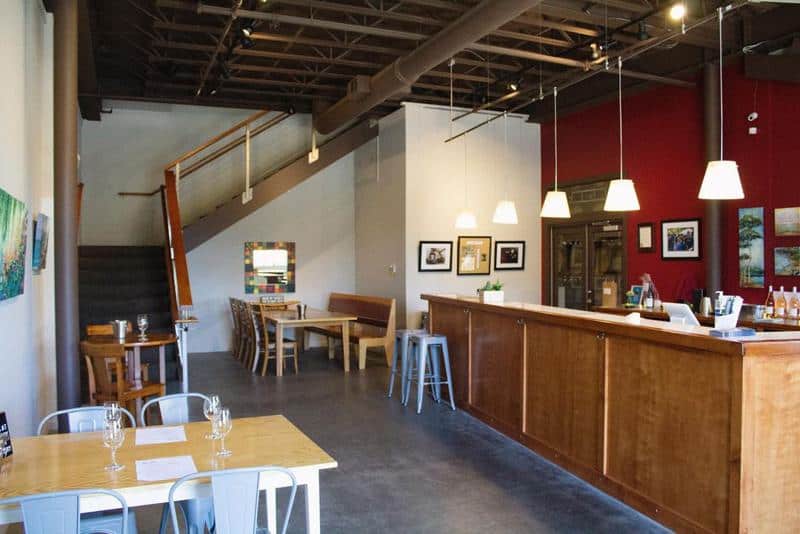 Stephen Ross Wine Cellar is a wonderful winery situated amid the San Luis Obispo industrial area. Although you don't have gorgeous scenery and opulent structures like other vineyards, you can rely on its superb wines!
This SLO winery is owned by winemaker Stephen Dooley, a professional in making Pinot Noir and Chardonnay. Besides, rare wines like Grenache Blanc and Albarino are also parts of his repertoire.
In addition to the tasting room, the winery has a separate estate vineyard in Edna Valley named Stone Corral. It produces small batches of many exquisite wines, including affordable offerings of Zinfandel and Cabernet Sauvignon.
Address: 178 Suburban Road, San Luis Obispo, California
Tasting hours: Fridays to Mondays (11:00 am to 5:00 pm)
Contact: (805) 594-1318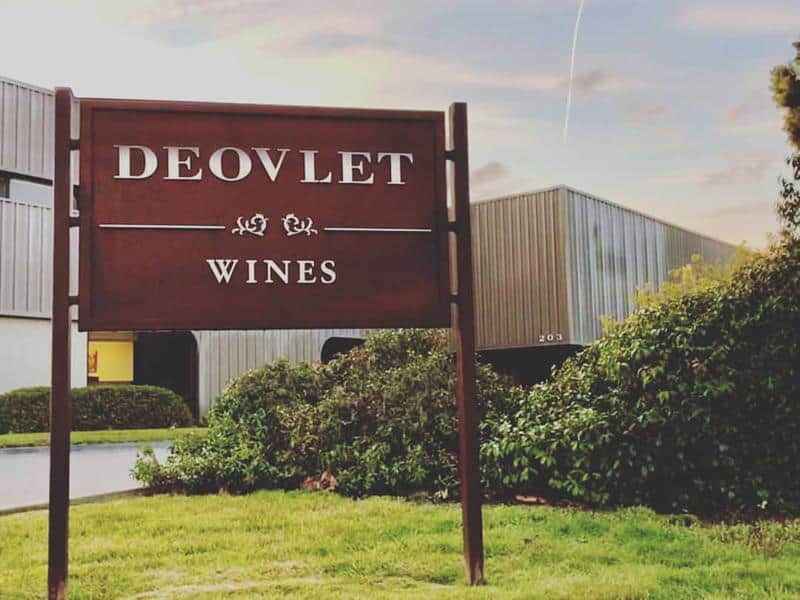 If you love a tasting experience of first-class barrel room wines, don't miss your visit to Deovlet Winery. This nice and inviting location nearby Stephen Ross Wine Cellar in San Luis Obispo will never let you down.
Deovlet wines possess tastes that are distinct and expressive, such as Chardonnay, Pinot Blanc, and Cabernet Sauvignon. Thus, I am sure you will enjoy your favorite wine taste here!
Address: 203 Suburban Road, Suite 2, San Luis Obispo, California
Tasting hours: Saturdays (11:00 am, 12:30 pm, 2:00 pm, 3:30 pm)
Contact: (805) 787-0438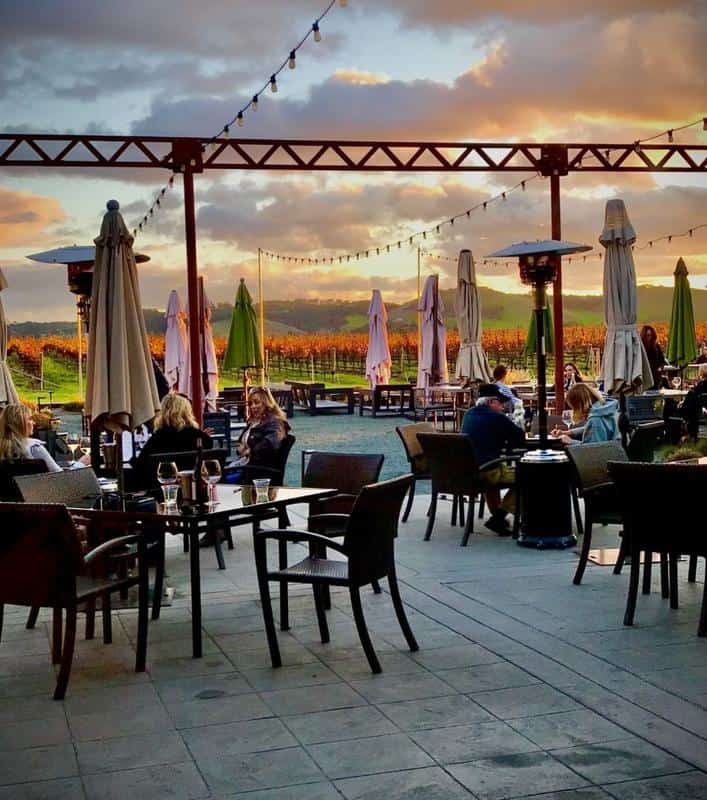 Tolosa Winery is a fail-proof destination you can put on your wine tasting trip in San Luis Obispo. It hosts various events throughout the year, including the Winemaker Dinners. It has the perfect setting for sipping wines on a tranquil evening.
Founded in 1988 by Robin Baggett, Jim Efird, and Bob Schiebelhut, this used-to-be cattle ranch is renowned for the outstanding production of Pinot Noir and Chardonnay wines.
Unlike its rustic competitors, the tasting room here is a lovely, stylish venue and a brilliant view from the tank room. The outside terrace with fields of grapes makes the winery the most picturesque location for wine sampling!
Address: 4910 Edna Road, San Luis Obispo, California
Tasting hours: Daily (11:00 am – 6:00 pm)
Contact: (805) 782-0500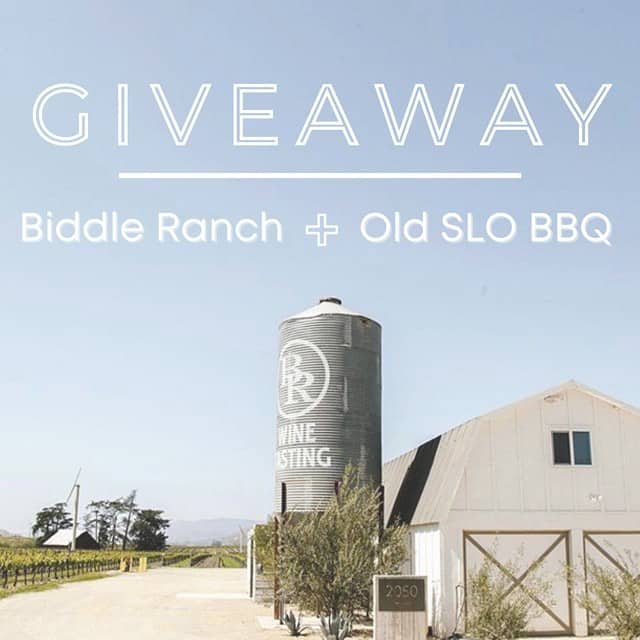 Fans of Chardonnay wines will love Biddle Ranch Vineyard. Located in a luxurious and contemporary white barn house in the heart of San Luis Obispo, this winery (founded in 2012) offers a beautiful setting for taking pictures with grapevines in the background.
Regarding the outdoor patio, you get to enjoy comfortable seats and tables under olive trees. The service here is brilliant, also! Just picture you sipping wines at your closest friend's farmhouse, it is precisely how Biddle Ranch Vineyard treats you!
Besides Chardonnay, the tasting room also offers various Central Coast varietals like Merlot and other reds. All in all, the place ticks every box: brilliant wines, beautiful views, and excellent customer service.
Address: 2050 Biddle Ranch Road, San Luis Obispo, California
Tasting hours: Thursdays to Mondays (11:00 am – 5:00 pm)
Contact: (805) 543-2399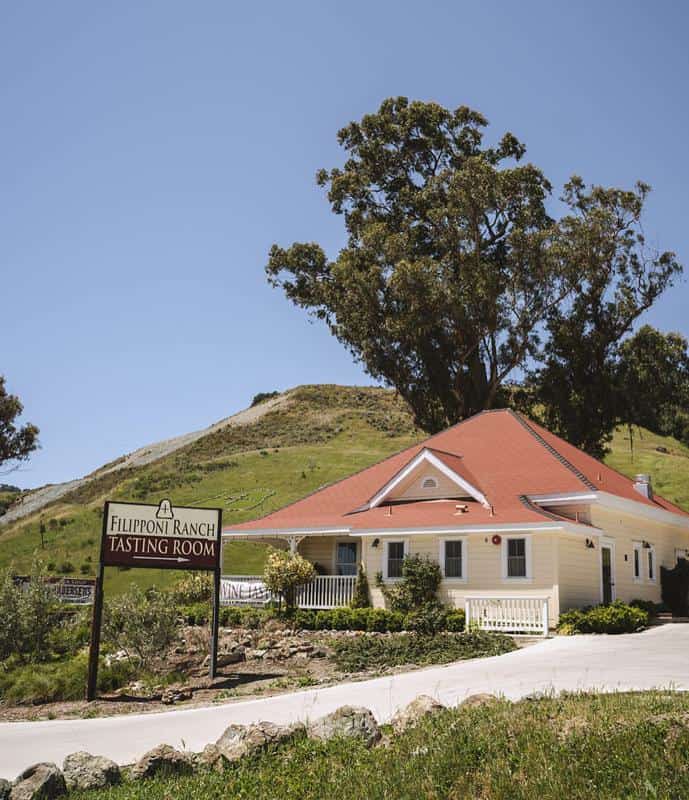 What was once a 300-acre ranch owned by a Swiss immigrant family is now a flourishing, one-of-a-kind winery. Filipponi Ranch is well-known for its hand-crafted wines produced in the dairy barn.
It is a must-visit destination when you reach San Luis Obispo, as the location is situated conveniently near the airport and only 8 miles from Avila beach.
Besides the beautiful whereabouts, you can also expect a wide array of premium wines here, including Rosé, Chardonnay, Cabernet Sauvignon, and Syrah. Besides wine sampling, you can enjoy a good game of bocce ball or horseshoes on the outside lawn.
Address: 1850 Calle Joaquin, San Luis Obispo, California
Tasting hours: Thursdays to Sundays (12:00 pm – 5:00 pm)
Contact: (805) 903-3567
Saucelito Canyon Vineyard is a cute little spot where you can enjoy its signature Zinfandel (a wine from both the Arroyo Grande Valley and the Dry Creek Valley) while sitting at picnic-themed tables on the well-kept grass.
Despite initially being planted in 1880, it was not until 1974 that the vineyard underwent a comprehensive renovation to become the lovely destination it is today.
In addition to its premium wines, Saucelito Canyon Vineyard also offers delectable cuisines, such as snacks (tapas), cheeses, and charcuterie plates. However, be aware that the winery forbids visitors from bringing outside food into the estate!
Address: 3080 Biddle Ranch Road, San Luis Obispo, California
Tasting hours: Daily (11:00 am – 5:00 pm)
Contact: (805) 543-2111
Like other mentioned SLO wineries, Chamisal Vineyards specializes in making world-class Chardonnay and Pinot Noir wines. In fact, this place was the first winery on the Central Coast to grow vineyards in the Edna Valley in 1973.
Besides its best-seller lineups, Chamisal Vineyards also offers other Rhone varietals such as Grenache and Syrah.
Chamisal Vineyards is the second winery to receive the SIP (Sustainability In Practice) certification. It surpasses requirements for maintaining and enhancing the biodiversity in the area.
The location is just 10 minutes away from the SLO downtown, so there is no excuse not to visit while you are in town!
Address: 7525 Orcutt Road, San Luis Obispo, California
Tasting hours: Wednesday (12:00 pm – 5:00 pm) & Thursdays to Sundays (10:00 am – 5:00 pm)
Contact: (805) 541-9463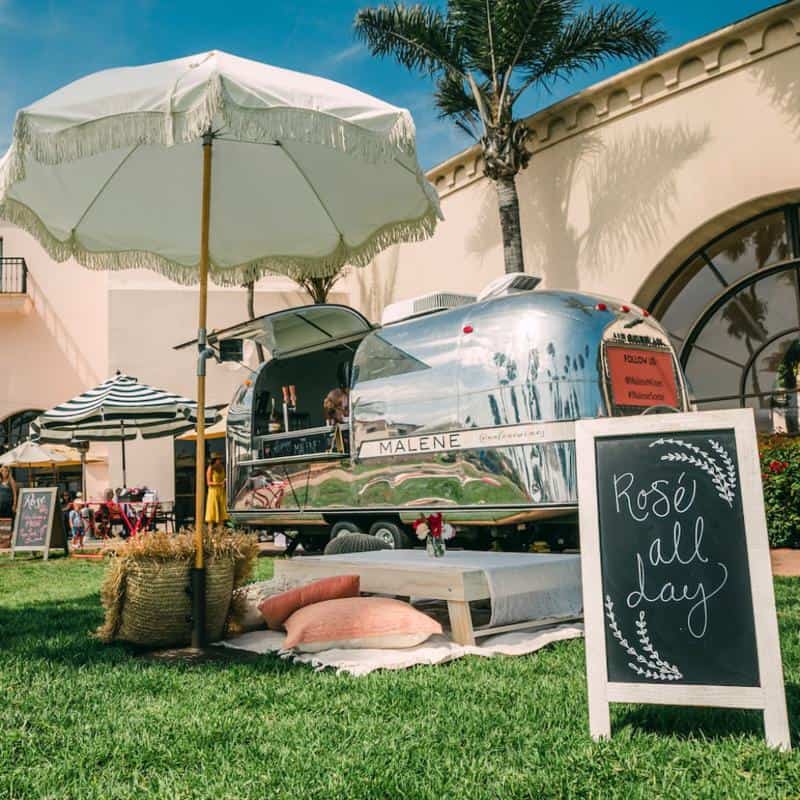 Malene Wines is a one-of-a-kind tasting room situated just down the road from its sister winery Chamisal Vineyards. Essentially, this location is a 1969 Airstream trailer with customized designs.
Thus, Malene Wines provides a beautiful picnic setting for enjoying the place's breathtaking view while consuming a bottle of wine, especially Provencal-style Rosé.
You get to sample three unique Rosé cuvées. Each type is made from distinct local grape varietals like Grenache, Mourvèdre, and Vermentino for a unique flavor profile.
Address: 7767 Orcutt Road, San Luis Obispo, California
Tasting hours: Fridays to Sundays (11:00 am – 5:00 pm)
Contact: (805) 235-3338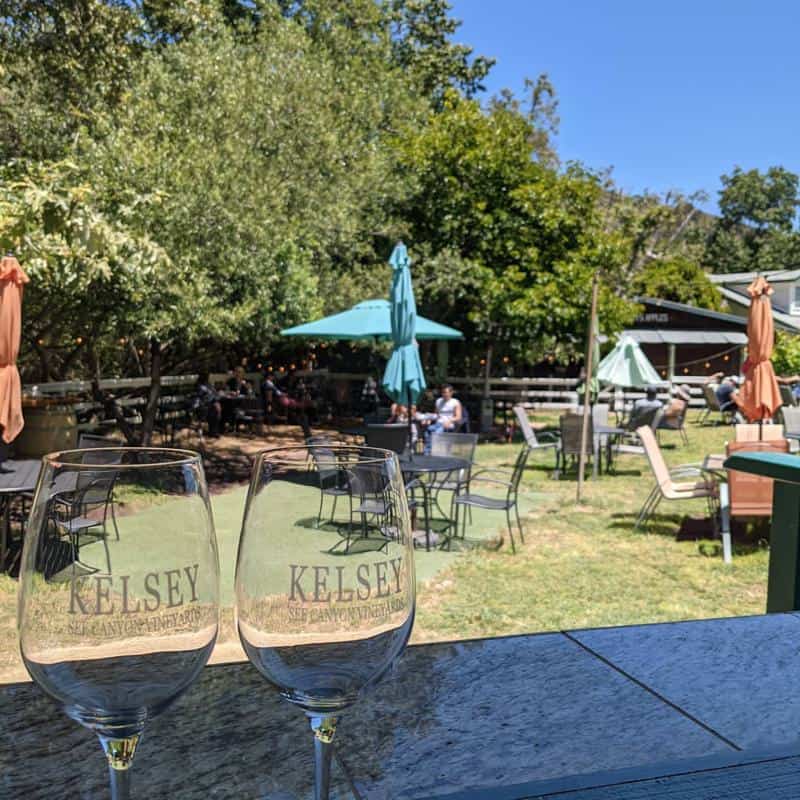 Kelsey See Canyon Vineyard was a retirement project of Dick and Dolores Kelsey in 1999. You can always find something nice to sample on its diverse wine menu regardless of your taste preferences.
This winery is a staple in San Luis Obispo, highly famous for Chardonnay, Pinot Noir, and other high-quality ciders. If you need a wine recommendation, check out the 2020 Red Delicious Rosé for its pleasant watermelon scent.
Not to mention, the winery possesses a beautiful landscape with lovely flora and over 150 wild peacocks wandering the vineyard's land. This outdoor location is such an ideal site to have a wine tasting!
Address: 1947 See Canyon Road, San Luis Obispo, California
Tasting hours: Sundays to Thursdays: 12:00 pm – 5:00 pm & Fridays to Saturdays: 12:00 pm – 6:00 pm
Contact: (805) 595-9700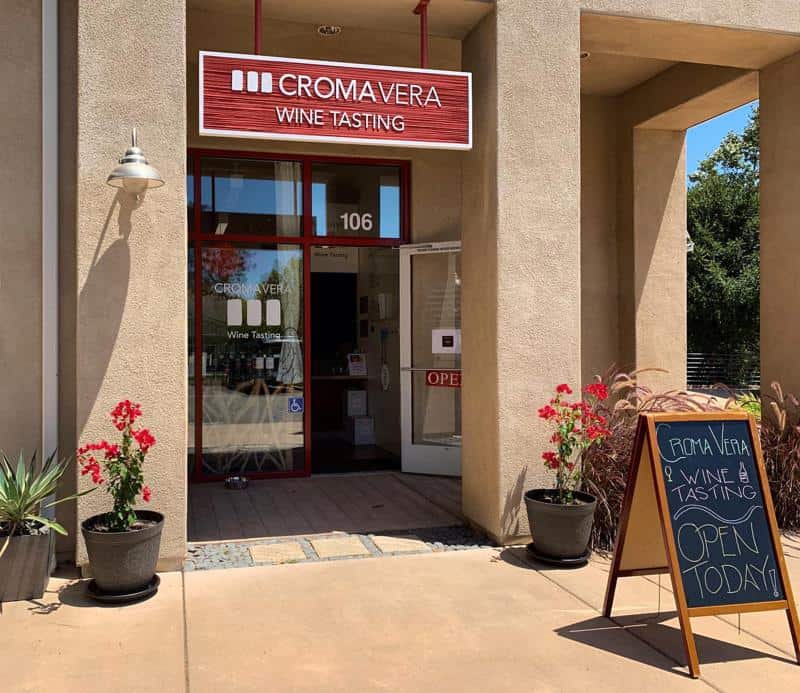 Despite the small size, Croma Vera is a formidable winery producing fine Spanish grape wines like Albarino, Tempranillo, Garnache, and light-bodied Cabernet Sauvignon.
The winery always keeps its production batch small (under 150 crates of any one wine) to maintain its offering's superior quality. You won't be able to find these wines available in any grocery store. Thus, let's travel to SLO's Broad Street for a wine tasting!
Address: 3592 Broad Street #106, San Luis Obispo, California
Tasting hours: Open to reservation only
Contact: (805) 946-1685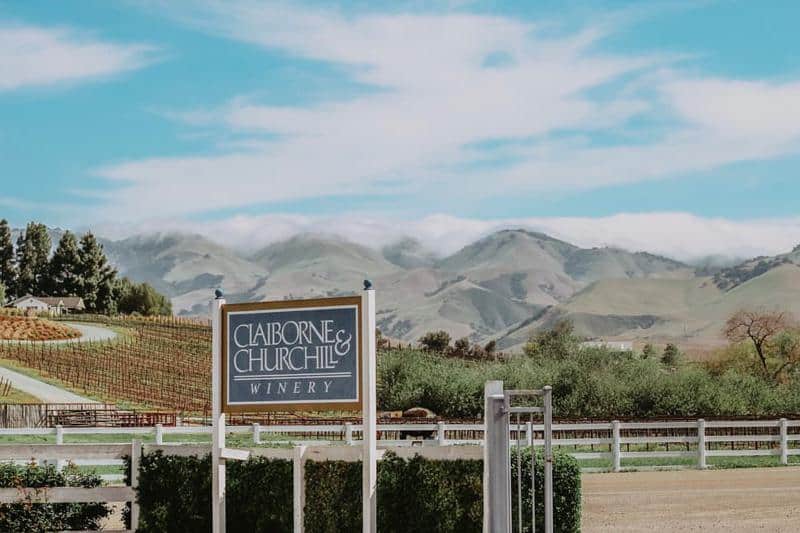 Established in 1983, Claiborne & Churchill Winery is a small, family-owned location situated in the heart of San Luis Obispo. It is set on a ranch with a tiny tasting room and a beautiful outside garden suitable for wine tasting or picnic occasions.
The wines here guarantee to blow even the pickiest visitors away by their quality and range. Expect to encounter Alsatian-style wines, including Pinot Gris, Riesling, and Gewürztraminer.
Other hand-crafted wines like Syrahs, Pinot Blanc, and Pinot Noir are also exceptional choices you can have here. Take your chance, as these offerings are unavailable outside the tasting room.
Address: 2649 Carpenter Canyon Road, San Luis Obispo, California
Tasting hours: Daily (12:00 pm – 5:00 pm)
Contact: (805) 544-4066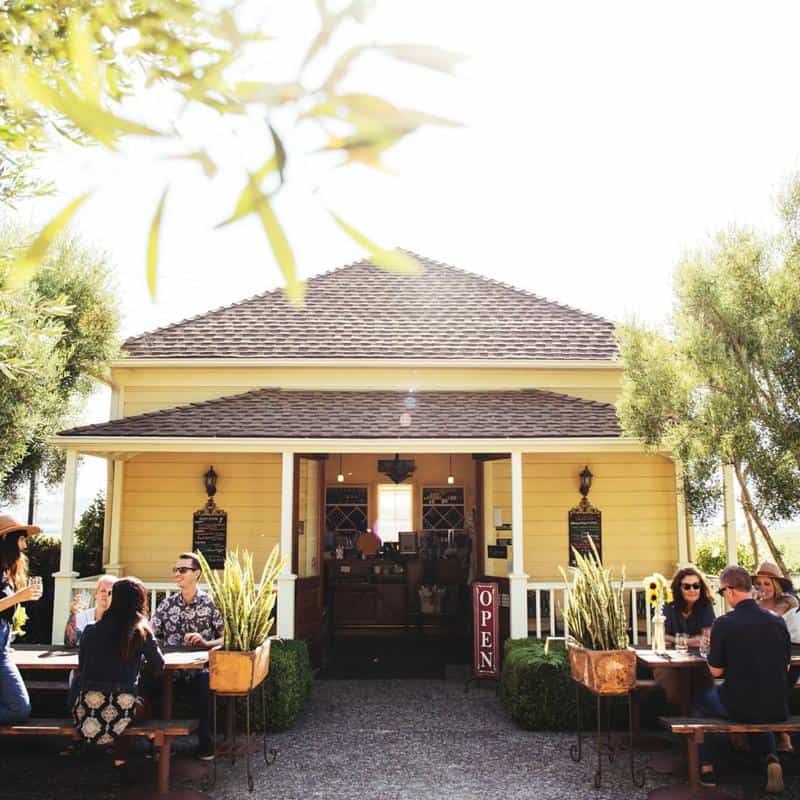 Lying on the beautiful lawn of a historic schoolhouse from the early 1900s, Baileyana Vineyard is unquestionably one of the most appealing tasting rooms in San Luis Obispo County.
The winery's name derives from the Acacia Baileyana trees that sit in front of the facility. Owned by the Nivens, Baileyana also belongs to the family's wine lineup that includes True Myth, Tangent, and Zocker.
In addition, thanks to the close distance to the Pacific Ocean, Baileyana Vineyard has the perfect climate condition for producing Chardonnay, Syrah, and Pinot Noir wine varietals.
Baileyana Vineyard is the perfect spot for your weekend wine tour with its bright yellow facade resting on a slight Islay hill. Guests are welcome to enjoy outdoor dining spaces, bocce ball courts, and attractive gourmet food shops!
Address: 5828 Orcutt Road, San Luis Obispo, California
Tasting hours: Daily (10:00 am – 5:00 pm)
Contact: (805) 269-8200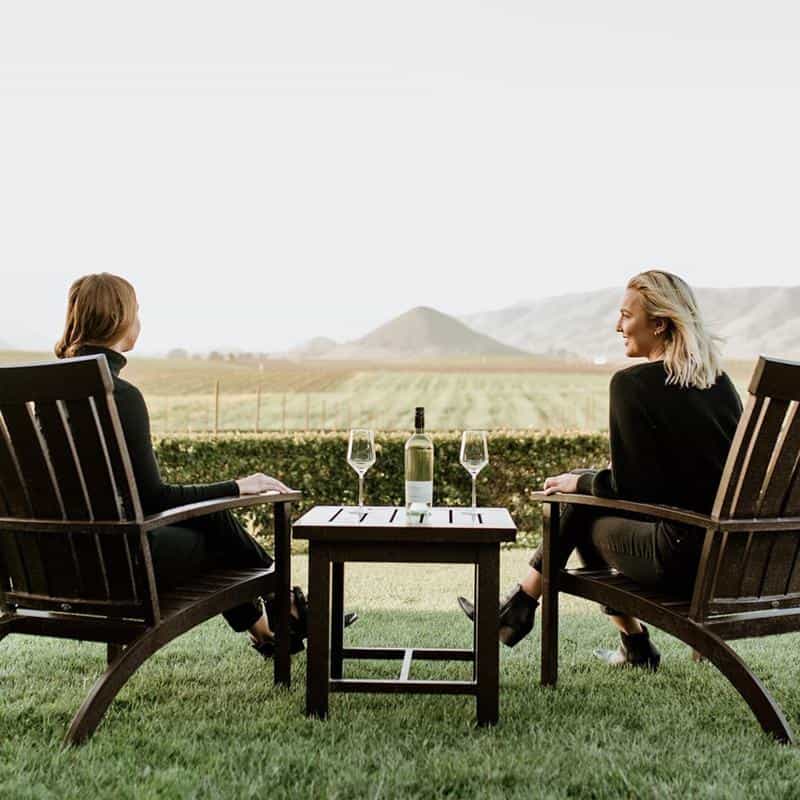 Edna Valley Vineyard is by far the best winery you can find in San Luis Obispo, as well as the region's oldest one. Chardonnay, Pinot Noir, Meritage, Merlot, and Sauvignon Blanc are a few wine varietals for your tasting activity here!
The winery is super gorgeous and spotless! I assure you that enjoying its wines on the outside terrace while diving into the spectacular panorama is an experience worth trying!
What I love most about this place is its professional service! You will always have an expert in the large tasting room to give you an informative guide on the Central Coast wine experience.
Edna Valley Vineyard also provides private tastings for groups of up to 18 individuals for a more personal journey. This special service allows you to access the winery's four limited wine lineups!
Address: 2585 Biddle Ranch Road, San Luis Obispo, California
Tasting hours: Daily (10:00 am – 5:00 pm)
Contact: (805) 544-5855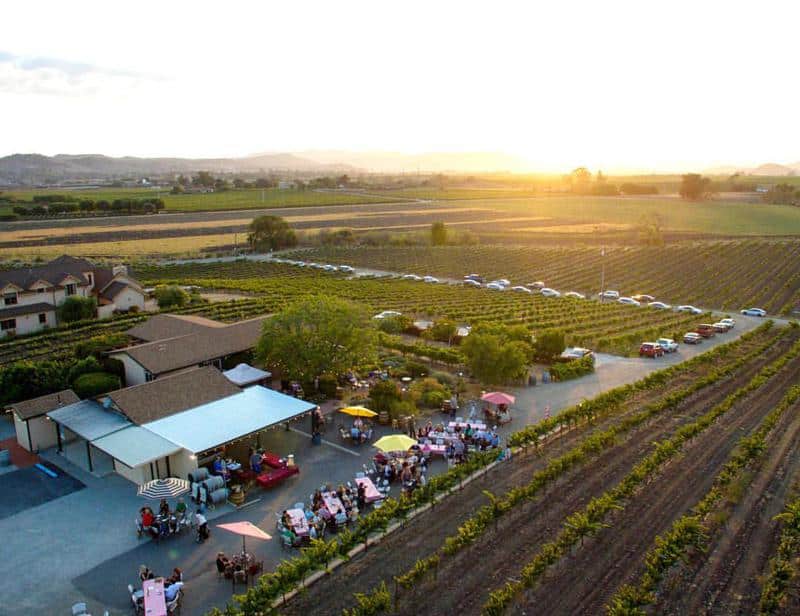 Wolff Vineyards is a 125-acre winery in San Luis Obispo that will make you scream out "What a beautiful place!" when visiting it. The terrace of this tasting room overlooks an awe-inspiring valley nestled among rolling hills.
Although the vineyard has been planted for 40 years, it only began operation in 1999. Each wine at Wolff Vineyards is crafted with enthusiasm and has influences from the European and California Central Coast regions.
This SLO winery is the perfect location for private occasions such as luncheons, birthday parties, and anniversaries. If you attend the winery's Sunsets In The Vineyard programs, you can enjoy your amazing evening with live music and local food trucks.
Address: 6238 Orcutt Road, San Luis Obispo, California
Tasting hours: Daily (11:00 am – 5:00 pm)
Contact: (805) 781-0448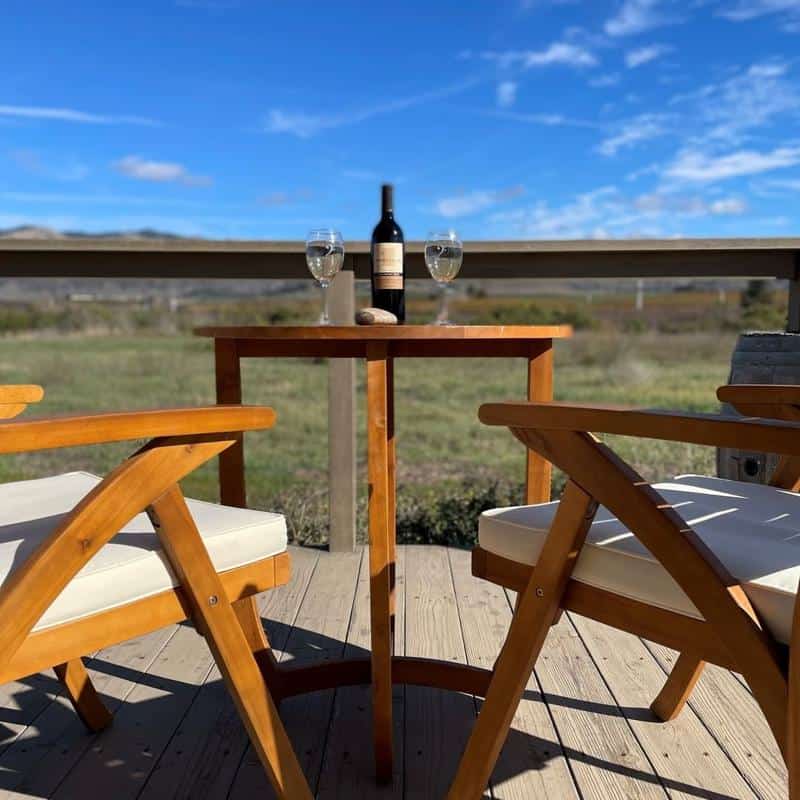 Autry Cellars is one of those SLO wineries that offer A+ experiences for its visitors. Founded by Steven, an expert winemaker, he knows everything that facilitates an exquisite wine tasting experience.
Like other wineries in the region, its wonderful wines are only available in the tasting room and in very few upscale restaurants. Thus, be sure to try a little bit of all the selections, including white wines, red wines, dessert wines, and brandies.
Address: 5450 Edna Road, San Luis Obispo, California
Tasting hours: Tuesdays to Saturdays (11:00 am – 5:00 pm) & Sundays (11:00 am – 4:00 pm)
Contact: (805) 546-8669
Related Read: 6 Best Wineries in Cambria, CA
Map of Best San Luis Obispo Wineries

Wine Tasting Tips In San Luis Obispo
To have a perfect wine tasting experience in San Luis Obispo, you should follow a few tips and tricks. Let's discover what they are!
Tip #1: Make A Reservation
Most SLO wineries demand visitors to book a reservation for tastings. Thus, make sure to fulfill this requirement in advance!
Tip #2: Hold The Wine Glass' Stem
It is a common practice to hold wine glasses by their stem. It prevents your body heat from affecting the wine taste, especially if you hold the circular bowl part.
Tip #3: Buy When You Like
Sampling wine at wineries allows you to taste alcohols that are unique and not widely distributed. Therefore, if you test a wine you like, purchase it right away!
Tip #4: Take A Sip When You Don't Like
In case you sample a wine you don't like, only take a sip or even consider spitting it out. There is no obligation to finish the drink! This way, you can endure longer and visit more wineries!
Tip #5: Prepare A Refillable Water Bottle
Bringing a refillable water bottle is essential to stay hydrated throughout the day exploring SLO wineries. This practice becomes more vital during the summer months, as the weather then is quite hot and sunny.
FAQs
This section helps you answer some of the most common inquiries about the best San Luis Obispo wineries.
How many wineries are there in San Luis Obispo County?
San Luis Obispo County is one of California's most popular wine tasting regions. The region features over 200 wineries calling it home, allowing visitors to sample over 40 wine varietals.
Are foods available at wineries in San Luis Obispo?
Although most SLO wineries do not have on-site restaurants, they often provide light snacks and charcuterie boxes.
When is the ideal time to visit wineries in San Luis Obispo?
The greatest time to enjoy wine sampling at wineries under the pleasant weather of San Luis Obispo is from spring through fall. Unfortunately, winter comes with more rains, making it less potential to visit.
Is San Luis Obispo an AVA?
No, San Luis Obispo is not considered an AVA as a whole. Indeed, I believe what you ask is San Luis Obispo Coast, which was recognized as an AVA just recently in March 2022 [1].
What wine is San Luis Obispo known for?
Besides Pinot Noir, San Luis Obispo is known for a wide array of wine varietals, including Chardonnay, Merlot, Zinfandel, Cabernet Sauvignon, and Syrah.
Is San Luis Obispo a wine country?
Yes, you can say that again! The region is famous for its world-class wine-growing business. It is indeed a wine country worth exploring!
What Is Your Next Winery Destination In San Luis Obispo?
That is my compilation of the best San Luis Obispo wineries! These locations qualify as the perfect spots for a day of relaxation and tranquility. Whatever your vacation plan is, visiting these wineries will always be the ideal finale (or beginning) of the day.
So, which SLO winery is the most impressive to you? Let me and other readers know in the comment section below! Thank you for reading!