Close to the Pacific Ocean, San Luis Obispo is the perfect destination for wine and beach lovers alike. The cool climate and coastal influence provide the ideal conditions for crisp Chardonnays and juicy Pinot Noirs.
San Luis Obispo is home to a wide selection of top-notch vineyards specializing in these two wines, as well as Rhône varieties like Syrah and Viognier.
So, if you're thinking of taking a trip to delightful San Luis Obispo for a day of delicious wine drinking, read on! We'll be covering the best San Luis Obispo wineries and vineyards.
San Luis Obispo Wineries Map:

Kelsey See Canyon Vineyard: Amazing Apple Wines
First up on our Wineries list is Kelsey See Canyon Vineyard, well-known for their Pinot Noir and Chardonnay wines. The estate is owned by Dick and Dolores Kelsey who initially started the vineyard as a retirement project in 1999.
Since then, Kelsey See Canyon Vineyard has blossomed and thrived, becoming a staple winery in San Luis Obispo. Alongside Chardonnay and Pinot Noir, the vineyard produces other high-quality wines and ciders, including Zinfandel, Cabernet Sauvignon, and Sauvignon Blanc.
No matter your taste in wine, there's something delicious for you to try on their wine menu. The vineyard is also home to over 150 wild peacocks that roam the estate.
You can sample the vineyard's beverages at their tasting room, which is open Sunday to Thursday from 12pm to 5pm, or until 6pm on Friday and Saturday. The winery operates on a walk-in basis, so you might want to get there early to ensure you get a seat!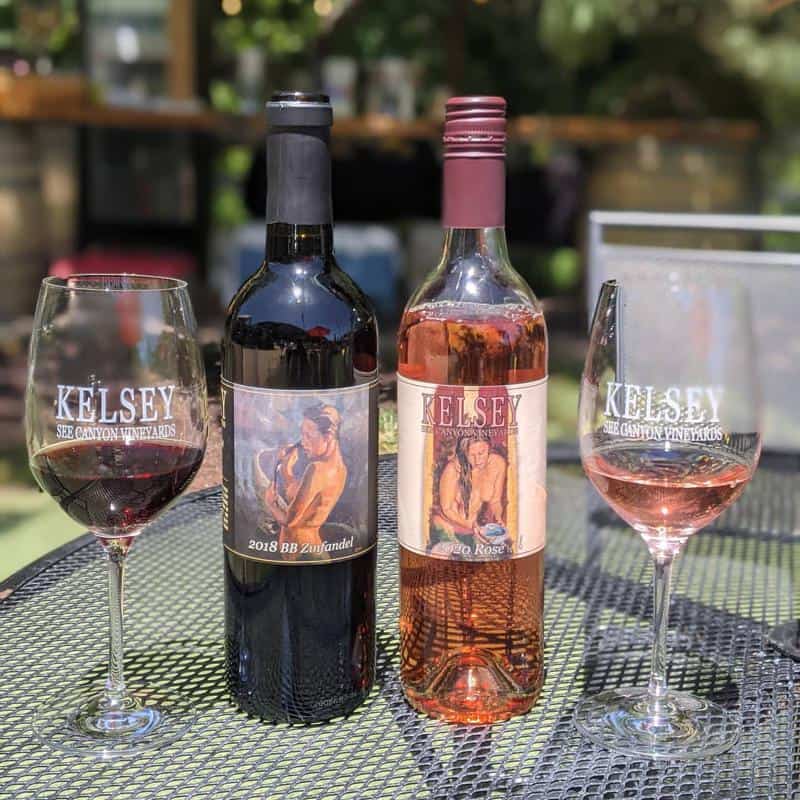 Kelsey See Canyon Vineyard hosts wine-tasting cruises, which will take you around France to indulge in all the wine, cheese, chocolate you could ask for. They're reasonably priced, so definitely consider inquiring for more details – they'd make the perfect gift for a wine lover!
Editor's Note: One of the stand-out wines this vineyard has to offer is the 2020 Red Delicious Rosé. It has a refreshing watermelon aroma with flavors of Bing cherry, pomegranate, and a crisp but delicate apple finish. Apple-solutely exquisite!
Edna Valley Vineyard: Tranquil Atmosphere
Just a few miles from Pismo Beach in San Luis Obispo is Edna Valley Vineyard, a truly stunning estate with jaw-dropping views. The winery has a laid-back and humble atmosphere, providing you with a cozy and tranquil environment to relax in.
The vineyard offers a variety of fantastic wines, including Chardonnay, Cabernet Sauvignon, Merlot, Pinot Noir, Pinot Grigio, and Sauvignon Blanc.
The tasting room is open from Thursday to Monday, and you can choose to sit inside or outside on their patio, complete with panoramic views.
The 18 Barrel Flight Tasting Experience costs $25 + tax per tasting and includes five of their limited release wines.
The Heritage Flight Tasting Experience costs $35 per person and features their limited release Chardonnays and Pinot Noirs, as well as a selection of sumptuous gourmet cheeses.
Make sure you make a reservation in advance as the vineyard isn't currently taking walk-in appointments.
If you're after a more intimate experience, the vineyard offers private tastings for groups of 6 to 18. It costs $40 per person and you'll be talked through four of the winery's limited release reserve wines.
Edney Valley Vineyard is available to hire for private events such as weddings, parties, and private dinners. They have a gorgeous venue called the Jack Niven Hospitality Center which is 10,000 square feet and nestled between over 1,000 acres of vineyards.
The estate has striking views of Edna Valley and the Islay Peak Volcano, creating the perfect background for special occasions. Whether you're looking for the ideal place to sip wine or for a private function, Edna Valley Vineyard has plenty to offer you.
Editor's Note: Try the winery's citrusy shrimp ceviche recipe for a mouthwatering summer fish. It goes wonderfully with their Fleur De Edna Chardonnay.
Tolosa Vineyard: Phenomenal Pinot Noirs
Another top-quality winery in San Luis Obispo is Tolosa Vineyard, featuring running volcanic hills that provide a mystical backdrop for sipping wine. Due to the cold Pacific winds that sweep over the vineyards, the area offers the right conditions for growing Pinot Noir and Chardonnay grapes.
As a result, Tolosa Vineyard produces some of the best Pinot Noir and Chardonnay wines in all of San Luis Obispo.
The tasting room is open daily from 11am to 6pm. There are a few different experiences to choose from, including Barrel Tasting, 1172 Flight, and Tolosa Uncorked.
The Barrel Tasting Experience includes samples of their small-lot artisanal wines and is priced at $75 per person. It's ideal for parties up to 8, so it's a great option if you're planning a day out with friends or family.
There is plenty of seating inside and outside. The outdoor patio has an array of cozy armchairs and couches, which are sure to make you feel right at home.
In addition to wine tasting, Tolosa Vineyard hosts a range of local events throughout the year, such as Winemaker Dinners and outdoor concerts. If you're in San Luis Obispo and looking for a peaceful and enjoyable evening, Tolosa Vineyard is a must-visit, especially if you're a fan of Pinot Noir wines!
Editor's Note: Keep an eye out for the vineyard's Winemaker Dinner Under the Moon and Stars events. You'll be treated to a scrumptious multi-course dinner under the night sky.
Chamisal Vineyards: Charming Chardonnays
Specializing in Chardonnay and Pinot Noir wines, Chamisal Vineyards is situated just 10 minutes downtown from San Luis Obispo in the gorgeous Edna Valley.
All of the vineyard's wines have an intense flavor with an exquisite texture, which will have you wanting glass after glass.
The modern tasting room is open from 10am to 5pm Thursday to Sunday. The Estate Patio Experience is their most popular option, and it's not hard to see why.
The area is stylish, charming, and features scenic views of the vineyards. Priced at $35 per person, you'll be treated to five wines, including current releases of their top-notch Chardonnay and Pinot Noir.
If you'd rather share a bottle of wine with friends and family, the By The Glass Patio Experience is a fantastic choice. Picnic boxes are also available to purchase, so it's perfect for lunchtime! Alternatively, you can bring your own food.
Chamisal Vineyards hosts a selection of events year-round, including harvest lunches, holiday soirees, and summer Lobersfests. They can even accommodate private celebrations.
Be sure to check the vineyard regularly to see what exciting activities they next have planned!
Editor's Note: If you're in the mood for a fruity and spicy wine, the vineyard's Morrito Pinot Noir is to die for. It has an expressive aroma with notes of black currant, cherry, anise, and a hint of cedar.
Wollf Vineyards: Grand Grounds
Located on 125 acres of ecologically friendly and sustainable vineyards, Wolff Vineyards is only a few miles from the Pacific Ocean and major tourist attractions in San Luis Obispo.
The winery has been open since 1999, but the vineyard has been farmed for four decades, so the land is rich with agricultural history. Each wine at Wolf Vineyards is made with passion and has a European and California Central Coast influence.
Why not try the 2020 Syrah? It's aged in 25& French oak barrels, resulting in flavors of stewed plums, black cherry, roasted meat, and a mid-palate of spicy white pepper.
The tasting room is open every day from 11am to 5pm. It's complemented by a picturesque flower garden and picnic facilities so you can enjoy a spot of lunch on your visit.
For groups under 8, the tasting fee is $15 and includes a flight of five wines. The fee is refunded with a purchase of one bottle of wine too! Groups of 8 or more will be charged $20 per person, but again, this fee is refunded if you buy a bottle of wine.
If you're planning on visiting the vineyard with 5 or more people, be sure to reserve ahead of time.
The striking natural setting at Wolff Vineyard is perfect for private events such as birthday parties, luncheons, and anniversaries. Local events also take place at the winery on a regular basis, including Sunset In The Vineyard and Food Truck: Baguette About It.
With a natural and cozy ambiance, delicious wines, and lots of local events, there's a lot of fun to be had at Wolff Vineyard.
Editor's Note: You need to head down to one of the winery's Sunset In The Vineyard events. Not only is the winery open for longer, but there's live music and local food trucks to check out, ensuring you have an unforgettable evening.
Biddle Ranch Vineyard: Modern and Stylish Aesthetic
Next up on our list is Biddle Ranch Vineyard. The winery is surrounded by rolling hills and beautiful sights of vineyards that span across their expansive estate.
They produce an assortment of top-notch wines, including Pinot Noir, Chardonnay, Pinot Grigio, and Syrah. All are crafted with passion and care, which is shown through their remarkable taste and flavor.
One of the stand-out features of Biddle Ranch Vineyard is their modern farmhouse tasting room, which offers a sublime atmosphere to try out their various wines. The spacious outdoor patio has plenty of comfortable seating and provides sweeping views of the vineyards.
You can enjoy the estate's delicious wines by the flight, glass, or bottle. A tasting flight costs $25 or is completely free with a $60 bottle purchase.
The winery is open Thursday to Monday from 11am to 5pm, but you'll need to book ahead of time as reservations are required. Additionally, a maximum of 8 guests is allowed per reservation.
If you're thinking of staying a night or two in San Luis Obispo, Biddle Ranch Vineyard is the perfect place to rest. The Vineyard House is located right next to the tasting room, boasting a rustic and warm aesthetic with contemporary decor.
It provides enough space for 12 guests and has everything you need for a comfortable getaway, including 4 bedrooms, 3 bathrooms, a full gourmet kitchen, private patio, laundry room, and even an outdoor woodfired oven and BBQ.
The venue is also ideal for intimate weddings, corporate retreats, and family gatherings.
Biddle Ranch Vineyard hosts numerous events on a regular basis, such as live music and pick up parties. The latter involves live music and delicious tacos provided by Lua's Catering. Delicious wine, tasty food, and charming live music – what's not to like?
Editor's Note: Why not try the winery's fruity 2018 Pinot Noir Rincon Vineyard? It has notes of sweet red cherry, hard, candy and blood range, giving it a bright finish.
Saucelito Canyon: Delicious Zinfandels
Last but not least on our best San Luis Obispo Wineries list is Saucelito Canyon, a world-class winery with expertise in Zinfandel wine.
The vineyard was initially planted in 1880 but was left abandoned after Prohibition. In 1974, the land was restored by a man with a pick and shovel, becoming the beautiful winery it is today.
The attractive tasting room is open daily from 11am to 5pm. Be sure to check out the 2019 Rosé Reserve, 2019 Côté de Blanc, and 2018 Zinfandel Estate.
The winery also offers tapas, which pairs well with any of their wines. The Spring Mix is particularly scrumptious, consisting of raspberry bellavitano, honey chevre, and a dried mango and lemon shortbread.
Wine tasting costs $20 per person and features a flight of one white or rose white, as well four red selections. Alternatively, purchase two bottles of the winery's phenomenal wines and get a tasting session for free!
There are a variety of events that take place at Saucelito Canyon throughout the year, including the Futures Barrel Tasting & Cheese Pairing Seminar. It involves a flight of barrel tastes, a selection of gourmet cheeses to try, and educational talks about their winemaking process.
Make sure you book in advance to guarantee a spot as these seminars fill up pretty quickly!
Editor's Note: As this winery is known for remarkable Zinfandels, you should definitely try the 2019 Zinfandel Dos Ranchos. Sublime!
Related Read: 6 Best Wineries in Cambria, CA
Final Thoughts
Home to some of the best Pinot Noirs and Chardonnay's you'll ever drink, San Luis Obispo is a sublime destination for wine drinkers. Boasting scenic views, beaches, and a huge assortment of phenomenal vineyards, it's the ideal place for a relaxing and tranquil day out.
We hope you found some new vineyards to check out in our wineries list. No matter what you have planned for your trip, a visit to any one of the vineyards above is sure to be a perfect end (or start) to the day.